Leah Pipes:
• an American award-winning actress
• best known for her role as Camille O'Connell in 'The Originals' (2013-2018)
• born in Los Angeles, California USA in 1988
• has appeared in over 35 films and TV series
• net worth estimated at over $1 million
• avid animal lover and soccer player
• victim of 'The Originals' fans' rage after her character kissed Claus (Joseph Morgan)
Who is Leah Pipes?
Leah Pipes is an American award-winning actress, perhaps best known to the world as Camille O'Connell in the TV series "The Originals" (2013-2018), among numerous other roles she has secured since starting her career.
Early Life, Parents, and Education
Leah Marie Pipes was born on 12 August 1988 under the Leo zodiac sign, in Los Angeles, California USA, the daughter of Keith Pipes and his wife Kristy. Of English, German, and Irish heritage, she grew up in Southern California with a brother and two sisters. She played soccer at school, and desired to become a writer, but as she got older she was advised to become an actress. She hasn't shared any details about her education.
Career Beginnings
Leah made her acting debut in 2001, when she was chosen for a minor role in the supernatural drama series "Angel". Two years later she joined Disney's TV series "Lost at Home" as Sarah Davis, and appeared in six episodes in the short-lived comedy-drama series. From 2004 to 2005, she was Jessie in the TV series "Clubhouse", and also in 2004 portrayed Samantha in the television movie "Pixel Perfect", co-starring next to Raviv Ullman and Spencer Redford. Two years later, Leah starred in the horror-thriller film "Fingerprints", with Kristin Cavallari and Josh Henderson.
Rise to Prominence
Leah continued her career with minor roles in such TV series as "Bones" (2006) and "Crossing Jordan" (2007), then starred in the romantic comedy film "Her Best Move", with Daryl Sabara and Lisa Darr.
She was also selected for the part of Katie Clarke in the TV series "Life Is Wild" (2007-2008), which made her quite famous, and as a result in 2009 she won the role of Jessica in the slasher horror film "Sorority Row", with Briana Evigan, Rumer Willis, and Carrie Fisher as the main stars of the film.
Afterwards, Leah was Beth Branford in the TV drama series "The Deep End" in 2010, and in 2011 portrayed Carla in the romantic comedy film "Conception", starring Pamela Adlon, David Arquette, and Aaron Ashmore. Furthermore, she starred in the romantic drama film "Musical Chairs" (2011), and in 2012 had a co-starring role in the horror-drama film "I Will Follow You Into the Dark", with Mischa Barton and Ryan Eggold as the main stars of the award-winning film.
Also, she was Katie, Mormon wife of the killed photographer Travis Alexander in the film based on Alexander's life and murder, entitled "Jodi Arias: Dirty Little Secret".
The Originals
She secured the role of her career in 2013 as well, as Camille O'Connell, the vampire and main character in the TV horror-drama series "The Originals", the spin-off series of "Vampire Diaries". She featured in 65 episodes of the Primetime Emmy Award-nominated series, sharing the screen with such stars as Joseph Morgan, who was her love interest in the show, then Daniel Gillies, and Charles Michael Davis, among others.
Further Success
To speak further of her accomplishments, Leah portrayed Sarah in the horror film "The Devil's Hand" (2014), while in 2016 she starred in the romantic comedy-drama television movie "Change of Heart", alongside Rick Malambri and John Ratzenberger, and in 2018 starred in the drama film "The Perfect One", co-starring Helena Mattsson and Nichole Galicia.
In recent years, Leah portrayed Fiona Callahan in the reboot of the popular series about three sister witches and their adventures – "Charmed" – in 2019, then played Ginger Holiday in the film "A Beauty & The Beast Christmas", also in 2019.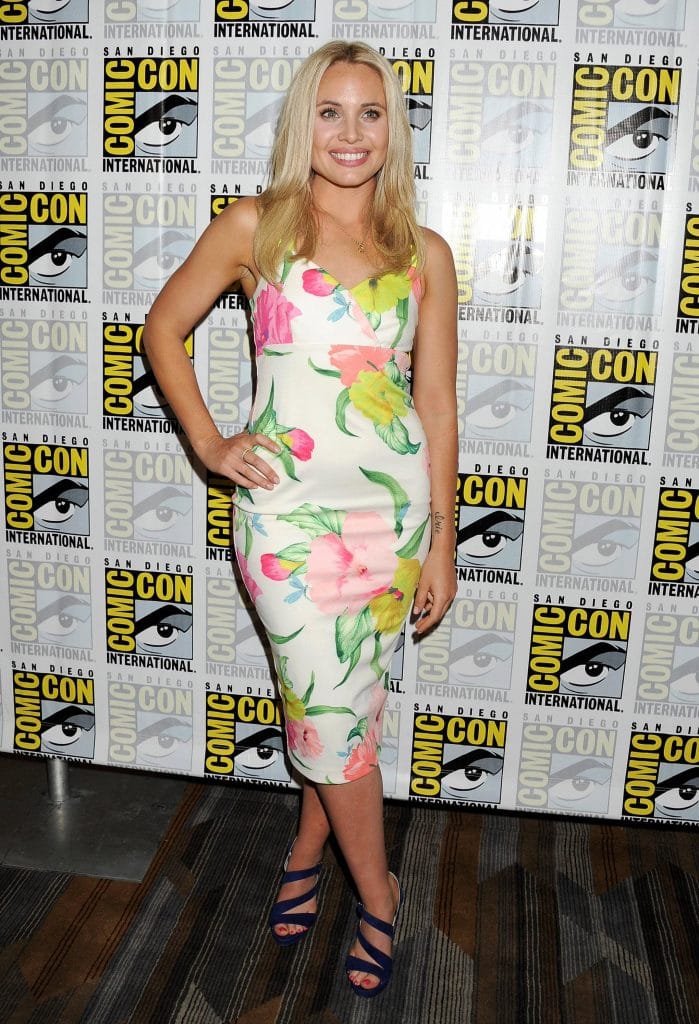 In 2021 she appeared one-time in the TV series "9-1-1", and is currently working on the film "Exploited", which is yet to be released.
Personal Life, Marriage, Husband, Divorce
In 2011, Leah started a romantic relationship with actor and musician A.J. Trauth. The couple became engaged in January 2014, and in December of the same year they married in an intimate ceremony surrounded by family and friends at the Four Seasons Biltmore in Santa Barbara. However, the couple separated on 17 April 2019, and on 8 May 2019, Leah filed for divorce. They didn't have children together, and neither sought spousal support.
Leah Pipes' Ex-Husband, A. J. Trauth Short Bio
Born Andrew James Trauth on 14 September 1986 in Chicago, Illinois USA, he is a voice and on-screen actor, best known as Alan Twitty in the TV series "Even Stevens". He started his career in 1999 and since then has appeared in more than 30 film and TV titles, and in addition to the role of Alan Twitty, he is also known as the voice of Josh Mankey in the animated series "Kim Possible", and as Greg in the romantic drama film "The Last Word" (2008), and Trevor in the adventure comedy-drama film "Moments of Clarity" in 2016. His net worth is estimated to be around $3 million as of mid- 2021.
Leah Pipes' Net Worth
As of mid- 2021, Leah Pipes' net worth has been estimated to be over $1 million, earned through her successful career, during which she has already appeared in more than 35 films and TV series.
Appearance and Vital Statistics
This successful actress has blonde hair and blue eyes. She stands at a height of 5ft 6 ½ ins (1.69m), while she weighs approximately 120lbs (55kg). Her vital statistics are 35-25-35 inches, bra size is 34A, shoe size 8, and dress size 4.
Hobbies, Facts, Trivia
Leah adored soccer while growing up, and that passion continued to live on until the present day, as she still occasionally plays soccer for fun.
She is an avid animal lover and has two dogs and a cat, and often shares pictures of her pets on her official Instagram account.
She enjoys goofing about with one of her sisters when she has time for it.
Leah focuses on a healthy diet as she tends to stay fit and watches what she eats. She avoids eating junk food, and spends much time in the gym working out.
She was a victim of "The Originals" fans' rage, once her character kissed Claus (Joseph Morgan) in one of the episodes. She was labeled too ugly for Claus, and fans started saying that she should die of cancer.