• Leslie Landon is a retired American actress best known for her role as Etta Plum in the series "Little House on the Prairie".
• She is the daughter of Michael Landon, an actor, writer, and producer.
• She has four children, including Rachel Matthews, an actress.
• Michael Landon was born Eugene Maurice Orowitz and had a tough childhood due to his mother's mental health issues.
• He was diagnosed with exocrine adenocarcinoma, an aggressive form of pancreatic cancer and passed away in 1991, with a net worth of around $40 million.
Who is Leslie Landon?
Leslie Landon is an American retired actress, perhaps still best known to the world as Etta Plum, a schoolteacher in the popular series "Little House on the Prairie" (1975-1983). Since retirement, Leslie has been working as a clinical psychologist.
Early Life, Parents, Siblings, and Education
Leslie Ann Landon was born on 11 October 1962 under the Libra zodiac sign, in Los Angeles, California USA. She is the daughter of Michael Landon, a famous actor, writer, and producer, and his second wife Marjorie Lynn Noe. She has two brothers, Michael Landon Jr. and Christopher Landon, who are both actors and directors, while she also has a sister Shawna Leigh Landon.
Furthermore, she has a half-brother, Josh Landon, and an adopted brother Mark Landon, both from her father's second marriage, while from her father's third marriage, she has a half-sister Jennifer Rachel Landon, an actress as well, and a half-brother Sean Matthew Landon. On her mother's side, Leslie has a half-sister, Cheryl Lynn Landon, from her first marriage.
After high school, Leslie enrolled at Pepperdine University, from which she obtained a Bachelor of Arts degree in psychology, and continued her studies at the same university, obtaining a Master of Arts degree in clinical psychology. Furthermore, she was awarded a PhD in marriage and family therapy from the California Graduate Institute.
Career
Leslie made her acting debut in 1975 as a guest star in four appearances of the TV western family-drama series "Little House on the Prairie" through1981 alongside her father, before she was cast in the role of Etta Plum. Between 1982 and 1983 she featured in 20 episodes of the Primetime Emmy Award-winning series, again sharing the screen with her father. She also featured in the television movie specials made in 1983 and 1984, including "Little House: Look Back to Yesterday" (1983), "Little House: The Last Farewell" (1984), and the "Little House: Bless All the Dear Children" (1984). Before she announced her retirement, later in 1984 Leslie appeared in the television movie "Hollywood's Most Sensational Mysteries".
Retirement
Following her retirement in her early 20s, Leslie experienced signs of bulimia which she successfully treated, and since then she has become a therapist, specializing in children dealing with loss, as well as working as a family therapist.
Personal Life, Marriage, Husband, Children
Leslie has been married to Brian Matthews since 1990. The couple has four children together, including Rachel Matthews, born in 1993, who is an actress perhaps best known to the world as Danielle Bouseman in the horror-comedy film "Happy Death Day" (2017), and its sequel "Happy Death Day 2U" in 2019, both directed by her uncle Christopher Landon.
Net Worth
As of mid- 2021, Leslie Landon's net worth has been estimated to be over $2 million, earned through her career as an actress and later as a psychologist.
Appearance and Vital Statistics
Leslie Landon has brown hair and brown eyes. She stands at a height of 5ft 4ins (1.63m), while she weighs approximately 145lbs (66kgs). Her vital statistics and other measures such as bra size and dress size are currently unknown.
Leslie Landon's father, Michael Landon
Michael Landon was born Eugene Maurice Orowitz on 31 October 1936, in Forest Hills, Queens, New York City. He is the younger of two children born to Eli Maurice Orowitz and his wife Peggy. Of Jewish ancestry, he spent his early years in Forest Hills with his older sister Evelyn and parents, when they moved to the borough of Collingswood, New Jersey, near Philadelphia. He went to Temple Beth Shalom where he had his Bar Mitzvah. He had a tough childhood, due to his mother's mental problems; she was constantly attempting suicide, however, she eventually passed away in 1981.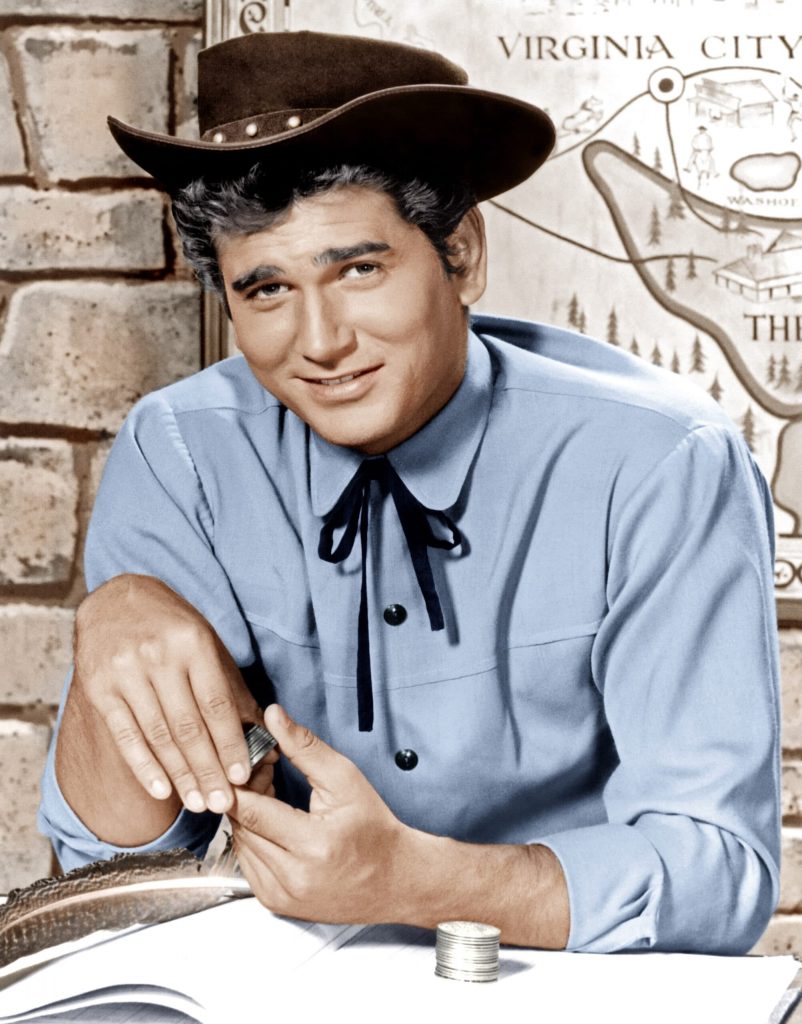 He attended Collingswood High School, where he excelled as a javelin thrower which earned him an athletic scholarship at the University of Southern California. However, after tearing his shoulder ligaments, his athletic and academic careers came to a complete stop. Interested in show business, he was noticed by Bob Raison, who who advised him to change his name which was standing between him and a professional contract, so Michael simply selected one from the 'phone book.
Career
Michael's career started in the mid-'50s and he was active until the late '80s. He started with minor roles in TV series such as "Luke and the Tenderfoot" (1955), "Telephone Time" (1956-1957), and others, while in 1957 he was Tony Rivers in the fantasy-horror film "I Was a Teenage Werewolf".
He was slowly building a name for himself and in 1959 he was chosen for the part of Little Joe Cartwright in the popular TV western series "Bonanza", starring in all 430 episodes of the Primetime Emmy Award-winning series alongside Lorne Greene and Dan Blocker until 1973. While working on "Bonanza", Michael became one of the most-praised actors of Hollywood of the time, however, he didn't pursue other projects while working on "Bonanza", although in 1959 he'd starred as the titular character in the film "The Legend of Tom Dooley".
After the end of "Bonanza", Michael continued his career as Charles Ingalls in the TV series "Little House on the Prairie" (1974-1983). Before the end of his career, Michael starred as Jonathan Smith in the TV fantasy-drama series "Highway to Heaven" from 1984 to 1989, and before his death, Michael starred in the TV series "Us".
He had to quit his acting career due to his troubling health, and passed away soon afterwards.
Personal Life, Death, Net Worth
Michael was married three times, firstly to Dodie Levy-Fraser in 1956 – the two divorced in 1962, and had two children, Mark Fraser Landon, who is Dodie's son from her previous relationship, though Michael adopted him, and Josh Fraser Landon, who was also adopted, but as an infant.
In 1993 Michael married Leslie's mother, Marjorie Lynn Noe, and they also had Cheryl Lynn Landon, Michael Landon Jr., Shawna Leigh Landon, and Christopher Beau London. Michael and Marjorie divorced in 1982.
The following year, Michael married Cindy Clerico, who was working as a make-up artist on the "Little House on the Prairie", with whom he had two children, Jennifer Rachel Landon, and Sean Matthew Landon.
After experiencing excruciating headaches on vacation in Utah, Michael was diagnosed with exocrine adenocarcinoma, an aggressive form of pancreatic cancer. The diagnosis was terminal, and he made an appearance on "The Tonight Show Starring Johnny Carson", in which he talked about his diagnosis and also asked his fans to pray for him as he was decisive in fighting against the disease. However, on 1 July 1991, Michael died in Malibu, California USA, and was interred in a private mausoleum at Hillside Memorial Park Cemetery, in Culver City, California.
His tombstone reads "He seized life with joy. He gave to life generously. He leaves a legacy of love and laughter".
According to sources, Michael Landon's net worth was estimated at $40 million at the time of his death.