• Lindsay Brewer is a young American professional race car driver and Instagram model
• She began with go-kart racing and moved to more powerful cars, winning the Legends Semi-Pro championship twice
• She collaborates with fashion brands and has 1.5 million followers on Instagram
• Lindsay is in a relationship with NHL player Drew Solomon
• She has a net worth of approximately $1.5 million and loves animals, fashion, and travel.
Who is Lindsay Brewer?
Lindsay Brewer is a young American professional race car driver, often dabbed as the future of NASCAR. She has stunned the world with her racing skills, but also with her beauty, as Lindsay is an Instagram model.
Age, Early Life, Parents, and Education
Lindsay Marie Brewer was born on 17 April 1997 under the Aries zodiac sign, in Arvada, Colorado USA. Her mother's name is Kim Brewer Lund, but she's never shared her father's name, though she's said that he is mainly responsible for her love of racing cars; he's a race car mechanic. Lindsay has an older brother named Blake Brewer.
After high school, Lindsay enrolled at San Diego State University, but there is no information on which field she studied.
Career Beginnings
Lindsay would watch her father fix the race cars, which sparked an interest in the mean machines. During one of many birthday parties of her older brother, they were taken to a go-kart venue, and Lindsay sat in the version faster than the regular kart. This sparked the interest in racing, and she began with a kart racing series, and moving to more powerful cars as she got older. Lindsay became a part of the Rotax Mini Max class and in her first year as a go-kart driver, she won the InterMountain Regional Championship.
After that initial success she moved forward, entering national go-kart competitions and Formula 4 as well, at which she was rather successful, finishing in the top ten in championships for four consecutive years. When she turned 15 years old, she jumped into six-gear shifter karts, and later moved to road cars. She raced and eventually won the Legends Semi-Pro championship two consecutive times, in 2015 and '16.
Rise to Prominence
Lindsay continued her career until 2019, when she had her last competitive race as a part of the Saleen Cup GT Series, and in the finals took 3rd place.
She remained active as a race car driver, although only at an amateur level, but on the other side, building her portfolio as a model. She has collaborated with a number of fashion brands such as Zala Hair, Bentley Beverly Hills, Revolve, and Beach Bunny Swimwear, which only further increased her popularity. She has gone on to acquire more than 1.5 million views on Instagram, thus becoming a proper social media star. She has used her popularity to promote the racing world – almost every picture on her account features one of the race cars. However, it is not all glitz and glamour on Instagram as she's spoken about the negative things of online popularity.
Most Recent Activities
Between 2019 and March 2021, Lindsay hasn't driven as a professional racer, as she was more focused on her education and her career as a model. However, most recently, she set in the Touring Car (TC) America Series Honda TC Type R, built by Honda Performance Division (HPD), under the sponsorship of Clubhouse Media and Skip Barber Racing, making her debut on the 5th March at Sonoma Raceway in California. The second race was held on the 30th of April at the Circuit of the American in Elroy, Texas, and her next race is scheduled for 11th June at Virginia International Raceway in Alton, Virginia, followed by Road America in Elkhart Lake, Wisconsin, which will be held on the 27th of August.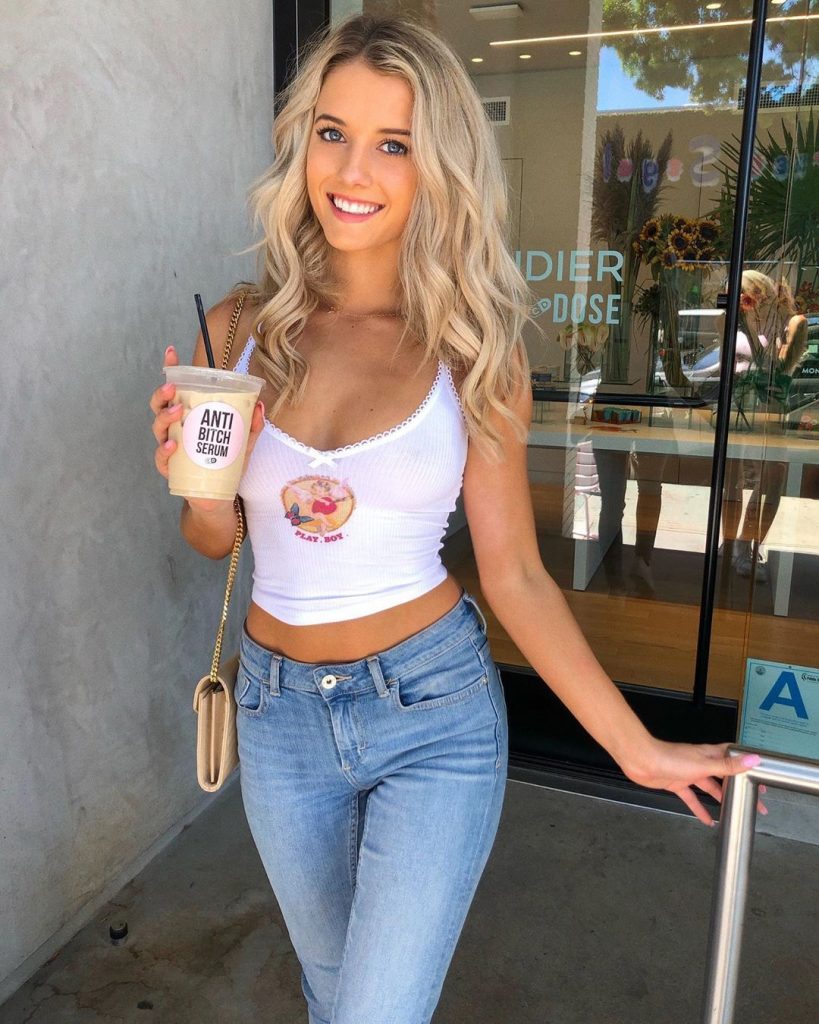 The other two races are held at Watkins Glen International on the 17th of September and at the Indianapolis Motor Speedway, respectively, which will be held on the 15th of October. She has been regular with Skip Barber Racing School, which has given the world such great drivers as Juan Pablo Montoya, Danica Patrick, and Jeff Gordon, among others.
Personal Life, Dating, Boyfriend, Single?
When it comes to her personal life, Lindsay hasn't spoken much about her personal endeavors. However, she's been in a relationship with the National Hockey League (NHL) player Drew Solomon since 2017. She has often shared pictures of them on her Instagram account from various travels of the couple. Lindsay hasn't spoken about their plans for the future.
Net Worth
As of mid- 2021, Lindsay Brewer's net worth has been estimated to be around $1.5 million, earned through her successful career as a professional race car driver, and a decent amount through her sponsorship deals and brand endorsements, thanks to her online popularity.
Appearance and Vital Statistics
This young racecar star has blonde hair and blue eyes. Interestingly, Lindsay has a condition named heterochromia, which means her eyes are different colors – one blue and the other brown. She stands at a height of 5ft 4ins (1.6m), weighs approximately 120lbs (55kgs), and her vital statistics are 34-23-37, bra size 32B, and shoe size 7.
Hobbies and Interests
Lindsay has dedicated her entire life to racing and has done all to become a successful racer. She is one of the rare females in motorsports, and has named Danica Patrick as her idol. Her dream is to participate and ultimately win at the Indy 500. Growing up, she played many sports, including tennis, golf, and she also loves skiing and snowboarding.
She has a huge car collection at her home, which features such supercars as several Lamborghini and Ferrari models, McLaren, but also BMW and several more.
Lindsay likes to travel a lot, and whenever she has some time off, she can be found at a beach, her preferred place to rest, with the Bahamas her favorite location.
Fashion is yet another of her interests, and thanks to her staggering look, Lindsay has managed to combine fashion and racing into a successful career.
Lindsay is an animal lover, having said that she is more of a dog person, but loves animals in general.
She has her own YouTube channel on which she uploads new videos regularly, however, she only has around 9,000 subscribers so far, having set it up back in 2018.