• Madison Pettis is an American actress, best known for her roles in "Cory in the House" and "The Game Plan".
• She holds Irish, Italian, French and African-American descent, and was homeschooled.
• She launched her career as a child, and rose to fame after her role in "The Game Plan".
• Her estimated net worth is around $500,000, and she is active on social media.
• She is an aspiring producer and hopes to launch her own production company in the future.
Who is Madison Pettis?
Madison Michelle Pettis is an actress, perhaps best recognized for her portrayal of Sophie Martinez in the Disney comedy series "Cory in the House". She is additionally known for appearing in "The Game Plan", "Life with Boys", and "Lab Rats".
Madison was born under the Zodiac sign Cancer on 22 July 1998, in Arlington, Texas, USA. She holds American nationality, so as of 2021, she is 23 years old. Additionally, Madison is of mixed African-American, Italian, French and Irish descent.
Bio, Family, Wiki
Madison was born to Michelle and Steven Pettis; her mother is of Irish, Italian and French descent, while her father is African American. She has two siblings, a brother named Steven who reportedly is serving in the military, and an older sister named Antoinette Mia Pettis, who is also an actress, with over 30 credits under her belt, and best known for her appearances in "Top Flight Security", "The Scam", and "The Blackout".
Regarding Madison's education, given that she launched her career when very young, she disclosed that she was homeschooled for most of the time. In 2016 she shared on her Instagram the letter from the prestigious NYU Tish School of Arts, with the caption: "Just got accepted into NYU TISCH School of the Arts… Speechless ".
Rise to Stardom
Talking of her rise to stardom, she began her modeling career after her parents signed up for an annual cover search held by the local parenting magazine entitled ForthWorthChild. Soon, the five-year-old Madison started auditioning for various commercials and movie parts, and in 2005, she made her TV debut as Bridget, starring in the children's series "Barney and Friend". The following year she landed her breakthrough role as Peyton Kelly, the lost daughter of Joe Kingman (Dwayne Johnson), in the Disney family comedy movie "The Game Plan".
Shortly after it premiered, the film became a huge success, which despite gaining average reviews, scored at the box office. After her memorable performance with Dwayne Johnson, she came into the spotlight, landing various other roles; in the same year, she landed her most recognized role as Cory in the series "Cory in the House", the spin-off series from another Disney show entitled "That's So Raven". The show ran for two seasons, achieving popularity especially among the younger audience. She additionally made guest appearances on the series "Hanna Montana" and "The 4400".
The following year was very busy for Madison, who appeared in several productions, including the comedy-horror movie "Mostly Ghostly" and the drama movie "Seven Pounds".
The latter starred Will Smith, Rosario Dawson and Woody Harrelson, and was a huge commercial success, despite receiving negative reviews aimed at the undone plot and illogical sequence of events.  She also starred in the coming-of-age movie "Free Style" opposite Corbin Bleu", which underperformed at the box office, and the TV movie "A Muppets Christmas: Letter to Santa".
In 2009 she appeared in two episodes of the children's series "Special Agent Oso", followed by her first voice role as Adyson in the animated series "Phineas and Ferb". In the same year, she starred as a regular contestant on the children's quiz show entitled "Are You Smarter Than a Fifth Grader?"
The following years saw Madison star in several direct-to-video movies, occasionally bouncing to TV series.
In 2010, she appeared as Wilamina/Will in the fantasy adventure movie "The Search for Santa Paws", followed by her guest appearance in the series "R.L. Stine's The Haunting Hour". In 2011 she appeared in the second installment of the family comedy movie "Beverly Hills Chihuahua 2", and then landed the main role in the teen sitcom "Life With the Boys", which ran for two seasons.
The following year she reprised her role in the third installment entitled "Beverly Hills Chihuahua 3: Viva la Fiesta", and portrayed Janelle in the comedy series "Lab Rats". After appearing in the sequel entitled "Mostly Ghostly: Have You Met My Ghoulfriend?", she starred in six episodes of the popular drama series "The Fosters". Her next appearance was in the Christian drama "Do You Believe" and the series entitled "Parenthood", then continuing her association with Disney, she voiced the character Zuri in the TV movie "The Lion Guard: Return of the Roar", and TV series "The Lion Guard".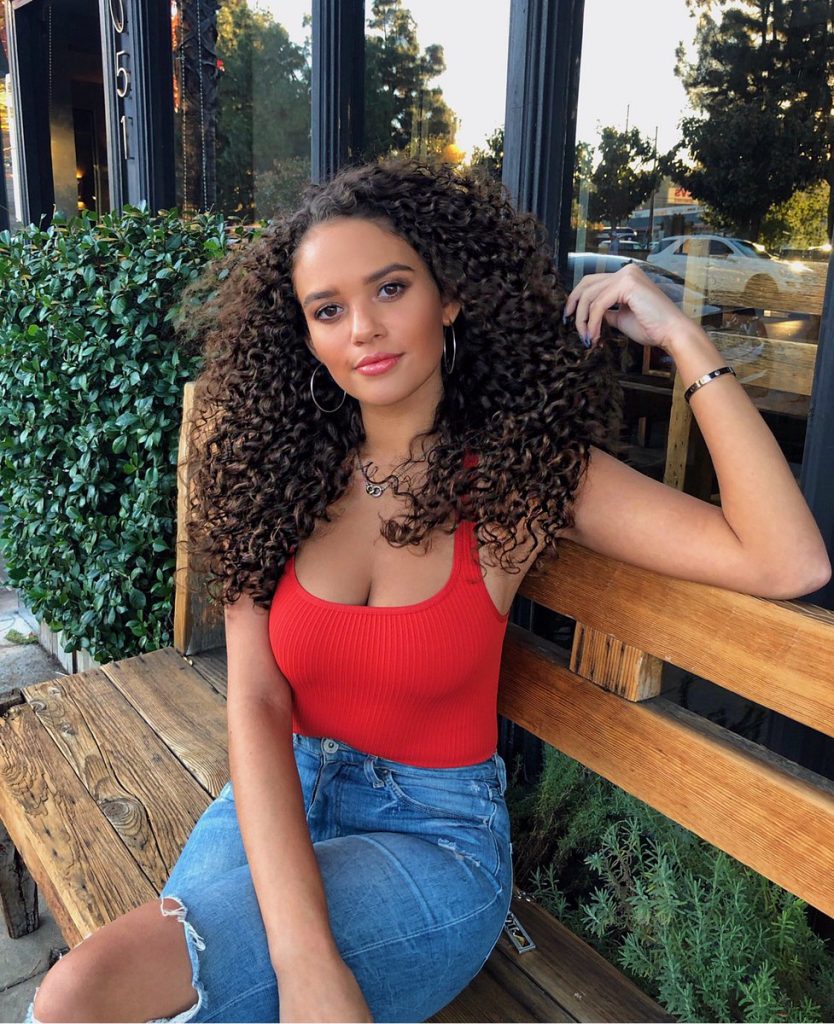 Her other notable roles include guest appearances in "Law and Order: Special Victims Unit", "Five Points" and "The Real O'Neals".
Her recent projects
In 2020, she portrayed Annie in the sex comedy film entitled "American Pie Presents: Girls' Rules", the fifth installment of the American Pie Presents film series. In the same year, she signed with the Creative Artists Agency (CAA).
In 2021, she is set to appear in the romantic comedy movie "He's All That", opposite Addison Rae and Tanner Buchanan, scheduled to premiere in August  on Netflix. She recently announced on her Instagram that she would be doing two movies back to back: the horror movie entitled "Margaux" opposite Vanessa Morgan and Richard Harmon, and the coming-of-age drama "Deltopioa".
Personal Life
Speaking of her dating history, she has had several bright romances. In 2009 she briefly dated Bryce Class, although the reasons for their hook-up and then break-up remain unknown. The following year Madison moved on with Jaden Smith, the actor, rapper, and singer, perhaps best recognized as Will and Jaden Smith's son. After being together for 15 months, they parted ways for unknown reasons.
In 2013, rumors circulated about her alleged relationship with Cameron Bryce. However, neither of them disclosed any information. In the following year, she dated Kailin White, perhaps best recognized as a member of the rap/RNB group Kailin and Myles, but they broke up after two years.
She next began dating the basketball player Michael Porter Jr., who at the time played for the University of Missouri College.
According to Michael's statements, they met on Instagram, but it was a long-distance relationship considering that Michael was attending college in Columbia while she was in Hollywood. In 2017 they confirmed their relationship publicly, appearing together at the Radio Disney Music Awards. However, in 2018 they unsurprisingly called it quits without disclosing any reasons. As of 2021, Madison is single, hasn't married and doesn't have kids.
Physical stats and hobbies
Maidson is 5ft3ins tall (160cm), weighs around 120lbs (55kgs), while her vital statistics are 36-24-33. Her hair is brown and curly, while her eyes are hazel.
Interestingly, she is an avid fashion enthusiast who likes to post her outfit inspirations and creations on social media; appropriately, she's an ambassador for the lingerie company SavagexFenty.
When she's not on the set, she likes to spend time with her family, and travel.
Naturally, she's a huge movie fan – her all time favorite is "13 Going on 30". In terms of TV series, she likes to watch "Law & Order" and "CSI".
Would you like to know her net worth?
As of 2021, her estimated net worth is around $500,000, which she has acquired through her career as an actress. She has appeared in some high-grossing movies, such as "Seven Pounds" which grossed over $160 million at the box office, and "The Game Plan," which grossed over $140 million at the box office. Besides acting, she additionally earns through occasional modeling gigs, and paid promotions on social media.
She is active on various social media platforms. Her Instagram counts over four million followers, while her Twitter has 1.4 million fans. She usually posts interesting places she visits, and upcoming projects.
Do blondes have more fun? 🥀 pic.twitter.com/G3bkc3dws0

— Madison Pettis (@madisonpettis) July 12, 2021
She also uses TikTok; her account has nearly two million followers with 12 million likes, which for the most part is an extension of her other platforms.
More about Madison
In an interview, she talked about her motivation and will to continue persevering in the entertainment industry, which is known for being cruel and unfair, she disclosed: "I get inspired reading interviews from people like Jennifer Lawrence and Emma Stone, where they talk about the whole journey to where they are now. Nothing is overnight even if it might seem that way from the outside."
In terms of her future goals, she said: "I'm striving to create a balance between TV and film. As an actor, I don't want to get stuck doing one certain thing. I like a variety of genres and I want to explore them all." The aspiring actress also added that in time she planned to test the uncharted waters as a producer with the goal of launching her own production company.