• Rachel DeMita is an American internet personality, sports journalist, television host, model, and influencer.
• She discovered basketball during her freshman year of high school and won the Scholar-Athlete of the Year award twice.
• She started a YouTube channel in 2011 and has since worked as a host on various television networks and as a spokesperson for Adidas.
• She is currently in a relationship with basketball player Andre Roberson and is a vegan and animal lover.
• She has an estimated net worth of $1 million.
Rachel DeMita is an American internet personality, sports journalist, television host, model, and influencer. She started out as a YouTuber, but her passion and dedication along with her love of basketball have helped her make a way into places she probably only dreamed of. She is best known for appearing on ESPN (Entertainment and Sports Programming Network), as well as NBA (National Basketball Association) TV.
Early life, family, educational background
Rachel Annamarie DeMita was born on 14 June 1990, in Barberton, Ohio USA. Rachel is the only child to Shannon, a school teacher, and Jack DeMita, who worked as a construction shop manager.
She was a carefree child who enjoyed playing and dancing, however, basketball was never one of her bigger interests until enrolling into Wadsworth High School, and discovering basketball during her freshman year. Even though she ran cross country, did gymnastics, and played softball throughout her school years, she instantly fell in love with basketball.
Once she realized that she could get a scholarship to play basketball in university, Rachel gave it her all. She won the Scholar-Athlete of the Year award twice, and even though her dream was never playing in the WNBA (Women National Basketball Association), and she only wanted a scholarship for university, Rachel was one of the best basketball players in her school.
During the summer between her junior and senior years in high school, Rachel went through try-outs for college, ranking 23rd from 340 players, and was accepted into Old Dominion University, in Virginia; this was 11th ranked university on the list of best basketball scholarship programs in the country.
She verbally accepted the offer from the university, and had one more year of high school to finish before matriculating. This was the year Rachel started feeling weighed down and pressured by her future, saying in her YouTube video that she developed a stomach ulcer from stress.
Her first and only year in the Old Dominion was the most depressing time in her life, later saying that the new circumstances and the lack of social life, as well as the tempo of training and the fact that she couldn't take the classes she wanted to, made her question her choice. She was truly unhappy, and was faced with a choice: she could continue with the program at Old Dominion, and graduate with no clear goals in her life (again, she never wanted to be a professional player), or she could leave the university, the program and basketball altogether for a fresh start at another university. Even though leaving basketball behind was the most difficult decision she's had to make in her life so far, she chose to move on to the American University.
She got her fresh start, and a chance to be happy again with studying Journalism and Performing Arts, and having an internship on a morning news show. She would wake up at 3a.m. for her shift which lasted from 4:30 until 8 a.m., then take a nap before going for a run, go to class, do her homework, and go to bed at 11p.m. every night. She avoided basketball as much as she could as it would make her cry just by watching the game.
Career
On 12 September 2011 and while still in university, Rachel launched a self-titled YouTube channel. On 2 December she posted her first video entitled "Belle Koclanes – New Coach, New Energy", an interview with the new coach for the American University Women's Basketball team.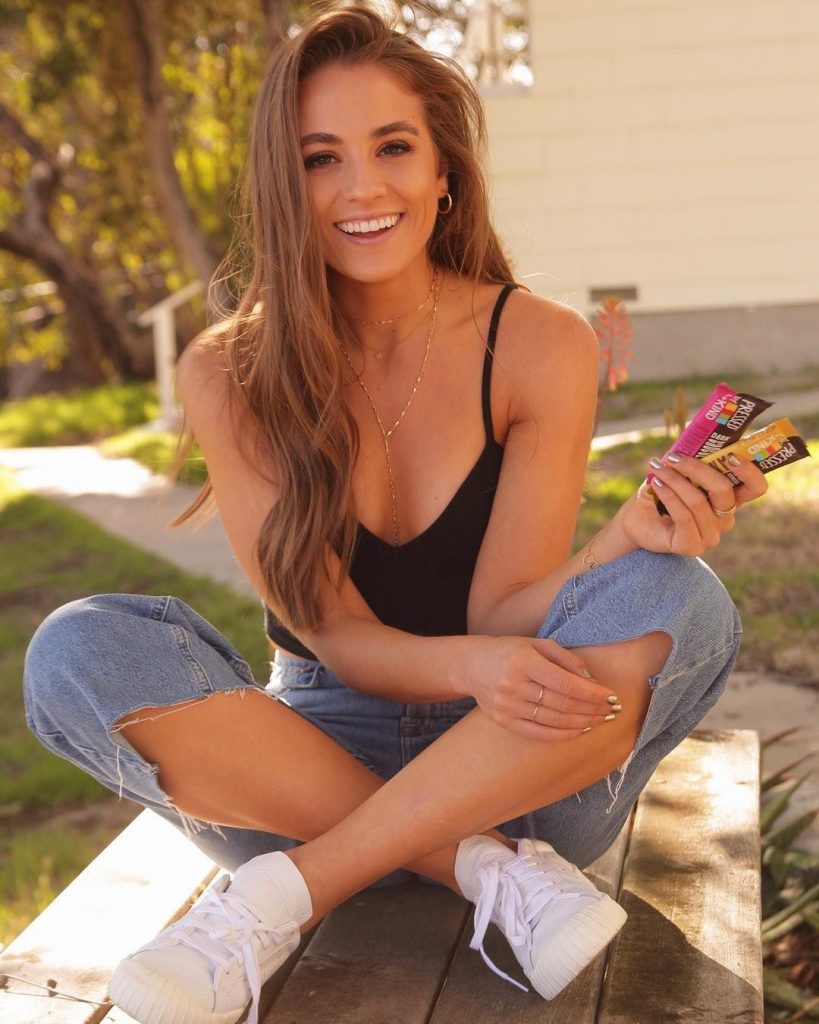 After graduating, Rachel moved to Los Angeles and started working as a server in the W Hollywood hotel, while simultaneously growing her YouTube career. After a year of living in LA, and 200 subscribers to her YouTube channel, Rachel picked up the basketball again, signing-up for the Nike Skills Challenge and winning, which led to her being noticed by Adidas, Finish Line, and Fox Sports.
Over the years her channel has filled with various kinds of content, mostly workout and lifestyle videos, and vlogs. As of mid-2021, her channel has 267,000 subscribers and over 14 million views overall. When she started posting workout videos, they were of her playing basketball.
As her channel grew she captured the attention of ESPN agents, and she was offered a hosting position on the network. She subsequently worked as a host on numerous television networks including Bleacher Report, Fox Sports Digital, Awesomeness TV, and NBA TV among others.
It wasn't until 2017 that Rachel became a celebrity in her own right, when she was recruited by the NBA 2KTV to host the first-ever broadcast of the video game NBA 2K18. She also secured the position as an interviewer for the NBA
Also in 2017 she became the spokesperson for Adidas, and still regularly does product endorsements.
Rachel maintains that she won't be a host forever, and was to announce something beg before the Covid lockdowns happened. She is currently in between full-time jobs, so it remains to be seen what she and her team come up with next.
TGIF ☀️ pic.twitter.com/h9pR9b7Z01

— Rachel DeMita Pics (@RADeMitaPics) July 9, 2021
Personal life, boyfriend
Rachel has said many times that she hates herself when she's not busy, so she hardly has time to spend with friends, or even to find romantic relationships. She is also very shy in private life, and doesn't share many details about herself. Not much is known about her past relationships, but one of them has been made public, with the basketball player Andre Roberson. The couple has been keeping their affair under wraps for a long time, so no one is sure when exactly they started dating, but they made the relationship public via a post on Instagram in 2018.
They also made a video for YouTube in which they answer questions about each other. Rumors are going on that the couple had split up at the beginning of 2021, but this hasn't been confirmed by either of them.
Hobbies, favorite things, and interesting facts
Rachel is a vegan, which means she does not consume animal products in any shape or form. Unsurprisingly she is an avid animal lover.
In 2017 she posted a vlog to YouTube, documenting her buying her new car, a white Lexus RCF with red faux leather seats.
Several years ago she adopted an elderly cat and is very vocal about her passion for rescuing animals instead of buying them from breeders.
She loves staying active, as can be seen on her YouTube account, and one of her favorite sports is swimming.
She's very active on Instagram and Twitter, with 1.2 million followers on the former, and 227,000 on the latter.
Appearance, clothing style
Rachel is 5ft7ins (175cm) tall, weighs about 125lbs (56kgs), and her vital statistics are 34-26-35, which gives her a nice, lean figure. Her most prominent physical characteristics are her green eyes and long brown hair.
Net worth and salary
Rachel's main source of income is hard to determine, as she is active in many different areas of entertainment. Her hosting jobs and her social media accounts seem to be bringing her an annual income of approximately $200,000. Her net worth has been estimated to be close to $1 million, as of mid-2021.