Maxwell Caulfield:
• British-American actor, singer and voice actor
• Best known for role as Michael Carrington in "Grease 2" (1982) and Pvt. Ray Ellis in "The Supernaturals" (1986)
• Active member of Mirror Repertory Company
• Appeared in 70+ films, stage productions, and TV shows
• Married actress Juliet Mills in 1980
Maxwell Caulfield is a famous British-American actor, singer and voice actor, who has portrayed various roles in film and on stage and television. He is possibly still best known for his role as Michael Carrington in the American musical romantic comedy film "Grease 2" in 1982, which is the sequel to the 1978 film "Grease". He also played the role of Pvt. Ray Ellis in the horror, mystery sci-fi film "The Supernaturals" in 1986. Maxwell even stripped naked on stage in "Salonika" in 1985.  He has more than 70 appearances on stage, in films, and on television.
Early life, family, educational background
Maxwell Caulfield, whose zodiac sign is Sagittarius, was born on 23 November 1959, in Belper, Derbyshire, England, of Scottish ancestry. He is the only child of Peter Newby and Oriole Rosalind.
Caulfield didn't have a happy childhood, as his parents divorced when he was only six years old. At the age of 15, his American stepfather Peter Maclaine, a Parris Island Marine instructor, kicked him out of the house, and he was compelled to make a living on his own. He became an exotic dancer at The Windmill Theater in London, so that he could obtain an equity card, and be able to work as an actor in the theater productions.  Eventually, he acquired his green card through his stepfather, and moved to New York to become an actor. He has a half-brother named Marcus Maclaine, a musician.
There are no written accounts about Maxwell's educational background. However, he was an active member of the Mirror Repertory Company, which was part of The Mirror Theater Ltd.
 Career
Theater Actor
In 1978, Maxwell made his New York City stage debut in "Hot Rock Hotel". In 1980, he played the first lead role in the play entitled "Class Enemy", with production organized at the Player's Theater in West Village. Because of his critically acclaimed performance, he bagged the "Theater World Award", then in the same year, he moved to Los Angeles where he played integral roles in two successful plays – "Hitting Town" and "The Elephant Man". During this time, Caulfield also became an important part of the 'Mirror Repertory Company, and performed in various plays such as "Rain", "Paradise Lost", "The Hasty Heart", and "Inheritors". He also made appearances in Broadway productions, such as "Loot" "An Inspector Calls", and "Once a Catholic". Other off-Broadway plays included 'Crimes and Dreams" (1980), "Salonika" (1985), "Entertaining Mr. Sloane" (1987), and "Never the Sinner" (1991).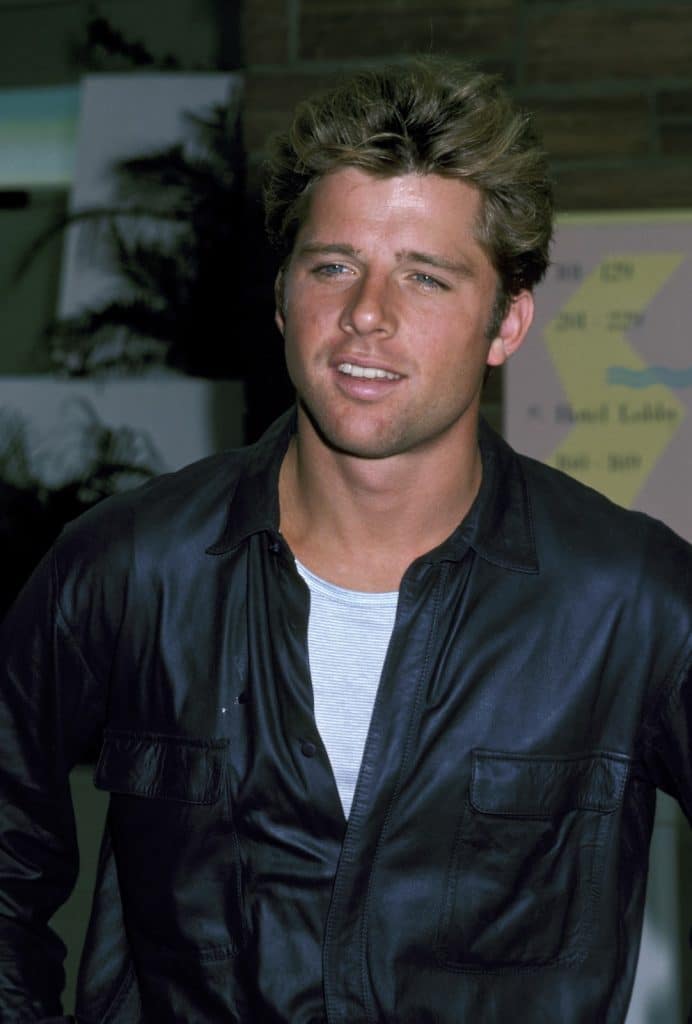 Movie/Film Actor
In 1982, he made a full-fledged film debut, a lead role in the successful musical film "Grease 2", also Michelle Pfeiffer's first starring role, in which she played Stephanie Zinone – both Caulfield and Pfeiffer were hailed as 'The Next Overnight Sensations'. Maxwell also played Bill in the British science-fiction comedy film entitled "Electric Dreams", and in 1985 he was Roy Alston in the crime thriller movie "The Boys Next Door".
The movie entitled "The Supernaturals", released in 1986, is probably one of his movies with the best reviews, and most interesting reception. Maxwell's other movies include: "Sundown: The Vampire Retreat" (1989), "Gettysburg" (1993), "The Real Blonde" and "The Man Who Knew Too Little" (both in 1997), "Second Chances" (2013), a"And xcellerator" (2017). He also appeared in the American documentary "The Fabulous Allan Carr" in 2017.
Television Actor
In 1985, Maxwell started to appear in television shows. He starred in "Dynasty" (1985-1986), "The Colbys" (1985-1987), and "Murder She Wrote" (1988-1991). In 1990, he became part of the TV show "Beverly Hills, 90210", in 1996 "The Rockford Files",  and in 1995-1998 "Spider-man". Other shows have included "Casualty" (2003-2004), which became a big hit in the UK. Then in "Emmerdale" (2009-2010), and "NCIS" in 2013.
Personal life, spouse Juliet Mills
Maxwell Caulfield married Juliet Mills in 1980. According to an interview with Sunday Post, Maxwell was a big fan of Mills, who is 18 years his senior. He was instantly attracted to Juliet upon their first meeting when they met in New York on the tour of their play "The Elephant Man", in which Maxwell played the title role, and his future wife Juliet as Mrs Kendal, the Victorian actress.
The couple dated for a long time before they tied the knot in 1980. Caulfield was only 21 years old then. Mills has been married three times – his first two marriages did not last. Maxwell became the stepfather of Juliet's two children, Sean from her first husband Russell Alquist, Jr., and Melissa, from her second husband Michael Miklenda.
In 1987, both Maxwell and Juliet appeared in the "Pitfalls" episode of the TV series  "Hotel".  To this date, they are still happy with their marriage, and will celebrate their 41st wedding anniversary in 2021.
Interesting facts
After long years of struggle, he became a naturalized American citizen in 1991.
His alternate name is Maxwell Findlater. He was behind the voices of James Bond in a video game "James Bond 007:Nighfire" (2002),  as Brom in "Eragon" (2006), and Hanna Telle in "Life is Strange" (2015). According to Juliet Mills, her husband enjoys swimming. He's also a soccer fan, and supports Chelsea FC. One of his hobbies is listening to music. His favorite destinations are Vancouver and Barcelona.
Appearance, clothing style
Maxwell is 5ft 11 ins (1.83 m) tall and weighs about 73 kg (161 lbs). At the age of 61, he still maintains an athletic body build, with a 26-inch waist, and 32 inch chest measurement. He has blue eyes and brown hair.
Net worth and salary
Caulfield has an estimated net worth of $10 million, as of early 2021.
Who is Juliet Mills
Juliet Maryon Mills is a British-American stage, television and film actress, born on 21 November 1941, in London, UK, She's the eldest child of Sir John Mills and Mary Hayley Bell. Her younger sibling, Hayley Mills is an English actress, and John Mills is a director ad writer.  At an early age, Juliet was already exposed to the acting and entertainment industry. As a toddler, she made several appearances as an extra in several films. At the age of 17, she made her first professional debut as Pamela in the production "Five Finger Exercise", and continued playing the role for two years including a year in Broadway. Her role set the stage for an acting career and even obtained a Tony Award nomination.
In 1961, her first TV movie, "Mrs. Miniver" was shown. In the same year, she was seen in the movie "No My Darling Daughter".
In 1962, her movie "The Two Rounds of Dafodills" was released, then in 1963 the movies "Nurse on Wheels" and "Carry On Jack". From the 1960s to the 1970's, she expanded her horizons to both television and movies.
She returned to stage plays with "The Elephant Man" in 1980, and the same year she married Maxwell Caulfield. In 1999, she played Tabitha Lennox in the TV series "Passions", which ran for nine  seasons (2008). She was last seen on television in 2019 for "Long Time Listener, First Time Caller'.
Mills has been married three times. Firstly with Russell Alquist Jr. from 1961 to 1964; they had a son named Sean. The second was Michael Miklenda from 1975 to 1980, and they had a daughter, Melissa. Her third marriage was in 1980 with Maxwell Caulfield. Although the couple didn't have their own children, they are undoubtedly happy with their relationship.