Who is Kathryn Boyd?
Kathryn Boyd Brolin was born on 12 October 1987 under the zodiac sign of Libra, in Atlanta, Georgia USA. She is a 33-year-old model, actress, producer, and production assistant, who has worked on such film titles as "Everest", "Oldboy", and "The Shallow". However, Kathryn is probably best recognized for being the wife of famous actor Josh Brolin.
How rich is she, as of now? Kathryn Boyd Net Worth
As of early 2021, Kathryn Boyd's net worth is estimated at over $8 million, acquired through her involvement in the entertainment industry. Moreover, she probably enjoys the wealth of her famous husband, Josh Brolin, who has an estimated fortune of over $45 million.
Early Life, Parents, Nationality, Ethnicity
Kathryn Boyd spent her early years in her hometown of Atlanta, raised by her father, Britt Boyd, a family medicine physician, and her mother Deborah Boyd Brown, who works as a realtor at Ansley Real Estate.
She has two sisters – Heighlen Daniel Boyd, known for being an actress, and Kaylin Boyd. She holds American nationality and belongs to White Caucasian ethnic group.
Educational Background
Regarding her education, Kathryn attended The Lovett School. Upon matriculation in 2005, she enrolled into the Grady College of Journalism and Mass Communication of the University of Georgia, from which she graduated with a BA degree in Magazine Journalism in 2008. While there, she obtained a photo-journalism certificate, then in 2008, she moved to Florence, Italy to study Photography at Santa Reparata International School of Art.
Career Beginnings
Kathryn Boyd started pursuing her professional career as an assistant for several directors and producers.
In 2010, she assisted the unit production manager for the Fox crime drama series "Past Life", after which she made her debut film appearance as a Frisbee girl in the Farrelly brothers' romantic comedy film "Hall Pass" in 2011. She then worked behind the scene as an assistant for the musical film "Footloose" (2011), the sci-fi comedy film "The Watch" (2012), and the neo-noir action thriller film "Oldboy" (2013).
Rise to Fame
In 2014, Kathryn became a commercial theatrical actor and member of the Screen Actors Guild‐American Federation of Television and Radio Artists. The same year, she started her modeling career, signing a contract with LA Models, and then served as an assistant for the action crime film "Frank Miller's Sin City: A Dame To Kill For", the neo-noir crime film "Inherent Vice", and the comedy film "Dumb And Dumber To".
In 2015, she was an assistance to key talent for the historical adventure film "Everest", and landed the role of Jessica in the short drama film "Bad Company". Later that year, she portrayed Sophia in the short thriller film "Rideshare", and Kat in the short comedy film "Ride To Vegas", both of which she produced.
Further Work
Kathryn then produced, and featured as Kate in the 2016 short drama film "Loveless In A Brown Room". In 2017, she made a guest appearance as Bailey in the episode "Hospital Hacks" of the CBS crime drama series "The Inspectors", and two years later she had the part of Rebecca in the short drama thriller film "Lamb", written and directed by Caroline Slaughter. Most recently, Kathryn was cast as Nancy in the thriller film "The Shallow" (2021).
Additionally, Kathryn created and runs Midheaven Denim, a denim collection for tall women, which she established in 2018.
Appearance and Vital Statistics
Kathryn Boyd has long blonde-dyed hair and blue eyes. She stands at a height of 5ft 11ins (1.80m), her weight is around 136lbs (62kgs), and her vital statistics are 32-25-38. Her bra size is 33B, her dress size isn't available, and her shoe size is 8 (US).
Love Story with Josh Brolin
Kathryn Boyd and Josh Brolin met each other back in 2010, when she was hired to work as his assistant; at the time, he was married to actress Diane Lane. Kathryn and Josh started dating following his divorce in 2013,. The two became engaged in March 2015, while they exchanged their wedding vows at a ceremony on 24 September 2016, in Cashiers, North Carolina. They have two children together – Kathryn gave birth to their first daughter named Westlyn Reign on 4 November 2018, and welcomed their second daughter named Chapel Grace on 25 December 2020.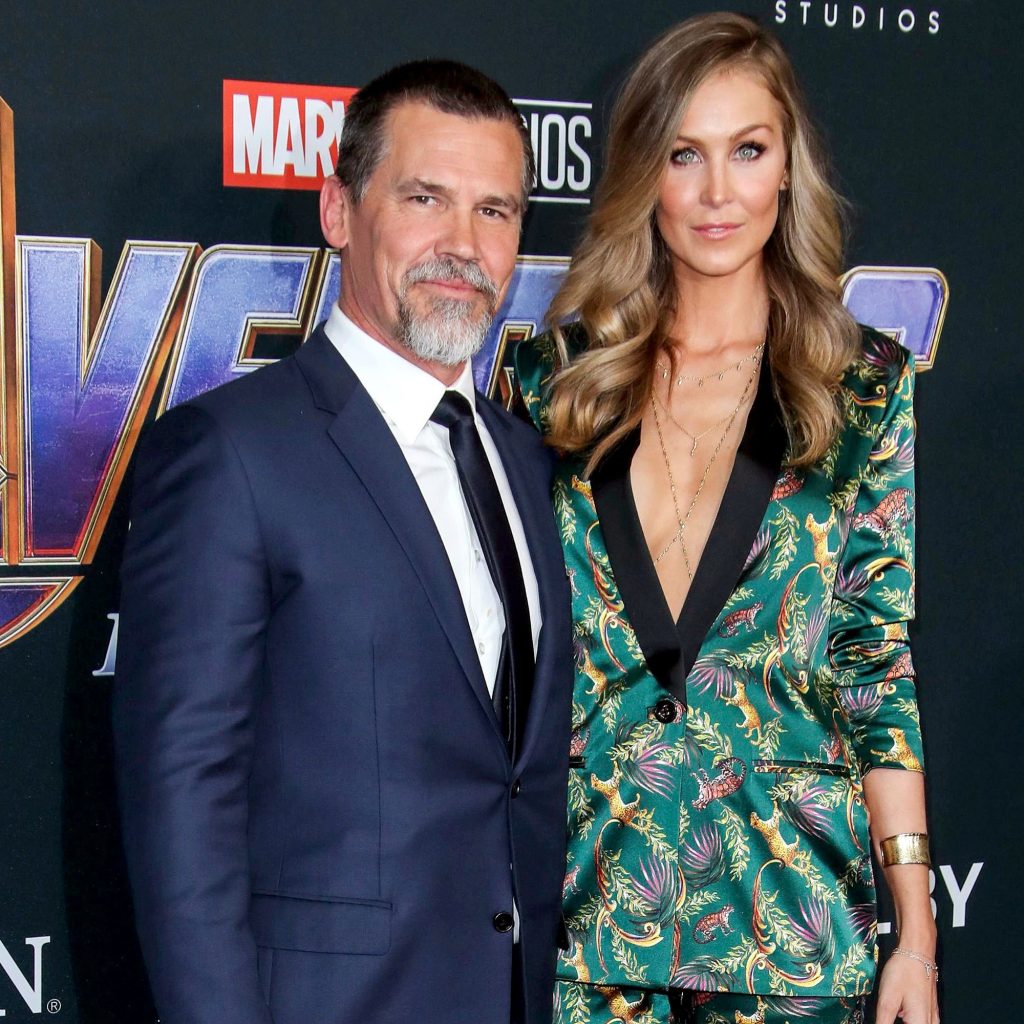 She also adopted his two sons, Eden Brolin and Trevor Brolin, from his previous marriage with actress Alice Adair. The family currently resides in Santa Monica, California.
Who is her husband? Josh Brolin Short Wiki/Bio
Josh James Brolin was born on 12 February 1968 under the zodiac sign of Aquarius, in Santa Monica, California. He was raised on a ranch in Templeton, California by his father James Brolin, a well-known actor, and his mother Jane Cameron (Agee), a wildlife activist. His parents divorced in 1984. He has a younger brother, named Jess Brolin. He became interested in acting after taking a drama class in high school.
Career Beginnings
Josh Brolin started his acting career in 1985, when he made his film debut as Brandon 'Brand' Walsh in the adventure comedy film "The Goonies", directed by Richard Donner.
He then played Corey Webster in the skated drama film "Thrashin'", and made his TV debut as Josh Bryant in the episode "Finish Line" of the NBC fantasy drama series "Highway To Heaven", both in 1986. After guest-starring as Taylor Rolator in the episode "My Future's So Bright, I Gotta Wear Shades" of the Fox police procedural series "21 Jump Street" in 1987, he was chosen to play Johnny Betz in the NBC crime drama series "Private Eye", from 1987 to 1988.
Rise to Prominence
In 1989, Josh Brolin had a part as Glenn Shrevelow in the made-for-TV sports drama film "Finish Line". His first major role came later that year, when he joined the main cast of the ABC western series "The Young Riders", starring in the role of James Butler 'Wild Bill' Hickok until its final in 1992. Two years later, he was cast as Jack Passion in the NBC drama series "Winnetka Road", and played Tom in the suspense thriller film "The Road Killer", alongside Christopher Lambert and Joseph Gordon-Levitt.
He then guest-starred as Jack Pierce in the episode "Virtual Future" of the Canadian-American fantasy horror series "The Outer Limits" (1995). It was followed by his portrayals of Danny in the romantic film "Bed Of Roses", and Agent Tony Kent in the black comedy film "Flirting With Disaster", and Keith DeBruler in the made-for-TV action crime film "Gang In Blue", all in 1996.
Roles in the Late 1990s
In the next year, Josh Brolin played James in the horror-thriller film "Nightwatch", and featured as Josh in the sci-fi horror film "Mimic", directed by Guillermo del Toro. Josh then took the role of Pete in his father's action thriller film "My Brother's War" (1997). In 1999, Josh has such parts as Billy in the action thriller film "The Mod Squad", Bryce in the crime film "Best Laid Plans", and Tennel in the comedy-drama film "All The Rage". Afterwards, he appeared as Hal Carter in the made-for-TV romantic drama film "Picnic", Matt Kensington in the sci-fi slasher film "Hollow Man", and Duster in the direct-to-DVD drama film "Slow Burn", all in 2000.
Further Work
Josh's next major role came in 2002, when he starred as Dave Lockhart in the thriller film "Coastlines", after which he played Gary in the drama film "Milwaukee, Minnesota", and landed the title role of Senator Bill Sterling in the NBC serial drama series "Mister Sterling", both in 2003. It was followed by his portrayals of Greg Earlinger in Woody Allen's 2004 comedy film "Melinda And Melinda" and Bates in the 2005 action-thriller film "Into The Blue", next to Paul Walker and Jessica Alba. During the same year, he featured as Det. Gilroy in the made-for-TV drama film "Murder Book", and guest-starred as Jedediah Smith in the episode "Wheel To The Stars" of Steven Spielberg's miniseries "Into The West". He then took the role of Tarlow in the thriller film "The Dead Girl", along with Brittany Murphy and Toni Collette.
Worldwide Recognition
In 2007, Josh took the roles of Dr. William Block in the segment "Planet Terror" of the double feature "Grindhouse" and Llewelyn Moss in the Coen brothers' Academy Award-winning neo-Western crime thriller film "No Country For Old Men", next to Tommy Lee Jones and Javier Bardem.
The same year, he starred as Chief Buchwald in the crime mystery film "In The Valley Of Elah", and as Det. Reno Trupo in the biographical crime film "American Gangster", directed by Ridley Scott.
In 2008, he was cast as President George W. Bush in Oliver Stone's biographical drama film "W.", and as Dan White in Gus Van Sant's biographical film "Milk", which earned him an Academy Award nomination for Best Supporting Actor. In the next year, Josh featured as Nick Chapel in the comedy film "Women In Trouble". In 2010, he landed the title role in the western superhero film "Jonah Hex", and played Bretton James in Oliver Stone's drama film "Wall Street: Money Never Sleeps". In the same year, he made appearances as Tom Chaney in the Coen brothers' Revisionist Western film "True Grit", and Roy in the Spanish-American comedy-drama film "You Will Meet A Tall Dark Stranger", directed by Woody Allen.
Continued Success
In 2012, Josh Brolin featured as the younger version of Agent K in the sci-fi action comedy film "Men In Black 3", followed by his portrayals of John O'Mara in the action crime film "Gangster Squad", Joe Doucett in the neo-noir action thriller film "Oldboy", and Frank in the drama "Labor Day", opposite Kate Winslet, all in 2013. He then landed such roles as Dwight in the action crime film "Frank Miller's Sin City: A Dame To Kill For" and Lt. Det. Christian 'Bigfoot' Bjornsen in the neo-noir crime film "Inherent Vice", both in 2014. Thereafter, he played Thanos in "Guardians Of The Galaxy" (2014) and "Avengers: Age Of Ultron" (2015), but both of his appearances were uncredited. He would later reprise the role in its sequels "Avengers: Infinity War" (2018), and "Avengers: Endgame" (2019).
Recent and Upcoming Projects
Meantime, in 2015 Josh has such parts as Beck Weathers in the historical adventure film "Everest", and Matt Graver in the action thriller film "Sicario", which he would reprise in its 2018 sequel entitled "Sicario: Day Of The Soldado". He then starred in the roles of Eddie Mannix in the 2016 comedy film "Hail, Caesar!", and as Eric Marsh in the 2017 biographical drama "Only The Brave". In 2018, he played Buck Ferguson in the 2018 comedy-drama "The Legacy Of A Whitetail Deer Hunter" and was cast as Nathan Summers a.k.a. Cable in the superhero film "Deadpool 2".
Regarding his upcoming projects, Josh will play Gurney Halleck in the sci-fi film "Dune", and Royal Abbott in the Prime Video mystery drama series "Outer Range". It's also been announced that he will provide his voice to Thanos in the Disney animated anthology series "What If…?", and will appear in Sean Penn's thriller drama "Flag Day" and the comedy film "Brothers".