• Born in New York City, USA on 27 June 1988 and holds American nationality
• Gained recognition with her portrayal of Tara Chambers in the hit horror thriller series "The Walking Dead"
• Appeared in numerous TV series and movies, most recently in 2020 with the horror comedy "Kappa Kappa Die"
• Received a CinEuphoria Merit – Honorary Award in 2020 for her performance in "The Walking Dead"
• In a relationship with Paul Longo, has a daughter with her former boyfriend Brick Stowell
Who is Alanna Masterson?
Alanna Masterson was born in New York City, USA on 27 June 1988 – her zodiac sign is Cancer, and she holds American nationality. She's an actress with 17 credits to her name, perhaps known best for her portrayal of Tara Chambers in the hit horror thriller series "The Walking Dead". Created by Angela Kang and Frank Darabont, it stars Andrew Lincoln, Norman Reedus and Melissa McBride; it follows a group of survivors living in a world overrun by zombies. The series has been airing since 2010, and has won 80 awards, including two Primetime Emmys, while it's been nominated for 222 other awards.
Early life and education
Alanna was raised in New York City alongside her older brother Jordan Masterson, and half-brothers Christopher Masterson and Danny Masterson, all of whom are today famous actors; Danny's known best for his portrayal of Steven Hyde, in the critically acclaimed sitcom "That '70s Show", while Christopher starred as Francis, in the sitcom "Malcolm in the Middle". Alanna's parents are Joe Reaiche, an Australian-Lebanese retired professional American Football Player, and Carol Masterson, a housewife.
Alanna became interested in acting at a very early age, mostly because she was motivated by her brothers.
She was six when in 1994 she launched her acting career, with her portrayal of Colleen Carlton in two episodes of the soap opera "The Young and the Restless". Her following role came seven years later, when she appeared in the pilot of the 2001 comedy drama "Definitely Maybe".
Alanna then continued acting throughout her entire education. She attended a local high school in Los Angeles, California, and upon matriculating in 2006, she didn't enroll at college, but focused on acting.
Roles in TV series
In 2006, Alanna made a guest appearance as Heidi in the episode "Malcolm's Money" of the comedy "Malcolm in the Middle", and in 2008, she guest starred in the episode "Spring Broke" of the family comedy drama "Greek".
The following year saw her appear in an episode of both the fantasy action drama "Terminator: The Sarah Connor Chronicles", and the romantic drama "Grey's Anatomy". She gained recognition in 2010, after starring as Abby in the comedy "First Day". It also starred Tracey Fairaway and Elizabeth McLaughlin, and follows a girl who gets to relive her first day at high school over and over again, until she gets it right.
In 2012 and 2014, Alanna guest starred in an episode of the comedy "Park It Up", and the romantic comedy drama "Men at Work", respectively, and in 2016, she played the supporting character Lydia, in the romantic thriller "Mistresses" – created by K. J. Steinberg, it starred Alyssa Milano and Jes Macallan, and follows the lives of four girlfriends.
Most recently, in 2018, Alanna portrayed Kiara in three episodes of the romantic comedy "Younger".
Roles in movies
Alanna made her debut movie appearance in 2011, with her portrayal of Dora Bell Hutchinson in the drama "Peach Plum Pear". It follows Jesse and his friend Will, who have found themselves stranded in Nebraska after their car was stolen.
Her following movie role came in 2018, when she was cast to play Sally, in the hit romantic comedy drama "Irreplaceable You", written by Bess Wohl, directed by Stephanie Laing, and which starred Gugu Mbatha-Raw, Michiel Huisman and Steve Coogan. It follows a couple who have been together since the age of eight. The same year saw Alanna appear in the horror thriller "Afraid", and in 2019, she was cast to star as Michelle in the short drama "Naysayer".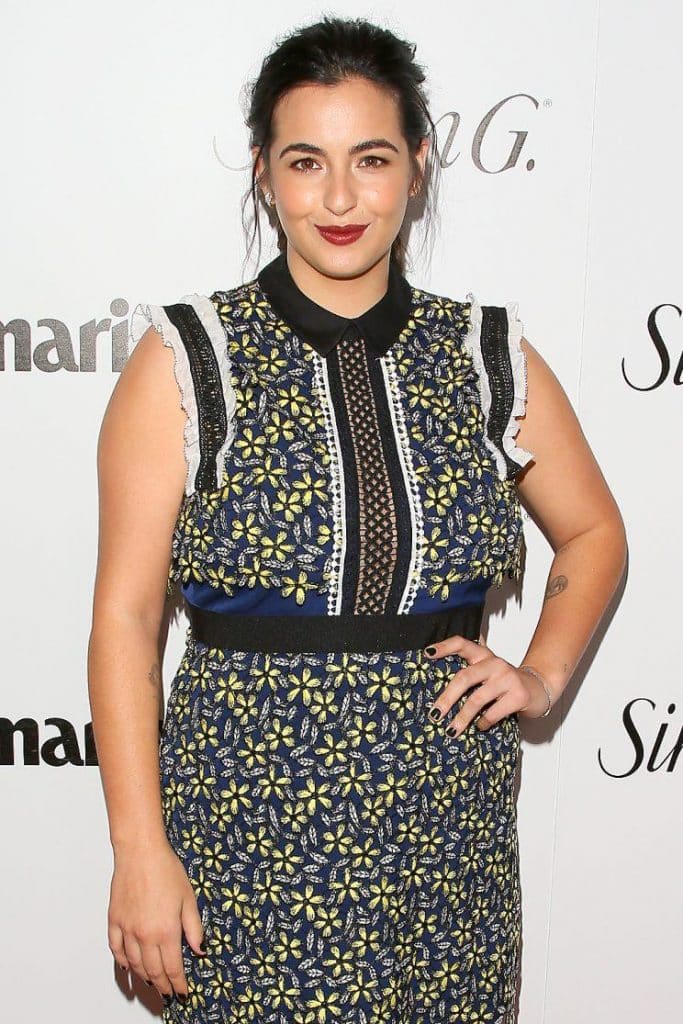 Her most recent movie role has been her portrayal of Laura in the 2020 horror comedy "Kappa Kappa Die", directed by Zelda Williams, and which starred Maame-Yaa Aforo, Shanley Caswell and Georgie Flores. It follows Shauna who has joined the sorority Kappa Kappa Phi, because her sister's death is somehow connected to it.
Other credits
She could have been seen in the 2015 TV special "IHeartRadio Music Awards".
Alanna received special thanks for the 2016 documentary movie "The Walking Dead: The Journey So Far", in which she's also featured.
She has made a guest appearance in many talk-shows, such as "Extra with Billy Bush", "Start Talkin' with Scott Rogowsky", and "Talking Dead".
Award and nominations
In 2020, Alanna and her colleagues won a CinEuphoria Merit – Honorary Award, for their performance in the series "The Walking Dead".
Love life and relationships
Alanna's highly secretive when it comes to her love life, and has shared the details of only two men whom she's dated.
Her former boyfriend Brick Stowell's a photographer and a tour manager – the two were in a relationship sometime in the mid-2010s, and on 4 November 2015, Alanna gave birth to their daughter Marlowe Masterson, but Alanna and Brick split around a year later. They are both caring parents, and Marlowe gets to spend a lot of time with both of them.
For around two years now, Alanna has been in a relationship with Paul Longo, an actor and a philanthropist; she's uploaded numerous pictures featuring them together, onto her Instagram account.
As of July 2021, Alanna's in a relationship with Paul Longo, hasn't married, and has a daughter with her former boyfriend Brick Stowell.
Hobbies and other interests
Alanna is very active on Instagram, mostly because she likes the attention she's receiving from her 1.3 million followers. She's uploaded over 850 pictures, the majority of which have been taken during her travels, which is perhaps her main hobby – she's been all around the world, with her dream travel destination being Paris in France.
She's a fan of tattoos, and has a dinosaur inked on her right arm.
Summer is Alanna's favorite season, as she enjoys yachting, sun tanning at the beach, and swimming in the ocean.
She's physically active, and has a couple of training sessions at the gym each week, while she also cycles, runs in a park close to her home, and does yoga.
Alanna has her own favorite actors and actresses, some of whom are Jim Carrey, Brad Pitt and Angelina Jolie, while a couple of her favorite movies are "Yes Man", "Meet Joe Black" and "Wanted".
Age, measurements and weight
Alanna's age is 33. She has long brown hair and brown eyes, her height is 5ft 8ins (1.73m) and she weighs around 136lbs (62kgs).
As of July 2021, her net worth has been estimated at over $2 million.