• Born in Dallas, Texas, US in 1978
• Began career as a model in Europe before transitioning to acting
• Appeared in TV shows such as "Baywatch: Hawaii", "Ally McBeal", "North Shore", "Miss Guided" and "Melrose Place"
• Hosted game shows such as "Dog Eat Dog", "Hole in the Wall", "The Chase" and "Mind Masters"
• Married to filmmaker Gavin O'Connor and has two daughters
Who is Brooke Burns?
Brooke Burns is a model, actress, and TV host, perhaps best recognized for her roles in the TV series "Baywatch: Hawaii", and the soap opera "North Shore". She's also gained popularity hosting various game shows, including "Dog Eat Dog", "The Chase", and "Master Minds". Brooke was born under the Zodiac sign Pisces on 16 March 1978, in Dallas, Texas, USA she holds American nationality, and as of 2021 is 43 years old. Brooke is currently living in Los Angeles with her husband and daughters.
Early life and family
Brooke was born into a very religious Christian family with two sisters, to parents Brad and Betsy Burns – her father worked in the oil business and occasionally did ministry work. Growing up, she aspired to be a ballet dancer, in which she'd trained since she was three years old.
However, her plans were halted after she had a skiing accident in which her anterior cruciate ligament sustained severe damage. After having her dancing dreams crushed, at the age of 16 she moved with her family to Europe. Over the years the family bounced between Milan, Paris and Munich, where Brooke successfully launched her modeling career with various agencies, and singing, prior to kicking off her career as an actress and host. Not much information is available about her education or academic aspirations.
Career
Brooke's actinmg career began with portraying the recurring character Peg, in the teen sitcom "Out of the Blue", which ran for one season in 1996. After appearing in an episode of the series "Conan the Adventurer", she landed the role of Jennifer Higgin in the popular legal comedy series "Ally McBeal".
In 1998, Brooke joined the cast as Jessie Owens in the "Baywatch" spin-off series entitled "Baywatch: Hawaii", starring David Hasselhoff and Michael Bergin. During that period she got pregnant with her first child, which prompted her to exit the show in 2001 after starring in 33 episodes.
In 2002 she made her movie debut portraying Katarina in the romantic comedy "Shallow Hal", then after appearing in the series' "Men Women and Dogs" and "A Nero Wolfe Mystery", Brooke was chosen to host the popular game show "Dog Eat Dog". In 2004 she booked the role as the recurring character, Nicole Booth, in the soap opera "North Shore"; the show received mainly negative reviews from critics aimed at the derivative and played-out plot resembling a hybrid of "Baywatch" and "Hotel"; the show was canceled after the first season.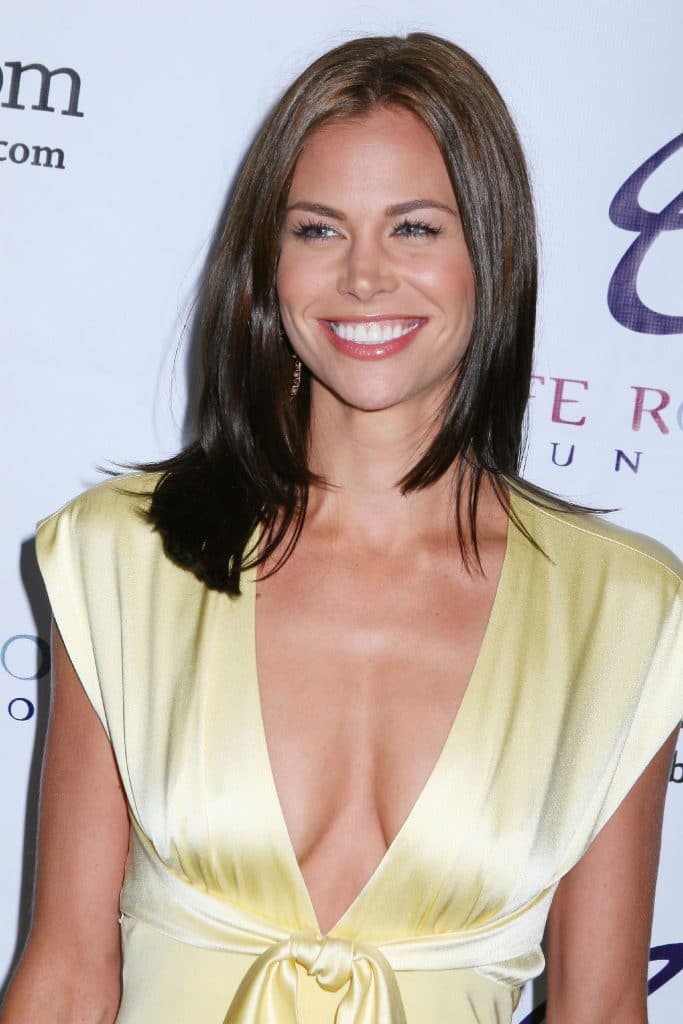 The following year she appeared in several movies, such as the comedy-drama "The Salon" and two TV films, "Single White Female 2: The Psycho" and "Death to the Supermodels".
In 2006 she landed the recurring role as Kathy Dinkle Williams in the comedy-drama series "Pepper Dennis", and during the following two years, she appeared mainly in made-for-TV movies such as "Urban Decay", "Trophy Wife", and "Trial by Fire".
After appearing as the recurring character Lisa Germain on the sitcom "Miss Guided", she served as the co-host of another game show entitled "Hole in the Wall". The following years saw Brooke appear mainly in TV movies and TV series, with an occasional role in the movies, such as "Dancing Trees" and "Titanic II". In 2009 she booked the role as Vanessa Mancini in the hit drama series "Melrose Place", appearing in six episodes.
Her next roles were mainly in TV movies for Hallmark and Lifetime channels; those include "Fixing Pete" Undercover Bridesmaid", and "A Sister's Revenge".
In 2013 she was invited to host the world-recognized game show "The Chase", featuring Mark Labbet as the "chaser". She hosted a total of 29 episodes, earning her first nomination for a Daytime Emmy Award for Outstanding Game Show Host, while the show received a nomination for the Daytime Emmy Award for Outstanding Game Show. Recognized as a charismatic and witty host, she joined the TV show entitled "Motor City Masters", in which contestants go through various challenges focusing on car design.
In the following period of her career, she appeared in several films on the channel Hallmark Movies & Mysteries, portraying the lead detective in "Gourmet Detective: A Healthy Place to Die", "Eat Drink and Be Buried: A Gourmet Detective Mystery", and "Gourmet Detective "Death Al Dente".
Tune into Brooke Burns as she talks The Chase (U.S. game show) on Big Morning Buzz Live at 9/8c!

Posted by VH1 on Monday, March 9, 2015
Her latest appearances include reprising her role as Maggie Price in the "Roux the Day: A Gourmet Detective Mystery" and hosting the game show "Mind Masters", which has been renewed for a third se,ason.
Personal life
In 1999 Brooke married the actor Julian McMahon with whom she had a daughter, Madison Elizabeth McMahon, born on 10 June 2000. However, the marriage wasn't meant for the long run, and the couple separated following Madison's birth, and two years later officially divorced. She was then linked to several actors and celebrities, including Brian Quintana, James Wilder and Steven Bing. In 2003 she was briefly engaged to the actor Bruce Willis, but the couple parted ways the following year.
In 2011, she began dating the filmmaker and producer Gavin O'Connor, and on 22 June 2013, the couple tied the knot. In 2017 they welcomed their daughter they named Declan Welles O'Connor.
The duo is still going strong, and they often share photos together on their social media.
Briefly about Gavin O'Connor
A New York native, Gavin O'Connor is a versatile playwright, screenwriter and actor with a nearly three-decades-spanning career in the entertainment industry. He has worked with a number of A-list actors such as Anna Kendrick, Collin Farrell and Natalie Portman.
After writing and producing short movies such as "The Bet", he made his directing debut in 1995 with the independent drama movie entitled "Comfortably Numb". His next project came in 1999 with the comedy-drama "Tumbleweeds" inspired by his then-wife Angela's memories of her childhood spent on the road with her mother. The movie received the Filmmakers Trophy at the Sundance Film Festival, while the star Janet McTeer garnered the Golden Globe Award for Best Actress, and nominations for the Academy Award and Screen Actors Guild Award in the same category.
In 2004 he directed the critically acclaimed sports drama "Miracle", which scored at the box office. His less successful projects include the sports drama "The Warrior", "Pride and Glory", and Warriors".
Even though he had established himself as a successful and excellent director and playwright, his most praised piece of work came in 2016 entitled "The Accountant", the action-thriller movie starring Ben Affleck. Despite garnering mixed reviews, the film grossed a decent amount at the box office, $155 million against a $44 million budget. His acting credits include "Warrior" and "The Glass House", and his latest project is another movie with Ben Affleck, the sports drama "The Way Back", which premiered in 2020.
When it comes to his personal life, before marrying Brooke, he was married to Angela Shelton from 1994-1996.
Would you like to know her net worth?
According to sources, Brooke's estimated net worth is around $3 million, earned through her career as an actress and host. On the other hand, her husband's net worth is around $8 million.
Physical stats and Hobbies
Brooke is 5ft 8ins tall (172cm), and weighs around 135lbs (61kgs), while her vital statistics are 36-25-36. Brooke has a very fit physique and works out to maintain her good looks. Her natural hair is blonde, further adorned with blue eyes. In November 2005, she was involved in a car accident in which she broke her neck. A true miracle, the actress made a full recovery without any signs of paralysis. This particular event affected her gravely, not only physically but also emotionally.
Brooke spent months in hospital, trying to recover from a broken spinal cord. However, it also made her realize that one should help the other and assist if they can, which is probably, why she threw herself into various charity work.
She has worked with the company "Life Rolls on Foundation", which aims to assist and inspire people affected by spinal cord injuries. Brooke is also associated with the North American Spine Society (NASS) and "Think First National Injury Prevention Foundation", which seeks to raise awareness of spinal cord injuries. While shooting Baywatch, Brooke joined the program entitled "Camp Baywatch", teaching children to swim.
The actress is mainly active on Instagram, counting nearly 30,000 followers, while her Twitter has nearly 20,000 followers. She mainly posts family photos, inspiring quotes, and comments about the current socio-political current.