• Emily Tosta is an actress and YouTuber, best known for her role as Lucia Acosta in "Party of Five"
• She was born in Santo Domingo, Dominican Republic, to parents of Brazilian, Italian, Venezuelan and Lebanese descent
• She moved to the US with her family at the age of 12 to pursue an acting career and began her professional career at the age of six
• Her first recorded television role was in 2013, followed by a recurring role in "Mayans M.C." and a leading role in "Party of Five"
• Her estimated net worth is $2.5 million in 2021.
Early life, family, educational background
Emily Tosta is an actress and YouTuber, probably  best known for her role as Lucia Acosta in "Party of Five." She was born Emilia Gabriela Attias Tosta on 26 March 1998, in Santo Domingo, Dominican Republic to Emilia Tosta and Jose Ramon Attias. Her mother is of Brazilian, Italian and Venezuelan descent, and her father has Lebanese ancestry. She has a sister, Gabriela, and a brother, Kartos.
Emily and her family moved to Miami when she was 12 years old, to help her achieve her dream of acting.
Four years later, the family made the move to Los Angeles. It is not known if both Emily's parents made the move from the Dominican Republic, as she's just expressed her gratitude to her mom in an Instagram post for sacrificing everything to help her achieve her dreams.
Aside from normal education, she learned to play both the piano and the guitar.
Career
Emily was introduced to the entertainment industry at the age of six, and received her first role, a lead in the musical "The Pied Piper of Hamelin" when eight years old.
However, the musical "Annie" was her first paying job, followed by roles in the local theatre productions of "Cats," "Alice in Wonderland," and "The Miracle of Fatima."
Before moving to the states, she continued to work in the Dominican Republic for local magazine campaigns, which brought her quite a lot of recognition from the locals. Her first modeling gig was for the Dominican Republic magazine, "A La Moda" , which also helped her to get featured in the Dominican Fashion Week as a catwalk model.
After moving with her family to Los Angeles, Emily signed with The Corsa Agency, and appointed Thomas Richards as her talent agent.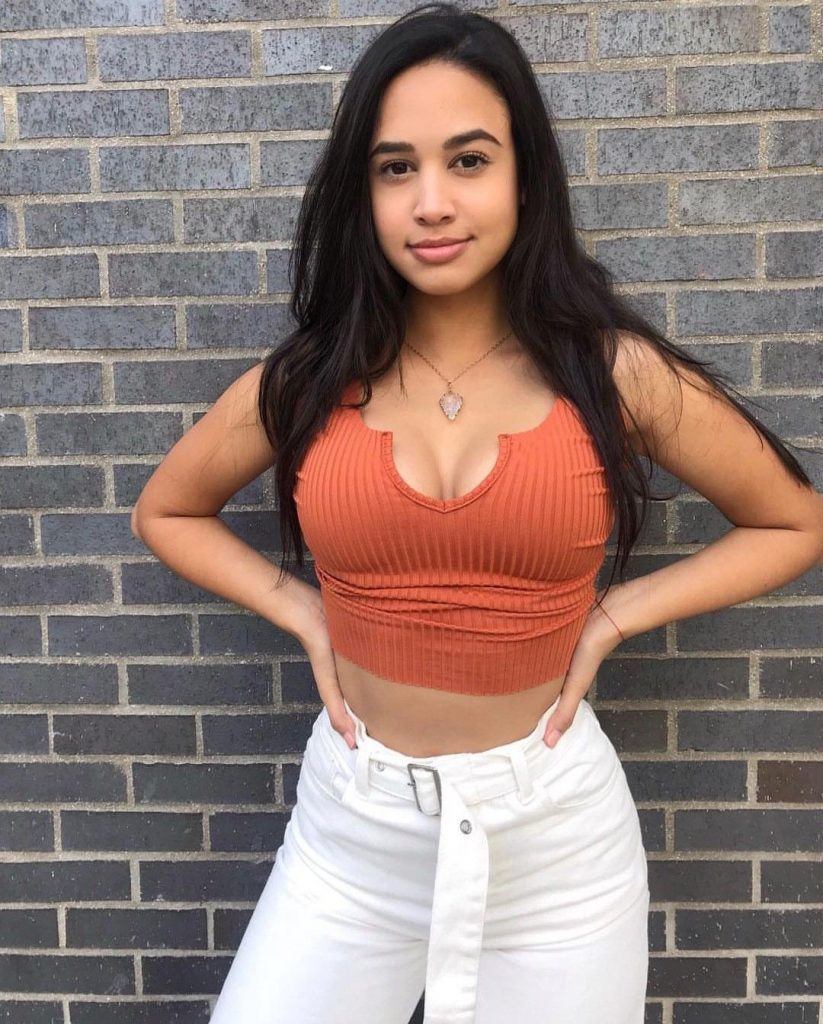 Richards assisted Emily in 2013 to obtain her first recorded television role, as a guest star for the role of Gina in "Dama y Obrero."
This set the ball rolling for Emily, and she was then cast as Luisa in the television series "The Last Ship", who is the youngest daughter of Ervin Delgado, former mayor of a small village in Nicaragua. This was followed by an appearance in the popular television show "NCIS: Los Angeles", in the season eight episode entitled "Home is Where the Heart Is" as the character Carla James.
In 2018, Emily appeared in the role of Leticia Cruz in "Mayans M.C..", the daughter of Coco, one of the main characters, who was led to believe for years that she was his sister. This is a recurring role, and the popular television series has just premiered its third season.
Emily started appearing as Lucia Acosta, one of the leading roles in "Party of Five," which premiered in early January 2020. Lucia is a twin, and a straight-A student in the series which follows five siblings figuring out how to live on their own after their parents have been deported to Mexico.
Each of the five characters is based on real-life siblings, with Lucia as on Julia Salinger, and starring alongside Niko Guardado, Brandon Larracuente, Audrey Gerthoffer, and Elle Paris Legaspi as the other four siblings. The series was unfortunately canceled after one season.
Emily has appeared in two movies – "Selfie Dad" as Ali in 2020, and "Willy's Wonderland" as Liv Hawthorne in 2021. Emily starred alongside Nicolas Cage in the latter film, a comedy horror for which he also serves as the producer. Her character is the rebellious teenage lead of the movie, and Emily appreciated the chance to share the screen with Nicholas Cage.
In her Instagram post announcing the news, she captioned it, 'So excited to work alongside someone I've watched & admired since I was a lil girl.'
Emily has recently started her own YouTube channel, which has a few videos uploaded, mainly behind the scenes of magazine shoots, and her filming Q and A videos.
Personal life
Emily dated Snapchat star Crawford Collins from 2015 until July 2018. They met at a party, and were friends before starting a romantic relationship. They moved in together in Los Angeles, but it's still reported that the cause of the break-up was due to a lack of communication between the two.
Crawford subsequently started dating Instagram star, Nezza in October 2020.
Emily has always had a huge passion for theatre, with "Hamilton" being the first Broadway show she saw; her previous exposure to theatre has started rumors that we might see her on stage in the future.
Emily enjoys giving back to her community, and supports organizations such as St. Jude's Hospital, Music For Your Heart Foundation, and Feed America, among others.
She has also recently established an organization named Karttos International that dispatches care packages to Venezuela. When speaking to Refinery29 about her charity, she said that all her mom's family lives over there, and seeing hundreds of people dying every day just makes her want to cry.
Appearance
She is 5ft 3ins (1.60 m) tall and weighs about 117lbs (53 kg). Emily has black colored hair and dark brown eyes.
Net worth and salary
Emily's estimated net worth is $2.5 million, as of mid-2021; she is reported to receive about $10,000 per TV episode.