• Judy Landers is an American TV and film actress, producer, and sister of Audrey Landers.
• She was born in Philadelphia, Pennsylvania and trained at the prestigious American Academy of Dramatic Arts and the Juilliard School of Music.
• She has appeared in many films and TV series, including "Love Boat", "Charlie's Angels", and "Vegas".
• She is married to former baseball right-handed pitcher Tom Niedenfuer and they have two daughters.
• She has a net worth of approximately $500,000.
Judy Landers is an American TV and film actress and producer, and who is the sister of the actress Audrey Landers.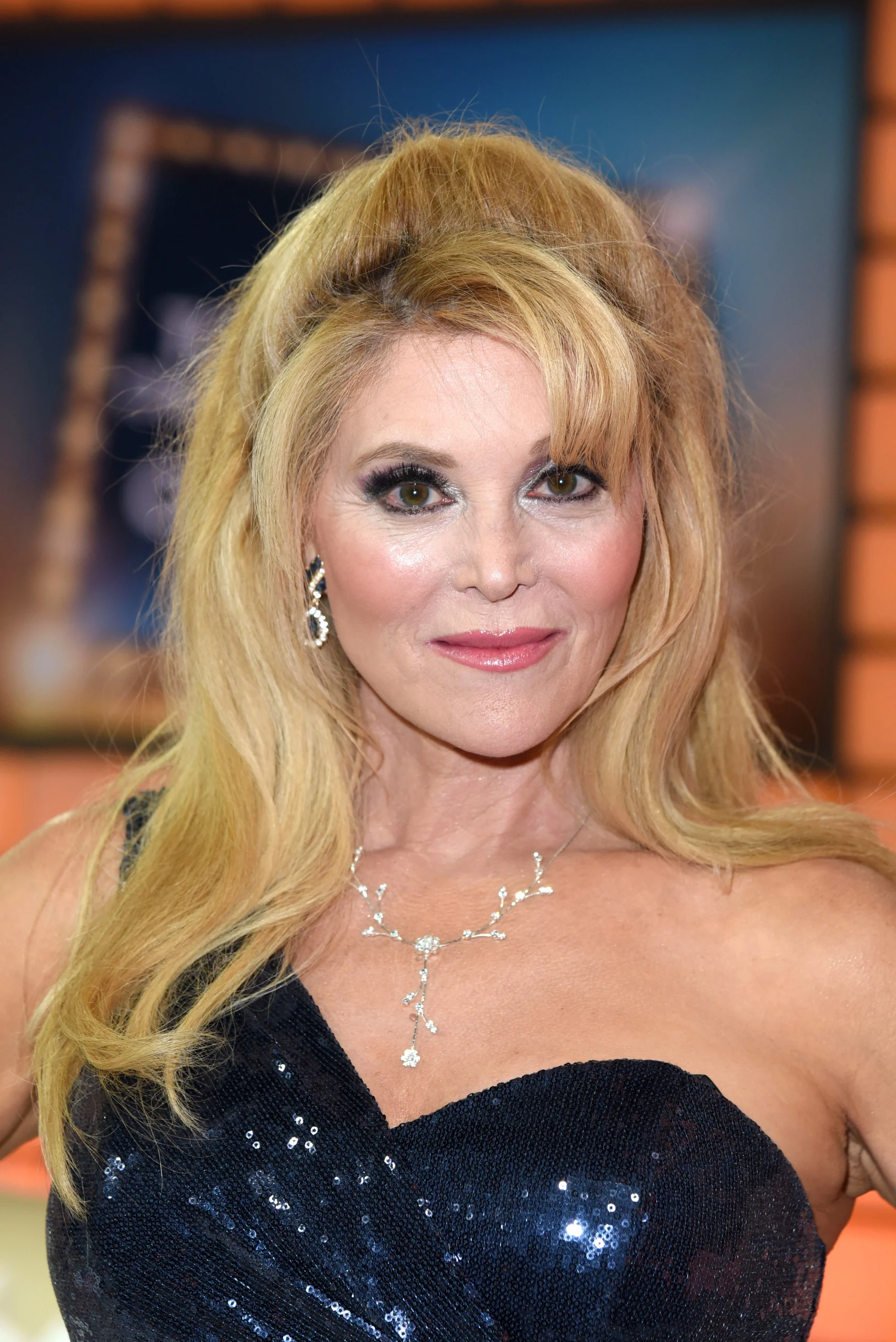 Age, Early Life, and Education Background
Judy Landers (also known as Judy Hamburg) was born in Philadelphia, Pennsylvania, under the Libra zodiac sign on 7 October 1958, which makes her 65 years old as of 2023. She's the daughter of the German producer and writer, Ruth Landers, who owned and managed the film, TV, and music production firm Landers Productions, together with Audrey, who with Judy is known for her work in the film "Ghost Writer in 1989, and "Club Fed" in 1990. Ruth was brought up in Rockland County, New York together with her elder sister, Audrey Landers, who is famous for her appearances in "The Huggabug Club," "California Cassanova" and "Dallas." The two sisters have played twins in several projects. Judy started taking gymnastics classes at the age of nine.
Judy has been interested in acting since she was a child, and studied at the prestigious American Academy of Dramatic Arts. Thereafter, she enrolled at Warren Robertson's acting studios to hone her skills, and later trained at the famous Juilliard School of Music.
TV Appearances
Judy has appeared in many films and TV series, mostly portraying innocent, naïve, or sometimes dim-witted blonde bombshells. In 1977, she appeared together with her sister in eight episodes of the ABC comedy-drama "Love Boat", and the sitcom "Happy Days." In 1978, she was cast as Blond Girl/Mrs. Chicken in two episodes of Ben Roberts and Ivan Goff's crime drama series "Charlie's Angels." In 1978 and '79, she appeared in 14 episodes of another ABC drama series "Vega$", the show created by Aaron Spelling and filmed entirely in Las Vegas, Nevada, is about a private investigator, Tanna (played by Robert Urich) who drives around Las Vegas solving crimes. Before 1980, she was seen in various other TV series, including the NBC action comedy "B.J. and the Bear", and the CBS sitcom "The Jeffersons."
1980 saw Landers appear in the sci-fi series "Buck Rodgers in the 25th Century", followed by the crime drama "CHiPs." Her next major role was in the Ricardo Montalban-starred drama "Fantasy Island" (1980-1984), and the sitcom "Madame's Place" in which she played the starring role of Sara Joy Pitts – she shared the screen with Wayland Flowers who played Madame, Johnny Haymer and Susan Tolsky, appearing in over 50 episodes in 1982 and 1983. She also appeared in Glen A. Larson's action crime drama "Knight Rider" in 1982 and 1983, and was later cast in three episodes of the NBC sitcom "Night Court" in 1984. Subsequently, she appeared twice in the NBC action-adventure series "The A-Team" in 1985.
Film Appearances
Landers has appeared in several films including the O.J. Simpson-starred drama "Goldie and the Boxer" in 1979, the romantic comedy "The Black Marble" in 1980, and the comedy "Doin' Time" in 1985. In the following year, she shared the screen with the Canadian comedian and actor Eugene Levy, in the comedy "Armed and Dangerous" and in 1989, she appeared alongside her sister in the film "Ghost Writer." She has so far appeared in two films in the 21st century: "Circus Camp" in 2006, and more recently in "Manipulated" in 2019.
Other Works
In 1995, Landers directed several episodes of "The Huggabug Club." She served as the writer and director of the film "Circus Camp" in 2006.
In January 1983, Landers and her sister was featured on the cover of Playboy magazine.
Playboy Magazine January 1983 Twins Audrey & Judy Landers w/ Centerfold

Complete book with no markings or tears.

Interview with Dudley Moore

Slight foxing to corners and edges.

$15#oviedoantiquemall #oam #playboy pic.twitter.com/CSyrodlaof

— Oviedo Antique Mall (@oviedoantiques) July 13, 2020
Personal Life
Landers exchanged vows with the American former baseball right-handed pitcher Tom Niedenfuer, on 7 November 1987. Thomas, who is one year younger than his wife, played for several Major League Baseball (MLB) teams such as the Los Angeles Dodgers, the Seattle Mariners, and the Baltimore Orioles. Before marrying Landers, Niedenfuer was married to Lisa Anne Byers (from 1982 to 1985), but they didn't welcome any children together. The couple has welcomed two daughters, Lindsey Landers born on 3 July 1989, and Kristy Landers, on 29 October 1991, who are now both actresses known for their appearances in "Circus Island," "The Huggabug Club," and "Kissing Strangers." Landers and Niedenfuer have been married for three and a half decades now, and are seemingly living a happy life together in Sarasota, Florida, without any rumors of separation. Landers follows the Christianity religion.
Height, Weight, and Physical Appearance
Judy is of White ethnicity, and has dark brown eyes and long blonde hair. She's 5ft 4ins (1.63m) tall and weighs approximately 125lbs (57kgs), with vital statistics around 36-25-35.
Net Worth
Landers began acting in the '70s, and has appeared in many projects, which has made her very
famous and fairly rich – she's worth approximately $500,000, as of 2023. On the other hand, her husband Tom is worth around $5 million.
Judy Landers' Family
Sister Audrey Hamburg (aka Audrey Landers) was born on 18 July 1956, in Philadelphia, Pennsylvania, which makes her 66 years old as of 2022. She is a singer, actress and producer, who began her acting career when she was nine years old with appearances in community theater musicals. She signed a contract with Epic Records after she was noticed for her country song, which she'd composed when she was 12 years old. Just like her sister, Audrey attended Juilliard School, in New York City, where she studied music, and later Columbia University, majoring in Psychology.
Audrey has appeared in many series, including the sitcom "Highcliffe Manor," the CBS soap Opera "Dallas," the ABC soap opera "One Life to Live," and the espionage TV series "Burn Notice," among others. She is married to Donald Berkowitz, who is a businessman, and they have two sons together: the twin actors Adam Landers Berkowitz and Daniel Landers (born in 1983).
Husband, Tom Niedenfuer
Thomas Edward Niedenfuer was born in St. Louis Park, Minnesota, on 13 August 1959. He was raised in Pennsylvania and Redmond, Washington, and attended Redmond High School, where he matriculated in 1977. He began his amateur career playing college baseball under coach Bobo Brayton for the Washington State Cougars. In 1981, he signed with the San Antonio Dodgers and played in the Double-A Texas League. The 6ft 5ins (1.96m) player played 17 games for the team and excelled in the 1981 World Series. He was later traded to the Baltimore Orioles in 1987 and in the year that followed, he became a free agent and spent one season with the St. Louis Cardinals and the Seattle Mariners.