• Lexa Doig is an actress and former model born in Toronto, Canada.
• She is best known for her role as an Andromeda Descendant in the action adventure series "Andromeda".
• She is married to actor Michael Shanks and they have two children together.
• Lexa is a fan of video games, board games, reading books, and cats.
• She is 47 years old and has an estimated net worth of over $500,000.
Who is Lexa Doig?
Alexandra Lecciones 'Lexa' Doig was born in Toronto, Ontario, Canada, on 8 June 1973 – her zodiac sign is Gemini and she holds Canadian nationality. She's an actress and a former model, who's probably still known best for her portrayal of an Andromeda Descendant in the action adventure series "Andromeda", created by Robert Hewitt Wolfe and Gene Roddenberry, and which starred Kevin Sorbo, Lisa Ryder and Laura Bertram. It follows Captain Dylan Hunt and his crew who are about to rebuild the Systems Commonwealth which fell three centuries earlier. The series aired from 2000 to 2005, and won 17 of the 41 awards for which it was nominated.
Early life and education
She was raised in Toronto alongside her brother Ted Doig, by their father David W. Doig who was an engineer and a petroleum executive officer, and their mother Gloria B. Lecciones who was a registered nurse.
Lexa grew up being interested in rhythmic gymnastics, and began taking lessons at a very early age. She attended Don Mills Collegiate Institute, and was around 15 years old when she began learning American Sign Language. She wanted to become an actress from the age of nine, but it was while at Don Mills that she began appearing in plays, and started working on her acting skills. In 1991 just a year before she was to matriculate, Lexa chose to drop out of school and to focus on her career as an actress and a model.
Roles in TV series
Lexa has been credited with appearing in close to 50 movies and TV series, while we're about to mention more of her notable performances.
She made her debut TV series appearance in 1993, with her portrayal of Second Girl in the episode "Marion & Jean" of the horror thriller "The Hidden Room", while she gained recognition in the following year when she played Cowgirl in the science fiction "TekWar". In 1996 and 1997, Lexa voiced Dale Arden in the animated action adventure "Flash Gordon", and a couple of her following roles were in all 13 episodes of the 1999 action crime adventure "CI5: The New Professionals", five episodes of the 2000 drama "Traders", and three episodes of the 2004 drama mini-series "Human Cargo".
Between 2005 and 2007, Lexa appeared in 11 episodes of the critically acclaimed action adventure drama "Stargate SG-1", created by Brad Wright and Jonathan Glassner, and which starred Richard Dean Anderson, Amanda Tapping and Michael Shanks.
It follows the team SG-1 who are on a mission to explore planets using the Stargate which has just been discovered. The series won 18 awards of the 115 for which it was nominated, including nine Primetime Emmy nominations.
The following years saw Lexa appear in an episode or two of various series, such as the adventure comedy "Eureka", the fantasy horror "Supernatural", and the romantic adventure "Smallville". Between 2012 and 2014, she played Sonya Valentine, one of the lead characters in the action science fiction thriller "Continuum", and in 2017 and 2018, Lexa starred as Deann Anderson in the drama "The Arrangement" created by Jonathan Abrahams, and which also starred Josh Henderson and Christine Evangelista. It follows an actress who has been offered $10 million to marry a popular actor.
Since 2015, Lexa has been portraying Sally Allison in the crime mystery "Aurora Teagarden Mysteries", which stars Candace Cameron Bure, Marilu Henner and Peter Benson, and follows a librarian and her best friend who are solving murders.
She's currently shooting for the upcoming horror mystery thriller "Chucky".
Roles in movies
Lexa made her debut film appearance in the 1994 science fiction "TekWar", while a couple of her following roles were in thescience fiction "TekWar: TekLords" also in 1994, the 1995 action science fiction thriller "Jungleground", and the 1997 mystery "While My Pretty One Sleeps".
She gained recognition in 2001 with her portrayal of Rowan, one of the lead characters in the action horror science fiction "Jason X", written by Victor Miller and Todd Farmer, directed by James Isaac, and which also starred Kane Hodder and Jeff Geddis.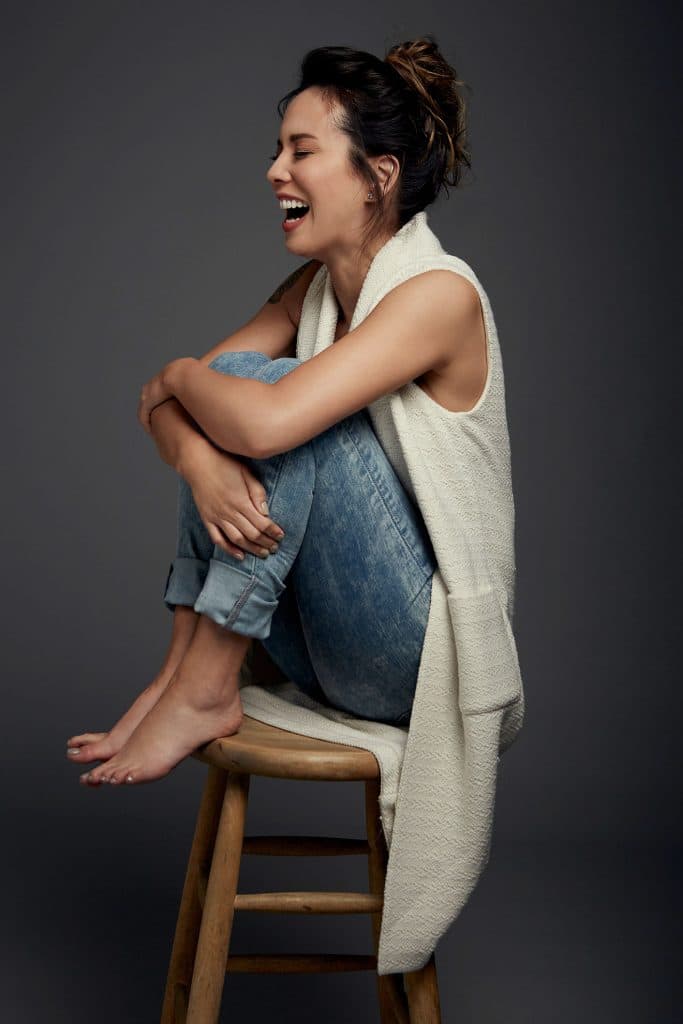 It follows Jason Voorhees who has just awoken on a spaceship ready to kill its crew. In 2007, Lexa portrayed Jenny Morris in the fantasy thriller "Second Sight", and in 2008 she played a supporting character in the action adventure drama "Ba'al".
As she's mostly focused on appearing in TV series, Lexa's most recent movie role has been her portrayal of Jannard in the 2011 action drama "Tactical Force", written and directed by Adamo P. Cultraro, and which starred Steve Austin, Michael Shanks and Michael Jai White. It follows a Los Angeles Police Department SWAT team trapped in an abandoned hangar with blanks, as they're training while they're surrounded by two rival gangs determined to kill each other.
Other credits
In 1991, Lexa co-hosted the family game-show "Video & Arcade Top 10", and in 2002 she was featured in the short video documentary "By Any Means Necessary: The Making of 'Jason X'".
In 2018, she was featured in an episode of the talk-show "Celebrity Page", and in 2019 Lexa appeared in the short documentary "On Location – Aurora Teagarden Mysteries: An Inheritance to Die For".
Awards and nominations
Lexa has been nominated for eight awards winning one: a 2014 Leo Award for Best Supporting Performance by a Female in a Dramatic Series for "Continuum".
The other nominations were for two Academy of Science Fiction, Fantasy & Horror Films Awards, and five Leo Awards.
Love life and husband Michael Shanks
Lexa met her future other half Michael Shanks in 2001, when he made a guest appearance in the episode "Star Crossed" of the series "Andromeda". The two kept their relationship away from the media's attention, and on 2 August 2003, they exchanged vows in front of their closest friends and family members.
They continued collaborating, and the same year saw them appear together in the episode "Day of Judgment, Day of Wrath" of the series "Andromeda". They then starred alongside in the series "Stargate SG-1", the 2011 action movie "Tactical Force", and the 2019 series "Virgin River".
On 13 September 2004, Lexa gave birth to their daughter Mia Tabitha Shanks, while their son Samuel David Shanks followed on 19 March 2006. As of April 2021, the family of four seems to be leading a happy life together.
Lexa hasn't spoken of any other men whom she has perhaps been with, while it's known that Michael dated the American actress and model Vaitiare Eugenia Hirshon before meeting Lexa, and she gave birth to their daughter Tatiana Shanks on 10 August 1998.
Hobbies and other interests
Lexa's a fan of video games – her favorite genre is 'role-playing game' (RPG) while she's also a fan of board games, with her favorite being "Dungeons and Dragons".
She's a cat-lover, and has two pet cats which can be seen featured in her Instagram pictures.
Lexa's passionate about reading books in her spare time, and has read over a hundred, while her favorite genre is romance and her favorite book is "Dear John" by Nicholas Sparks.
She's physically quite active, and has two to three training sessions at the gym each week, while she also goes roller-blading at least once a week.
Lexa likes to travel, and has been to various Canadian cities as well as a couple of US states for both work and pleasure.
She has her own favorite actors and actresses, some of whom are Matt Damon, Channing Tatum and Emma Watson, and a couple of her favorite movies include "Good Will Hunting", "Dear John" (based on the book) and the franchise "Harry Potter".
Age, height and net worth
Lexa's age is 47. She has long brown hair and brown eyes, her height is 5ft 6ins (1.68m) and she weighs around 128lbs (58kgs). As of April 2021, her net worth has been estimated at over $500,000, while her husband Michael's net worth is reputedly over $5 million.
Who is Michael Shanks?
Michael Garrett Shanks was born in Vancouver, British Columbia, Canada, on 15 December 1970 – his zodiac sign is Sagittarius and he holds Canadian nationality. He's an actor, film writer and director, who has been credited with appearing in close to 70 movies and TV series, and has won four of the 13 awards for which he's been nominated.
He was raised in Kamloops, British Columbia, but hasn't shared any details concerning his parents and the siblings he perhaps has, as he prefers to keep his family away from the media's attention. Michael studied at the University of British Columbia, from which he obtained his Bachelor of Fine Arts degree in acting in 1990.
He became popular thanks to his portrayal of the archaeologist Dr. Daniel Jackson in the series "Stargate SG-1", then reprised his role in the movies "Stargate: Continuum" and "Stargate: The Ark of Truth". Michael's also known for his roles in the 2007 action drama series "24", the 2008 adventure science fiction movie "The Lost Treasure of the Grand Canyon" and most recently, the 2019 cyberpunk series "Altered Carbon".
He's an avid ice hockey player, and once considered going professional.