• Molly McCook is an American actress best known for her roles such as Mandy Baxter in "Last Man Standing" (2018-2021) and Molly Gallant in "Candy Coated Christmas" (2021).
• She is the daughter of actors John McCook and Laurette Spang.
• Molly began her career in 2006 and made her film debut in 2012 with the award-winning horror comedy-drama film "Excision".
• She rose to stardom in 2018 with her role of Mandy on "Last Man Standing" which ran until 202•
• Molly McCook has a net worth of $1.7 million as of early 2023 and is married to Broadway actor John Krause.
Who is Molly McCook?
Molly is an American actress, probably best known to the world as Mandy Baxter in the TV series "Last Man Standing" (2018-2021), and as Molly Gallant in the television movie "Candy Coated Christmas" (2021), among several other roles that she's had so far in her career.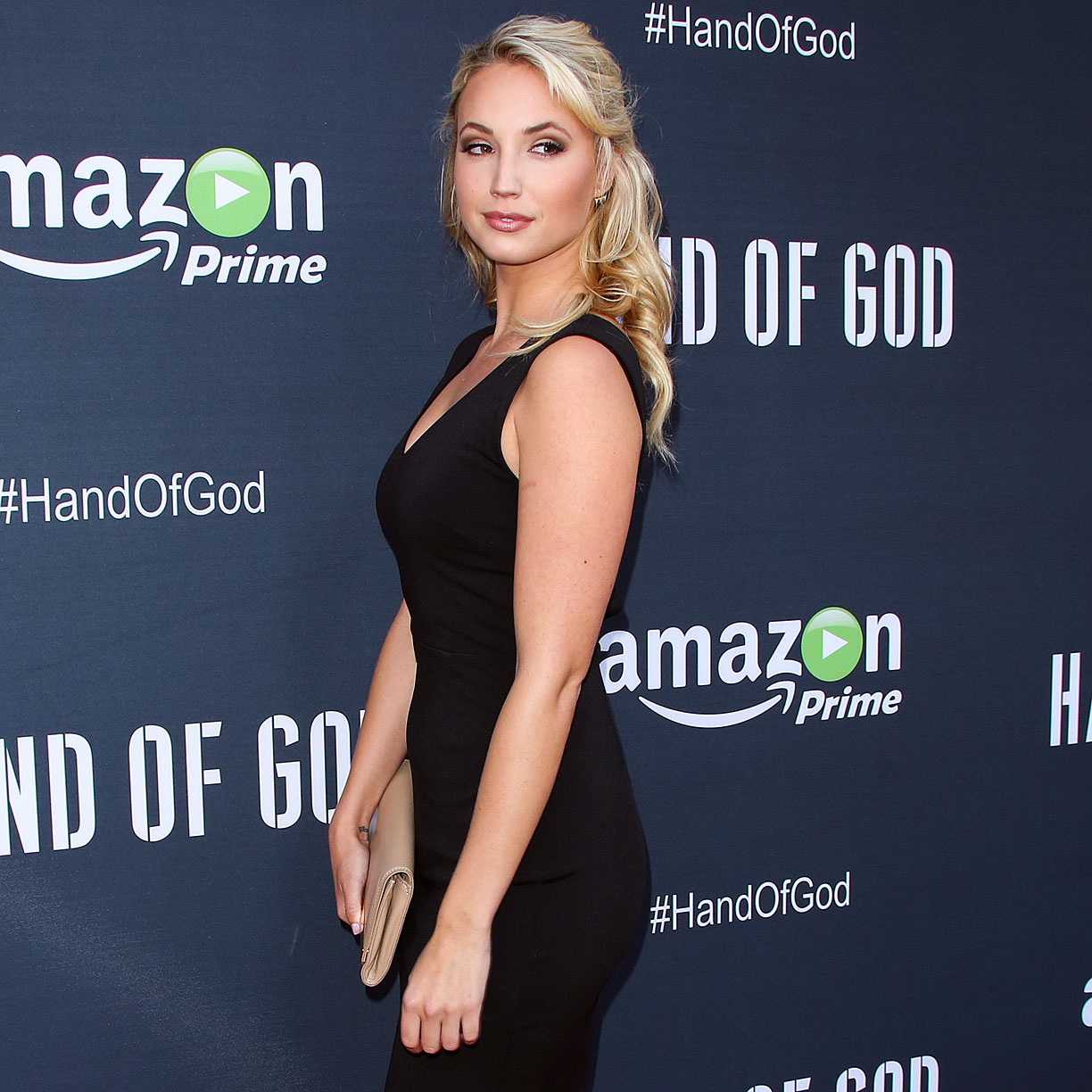 Molly McCook Wiki: Age, Childhood, and Education
Molly Jane McCook was born on 30 July 1990, in Los Angeles, California, USA. She's the daughter of actors John McCook, best known for his roles in soaps "The Young and the Restless" and "The Bold and the Beautiful", and Laurette Spang, who is possibly still best known as Cassiopeia in the original "Battlestar Galactica" (1978). Molly has two siblings, Jake and Becky McCook, and has a younger half-sister Seth McCook.
Her educational background is a mystery, as Molly hasn't talked about which school she attended and whether she enrolled in any university or not after high school.
Career Beginnings
Molly made her acting debut in 2006, a one-time appearance in the popular TV crime-drama series "Monk" about a private detective with obsessive-compulsive disorder, starring Tony Shalhoub.
Four years later, she made a one-time appearance in the TV series "10 Things I Hate About You", and "Glee", and had a minor role in the soap opera "The Bold and the Beautiful".
In 2012 Molly made her film debut as Natalie in the award-winning horror comedy-drama film "Excision", written and directed by Richard Bates Jr., and starring Anna Lynne McCord, Roger Bart, and Ariel Winter.
She continued her career with short film roles, such as in the award-winning comedy "Man Up, Little Boy", starring with Zach Palmer and Bradley Whitford, then in the horror film "Something Wicked", co-starring Janel Parrish and Brant Daugherty, and the short drama "It Remains".
In between, Molly made a one-time appearance in the Primetime Emmy Award-nominated action-adventure drama series "Agents of S.H.I.E.L.D.", with Clark Gregg, Brett Dalton and Ming-Na Wen in the lead roles.
After this, she was seen as a Bridesmaid in the eponymous comedy series "Modern Family", and then featured in the TV series "Murder in the First".
She portrayed Aimee in the award-winning horror comedy-drama film "Trash Fire", written and directed by Richard Bates Jr. and starring Adrian Grenier, Angela Trimbur, and Fionnula Flanagan, about a man and his girlfriend as he tries to get away from the past that is hunting him, as they become entangled in a web of lies and murder.
Molly made her stage debut in 2015, portraying Annette Hargrove in the musical "Cruel Intentions: The Musical", based on the film of the same name.
Rise to Stardom
In 2016 Molly was quite busy, working on several projects including the TV drama series "Guidance", which starred Crawford Collins, Blaine Kern III, and George Todd MacLachlan, while she also featured in the television drama movie "Cruel Intentions", with Sarah Michelle Gellar, Nathalie Kelley and Taylor John Smith in the lead role.
Moreover, she was chosen for the part of Darlene in the Primetime Emmy Award-winning TV western comedy-drama series "The Ranch", co-starring alongside Ashton Kutcher, Sam Elliott and Grady Lee Richmond, about a semi-pro football player who returns to his father's ranch in Colorado to run the family business. She appeared in six episodes of the popular series, which only increased her popularity.
The following year, Molly starred in the television thriller movie "The Landlord", about a girl who moves into a luxury apartment, unaware that her disturbed landlord is watching her through hidden cameras.
In 2018, Molly was chosen for the role of her career so far. She was announced as the replacement playing Molly Ephraim's character Mandy in the eponymous TV comedy series "Last Man Standing" when the show was resurrected by Fox. She appeared in 64 episodes from 2018 until the series' conclusion in 2021, earning international acclaim thanks to the popularity of the series, and receiving g wide praise for her efforts, and thanks to which she began being cast in other prominent projects – in 2019, she was Rebecca in six episodes of the award-winning TV romantic comedy-drama series "Good Trouble", which is a spin-off from the popular series "The Fosters" and features Callie and Mariana Foster on their adventures in Los Angeles as they start their new life in the city as young adults.
Moreover, the same year she starred in the short comedy-drama film "37:24", written and directed by Jesse Scott Egan, about a man who, after the suicide of his fiancé enters a downward spiral of casual sex and heavy drinking, but starts feeling happy again once he meets a man and starts developing feelings for him.
To speak further of her accomplishments, Molly starred in Ellie Kanner's written and directed television romantic comedy movie "Candy Coated Christmas" (2021), co-starring Aaron O'Connell and Lee Garlington, about an L.A. marketing executive who comes to a small town for Christmas to sell the property she owns, without the tenants knowing about it.
Since then, Molly has made only one appearance, in the Podcast series "My Only Friends", hosted by Brittany Rizzo in 2022.
Net Worth
According to sources, Molly McCook's net worth is estimated at $1.7 million, as of early 2023.
Personal Life, Dating, Married, Husband, Children
Molly rarely speaks about her personal life; however, some details have become public since she acquired world fame. From 2010 to 2014, she was in a relationship with actor Devon Werkheiser; there's no information about why they broke up.
On 7 September 2019, she married Broadway actor John Krause in a ceremony held at the Santa Barbara Zoo. According to reports, the couple was together for several years before the wedding, but no official dates have been shared with the public.
Appearance and Vital Statistics
Molly McCook has brown eyes and blonde hair. She stands at a height of 5ft 10ins (1.78m), weighs approximately 140lbs (63kgs), with vital statistics of 34-24-33, bra size 34B.