Who is Paulina Andreeva?
Ekaterina Olegovna 'Paulina' Andreeva, was born on 12 October 1988 under the sign of Libra. in Leningrad, Russian SFSR, Soviet Union (now St. Petersburg, Russia). She is a 32-year-old actress and writer, probably best recognized for landing the role of Esenya Steklova in the Channel One crime drama series "The Method" (2015-2020), and featuring as Arisa in the Netflix sci-fi series "Better Than Us" (2018-2019).
How rich is she, as of now? Paulina Andreeva Net Worth
As of late 2020, Paulina Andreeva's net worth is over $1 million, acquired through her successful involvement in the film industry as a professional actress, who has worked on more than 40 television and film titles since her career started back in the late 2000s.
Early Life, Parents, Nationality, Ethnicity
Paulina Andreeva spent her early years in her hometown, where she was raised in her parents' house on Vasilievsky Island by her father, Oleg Andreyev, an entrepreneur, and Maria Andreyeva, who works as a landscape designer. She has two younger brothers, one of them named Igor Andreev. Paulina holds Russian nationality, and belongs to White Caucasian ethnic group.
Educational Background
Regarding her education, Paulina attended a local high school. Since she hails from an acting family, Paulina developed her love for performing at a very young age. However, her parents convinced her to study journalism.
Upon matriculation, she attended the Faculty of Journalism at St. Petersburg State University, but two years later she quit and moved to Moscow, where she enrolled in the Moscow Art Theatre School, where she studied acting and dance. While in there, she performed in the production of "Nearby".
Career on Stage
Right after graduation, Paulina began her acting career on stage, joining the troupe of the Moscow Art Theatre company named after A. P. Chekhov. She was immediately chosen to perform in the role of Uliana in the production of "House", which was based on Yevgeny Grishkovets' play.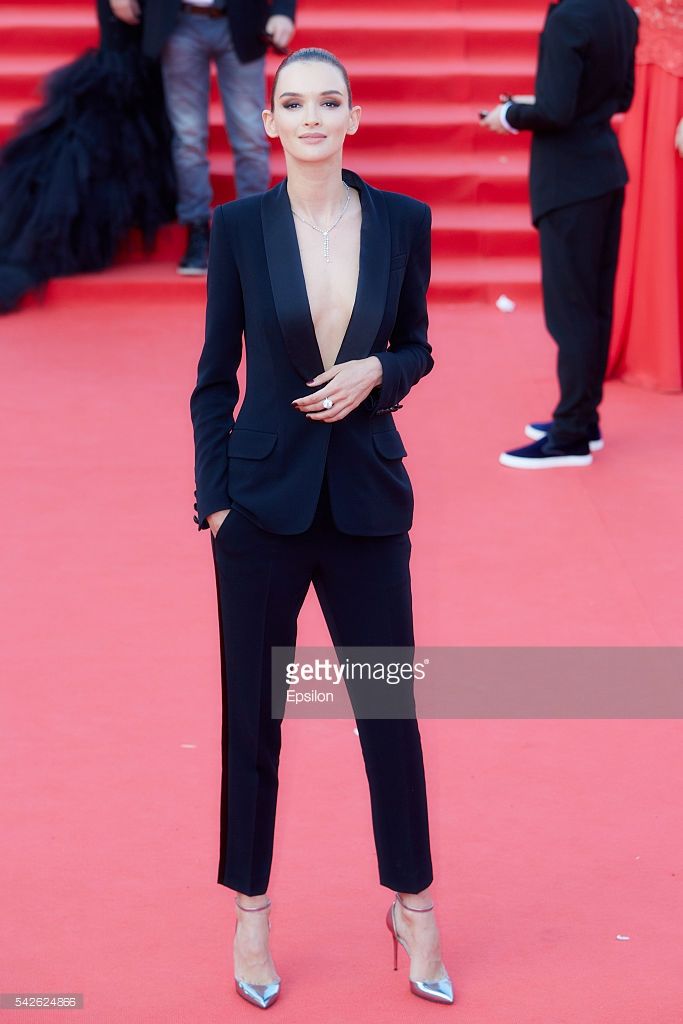 She also portrayed two characters, Frida and Nisa, in the production of "The Master And Margarita", based on the book written by Mikhail Bulgakov. Her other stage credits include performances in such plays as "Do Not Part With Your Beloved", "Home Of The Gentry", and "Crime And Punishment" among many others.
Rise to Fame on TV and Film
According to her IMDB profile, Paulina Andreeva made her debut TV appearance in the role of young Valentina in the drama series "Shalnoy Angel" in 2009. Her next role came in 2013, when she featured as Lily in the TV fantasy mystery adventure series "Dark World 2: Equilibrium". Later that year, Paulina was cast as Dina in the TV drama series "The Thaw", which was the directing debut of Valery Todorovsky.
In the next year, she landed the role of Lera in Egor Baranov's erotic thriller film "Locust", which was followed by her portrayal of Princess Irina Yusupova in the TV biographical mini-series "Grigoriy R." about the famous mystic and self-proclaimed holy man Grigori Rasputin.
Continued Success
In 2015, Paulina portrayed Esenya Steklona in the first season of the Channel One crime drama series "The Method", along with such actors as Alexander Petrov, Konstantin Khabensky and Alexander Tsekalo. Her performance in the series led her to be nominated for a TEFI Award in the category of Best Actress in a TV Movie/Series.
The second season of the series was aired in 2020. In 2016, she starred in the role of Sonya Shmul in the romantic comedy film "Status: Free", written and directed by Pavel Ruminov. In 2017, Paulina was cast as Oksana Troitskaya in the TV thriller mini-series "Sleepers", next to Igor Petrenko and Natalya Rogozhkina, and later that year she played Sofya Rudneva in the TV historical series "Demon Of The Revolution", featured as Mariya / Miya in Aleksandr Molochnikov's comedy film "The Myths", and performed the soundtrack entitled "Closer" for Fedor Bondarchuk's film "Attraction".
International Recognition
After landing the supporting role of a daughter in the 2018 short comedy film "The Martian Chronicles Of Us Us Us", Paulina Andreeva gained worldwide recognition for her portrayal of Arisa in the sci-fi series "Better Than Us" (2018-2019), created by Alexander Kessel and released on Netflix, the first Russian series presented under the banner 'Netflix Originals'. Her work in the series earned her an APKiT Award nomination in the category of Best Actress in a TV Movie/Series.
Later in 2019, Paulina appeared in the role of Ira in the comedy film "Mistresses", written and directed by Elena Hazanova, and starred as Sofya Rudneva in the biographical film drama "The Lenin Factor", about Russian political revolutionary Vladimir Lenin.
Recent and Upcoming Projects
Most recently, she played Polina in the 2020 drama film "Tsoy", along with Evgeniy Tsyganov and Maryana Spivak. During the same year, she wrote the script for the first season of the TV drama series "Psycho", and it's also been announced that she will feature as Tsar-devitsa in the upcoming adventure fantasy film "Upon The Magic Roads", directed by Oleg Pogodin, which is currently in post-production, and set to be released in 2021.
Appearance and Vital Statistics
The famous actress has long dark brown hair and dark brown eyes. She stands at a height of 5ft 7ins (1.75m), while her weight is 125lbs (57kgs), and her vital statistics 33-24-34. Her bra size is 33B, dress size 4 (US), and shoe size 6.5 (US).
Personal Life
Paulina Andreeva became romantically involved with Fedor Bondarchuk in 2015, who is also involved in the film industry as an actor, film director and producer, probably best recognized for being the founder of production company Art Pictures Studio. At first they managed to keep their romance under the wraps, but eventually went public when making a joint red-carpet appearance at Kinotavr in 2016. After four years of dating, the lovebirds exchanged their wedding vows at a ceremony which took place at Yusupov Palace in St. Petersburg on 17 September 2019. They currently live in Moscow, Russia.