-• Sarah McDaniel is an American actress, producer, director and model
-• She was born in Roseville, California on July 30, 1995
-• She has the rare Heterochromia Iridum condition, which is why her right eye is brown and her left eye blue
-• She has starred in five movies and a single TV series, and is perhaps best known for starring as Purpose in the 2020 short fantasy movie "Septaria"
-• She has an estimated net worth of over $700,000, as of January 2023
Who is Sarah McDaniel?
American actress, producer, director and model Sarah Rose McDaniel, was born in Roseville, California USA on 30 July 1995, meaning that her zodiac sign's Leo. She's had roles in five movies and a single TV series, and is perhaps best known for starring as Purpose in the 2020 short fantasy movie "Septaria", written and directed by Courtney Carter, and which also starred Garrett Wareing and Aaron Behr; it tells the story of a girl who's been infected with a brain-eating parasite.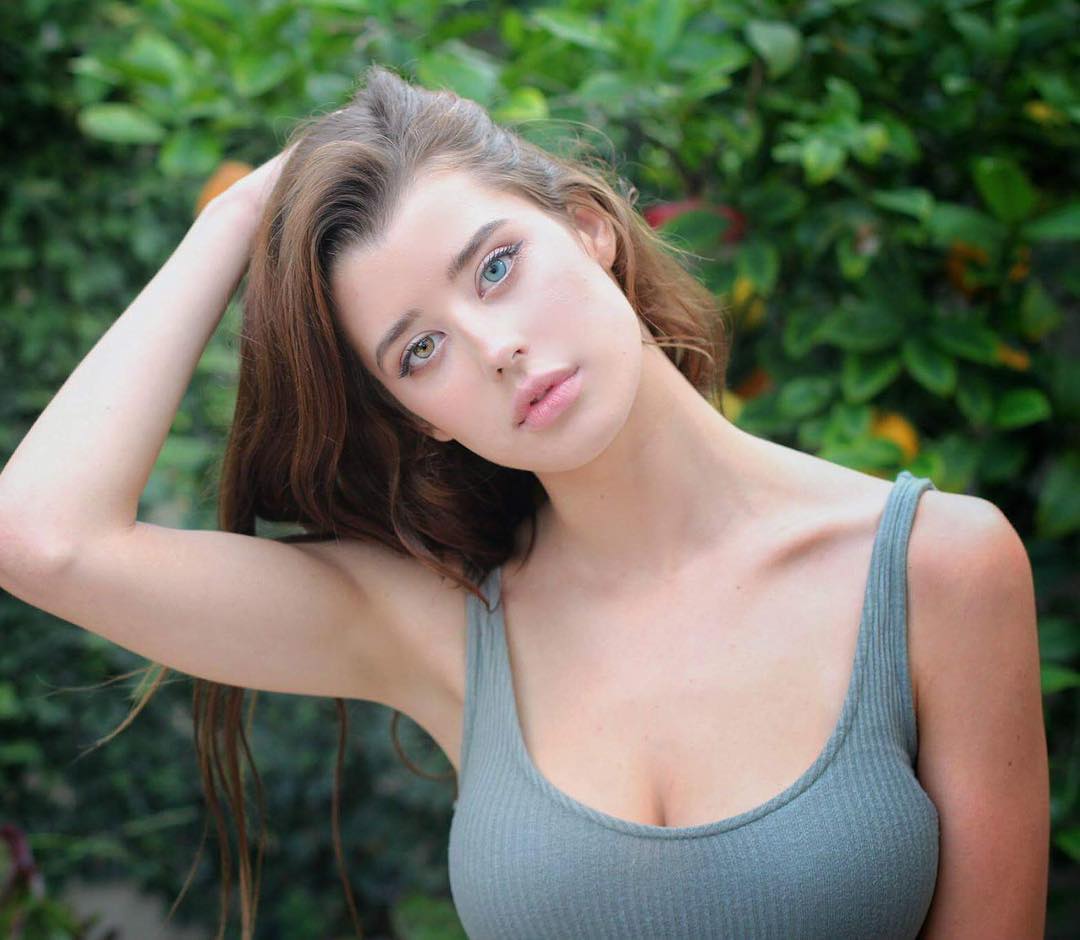 Education and early life
Sarah was raised in Roseville alongside her sister Zoe McDaniel, by their father Gregory Paul McDaniel who's a project manager, and mother Angela McDaniel (nee Chamberlin) who's a housewife.
Sarah was born with the rare Heterochromia Iridum condition, which is why her right eye is brown, and her left eye blue. She studied at a local high school in Roseville, and was spotted by a modelling agent when she was 16 years old. Sarah went on to sign her first contract, but has revealed that her first manager and several companies wanted her to wear same-colored contact lenses, and that it was only later in her career that she began posing without contacts.
She matriculated in 2013, and then chose to pursue a career rather than a college degree.
Career as a model
Sarah began attracting attention when she started appearing in music videos, such as "Summer Breaking / Daffodils" by Mark Ronson and Kevin Parker, and "Some Kind of Drug" by G-Eazy and Marc E. Bassy.
In March 2016, she became the first girl with different-colored eyes to pose (non-nude) for the magazine "Playboy".
Roles in TV series
Sarah's one and only TV series role was playing both Faith and Grace in 10 episodes of the action comedy "SuperHigh", created by Edouard Pluvieux, and in which Sarah starred alongside Kev Adams and DeStorm Power; it follows three superheroes who are addicted to weed; the series received mostly negative reviews.
Roles in movies
Sarah's debut film role was playing Python in the 2018 horror mystery science fiction "Perfect", written and directed by Eddie Alcazar, and which starred Garrett Wareing, Courtney Eaton and Tao Okamoto. It follows emotionally-troubled man Garrett who's been sent to a clinic at which he's to be implanted with other people's characteristics; the film was nominated for two awards.
Also in 2018, Sarah played Isabell in the horror thriller "The Row", which Matty Beckerman directed, and starred Natali Yura, Randy Couture and Lala Kent. It follows a college freshman who's just joined a sorority, and has learned a dark secret about it.
Sarah's had only two other film roles – she played Actress in the 2019 horror "Slasher Party", and the following year saw her play Jesse in the comedy "Deported", written and directed by Tyler Spindel, and which starred Whitmer Thomas, Megan Park and Mickey Gooch Jr. It follows a man whose girlfriend's just been deported, and has now hired a man to pretend to be her husband, to get her back into the US.
Other appearances
Sarah was featured in the 2014 short documentary movie "The Herblish Experience".
She made a guest appearance in a 2016 episode of the talk-show "The Late Show with Stephen Colbert".
Sarah produced and directed the 2020 short fantasy film "Septaria", and the 2021 animated short movie "Kerfuffle".
— Sarah McDaniel (@goolemturp) November 12, 2015
Controversy about her eye condition
Sarah has stated in an interview that she was diagnosed with Heterochromia Iridum several weeks after she was born, however, her father has stated that she's lying about her different-colored eyes, and that she's achieving it with the use of contacts, which seems unlikely.
Sarah's revealed on her social media accounts that she was devastated by what her father had said, and knew no reason why he would spread lies about her; many pictures have been uploaded onto the internet, some by her father, which show Sarah during her everyday life, with a focus on her eyes which seem to change their color.
Love life and boyfriend
Sarah avoids talking about her love life in public, and hasn't mentioned any boys or girls whom she's perhaps dated.
Some of her fans believe that she's lesbian, and this to be the reason behind her not speaking of the boys whom she's dated; some have pointed out the fact that Sarah's been seen spending time with women on a number of occasions, but has rarely been seen with men.
Others believe that she simply prefers to keep her love life away from media, and that she's today perhaps in a long-term relationship with a non-celebrity American man; none of these rumors have been addressed by Sarah.
Some have also claimed that Sarah's today focused on her career, and isn't looking for a relationship.
She seems to be single as of January 2023, hasn't married and doesn't have children.
Interesting facts and hobbies
Sarah's been interested in journalism since her early teenage years, and has written science-based articles for magazines "Huffington Post" and "Filthy"; these were about black holes, zombie fungus and emotion-changing parasites.
Sarah's a huge lover of animals, with horses being her favorites.
She's quite popular on Instagram, and is today followed by more than 1.5 million people on the social media network, while she's posted over 100 pictures and videos. The name of her account is 'Yonk (@krotchy)', and she's mostly focused on uploading artistic content.
Sarah's an amateur photographer, and some of her Instagram pictures have been taken by her.
She loves spending her spare time in nature, especially high up in the mountains.
Sarah's physically quite active, and works out at the gym on a daily basis.
Her favorite actresses are Amanda Seyfried and Kate Winslet, and some of her favorite movies include "Chloe", "In Time" and "Ted 2".
Height, hair and wealth
Sarah's age is 27. She has long brown hair, is 5ft 10ins (1.78m) tall, and weighs about 150lbs (69kgs).
Sarah's net worth's been estimated at over $700,000, as of January 2023.