Natalie Noel:
• Born in Vernon Hills, Illinois USA in 1996
• Social media star & model
• Assistant to YouTuber David Dobrik
• Studied at Lake Forest College
• Currently single
Who is Natalie Noel?
Natalie Mariduena, known on the internet as Natalie Noel, was born in Vernon Hills, Illinois USA, on 1 December 1996 – her zodiac sign is Sagittarius, and she holds American nationality. She's a social media star and a model, who's probably known best for working as the assistant to David Dobrik, a popular YouTuber. David launched his channel on 19 December 2014, and Natalie helped him build his fanbase, as she's appeared in numerous of his videos. The channel's today subscribed to by more than 18.3 million people, and numbers close to six billion views of all his videos combined.
Sports Illustrated 2021 here i comee!!!! pic.twitter.com/EgTOeVj8mP

— Natalie Mariduena (@natalinanoel) March 3, 2021
Early life and education
Natalie was raised in Vernon Hills alongside her two sisters, by their parents about whom nothing's known, as the girls respect their privacy.
She was mostly focused on her education while growing up, and was apparently amongst the best students at Vernon Hills High School. Natalie was quite sporting too, as she played tennis and soccer, and was also a cheerleader. Upon matriculating in 2015, she moved to Lake Forest in Illinois, and there studied at Lake Forest College. Natalie was a member of the Alpha Pi sorority, and played soccer for the college team. She graduated with a Bachelor's degree in psychology and environmental studies in 2019.
Natalie's now popular on Instagram, and her account's today followed by close to four million people, while she's uploaded over 400 pictures, most of which have been taken during her everyday life. She began gaining followers after she started working for David Dobrik.
Natalie launched her Twitter account in February 2016, and it's today followed by close to 600,000 people, while she tends to tweet a couple of times every month. She has a Facebook profile, which she seems to be using only to keep in touch with her closest friends and family members.
Natalie's a TikTok star, having amassed more than 3.3 million followers on the network, but has gathered only around 45,000 likes of all her videos combined. She mostly uploads lip syncing videos, as well as some which feature her working out at the gym.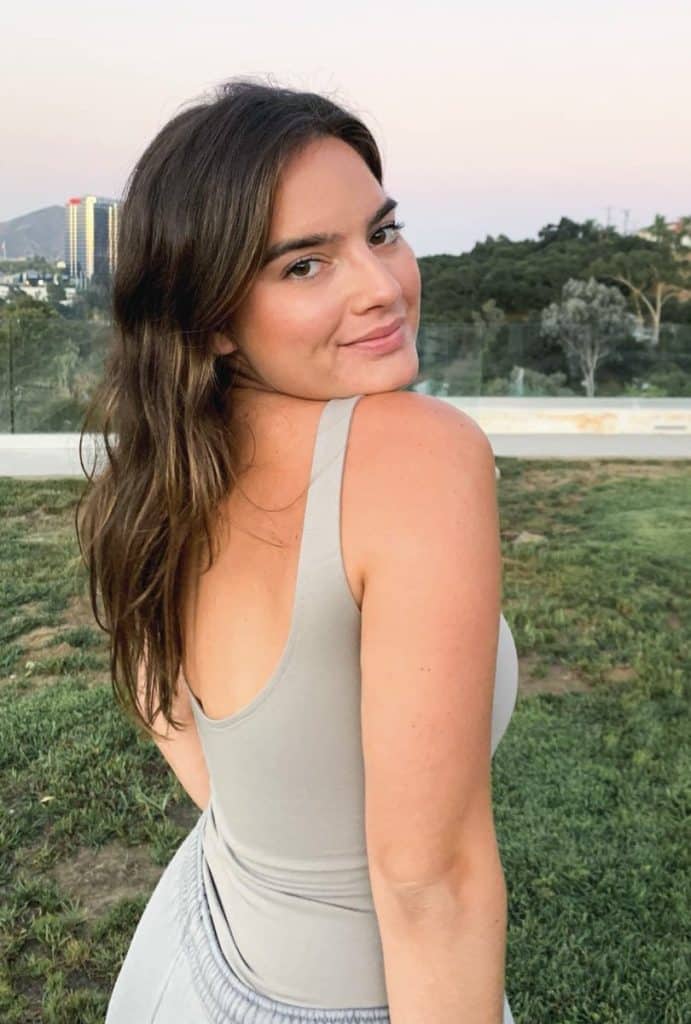 Other works
In 2019 and 2020, she appeared in 11 episodes of the comedy series "David's Vlog", which follows David Dobrik and his friends during their everyday lives. The series has been described as similar to "Friends", but for vloggers.
Most recently, in 2021 Natalie was featured on the cover page of the magazine "Sports Illustrated" swimsuit edition.
Love life and boyfriend
Natalie prefers to keep the details of her love life to herself, but some things related to the men whom she has dated are still known.
In 2018, she dated Shawn Nelson, an American entrepreneur and a social media star, but for only a couple of months, before splitting for unknown reasons.
Since she began working for David Dobrik, there have been rumors circulating the internet claiming that the two are in a relationship.
David has admitted that he had a crush on Natalie while they were attending the same high school (they went to Prom together), but that they are only close friends today. In 2020, the two were isolated together after the outbreak of the coronavirus, and David joked about having hooked up with Natalie. While talking about it in a YouTube video, Natalie came and kissed him on the cheek, which led more of their fans to believe that they were indeed dating. They are both still claiming that they aren't in a relationship.
As of June 2021, Natalie appears to be single, hasn't married and doesn't have children.
Hobbies and other interests
Natalie is physically highly active, and has a couple of training sessions at the gym each week, thus her slim figure.
She's also following a strict diet, and is taking care of her mental health by meditating and doing yoga on a daily basis.
Her favorite season is summer, as she enjoys showing off her body at the beach, playing beach volleyball and swimming in the ocean.
One of Natalie's favorite hobbies is travelling, and she's been to various US states for both work and pleasure, with her dream travel destination being Miami in Florida.
She's a dog-lover, and has recently acquitted her first puppy.
In her spare time, which is usually late at night, Natalie likes to watch movies. Her favorite actor and actress are Matt Damon and Kate Winslet, and a couple of her favorite movies include "Good Will Hunting", "The Eternal Sunshine of the Spotless Mind" and "Titanic".
Age, measurements and net worth
Natalie's age is 24. She has long brown hair and brown eyes, her height is 5ft 4ins (1.64m) and she weighs around 118lbs (53kgs). As of June 2021, her net worth has been estimated at over $1 million, while David's net worth has been estimated at over $20 million.
Who is David Dobrik?
David Julian Dobrik was born in Košice, Slovakia on 23 July 1996 – his zodiac sign is Leo, and he holds Slovakian nationality, while he's today based in Los Angeles, California. He's a podcaster, YouTuber and an entrepreneur, having launched his photo-sharing application Dispo.
David was raised in Košice alongside his siblings Ester, Toby and Sara, by their parents who prefer to be left out of media.
He was six years old when they all moved to Vernon Hills, and where he studied at Vernon Hills High School. He was very sporting during his four years there, and excelled in tennis; David played at the 2014 Boys Tennis State Tournament, finishing third in the doubles. Upon matriculating in 2014, he moved to Los Angeles to work on his career on the internet, while Natalie went to college. The two reunited after she obtained her degree.
He became popular on the now-defunct social media network Vine, and could have been seen collaborating with other famous Viners, including Jason Nash, Gabbie Hanna and Liza Koshy. After the network was shut down, David created a TikTok account, which is today followed by close to 26 million people, and numbers more than 1.1 billion likes of all his videos combined.
He's today probably known best for his YouTube channel, onto which he mostly uploads videos which feature him pulling pranks, doing challenges and talking about his everyday life.
In 2015, he began dating the social media star and YouTuber Liza Koshy – the two split after three years of being together, which came as a shock to David's fans, who believed that the two were planning to marry. On 15 May 2019, David exchanged vows with Lorraine Nash, mother of the 48 years old American actor Jason Eric Nash. Although a legal marriage, it was only done as a comedy sketch act – he was just 23 at the time – and the two divorced on 22 November 2019. As of mid-2021, David appears to be single.