Who is Patricia Wettig?
Patricia Anne Wettig was born on 4 December 1951 under the zodiac sign of Sagittarius, in Milford, Ohio USA. She is a 69-year-old actress, producer and playwright, probably still best recognized for landing the role of Nancy Krieger Weston in the ABC drama series "Thirtysomething" (1987-1991), also playing Caroline Reynolds in the Fox drama series "Prison Break" (2005–2007), and featuring as Holly Harper in the ABC family drama series "Brothers & Sisters" (2006–2011).
How rich is she, as of now? Patricia Wettig Net Worth
As of mid-2021, Patricia Wettig's net worth is estimated at over $25 million, acquired through her successful involvement in the world of entertainment as a professional actress, producer and playwright, who has garnered over 35 television and film acting credits since she launched her career in the early 1980s.
Early Life, Parents, Nationality, Ethnicity, Religion, Educational Background
Patricia Wettig was born in Milford but raised in Grove City in Pennsylvania, by her father, Clifford Neal Wettig, who was a high school basketball coach, and her mother, Florence (née Morlock).
She has three sisters named Pam, Peggy and Phyllis. She holds American nationality, belongs to White Caucasian ethnic group, and is of part-German ancestry. Regarding her education, Patricia matriculated from Grove City High School in 1970, and then enrolled into Ohio Wesleyan University to study drama. She later transferred to Temple University, from which she graduated in 1975. She later furthered her education at Smith College, from which she obtained her Master of Fine Arts degree in Playwriting in 2001.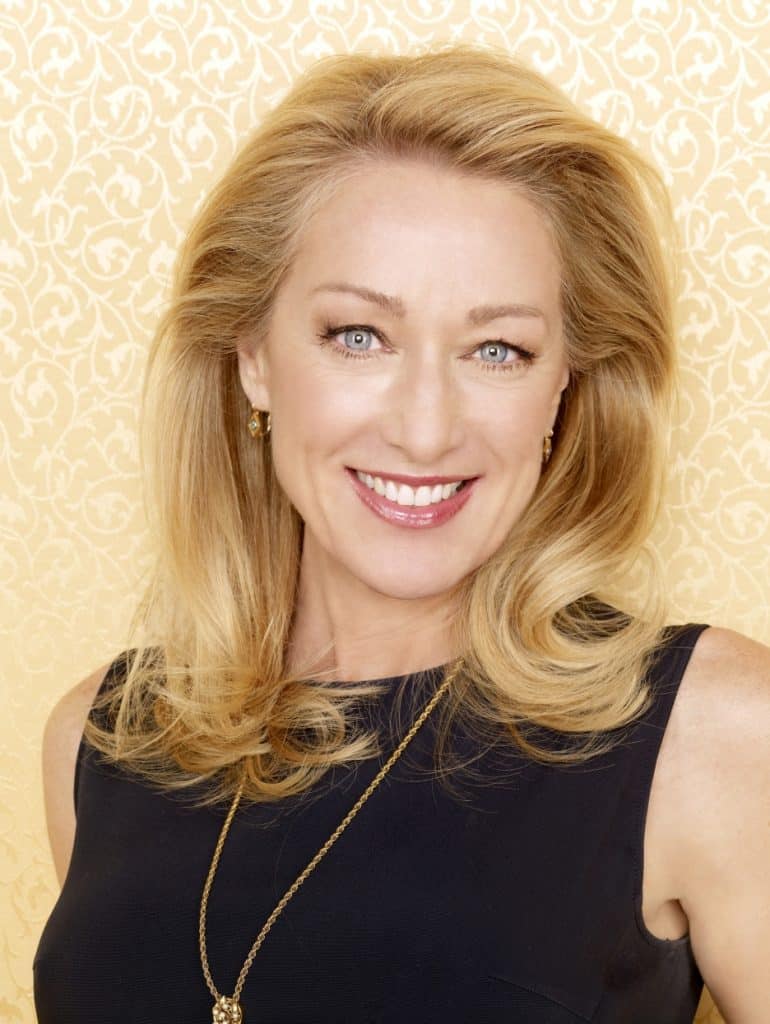 Career Beginnings
Patricia Wettig started pursuing her professional acting career on stage, performing with the Neighborhood Playhouse; at the time, she also worked as a personal dresser for Academy Award-winning actress Shirley MacLaine. Through 1980 and '81, she performed with New York's Circle Repertory Company, appearing in such productions as "Childe Byron", "Innocents, Thoughts, Harmless Intentions", "Threads", "The Diviners", and "The Woolgatherer".
She then focused on her career in film and on TV, making her debut appearance as Maureen in the 1982 made-for-TV drama film "Parole", while her first role in a TV series came two years later, when she made a guest appearance as Barbara Frick in an episode of the NBC crime drama "Remington Steele".
Rise to Fame
Patricia Wettig's big break came when she joined the cast of the NBC medical drama series "St. Elsewhere", in which she starred in the role of Joanne through 1986 and '87. The series earned critical acclaim, and has been rated one of the 50 greatest TV series of all time. Following the end of her stint on the show, Patricia landed her first main role, as Nancy Krieger Weston in the drama TV series "Thirtysomething" that ran on ABC for four seasons from 1987 until it was canceled due to low ratings in 1991, although the series was a critical success, winning 13 Primetime Emmy Awards and two Golden Globe Awards.
For her performance, Patricia was praised by critics and won three Primetime Emmy Awards in the categories of Outstanding Supporting Actress in a Drama Series in 1988, and Outstanding Lead Actress in a Drama Series in 1990 and 1991. She also won a Golden Globe Awards for Best Actress – Television Series Drama in 1991.
Later that year, she made her debut big-screen appearance as Dorothy Nolan in the drama film "Guilty By Suspicion", next to Robert De Niro and Annette Bening, and took the role of Barbara Robbins in the commercially successful Western comedy film "City Slickers", which she would later reprise in its 1994 sequel entitled "City Slickers II: The Legend of Curly's Gold", alongside Billy Crystal and Daniel Stern.
Continued Success
In 1992, Patricia Wettig landed the title role in the made-for-TV drama film "Taking Back My Life: The Nancy Ziegenmeyer Story" that premiered on CBS, and featured as Veronica in the comedy-drama film "Me And Veronica", alongside Elizabeth McGovern and Michael O'Keefe. It was followed by her portrayal of Rebecca Ferguson Stone in the made-for-TV mystery film "Parallel Lives", which was broadcast on Showtime in 1994.
Thereafter, Patricia was cast as Laurel Stevenson in the ABC horror miniseries "The Langoliers", based on Stephen King's novel of the same title, and played Virginia 'Giny' Mae Farley in the made-for-TV drama film "Kansas", for which she was also a producer, both in 1995.
The same year, she featured in the leading role of Judge Justine Parkes in the CBS drama series "Courthouse"; however, it was canceled two months after it premiered. It was followed by her portrayals of a mom in the black comedy film "Bongwater" (1998), next to Luke Wilson and Brittany Murphy, and Eleanor Riggs-Cattan in the CBS medical drama series "L.A. Doctors" (1998-1999).
Further Work
Patricia Wettig landed her next significant role in 2002, when she played Alison Dunne in the short-lived Bravo drama series "Breaking News".
Later that year, she joined the cast of the critically-acclaimed ABC sci-fi action thriller series "Alias", in which she starred in the recurring role of CIA psychotherapist Dr. Judy Barnett until 2004. It was followed by her appearance as Laura's mother in the HBO drama film "Lackawanna Blues", directed by George C. Wolfe in 2005. Afterwards, Patricia was chosen to portray Vice President Caroline Reynolds in the serial drama TV series "Prison Break" (2005-2007) that ran on Fox.
In 2006, she won the main role of Holly Harper in the ABC family drama series "Brothers & Sisters", starring in all 110 episodes aired through 2011.
It's a new Day, it's Sunday….Enjoy! Pic of the Day… pic.twitter.com/7KUfib4oD2

— B&S (@broandsistfr) November 3, 2013
Concurrently, she featured as BeckyLyn in the 2010 made-for-TV drama film "The 19th Wife" aired on Lifetime. In 2012, Patricia performed and toured nationally with Larry Kramer's production of "The Normal Heart".
From then, she has been relatively inactive in the search for major roles, until starring in the leading role of Harper Cantrell in the episode "Sugar Hill" of the Netflix anthology series "Heartstrings" in 2019. Most recently, she reprised the role of Nancy Krieger Weston in the ABC sequel of "Thirtysomething" in 2020.
Appearance and Vital Statistics
Patricia Wettig has long blonde-dyed hair and blue eyes. She stands at a height of 5ft 4ins (1.64m), while her weight is around 125lbs (57kgs).
Information about her vital statistics, bra, dress and shoe size isn't available.
Personal Life
Patricia Wettig is a married woman – her husband is Ken Olin, a noted actor and producer. The couple met in 1982 while both of them were cast in the production of "A Streetcar Named Desire", in which they portrayed a married couple. They immediately fell in love, and shortly afterwards tied the knot at a ceremony held on 8 May 1982. In the following year, she gave birth to their first child, a son named Clifford Olin. They welcomed their second child, a daughter named Roxy Olin, on 5 November 1985. Both of their children are also involved in the entertainment industry as actors.