Renee Michelle:
• Born in Washington D.C., USA, on 25 August 1987
• Raised in South Beach, Miami, Florida
• Professional wrestler and wife of British professional wrestler Drake Maverick
• Has appeared in various TV specials and short videos, such as "WWE Royal Rumble", "Women of Warriors III", and "WWE Hall of Fame 2019: Red Carpet"
• Married to Drake Maverick since 8 September 2019
Who is Renee Michelle?
Renee Michelle was born in Washington D.C., USA, on 25 August 1987 – her zodiac sign is Virgo and she holds American nationality. She's a professional wrestler, but who may be known best for being the wife of Drake Maverick, a famous British professional wrestler signed to World Wrestling Entertainment (WWE).
Early life and education
Renee was raised in South Beach, Miami, Florida, as her parents moved there not long after she was born. She hasn't spoken about them, as they prefer to be left out of media, and as Renee hasn't mentioned having any siblings, she's also believed to be an only child.
She grew up being interested in martial arts, and was just four years old when she began practicing Kung Fu and Capoeira.
As she grew older, Renee started learning to fight with various weapons, including spear, staff and sais. She studied at a local high school in South Beach, from which she matriculated in 2005. Renee hasn't talked about her further education, but it's widely believed that she enrolled at a college from which she obtained her Bachelor's degree in 2009.
Career as a wrestler
Upon graduating, Renee spent several years working as a model, and also tried to become an actress, but didn't manage to win any roles. She was eventually discovered by Gillberg, a wrestling superstar, who advised her to go for pro wrestling.
She fought her first match of the National Wrestling League on 22 June 2013, when she was defeated by Rebecca Payne.
Renee then went on to fight Kennadi Brink for the East Coast Wrestling Association Women's Championship, and it ended in a draw. She then joined MCW Pro Wrestling, and won her first fight against Amber Rodriguez on 3 October 2014. Renee's second win was against the champion Kimber Lee, and on 5 November 2016 she defeated Brittany Blake to secure her reign as an MCW Women's Champion; however, Renee eventually lost to Melina. On 6 June 2015, she fought for the first time in Women Xtreme Wrestling (WXW) in a win against Jenny Rose who was a Diamond Division Champion. Renee also beat Sammi Pandora and Niya, thus winning the WXW event.
Renee also tried herself at Shine Wrestling, as she fought Amanda Rodriguez on 24 July 2015, losing the fight.
Renee fought her first fight in WWE on 13 July 2017, when she was beaten by Candice LeRae in the first round of WWE Mae Young Classic. On 22 July 2019, she made an appearance backstage during the Reunion Show Special.
TV appearances
Renee made her debut TV appearance in 2017, when she was featured in the episode "Round One: Part Four" of the series "WWE: Mae Young Classic Women Tournament", and she then appeared in the videos "Queens Of Combat QOC Super Show", "Queens Of Combat QOC 21", and "Queens of Combat 22".
Between 2016 and 2019, Renee was featured in six episodes of the series "WWE Raw", then made a guest appearance in an episode of the series "WWE Smackdown!"
Three of her other roles have been in the 2020 movie "CZW Girlz: All Assets Revealed", the 2020 series "TNA iMPACT! Wrestling", and the 2021 series "All Elite Wrestling: Dark".
She has appeared in various other TV specials and short videos, such as "WWE Royal Rumble", "Women of Warriors III", and "WWE Hall of Fame 2019: Red Carpet".
Love life and husband
Renee is quite secretive when it comes to her love life but it's known that she's today a married woman. She exchanged vows with her husband James Michael Curtin – known better as Drake Maverick – on 8 September 2019, and while the two haven't spoken about how and when they met, it is believed that they were introduced at a party in 2017 and began dating not long afterwards.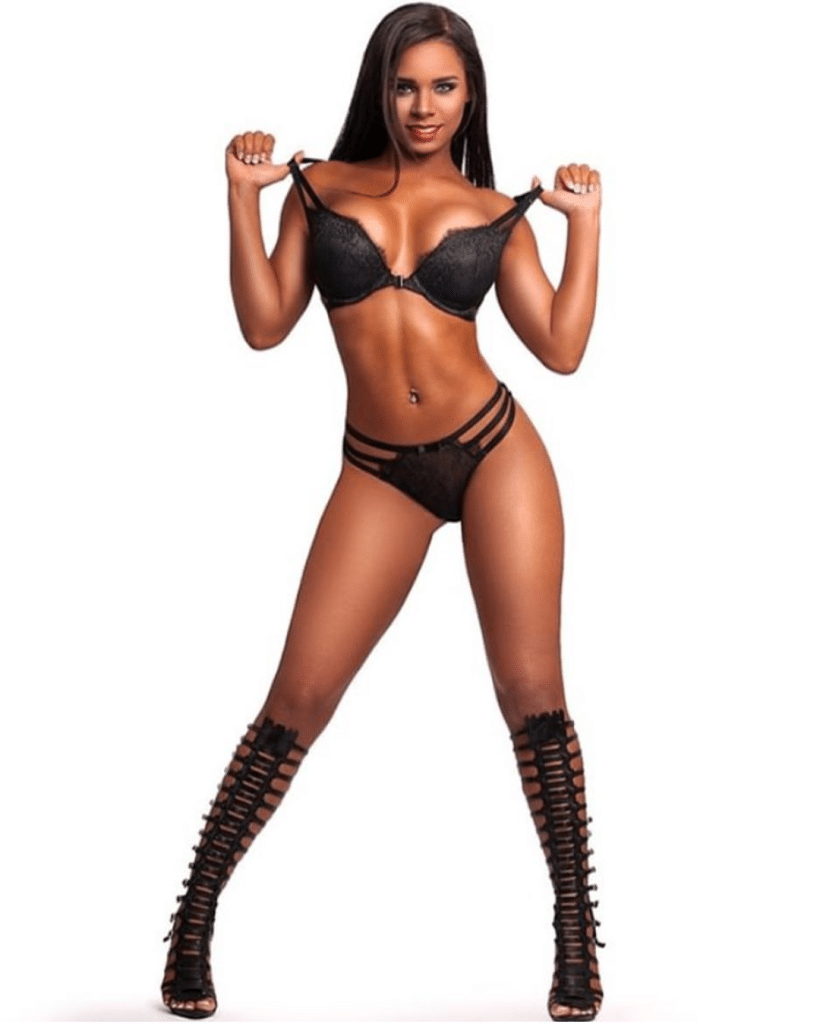 Renee and Drake don't have any children together, and this is widely believed to be because they both want to focus on their careers, however, there are also those who believe that one of them is perhaps unable to have children.
Neither Renee nor Drake have spoken about any other people they have perhaps been with, so as of March 2021, Renee is married to James Michael Curtin aka Drake Maverick, and they don't have children.
Hobbies and other interests
Renee is a social media star with more than 120,000 followers on her Instagram account. She enjoys being active on the network because of the attention she receives, and has uploaded over 1,150 pictures, many of which have her breasts and buttocks in focus.
She is physically very active, as she has four to five training sessions at the gym each week, while she's also following a strict diet, thus her slim body.
Renee's a cat-lover, and has two pet cats which can be seen featured in many pictures she has uploaded onto her Instagram account.
She's keen on travelling, and her wrestling career has taken her to various US states such as New York, Arizona and Texas.
In her spare time, Renee enjoys watching movies – her favorite actors are John Cena, Dwayne 'The Rock' Johnson and Jason Statham, while her favorite movies include "Bumblebee", "Blockers" and "Fast & Furious 9".
Age, height and net worth
Renee's age is 33. She has long brown hair and blue eyes, her height is 5ft 3ins (1.6m) and she weighs around 120lbs (54kgs). As of March 2021, her net worth has been estimated at over $500,000, while her husband's net worth is reputedly over $3 million.
Who is Renee's husband Drake Maverick?
James Michael Curtin was born in Birmingham, England, on 30 January 1983 – his zodiac sign is Aquarius and he holds British nationality. He's perhaps known best for having been a wrestling X Division Champion twice.
He began training in his early teenage years, and was coached by Chris Gilbert and Jack Storm before he joined the SAS Wrestling Academy, at which he was trained by Don Charles. Drake's first important fight was on 30 August 2003, when under the name Spud, he, beat Jack Hazard, becoming the British Welterweight Champion, a title he lost in December of the same year. From 2004 onwards, he competed in International Pro Wrestling: United Kingdom.
It was only in October 2017 that Drake signed a contract with WWE, while his debut fight was on 30 January 2018, when he used his professional name 'Drake Maverick' for the first time.
He also became the general manager of the professional wrestling web series "WWE 205 Live", and then organized the WWE Cruiserweight Championship in which 16 wrestlers competed for the title.
His contract with WWE was terminated on 15 April 2020, just three days after it was announced that Drake would be competing in the Interim NXT Cruiserweight Title Tournament. The fans loved Drake during the tournament, at which he lost in the finals to El Hijo del Fantasma, and this led WWE to re-sign him.
Drake has also been featured as a manager in the video games "WWE 2K19" and "WWE 2K20".
He is interested in various other sports, including soccer and hockey, and he cheers for the soccer club Everton FC, and the hockey team the Nashville Predators.