• Steve Greener is a music executive, businessman, and producer, known for managing superstars like Cee Lo Green and Fantasia.
• He graduated from the State University of New York College at Oneonta in 1989.
• He is a partner at Primary Wave and works as a talent manager for numerous artists.
• He is married to popular TV reporter and host, Tamron Hall and they have one son.
• His estimated net worth is around $1.5 million, while his wife's is estimated at $5 million.
Who is Steve Greener?
Steve Greener is a music executive, businessman and producer, perhaps best known for managing superstars like Cee Lo Green and Fantasia. He additionally rose to notice as the husband of the popular TV reporter and host, Tamron Hall. Steve was born under the Zodiac sign Cancer on 28 June 1967 in the U.S. He holds American nationality, with a mix of Irish and American ethnicity; as of early 2021, he is 53 years old.
Early life and Family
Not much information is available about his family and background; it appears that he has no siblings. It is known that he attended the State University of New York College at Oneonta, and graduated in 1989.
Career
Steve began his career in the entertainment business working as a production assistant on the movies such as "Miracle Beach" and "Sketch Artist", and later landed a job at Medina/Pollack Entertainment. Steve worked on the production of "The Fresh Prince of Bel-Air" and managed Will Smith with Benny Medina. During his employment there, he also produced the sports film "Above the Rim", featuring Tupac Shakur and Leon Robinson. In 1995 he launched his first project as an executive producer, the TV special documentary called "Sommore B*tch House". Steve then joined the production team at Elephant Walk entertainment, and worked on movies such as "House Party I" and "House Party II".
He achieved his first major success working at Union Entertainment which was formed in 1997, developing the multi-award-winning "The Bernie Mac Show"; he's credited as the producer of a 104 episodes.
The show achieved great success and numerous awards, including a Primetime Emmy, a Humanitas Prize, and NAACP Image Award for Outstanding Actor in a Comedy Series four times in a row to Bernie Mac.
In 2003, Union Entertainment was bought by 3 Arts Entertainment, and Steven resumed his employment there. During his employment there, he produced the sports comedy film "MR.3000", starring Bernie Mac and Angela Bassett, the romantic comedy "Guess Who" starring Ashton Kutcher, and "Goodnight Joseph Parker". In 2006 he rejoined the good old duo Jeff Pollack and Benny Medina at Handprint Entertainment, the production company which managed numerous award-winning artists including Bernie Mac, Mariah Carey and Jennifer Lopez.
In the following year, Steven founded a production company called 5 Boroughs Entertainment, with the goal of producing movies for the urban marketplace.
In 2008 he produced the comedy-drama "Soul Men" starring Samuel L. Jackson and Bernie Mac, but even though the performance of the main characters was deemed funny and hilarious, the movie received negative to mixed reviews, mainly for the lack of originality. Additionally, the movie only grossed $12 but was made on a $40 million budget. Steve's other projects include the comedy movie "Starting Under", TV special "Welcome to the Family", and the TV series "Roseanne's Nuts". In 2012 he worked as co-executive producer on the American drama movie "Woman Thou Art Loosed: On the 7th Day", starring Blair Underwood and Sharon, which was sold to BET Network Television. During the same year, he also produced the TV special "Comedy Central Roast of Roseanne", and the TV movie "Downwardly Mobile".
In 2013, Steve joined the team at Bunim/Murray Productions, and worked on several projects including the TV show "The Ruckers". Steven was also employed as a consultant to Codeblack Films, a Lionsgate Company, as a supervisor overseeing the acquisition of various movies, TV shows, and web content; those included the stand-up comedy special "Kevin Hart: Let Me Explain", and documentary/comedy "Why We Laugh: Funny Women" starring Joan Rivers and Kim Wayans. His last producing credit was in 2015 for the TV series, "Love Thy Sister".
Regarding his current employment, Steven is a partner at Primary Wave, and works as a talent manager for numerous big-time artists, including Cypress Hill, Melissa Etheridge, and Toots and Maytals.
His marriage to Tamron Hall
The popular host has stayed tight-lipped for quite a while when it comes to her relationship and marriage with Steve.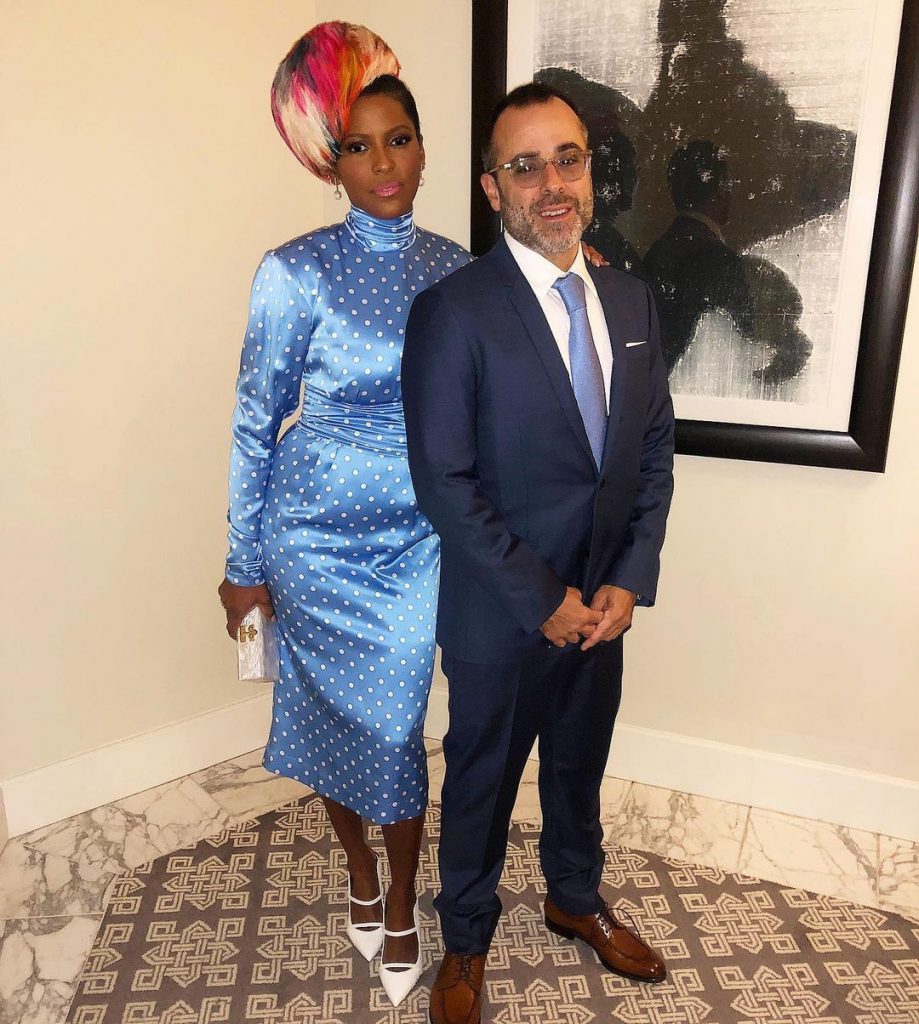 In the interview for People magazine, Tamron revealed: 'I've known him for many years. We would run into each other, and he's shy, so I wasn't clear that he was hitting on me exactly. I thought he was just being friendly.' While being interviewed by Ryan Seacrest she said jokingly: "He would run into me, and he kept saying, 'What are the odds? I'm like, 'Cause you're stalking me, the odds are high." Two years after they met, they ran into each other at a pool in L.A., started talking, and Steve asked on a date. Just three weeks later they were dating, and even moved in together. However, neither of them disclosed any information about their ongoing romance to the public, and continued to keep their relationship under the radar.
To everyone's surprise, in 2017 she told Steve Harvey that her boyfriend worked in the entertainment business, but didn't disclose any further details.
Many fans were shocked when the couple tied the knot out of the blue in March of 2019 in their Harlem home. Soon after the wedding, Tamron revealed that she was expecting, and on 24 April 2019 gave birth to son Moses. This child was a miracle for both of them, given that Tamron gave birth at the age of 48. The daytime star said: "It's his first child, and he also thought he would never be a dad."
In her interview for the People, she also shared some details about their different religious upbringing, and how she and Steve are trying to combine both, Tamron said:" He's Jewish, so we had a bris here at the house," – Jewish ceremony of circumcision – adding: "My mom nearly passed out. We had both grandparents on each side there, and he's going to Texas to have a christening or a confirmation at my mom's southern Baptist church."
Raise your hand if you tagged a #blackbusiness in celebration of #blackoutday. We tag @hausofswag for our cool rompers…

Posted by Tamron Hall on Tuesday, July 7, 2020
Physical stats and Hobbies
Steven is 6ft 1ins (185cm) tall and weighs around 187lbs (85kgs). Given his low-key personality, nothing is known about his interests and hobbies.
Would you like to know his net worth?
His estimated net worth is around $1.5 million as of early 2021, earned working as a producer and talent manager. His wife's net worth is estimated at $5 million, which she acquired through her long-running career as a journalist, producer and host.
It appears that Steve is not a fan of social media and uses neither Instagram nor Twitter. On the other hand, Tamron is very active on social media; her Instagram counts almost a million followers, while her Twitter account has over 400,000 fans.
Briefly about Tamron Hall
Tamron Latrise Hall is an American broadcast journalist, TV host, and executive producer, perhaps best known for being the national news correspondent for NBC News. She was born under the Zodiac sign Virgo on 16 September 1970, in Luling, Texas, USA.  Her mother's name is Mary Newton, while her father's name remains unknown. She was raised by her mother and stepfather, Clarence Newton, who worked in the military. Regarding her education, she received her Bachelor of the Arts degree in Broadcast Journalism from Temple University in 1992.
Tamron started her broadcasting career working as a general reporter at KBTX in Bryan, Texas, and soon transition to KTVT in 1994.
After spending four years working as a general assignment reporter, she joined WFLD-TV in Chicago, Illinois, in 1997, holding several positions, including the host of a three-hour program, "Fox News in the Morning". In July 2007, she began working at the MSNBC network and on NBC news, landing exclusive interviews such as the one-on-one interview with Barack Obama before he ran for president. As she served as a general reporter, she rose to fame as a substitute host for Keith Olbermann on "Countdown with Keith Olbermann".  In 2010 she hosted "News Nation with Tamron Hall", the week-day talk-news program covering high-profile interviews, and a wide range of subjects regarding global and entertainment news. In September 2013, she began hosting "Deadline: Crime with Tamron Hall" on Investigation Discovery; the weekly magazine featured Tamren and her investigative team unveiling the details of crimes.
Thank you @jessicasimpson for these beautiful flowers. You were open, real and raw on @tamronhallshow . Btw the note attached has me 😭😭😭💜 #tamcam pic.twitter.com/9Ba7vB7ywG

— Tamron Hall (@tamronhall) April 1, 2021
In a one-hour episode, the magazine depicts two crime occurrences, work which Tamron dedicated to her sister who was murdered – her assailant remains unknown to date.
When she began hosting NBC's Today Show in 2014, she became the first African-American woman to serve as a co-anchor in the program; at times she would jump in as a substitute for Matt Laure and Savannah Guthrie. During her employment, Tamron conducted various important interviews with celebrities such as Hugh Jackman, Mariah Carey and Kevin Systrom. In 2017 she called it quits with NBC News and MSNBC after they cut her program by an hour to make room for a new talk show. Reportedly there were also rumors circulating that she would lose her spot on "Today" to Megyn Kelly. NBC tried to smooth things over by offering her a financial incentive which she refused.
In the same year, she collaborated with Harvey Weinstein and worked on launching her own talk show. However, their partnership was broken when news about Weinstein's sexual misconduct became public knowledge. In 2018 she teamed up with Disney-ABC Domestic Television to produce and host the new talk show "Tamron Hall Show", which debuted in September 2019. The show has been honored with numerous nominations, including Three Daytime Emmy nominations by the National Academy of Television Arts and Sciences.
During her lengthy career, Tamron launched the anti-domestic abuse campaign Shine a Light to spread awareness of physical and emotionally abusive relationships. She managed to raise nearly $40,000, which she redirected to Day One New York, an organization that battles abuse by informing and creating camps for spreading awareness on the issue.