• Richard George 'Ricky' Whittle born in 1981 in Oldham, England
• Model for sports fashion brands such as Rebook and actor in British soap opera "Hollyoaks"
• Played the role of Lincoln in the television series "The 100" and Shadow Moon in Starz series "American Gods"
• Appeared in movies such as "Losing Sam", "Austenland", "Succulent & Savory", and "Nappily Ever After"
• Estimated net worth of $1 million
Who is Ricky Whittle?
Richard George 'Ricky' Whittle was born on 31 December 1981, in Oldham, England. He's a British actor and model, perhaps known best for his role as Lincoln in the television series "The 100". He first came to prominence in the early 2000s as a model for sports fashion brands such as Rebook, breaking through as an actor with a role in the popular British soap opera "Hollyoaks".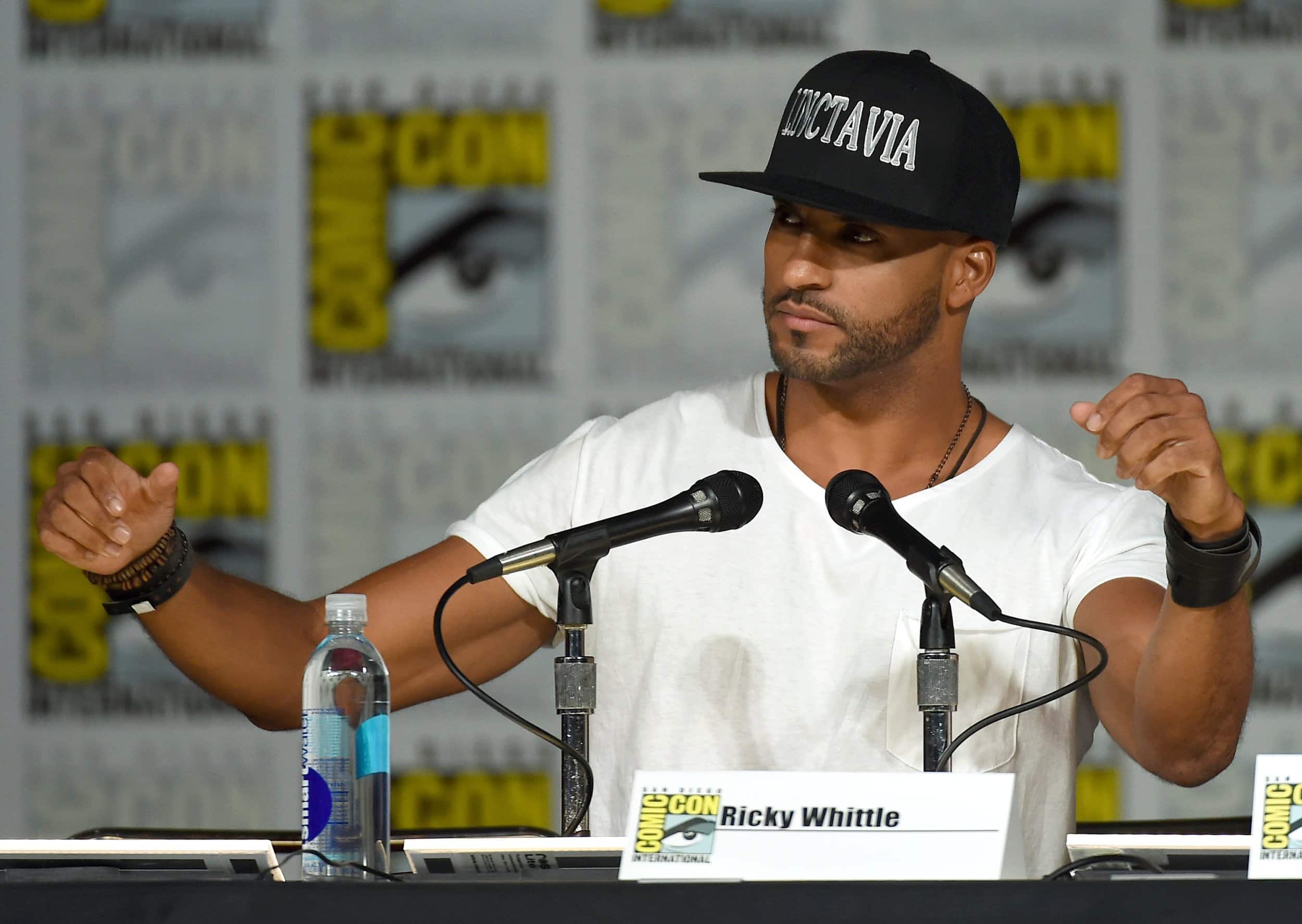 Early life and education
Ricky was born the oldest of three children to Maggie and Harry Whittle, of mixed ethnicity since his mother is British while his father is from Jamaica. Growing up, Ricky and his family moved a lot, although he spent most of his childhood in Northern Ireland. Ricky later revealed that he was bullied in school a lot, as he was the only black kid around.
In 1999, he enrolled at Southampton Solent University where he studied law, and also excelled at sports, as the captain of his university's soccer team. Ricky started modeling around this time as well, to pay for his education. However, as he became more successful in that field he dropped out of university and didn't complete his degree.
Roles in TV series
Ricky made his acting debut in 2002, when he landed a role in the British sports drama "Dream Team", which aired from 1997 through 2007, and followed the lives of the players, staff and fans of the fictional soccer team Harchester United, and the struggles they faced both on and off the pitch. "Dream Team" was also known for featuring real-life football players in guest appearances, including David Beckham and Ryan Giggs,. In the series, Ricky played the role of Rayan Naysmith, a Harchester United player – before landing the role, Ricky was working as a model, but his agent took him to audition for the series as a surprise, knowing that Ricky wanted to become an actor.
Ricky left "Dream Team" in 2006, and joined the cast of the British soap-opera "Hollyoaks", playing the role of police officer Calvin Valentine. The series has been airing since 1995, and follows the lives of the residents of the fictional town of the same name. The show features a large and diverse cast of characters, and has been praised for its representation of minority groups and its tackling of important social issues. "Hollyoaks" has also become known for dramatic storylines, such as murder investigations, mental health crises and tragic accidents.
In 2009, it was announced that Ricky was going to leave the show – his character, Calvin, was a fan favorite at the time and was known for his involvement in several storylines, such as his relationship with Carmel McQueen and his battle with drug addiction. Ricky's portrayal of the character was praised by both critics and viewers.
In 2011, Ricky moved to Los Angeles, California to pursue more acting opportunities, and in the following years, he had roles in TV series such as "Single Ladies" (2012), "NCIS" (2013), and "Mistresses" (2014).
In 2014, he became a cast member of the post-apocalyptic drama series "The 100" which aired on the CW network. The show was developed by Jason Rothenberg and is based on a series of novels by Kass Morgan. It follows a group of 100 teenagers who are sent to Earth from a space station called the Ark, which has been orbiting Earth for 97 years after a nuclear apocalypse wiped out most of humanity. The teens must learn to survive on a new, dangerous Earth while dealing with conflicts with other survivors and the challenges of building a new society.
Ricky played Lincoln, one of the main characters in the series, and the love interest of Octavia Blake. Lincoln is a Grounder, one of the people who live on Earth and have a different culture. Eventually, he joins the people from Ark in the fight for survival. and becomes a leader among them. Ricky left "The 100" in 2016, after accusing the series' creator Jason Rothenberg of marginalizing his character.
He soon landed the lead role of Shadow Moon in the Starz series "American Gods", based on the eponymous novel by Neil Gaiman. The show premiered in April 2017, concluding in 2021. It's set in a world where gods and mythological creatures exist and are reliant on the belief of humans to survive. The story follows Shadow Moon, a man who becomes embroiled in a battle between the old gods, who are losing believers, and the new gods of technology and media.
Season 2 episode 2 of American Gods #bts #ShadowMoon pic.twitter.com/VpOKaJmm8a

— Ricky Whittle (@MrRickyWhittle) March 18, 2019
Roles in movies
Although Ricky is mostly known for his TV series roles, he has also appeared in several movies throughout his career. He made his film debut in the 2011 short comedy "Losing Sam", directed by Xavier Manrique.
Not long after relocating to Hollywood, Ricky landed his first feature film role in "Austenland" (2013), written and directed by Jerusha Hess and starred Keri Russel, J. J. Field, and Jennifer Coolidge. It's based on the eponymous novel by Shannon Hale and follows a young woman who is secretly obsessed with the classic novel "Pride and Prejudice". Ironically, the majority of the film was shot in the UK. Ricky's appearance gained him more acting gigs in the US, however, he was soon met with issues regarding his visa, which forced him to pull out of several projects.
In 2016, he played the lead role alongside Simone-Elise Girard, in the romantic comedy-drama "Succulent & Savory", centered on a professional chef looking for a new partner a year after the death of her boyfriend.
Ricky's latest film role was in the Netflix comedy-drama "Nappily Ever After", directed by Haifaa Al-Mansour, and which also starred Sanaa Lathan and Lyriq Bent.
Awards and nominations
Ricky was nominated for several awards for his performances in the TV series' "Hollyoaks" and "American Gods" – he was nominated for British Soap Award for Sexiest Male for four consecutive years, from 2007 through 2010. Also in 2010, he won the Television and Radio Industries Club Award for Best TV Soap Personality for his performance as Calvin Valentine in "Hollyoaks".
Eight years later, he received a nomination for the prestigious Saturn Award for Best Actor on Television, for his portrayal of Shadow Moon in "American Gods".
Personal life, net worth
Aside from his acting work, Ricky has also been a keen athlete. He trains at the gym at least five days a week, and has competed in several triathlons and marathons in the past few years. Although he doesn't play soccer anymore, Ricky still likes to follow matches in his spare time, particularly when his favorite team, Manchester United, is playing.
As for his past relationships, Ricky has been romantically involved with his "Hollyoaks" co-star, Carley Stenson, from 2007 through 2009. At the time of their separation, Ricky was a contestant on the popular competition TV show, "Strictly Come Dancing". The British media speculated about him having an affair with his dance partner, Natalie Lowe, but these rumors were never confirmed.
In 2016, Ricky started a relationship with his fellow actress Kirstina Colonna. The news of them dating was first revealed on "The Wendy Williams Show", and the two have appeared together on several red carpet events since then. They broke up in 2018, but seem to have separated on amicable terms.
Not a lot is known about the actor's relationships from that point on – in general, Ricky likes to keep a low profile when it comes to his personal life, focusing mainly on his career as an actor, and it's likely that any recent developments in his private life would not be publicly known.
Ricky boasts a large following on social media, particularly on Instagram, with his account numbering close to a million followers.
As of February 2023, Ricky's estimated net worth is over $1 million.