• Romeo Lacoste rose to fame after appearing on the reality TV show "Best Ink" in 2013-2014
• He has five siblings, including one who is a YouTube star
• He opened his own tattoo studio, California Dream, in Los Angeles
• He has attracted many celebrity clients and amassed 1 million YouTube subscribers
• He is in a romantic relationship with Instagram model Gigi Angelica Marie
Who is Romeo Lacoste?
Romeo Lacoste rose to fame after appearing in the popular reality TV show "Best Ink" (2013-2014). Since then he's become a YouTube star, and one of the most popular tattoo artists in the world, running his own studio, California Dream, where many celebrities have already set foot and been tattooed.
Age, Early Life, Parents, Education
Romeo Lacoste was born on 19 January 1989 in Montreal, Canada, to Canadian-American parents, though he hasn't revealed their names. He has five siblings, one of whom is Mickey Lacoste, another YouTube star.
From an early age, Romeo was interested in drawing cartoon characters and doodles, and when he hit 17 years old, decided to become a professional tattoo artist. His first tattoo, a skunk, he did by himself. He moved to San Diego, California for his education and has since moved to Los Angeles where he now works.
Career Beginnings
As he became more and more interested in the world of tattoos, he began doing them for his friends, and clients who heard of him by the word of mouth. He initially started his YouTube channel under the name Winterxdreams in 2009, now renamed to Romeo Lacoste, and began uploading videos of himself while doing his magic, which brought him more popularity.
His talent amazed everyone, but this wasn't enough for him, as he desired world fame; he wanted celebrities for his clients, and has done all to achieve that.
Rise to Prominence
Gradually, Romeo was becoming more popular, and with every new video on his channel, he acquired a couple of new clients and new YouTube subscribers. He signed up for the reality show "Best Ink", and was selected as one of the talented tattoo artists. He participated in the third season of the popular show, and stunned the world with his tattoo artistic skills.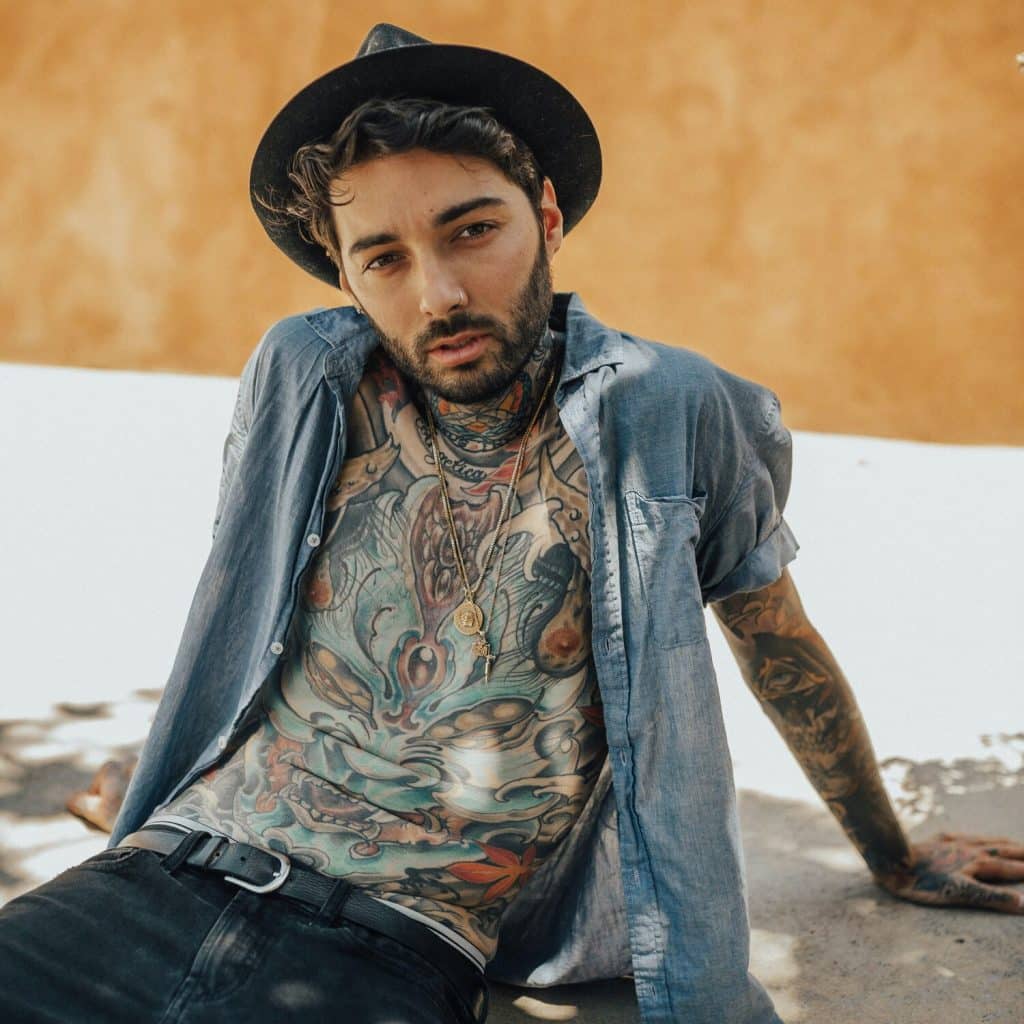 The judges were amazed by his quirky and fresh style, however, he never reached the finals as he was eliminated in the eighth episode. Nevertheless, he got what he came for as the world found out about him. After the elimination from the show, Romeo moved to Los Angeles, where he opened his California Dream studio. A mix of a tattoo studio and a lounge, it was unique in Los Angeles, making Romeo even more popular.
Further Success
Once his studio began operating, Romeo's popularity spread like wildfire. His YouTube channel reached a new dimension, and YouTube stars started paying attention to Romeo's work. He started getting clients from the YouTube community, including Kian, JC, Pentatonix, Dolan Twins, and others.
As he was becoming more famous within show business, he attracted celebrities such as Justin Bieber, Kendrick Lamar, Ariana Grande, James Charles among others. He has documented all of the tattoos on his YouTube channel which now numbers close to million subscribers.
In addition, Romeo has created several fun series, including "Tattoo Pain Game", which is a challenge game show, and "Tattoo Roulette", which is supported by Disney, and features guest stars who get a free tattoo if they win a challenge that he creates.
Some of the most popular videos on his YouTube channel are one of the tattoo roulette episodes that featured LaurDIY with over 3.5 million views, and another his own tips and tricks for the first tattoo with 2.6 million views.
Keemster vs. Romeo Scandal and Lawsuit
In March 2019, Keemster uploaded a video on his DramaAlert channel in which he negatively talked about Lacoste, accusing him of sending inappropriate messages to underage girls. The video went viral, which resulted in Romeo's lawsuit against Keemstar for $3.5 million. However, Romeo didn't have any claims against Keemstar's allegations, so the lawsuit was ruled out, and Romeo paid the full legal fees. This affected Lacoste's reputation, but since then he has bounced back and continued with his career.
Romeo Lacoste Net Worth
As of mid- 2021, Rome Lacoste's net worth has been estimated to be around $560,000, earned through his successful career as a YouTube star and a tattoo artist. Furthermore, Romeo has also launched his musical career, releasing music videos on his YouTube channel, which have added to his wealth.
Personal Life, Dating, Girlfriend, Is He Single?
When it comes to his personal life, Romeo hasn't spoken much about his personal endeavors, though it is known that he is in a romantic relationship with Instagram model Gigi Angelica Marie, who has more than one million followers. She has appeared in several of his videos, which brought further fame to both of them.
Appearance and Vital Statistics
This successful tattoo artist has blonde hair and dark brown eyes. He stands at a height of 6ft 3ins (1.93m), while he weighs approximately 187lbs (85kg), with vital statistics of 40-30-35; his biceps size is 12ins, while his shoe size is 10. His whole body is covered with numerous tattoos – the one of a Japanese Samurai on his back is his favorite.
Hobbies and Interests
Romeo has several other interests – he is a huge fan of wrestling, and for a while wanted to become a professional wrestler with World Wrestling Entertainment (WWE).
He is an amateur surfer and likes to spend six to seven hours surfing. While in high school he used to breakdance, a love that has remained until the present day, as he often goes to parties with friends where they breakdance together.
He loves Thai tea and it is his favorite drink. He is impressed with Japan and its entire culture – he was in Japan only once, but dreams of returning there and opening a tattoo lounge.
Romeo is also a pet lover, though has never said whether he owns a pet or not.