• Saxon Sharbino is an American actress, best known for her roles in the short-lived Fox series "Touch" and "I Spit On Your Grave"
• She comes from a talented family, with her young sister Brighton also acting
• Saxon has appeared in numerous TV shows and movies, such as "Poltergeist", "Love", and "Lucifer"
• She is an influencer on social media and is currently in a relationship with two-time Emmy nominated actor and model Pierson Fode
• Saxon's net worth is estimated to be around $2.5 million as of mid-2021.
Saxon Sharbino is an American actress, perhaps best known for her role of Amelia Robbins in the short-lived Fox series "Touch", and as Chastity Storch in the 2010 horror flick "I Spit On Your Grave". Saxon comes from a talented family, her siblings are starting in the acting world as well. Her sister and she are still very young, but seem to have promising futures ahead of them.
Early life, family, educational background
Saxon Paige Sharbino was born on 11 June 1999, in Dallas, Texas USA. Her mother's name is Angela and her father is Ron, and she has two younger siblings; a brother Sawyer and a sister Brighton. Saxon's dad is an accountant and has a business of his own, and her mother is a homemaker and a housewife.
Saxon grew up in Dallas and attended Bridlewood Elementary School, but ultimately decided to start home-schooling as she wanted to focus on her acting. She later enrolled into Downing Middle School, skipping one grade. Saxon's first on-screen appearance happened in 2008, when she was nine years old, playing an emotional fan in an episode of "Friday Night Lights". In 2013, the Sharbino family moved to Los Angeles, California, which Saxon has talked about, as well as her plans for the future with Talk Nerdy With Us.
Career
Saxon has always been interested in acting and after her first roles, she appeared in several other movies such "Cool Dog", "Red, White and Blue" and "Earthling" among others.
In 2011 she played young Julia in "Julia X", and in 2012 she was Jane in the TV movie "Rogue". One of Saxon's most prominent roles happened in 2015, when she played Kendra in the blockbuster hit "Poltergeist". Saxon spoke about her experience working on big movies and famous actors and producers in this interview.
Saxon has appeared in numerous TV shows too, mostly playing minor guest-starring roles  such as Simone in the show "Love", Sarah Pearson in the crime drama "American Vandal", and a minor role in the hit show "Law & Order: Special Victims Unit". Saxon seems to be drawn to the horror genre, as she also played Anka in the horror TV show "Freakish", and in 2017 had a guest role in the Netflix hit crime, drama show "Lucifer".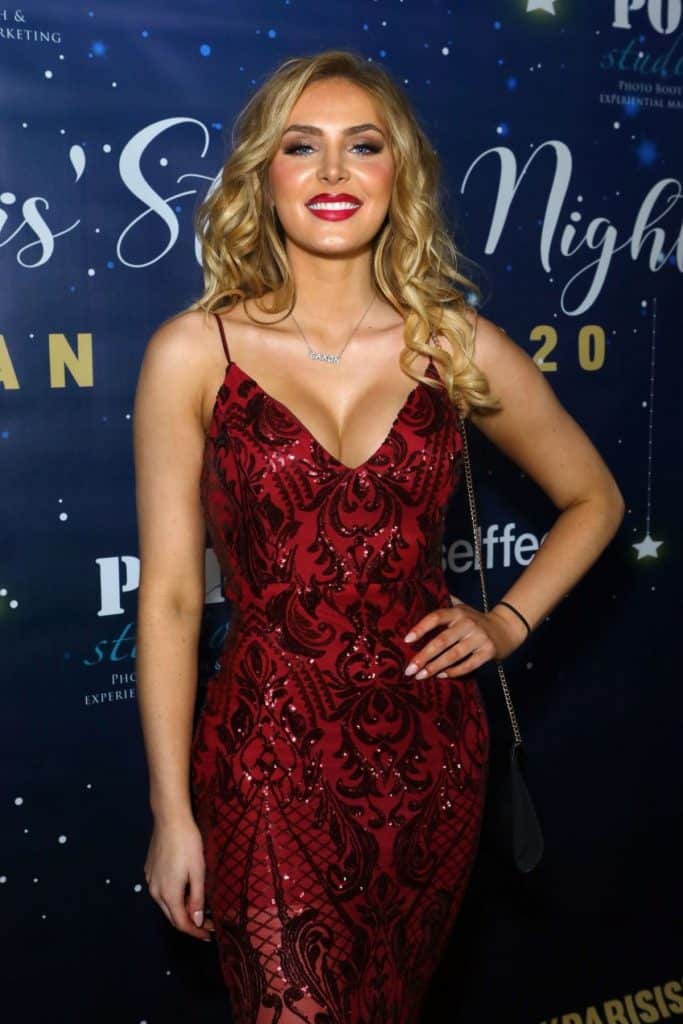 As for the acting work Saxon has done that is yet to come out – there's the TV show called "Burb Patrol" coming out later in 2021, and the movie "Patsy Lee & The Keepers Of 5 Kingdoms".
Saxon's sister is also an actress
Brighton Sharbino was born on 19 August 2002. Brighton quit cheerleading to pursue an acting career, and started alongside her big sister Saxon when she was six years old. She had a lot of minor roles in big TV shows such as "NCIS", "Hanna Montana" and "True Detective", but the young actress is probably best known for landing a role in AMC's hit show "The Walking Dead".
Brighton seems to be more reserved than her siblings. She has an Instagram and Twitter account ,but rarely posts private information, keeping her private life away from the spotlight.
Saxon and both of her siblings are still very young and grew up in the era of social media so it's a big part of their life. Saxon has become an influencer in recent years, and with her brother Sawyer is very active on social media – apart from having Instagram and Twitter accounts, they both have YouTube channels, on which Sawyer is more popular, with over a million subscribers ,and was part of the "Piper Rockelle" group of social media influencers. Sawyer has also been acting occasionally, and even put out a music video and his own song. During Corona lockdown, Saxon has started posting videos and vlogs more frequently.
Saxon's Instagram accounts has 563,000 followers, her Twitter account 38,000, and her YouTube channel has nearly 150,000 subscribers.
Saxon is currently in a relationship with the two-time Emmy nominated actor and model Pierson Fode. One of her latest posts on Instagram was made in honor of their first anniversary.
As far as Saxon's past relationships go, the public only knows about one – in 2017 Saxon dated the famous YouTube influencer, Jake Paul, which didn't last very long, but the two have remained friendly.
Hobbies, favorite things, and interesting facts
Growing up as a gifted child Saxon had wide interest; according to superstarsbio, some of her favorite things still include playing piano and guitar, singing, dancing, and riding a jet ski.
Saxon loves traveling and has said that her favorite travel destination is Paris.
Her favorite foods are fast food and Chinese food.
As a young actress, she's said that she looks up to Jennifer Lawrence, Scarlett Johanson, Tom Cruise and Dwayne "The Rock" Johnson; her favorite TV show is "Game of Thrones".
Saxon has said that she would love to produce her own movies in the near future.
She's failed the driving test twice.
Appearance, clothing style
Saxon Sharbino is rated a beautiful young woman; her height is 5ft 7ins (170cm), she weighs about 128lbs (58kgs), and her vital statistics are 35-25-36, giving her the perfect hour-glass figure.
Saxon's natural hair color is brown, but she regularly dyes it blonde nowadays. Her bright blue eyes accentuate her bombshell look.
Net worth and salary
The fact that Saxon started her acting career at a very young age means that she was able to accumulate quite a hefty amount of money. Her salary was estimated to be around $15,000 per episode of the shows she would do. Given the fact that she earns from endorsements as well, from both TV advertisements and her social media posts, according to celebnetworths, her net worth is estimated to be around $2.5 million, as of mid-2021.