• Sharon Lawrence is an American actress with an impressive acting career spanning decades
• She was born on 29th June 1961, in Charlotte, North Carolina, USA
• She has earned over 110 acting credits since the 1990s
• She has 16 nominations and four wins
• Sharon has an estimated net worth of $6 million
Who is Sharon Lawrence?
Sharon Lawrence is an American household name, thanks to her impressive acting career which spans decades. Keep reading to discover about her personal life, measurements, and much more.
Sharon Lawrence's Family & Early Years
Sharon was born on 29th June 1961, in Charlotte, North Carolina, USA. Her mother Earlyn was an education administrator, while her father Tom Lawrence is a well-known news reporter based in Raleigh.
The actress matriculated from Broughton Magnet High School. After that, she earned her Bachelor of Arts degree from the University of North Carolina in Chapel Hill. She has also studied at the Hussman School of Media and Journalism.
Sharon has a coveted hourglass figure, with vital statistics of 36-26-37. She measures 5 ft 5ins (165cm) tall, and weighs around 130lbs (59kgs).
Sharon Lawrence's Acting Career
Sharon has earned over 110 acting credits since the 1990s, and it would be impossible to list them all. Her strong points are TV movies and series. Her first television appearance came in 1992 with one episode of "Civil Wars".
Slowly but surely Sharon built up her portfolio. In 1993 she appeared in an episode of "Beverly Hills 90210", and three TV movies including "Someone She Knows" and "The Shaggy Dog", in which she played the roles of Sharon and Beth Daniels respectively.
Coincidentally, 1993 was the year Sharon landed her most acclaimed role, beginning her portrayal of A.D.A Sylvia Costas in "NYPD Blue", appearing in a grand total of 103 episodes until 1999 in the series which was a roaring success.
Sharon's inspiring work ethic is reflected in her career. The actress juggled several roles in the '90s, many of them at the same time. In 1995 she appeared in an episode of "Star Trek: Voyager" depicting Amelia Earheart, and graced our screens in three TV movies. 1996 to 1998 were also busy years for the actress, with over a dozen TV movies as well as her appearance in the series "Fired Up", playing the role of Gwen Leopard in 28 episodes. After the series ended, Sharon starred in 30 episodes of "Ladies Man" as Donna Stiles.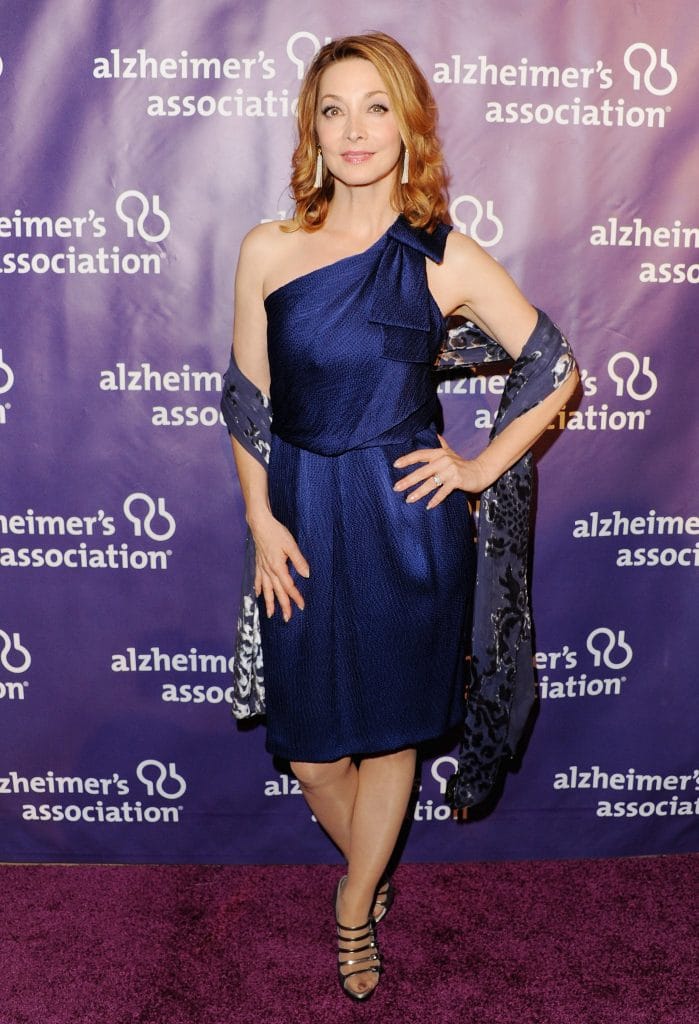 The 2000s were yet another busy decade for Sharon. Some notable titles included "Desperate Housewives", her eight episodes of "Hidden Palms" as Tess Wiatt, 15 episodes of "The Line", and six episodes of "Drop Dead Diva" as Bobbie Dobkins.
The 2010s were no different, as it appears Sharon was more in demand than ever; between 2010 and 2011 she appeared in six episodes of "One Tree Hill" as Sylvia Baker. The next year she joined the cast of "Rizzoli & Isles" as Dr. Hope Martin in the hugely successful series adapted from Tess Gerritsen's books, appearing in seven episodes until 2016.
A year afterwards, Sharon played Brenda in seven episodes of "The Ranch", and that's without forgetting her appearances in "Shameless" and several other TV movies and series.
Between 2018 and 2020, Sharon didn't let up and joined the casts of successful series such as "Dynasty" and "Home Before Dark".
Fan or not, nobody can deny Sharon's dedication to her craft. While many actors struggle to remain employed after their initial buzz dies down, Sharon has never been faced with that dilemma, and has worked unstoppingly since the 90s.
Sharon Lawrence's Awards & Nominations
Sharon has a total of 16 nominations and four wins, which is to be expected from an actress of her calibre. Many of these nominations come from prestigious guilds and festivals thanks to her talent and popularity amongst fans.
Sharon has been nominated for four Primetime Emmy Awards, four Screen Actors Guild Awards, a Viewers for Quality Television Award, and a Winter Film Award in the Best Actress category.
Her wins include two USA Film Festival awards – one in the Outstanding Performance category and another in the Jury Award for Performance category – as well as one Screen Actors Guild Award and one Method Fest award for Best Actress.
Sharon Lawrence's Personal Life & Affiliations
In 2002, Sharon married Dr. Tom Apostle in the Greek Orthodox cathedral Saint Sophia, in California. Coincidentally, her "NYPD Blue" character Sylvia married her onscreen husband Detective Andy Sipowicz in the same location.
Sharon's husband is a hugely successful doctor based in California, specializing in psychiatry and physical medicine and rehabilitation. His skills make him highly desired, as less than a dozen physicians in the US share the same abilities.
Tom graduated from Michigan State University with a Bachelor of Science degree in psychology. He is also an avid tennis player and was part of the men's varsity team. After receiving his degree, he stayed on at MSU to expand his knowledge and study a master's program in biological science. In 1990, Tom earned his medical degree at the MSU College of Osteopathic Medicine and got straight to work by interning at the Framingham Union Hospital in Massachusetts.
Tom has worked in some of the best medical centers in the US, and completed his psychiatry residency in Los Angeles. He then studied a second residency in physical medicine and rehabilitation, and began serving as chief resident at the Veterans Administration Medical Center of the University of California.
Currently, Tom is working at the Cedars-Sinai Medical Center as an attending physician. He is also an attending physician at the hospital's spine center and pain center. Tom juggles his demanding job with his membership of the North American Spine Society and the Spine Intervention Society.
As someone who lives to help people, Tom dedicates his time to treating patients with a range of afflictions from depression to substance use disorders. He also helps those with ortho-spine disorders, and works at several outpatient program centers as a physician and consultant.
When Sharon was asked in a 2020 interview  why the couple didn't choose to have any children, she replied: "I was 40 years old when we met. That's life!"
Not all of Sharon's fans know about her love for scuba diving, but it's difficult to be unaware of her campaign for gender equality in the film industry. For years, Sharon has chaired the Woman In Film Foundation which aims to advance women's professional opportunities in the sector. She also campaigns for environmental causes and endangered species, with her affiliations to the World Wildlife fund and Global Green.
Sharon Lawrence's Net Worth
Sharon has an estimated net worth of $6 million as a result of her acting career. Although many of her peers are nowhere near as wealthy, Sharon has been constant throughout the years, and has reaped the benefits of her sturdy work ethic.