• Sienna Guillory is an English actress and model best known for her portrayal of Jill Valentine in the "Resident Evil" movie series
• She was born in 1975 and studied at Gresham School, but chose to focus on her acting career instead of college
• Has appeared in over 70 movies and TV series, notably "Love Actually" (2001), "The Time Machine" (2002), "High-Rise" (2015), and "Lucky Man" (2016-2018)
• Has directed two movies, the 2020 short drama "Honiton" and the upcoming drama "Everything I Ever Wanted to Tell My Daughter About Men"
• As of April 2021, her net worth is estimated at over $5 million
Who is Sienna Guillory?
Sienna Tiggy Guillory was born in Kettering, Northamptonshire, England, on 16 March 1975 – her zodiac sign is Pisces and she holds British nationality. She's an actress and a model who's probably still known best for her portrayal of Jill Valentine, one of the lead characters in the 2004 action horror science fiction movie "Resident Evil: Apocalypse" written by Paul W. S. Anderson, directed by Alexander Witt, and which also starred Milla Jovovich and Eric Mabius. It follows Alice who has woken up in the Raccoon City hospital while the city she's in is about to be bombed because it has been overrun by zombies. The movie won six of the nine awards for which it was nominated.
Sienna reprised her role in the 2010 movie "Resident Evil: Afterlife" and again in 2012's "Resident Evil: Retribution".
Early life and education
Sienna was raised alongside her maternal half-brother Jace by their father Isaac Guillory, a famous American folk guitarist, and his first wife Tina Thompson who was a British model. When she was two years old, the family moved to Fulham in London and then to Norfolk once she turned 11. Sienna also spent around a year in Mexico, apparently to learn Spanish. When she was 1, her parents divorced, and her father then remarried to Vickie McMillan, who gave birth to Sienna's two half-siblings Ellie and Jacob. Isaac died in December 2000 aged 53 after a long fight with cancer.
Sienna studied at Gresham School, at which she became interested in acting after a teacher asked her if she was willing to appear in a school play. Sienna instantly fell in love with acting, and appeared in most of the plays performed at the school until she matriculated in 1993; she then chose not to enroll at a college, but to focus on her acting career.
Sienna's also an avid horseback rider – she began riding aged two, and received her own horse aged 14 which she named The Night Porter or 'Porty', named it after the eponymous movie which starred one of her favorite actresses Charlotte Rampling.
Roles in movies
Sienna has now been credited with appearing in close to 70 movies and TV series, and we're about to mention more of her notable performances.
Sienna made her debut film appearance in 1993, with her portrayal of Fenella Maxwell in the drama "Riders" which failed to attract a lot of attention, while a couple of her following roles were in the 1999 dramas "Star! Star!" and "Dzvirpaso M", and the 2000 thriller "Sorted". She gained recognition in 2001 with her portrayal of Kat in the thriller comedy "Kiss Kiss Bang Bang", written and directed by Stewart Sugg, and which starred Stellan Skarsgard, Chris Penn and Paul Bettany.
It follows Felix who has stopped working as a hitman and is now minding the adult son of a rich man, while his former criminal gang has put a price on his head. The movie was nominated for a Dinard British Film Festival Golden Hitchcock Award.
In 2002, Sienna played the supporting character Emma in the critically acclaimed action science fiction adventure "The Time Machine", which starred Guy Pearce and follows an inventor who travels 800,000 years into the future – the movie won two of the six awards for which it was nominated, including an Oscar nomination. Sienna played a supporting character in the popular 2003 romantic comedy "Love Actually", which won 10 of the 39 awards for which it was nominated including two Golden Globe nominations, and a couple of her following appearances in hit movies were in the 2006 family action-adventure "Eragon", the 2008 family fantasy adventure "Inkheart", and the 2010 action comedy "Gunless".
In 2015, Sienna starred alongside Tom Hiddleston and Jeremy Irons in the science fiction drama "High-Rise", written by Amy Jump and based on the novel by J. G. Ballard, directed by Ben Wheatley. The movie follows the residents of a tower block, and won six of the 20 awards for which it was nominated.
Three of Sienna's most recent movie roles have been in the  romantic comedy "Remember Me" and the  drama "Nuclear" both in 2019, and the 2020 biographical drama "Son of the South". She has just recently finished shooting for the comedy "Defining Moments" and the comedy drama "Dream On", while she's currently shooting for the adventure comedy "Clifford the Big Red Dog", and the horror "A Banquet".
Roles in TV series
Sienna made her debut TV series appearance in 1995, with her portrayal of Lady Felicia Marabel in the romantic adventure mini-series "The Buccaneers", which starred Carla Gugino, Alison Elliott and Mira Sorvino, and follows four girls who have travelled to England to find men to marry.
The following years saw Sienna appear in an episode or two of various series, such as the drama "In Suspicious Circumstances", the family comedy "Out of Sight" and the romantic comedy "Take a Girl Like You". In 2003, she starred as Helen in the action adventure mini-series "Helen of Troy", which also starred Emilia Fox and James Callis, and follows Helen who was abducted by Paris of Troy which led to a long war between Troy and Sparta. The series won one of the eight awards for which it was nominated, including a Primetime Emmy nomination.
Sienna made a guest appearance in the 2005 episode "A Murder Is Announced" of the mystery crime drama "Marple", and in 2006 starred as Lettice Knollys in the biographical historical drama "The Virgin Queen" which won two of the 10 awards for which it was nominated.
The following years saw her appear in three episodes of the mystery crime drama "Criminal Minds", the pilot of the fantasy horror drama "The Oaks", and the episode "Shock Waves" of the mystery crime drama "CSI: Crime Scene Investigation".
Between 2016 and 2018, Sienna starred as Eve alongside James Nesbitt and Darren Boys in the action crime drama "Lucky Man", created by Neil Biswas and Stan Lee, and which follows a police officer who has the superpower to control luck. Two of Sienna's most recent TV series roles have been her portrayal of Natalie Yelburton in 23 episodes of the horror mystery drama "Fortitude", and Mary in the 2020 episode "Pentagram" of the science fiction fantasy drama "Raised by Wolves".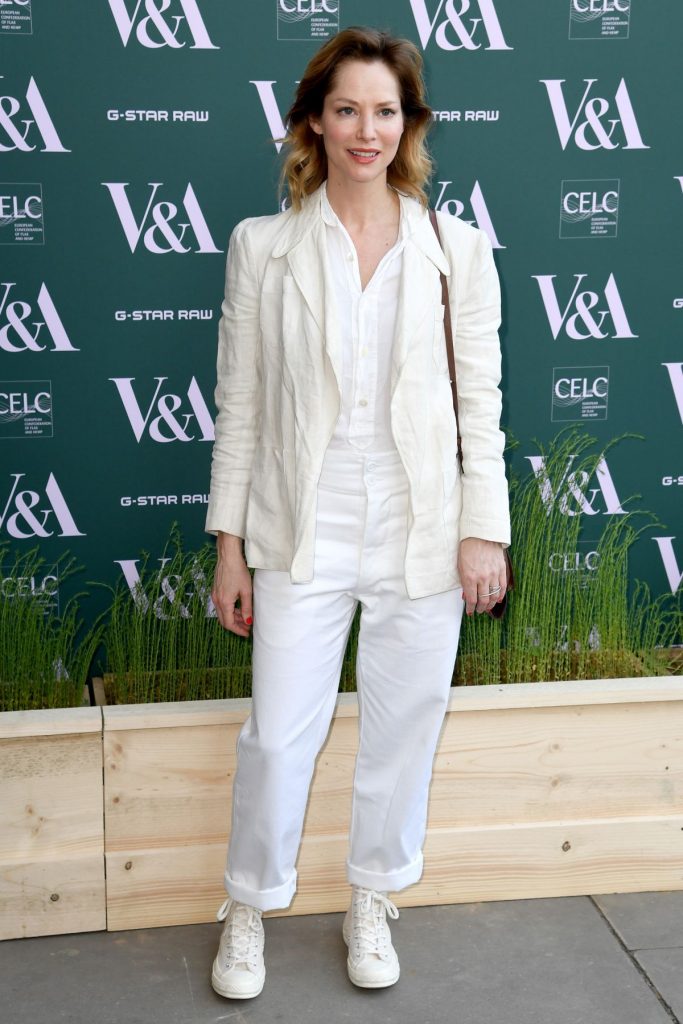 Other credits
Sienna has been featured in various documentaries, such as the 2004 video "Game Over: 'Resident Evil' Reanimated", the 2007 short video "Resident Evil: Diary of an Apocalypse", and the 2015 mini-series "Metropolis".
In 2015, Sienna produced the horror movie "The Wicked Within", while she also has two directing credits: the 2020 short drama movie "Honiton" and the upcoming drama film "Everything I Ever Wanted to Tell My Daughter About Men".
Sienna has made a guest appearance in various talk-shows, including "Chelsea Lately", "Bafta's 60 Seconds With…" and "Sunday Brunch".
Awards and nominations
She has been nominated for two awards: a 2004 Phoenix Film Critics Society Award for Best Ensemble Action for "Love Actually" (shared with colleagues), and a 2014 British Independent Film Award for Best Supporting Actress for her performance in the romantic drama "The Goob".
Modelling career
Sienna's modelling career was launched in 1997, when she accompanied her friend to the Select modelling agency and both girls were signed up. She then posed for various popular brands, including Paul Smith, Dolce & Gabbana, and Armani, and could've been seen featured on the cover page of several magazines.
She's today signed to London's Independent Models, but is more focused on her acting career.
Love life and relationships
Sienna met the British actor Nick Moran sometime in the mid-1990s, and they exchanged vows in July 1997 in front of their wide circle of friends and family members. However, their marriage lasted for around three years, and their divorce was finalized in early 2000.
In the same year, Sienna started dating Vicenzo Leonardo 'Enzo' Cilenti, a British actor probably known best for his roles in the biographical romantic movie "The Theory of Everything" and the historical fantasy mini-series "Jonathan Strange & Mr Norrell".
The two exchanged vows in 2002, and in February 2011 Sienna gave birth to their twin daughters Lucia and Valentina Cilenti. She and Enzo have appeared alongside in several movies and TV series, while they are today working together with various charity organizations.
Sienna hasn't spoken of any other men whom she has perhaps been with, so as of April 2021, she's married to her second husband Vicenzo Cilenti, with whom she has twin daughters.
Hobbies and other interests
Sienna's physically highly active, as she has a couple of training sessions at the gym each week while she also enjoys going cycling, hiking and playing volleyball. In August 2004, she and Enzo cycled part of the Tour de France for charity.
She's a huge animal lover with dogs being her favorites, and has a pet dog and a pet cat which can be seen featured in some of her Instagram pictures.
Sienna enjoys spending her spare time in nature, and her Instagram account is filled with pictures taken from deep into the woods, high up in the mountains and near lakes.
In her spare time which is most often late at night, she's keen on watching films starring her favorite actor and actress Eddie Redmayne and Rosario Dawson, such as "Fantastic Beasts and Where to Find Them", "Les Miserables" and "The Eternal Sunshine of the Spotless Mind".
Age, height and net worth
Sienna's age is 46. She has long brown hair and brown eyes, her height is 5ft 6ins (1.68m) and she weighs around 128lbs (58kgs).
As of April 2021, her net worth has been estimated at over $5 million.