• Sofia Franklyn is an American podcast host, blogger and social media star, born in Salt Lake City, Utah on 12 July 1992
• She studied Economics at the University of Utah and is best known for the podcast "Call Her Daddy" with Alexandra Cooper
• Sofia has an Instagram account with over 760,000 followers, a Twitter account and TikTok account with over 40,000 fans, and a YouTube channel with over 2,600 subscribers
• She has a net worth of over $1.5 million and is 5ft 5ins (1.65m) in height
• In her spare time, she enjoys watching movies and travelling.
Who is Sofia Franklyn?
Sofia Franklyn was born in Salt Lake City, Utah USA, on 12 July 1992 – her zodiac sign is Cancer, and she holds American nationality. She's a podcast host, blogger and a social media star, but who's perhaps known best for being the ex-girlfriend of Peter Nelson, a former executive vice-president at HBO Sports.
Early life and education
Sofia was raised in Salt Lake City by her parents, about whom nothing's known as she respects their privacy. She hasn't spoken of having any siblings, and is thus believed to be an only child.
Sofia grew up being interested in modelling, and she and her elementary school peers often bought girly magazines, to admire the models featured on the cover pages.
She became physically active upon enrolling at a local high school, as she began playing tennis and soccer, and also tried to become a cheerleader.
Upon matriculating in 2010, Sofia enrolled at the University of Utah, from which she graduated with a Bachelor's degree in economics in 2014.
Sofia's career
Since graduation, Sofia has been working as a consultant for a couple of companies, however, she's perhaps known best for having been one half of the podcast "Call Her Daddy". Created in 2018 by Sofia and Alexandra Cooper, it took only two months for the girls to reach two million downloads. Subsequently, Sofia and Alexandra signed a three-year contract with Barstool Sports in 2018, which provided them with a salary of $75,000, plus bonuses if the podcast was to become popular.
The podcast's focused on dating and relationship advice, discussing embarrassing moments, and talking about everyday life.
On 8 April 2020, the girls released the episode "Kesha… The End", and the uploading of new episodes then stopped. They didn't reveal the story behind this, but wrote on social media that they weren't allowed to share any details. Barstool Sports then explained the situation, claiming that they had offered $500,000 salary to the girls, that Alexandra accepted, but that Sofia was still dissatisfied with this, and thus quit the podcast. It's widely believed that it was Sofia's boyfriend who had convinced her to ask for more money, and was making decisions for her.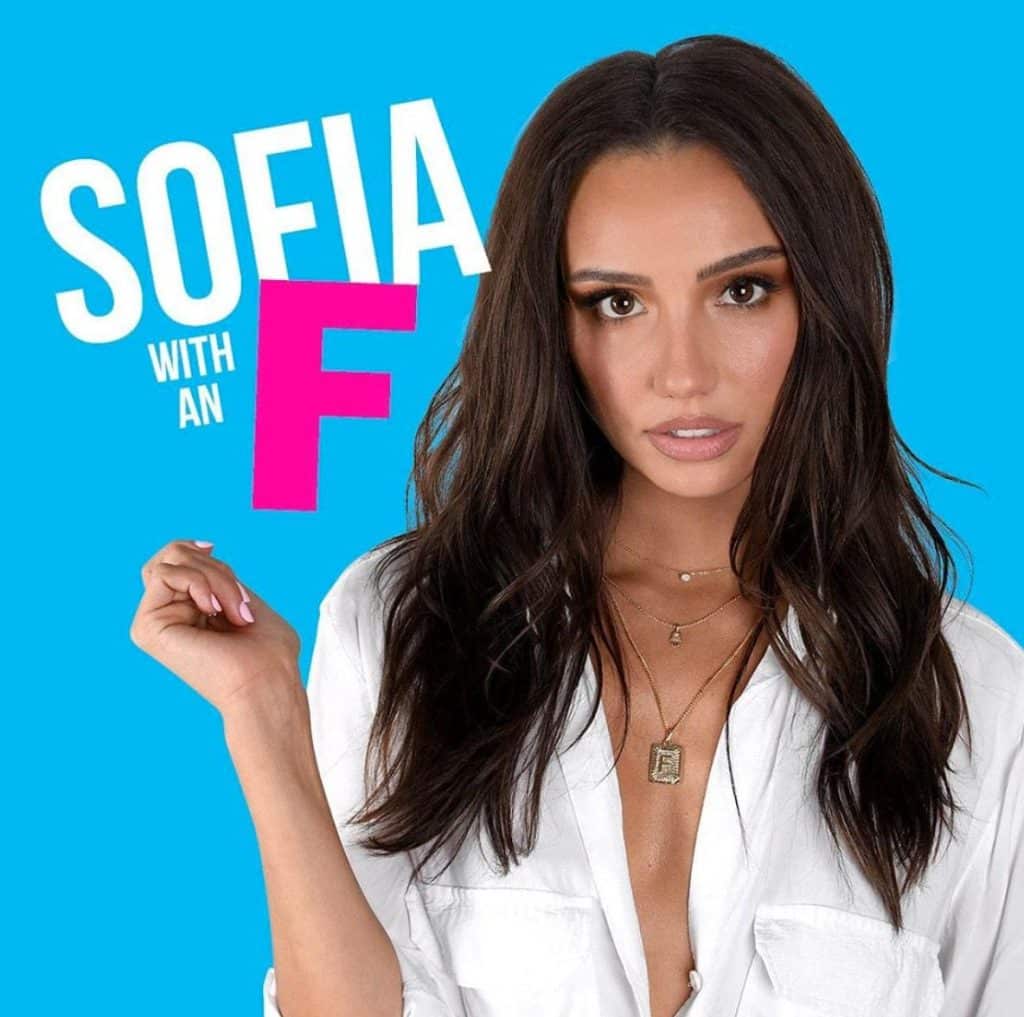 In June 2021, Alexandra signed a new contract with Spotify, allegedly worth $60 million, and on 21 July 2021, "Call Her Daddy" began streaming solely on Spotify. The hosts are now Alexandra and Miley Cyrus, while Sofia has launched her own podcast, called "Sofia with an F".
Sofia's an Instagram star, as she's amassed more than 760,000 followers onto her account, and has uploaded close to 200 pictures, the majority having been taken during her everyday life.
She launched her Twitter account in April 2012, and it's today followed by close to 180,000 people, while Sofia has tweeted close to 300 times; she's mostly using Twitter to promote her new podcast.
She's also active on TikTok, and has amassed more than 40,000 fans, and over 500,000 likes of all her videos combined, the majority of these videos taken during her podcast.
Her YouTube channel
Sofia launched her YouTube channel "Sofia with an f" on 22 December 2020, and it's today subscribed to by more than 2,600 people, and numbers close to 100,000 views of all her videos combined. It mostly features the 'episodes' of her podcast, in which she's talking about sex, her personal life and mental health. We're going to mention Sofia's three most popular videos, which have helped her gain many subscribers.
Her #1 video "Sloot: A Short Autobiography I Episode #1" has been watched more than 27,000 times since 23 December 2020, and features her talking about her personal life.
Sofia's second most popular video "Thank God We Broke Up I EP. 5" has been viewed over 14,000 times since 29 December 2020, and on which she talks about her former boyfriend Peter.
Her third most popular video "Pu$$y For Sale ft. WHOREible Decisions I Ep. #9" has been watched over 5,000 times since 12 January 2021, and features Sofia, Mandii and Weezy, as they're talking about sugar daddies, and various other items related to sex.
Love life and boyfriend Peter Nelson
Back in 2019, Sofia began dating Peter Nelson, who became known as 'Suit Man' because he nearly always wears suits. The two could've been seen attending various events together, and Peter made it possible for Sofia to wear expensive clothes, stay at luxurious hotels, and eat at expensive restaurants; most people believe that he was her 'sugar daddy'.
Problems started after it was revealed that Peter was standing behind Sofia's demand for a larger salary, for being a co-host of the podcast "Call Her Daddy". It later turned out that Sofia wasn't happy with how things worked out, and this is one of the reasons why she chose to break-up from Peter in December 2020.
Sofia hasn't spoken of any other men whom she's perhaps been with since her split from Peter, and as of August 2021, she seems to be single, hasn't married, and doesn't have children.
Hobbies and other interests
Sofia's physically highly active, and has multiple training sessions at the gym each week, thus her slim figure. She's mostly working out because it's important for her career to look good, but also because it's healthy.
Her favorite season is summer, as she enjoys showing off her body at the beach, swimming in the ocean, and sun tanning.
Sofia likes to travel, and her career has made it possible for her to travel around the US, as well as to a couple of European countries, including France and Germany. Sh'as stated in some of her videos that she has worked as an escort, and that this has also made it possible for her to travel.
In her spare time, she enjoys watching movies starring her favorite actors and actresses, some of whom are Brad Pitt, Robert Downey Jr. and Angelina Jolie, while a couple of her favorite movies are "The Curious Case of Benjamin Button", "Meet Joe Black" and "Mr. and Mrs Smith".
Age, height and net worth
Sofia's age is 29. She has long brown hair and brown eyes, her height is 5ft 5ins (1.65m) and she weighs around 120lbs (55kgs).
As of August 2021, her net worth has been estimated at over $1.5 million.