• Steve Howey is best known for his role in the hit TV series "Shameless" and the American sitcom "Reba".
• He is of Scottish descent and grew up on sailboats along the Pacific Coast.
• He began his acting career in 1999, and has since appeared in numerous movies and TV series.
• Steve was married to actress Sarah Shahi, but the couple filed for divorce in 2020 due to irreconcilable differences.
• He has an estimated net worth of $2.5 million and is active on social media with over 1.6 million followers on Instagram.
Who is Steve Howey?
If you are a fan of the hit TV series "Shameless", then you must remember Steve Howey, who portrayed Kevin Ball. He is additionally recognized for his role in the American sitcom "Reba". Steve was born under the Zodiac sign Cancer on 12 July 1977 in San Antonia, Texas, the USA. He holds American nationality, and as of 2021, he is 43 years old. At the moment, Steve is living in Los Angeles, California. In an interview, Steve disclosed that he is of Scottish descent.
Early life and Family
He was born to Bill Howey, an actor and director, and Carla Novinger. Steve spent most of his childhood on sailboats along the Pacific Coast, which inspired unforgettable performances and played a great part in shaping his mind. Regarding his siblings, he has a brother Bret and a sister Tammy.
In an interview, Steve disclosed that he spent a lot of time with his older brother, who, in a way, raised him. Regarding his influences, Steve said:" "It's the humor of Gleason in The Honeymooners and raw grit of McQueen, which both made a big impact on me at a young age. That's what I grew up on, and it's the kind of presence I always aspired to be".
After finishing his primary education, he moved to Colorado Denver and enrolled at a high school. Upon matriculating, Steve obtained a basketball scholarship and attended the Northwestern Junior College in Sterling, Colorado. However, sometime during college, he began losing interest in basketball and started leaning toward his father's profession-acting. He soon developed an interest in drama and theater as he began attending his father's classes and soon opted for a career in the entertainment business.
Just like many other actors, he waited tables at the Littleton Colorado restaurant and Grady's American Grill before getting his first role.
Career
Steve kicked off his acting career in 1999, making guest appearances in various TV shows, including "Pacific Blue", "Totally Tooned In", and "Get Real". In 2001 he landed the role of Van Montgomery in the popular sitcom "Reba". He appeared in a total of 125 episodes; the show ran for six seasons, receiving positive comments and various nominations and awards. This role played a significant part in his career, as he began landing more roles in other TV series and also movies.
In 2005 he made his movie debut in the American action movie "Supercross", followed by his roles in "DOA: Dead or Alive" and "Twins". As his career progressed, he continued bouncing from TV series to movies; he starred in the TV films "The Beast", and "Five Year Plan".
His next notable role was in the 2009 romantic comedy "Bride Wars", starring Anna Hathaway and Kate Hudson. The movie achieved great success and various nominations, grossing over $114 million.
Additionally, he appeared in the independent comedy film "Still Waiting", the horror-comedy "Stan Helsing", and the TV series "Surviving Suburbia". During this packed and busy 2009, he landed the recurring role as Ben Piller in the comedy web series "Ctrl". Steve appeared in ten episodes, but the goofy show was canceled after the first season for unknown reasons.  After making a guest appearance in the hit comedy series "Psych", in 2011 Steve starred in several movies, including "Conception" and "Losing Control".
The same year he landed his most recognized role of Kevin Ball in "Shameless".
After a decade of gracing the screens and entailing the audience into the lives of a dysfunctional family, the show's last 11th season was concluded on 11 April 2021. Besides winning the heart of its fans, it received numerous nominations and awards, including a Golden Globes Award and a Primetime Emmy award.
In 2013 he appeared in the "Sons of Anarchy", "New Girl", and "Wrong Cops". The following year he joined the ensemble cast of "In Your Eyes", the American paranormal romance; he also starred in the TV film "Where's the Party". After appearing in the 2015 drama movie "See You in Valhalla", he portrayed Sam in the drama movie "Unleashed", followed by his roles in "Law & Order: Special Victims Unit" and "Blue and Green".
In 2018 he starred in "Game Over, Man!" and "Making Babies". He also appeared in three episodes of "SEAL Team" as Danny Cooper.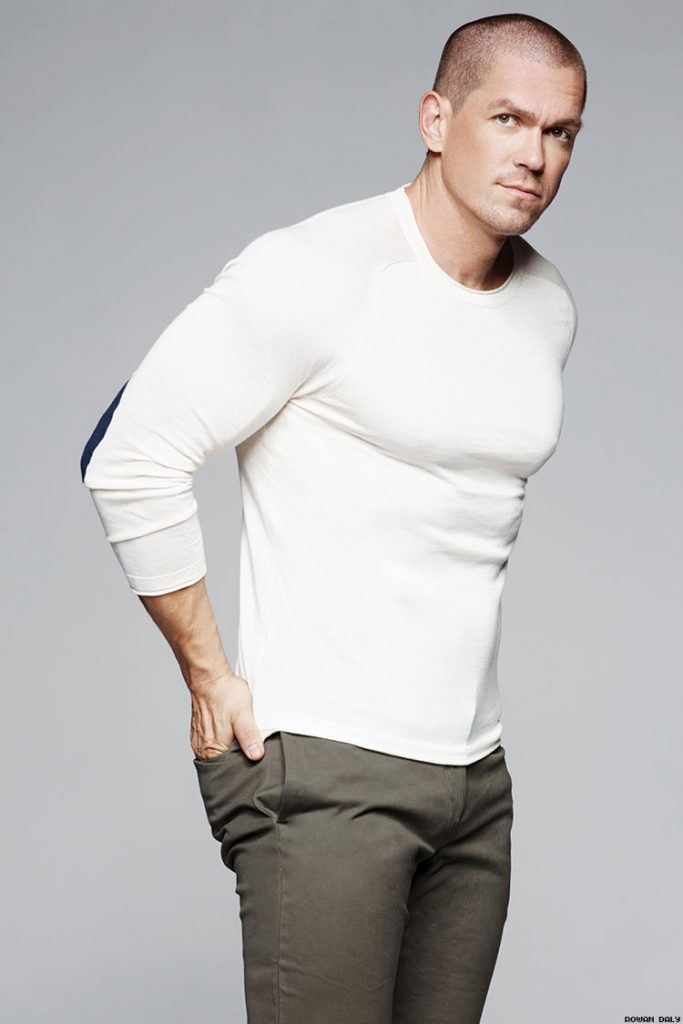 In 2019 he was credited for his roles in the American dark comedy "Dead to Me", and the buddy cop comedy movie" Stuber" starring Kumail Nanijani and Dave Bautista. Regarding critical response, the latter received average to mixed reviews. Even though some of the critics bashed the movie, saying it is "overly violent and mildly amusing", it doubled its initial budget and grossed over $32 million. Steve's latest role was in the last season of Shameless. Reportedly he is developing and writing numerous projects; recently, he joined the Opkix team as an investor. Opkix is a Software and Content Development Company.
Personal Life
As most of Steve's fans know already, he was married to actress and model Sarah Shahi.
The former couple announced the engagement in June 2007, and two years later, they married on 7 February 2009. They welcomed their first child on 9 July of the same year, a son named William Wolf. Interestingly just like his character in "Shameless", Bill, who is a father of twins, Steve became a father of twins when Sarah gave birth to a boy, Knox Blue, and a girl, Violet Moon, on 1 March 2015. However, on 14 April 2020, they announced their separation, and in May 2020, they filed for divorce due to irreconcilable differences.
Additionally, they issued a joint statement to the public: "After much thought and consideration, we have decided to end our marriage. We are so grateful for the past 10 years together and proud of our children that we've raised.
New cut pic.twitter.com/YeSmJzdmnQ

— Steve Howey (@stevehowey) April 29, 2021
As we enter into this new phase of our lives, our priority will remain co-parenting our children with so much love and mutual respect." Their divorce was finalized in April 2021.
The former couple agreed on sharing joint legal and physical custody of the children.  As a part of their divorce agreement neither of them will pay child support and they get to keep their personal possessions such as jewelry and clothing. Additionally, Steve got the 1.8 million home in the Sherman Oaks coupled with his Harley Davidson, retirement plans and accounts.  Sarah received around $305,000 as a part of equalizing the division of their properties. The actress also retained most of her retirement plans and residuals including 50% interest in a Los Angeles property.
Briefly About  Sarah Shahi
Aahoo Jahansouzshahi, professionally recognized as Sarah Shahi, is an actress, model, and a former NFL Cheerleader. She was born on 10 January 1880 in Euless, Texas, the USA. Sarah rose to prominence, starring in various TV shows, including "The L Word", "Alias and Reveries". She is a mix of Iranian and American ethnicity.
The beautiful actress, as she was called by various media outlets, started her career in 2000, starring in the American sitcoms "City Girls" and "Spin City". Like many actors, she switched from TV roles to movies. Her beginning in the entertainment industry was marked by minor roles in several hit shows, including "Boston Public" and "Off Centre". In 2001 she landed the recurring role of Laura in the action thriller series "Alias". In 2003 she made her movie debut starring in the American comedy "Old School", followed by many other projects, "Legally Blonde 2: Red, White, and Blonde" and "For Your Consideration".
After making various guest appearances on TV series, she played the lead role in the 2006 sitcom series "Teachers". In the following year, she appeared in the drama series, "Life" starring in 32 episodes. Her other notable movie credits include "Rush Hour 3" and "Crossing Over".
After appearing in "Psych" and "Sopranos", in 2011, she landed the main role in "Fairly Legal". She additionally portrayed recurring characters in "Chicago Fire" and "Person of Interest". In 2018 she starred in the lead role in the science-fiction drama "Reverie", followed by her notable role in "The Rookie", and "City on a Hill". Her upcoming projects include the TV series "Sex/Life" and the superhero movie "Black Adam", starring Dwayne Johnson.
What is his net worth?
His estimated net worth is around $2.5 million, which he acquired working as an actor. On the other hand, his ex-wife's net worth is around $3-5 million, which she earned starring in various TV shows and movies.
Physical stats and Hobbies
Steve is 6ft 3ins (193cm) tall and weighs around 185lbs (85kgs). His hair is dark brown, and his eyes are light brown. As for body ink, he has tattoos on his arms, biceps, and chest. Regarding his hobbies, he is a great fan of outdoor activities and extreme sports; he likes to ride his Harley Davidson and other dirt bikes, study martial arts and practice competitive shooting. Being physically active is not strange for Stevie, who hits the gym couple of times a week. When it comes to his motivation, he said:" When I don't feel like working out, lifting weights or doing serious cardio, the best thing for me to do is just go on the treadmill and walk. Once my blood really starts flowing, I'll get a second wind and then I want to work out.
As an actor he is always striving to improve himself and offer coaching advice to new talents, he said "I always want to challenge myself.
I'm never content just to pursue one style or art form. It's about forging ahead in new adventures at every turn.
Scandals and Controversies
The actor, and now his ex-wife, was drawn into a scandal, after the babysitter, named Sarah Alaseri sued them for religious discrimination and sexual harassment. She claimed that they obstructed and criticized her for practicing Islamic customs in their house. Additionally, she claimed that Sarah Sahi was having an affair with a celebrity and that she often encouraged her to "run-off" so she could move on with her life. These allegations nearly cost Steve his role in "Shameless", but thankfully everything died down after a while.
Steve is very active on social media; his Instagram counts 1.6 million followers. On Twitter, he has amassed a significant following: he has over 350.000 followers. Additionally, he has over 500,000 followers on Facebook, but his profile seems inactive. Most of his posts and tweets are related to the latest season of Shameless, as well as, the upcoming projects.