• Christina Sunrise Coigney (Virgo, American nationality): actress, married to American actor Mark Ruffalo
• Early life and education: raised in San Francisco, attended local high school, played soccer, acted in school plays, obtained Bachelor of Arts degree
• Career as an actress: 2 TV series, 2 movies
• Husband Mark Ruffalo, Children: married in 2000, 3 children
• Hobbies and other interests: fashionista, travelling, active lifestyle, watching movies
Who is Sunrise Coigney?
Christina Sunrise Coigney was born in San Francisco, California USA on 17 September 1972 – her zodiac sign is Virgo and she holds American nationality. She's an actress, but who's probably known best for being the wife of famous American actor Mark Ruffalo.
Early life and education
Sunrise was raised in San Francisco by her parents who are both said to be involved in the real estate business, however, nothing about them is known as Sunrise prefers to keep them away from media. She hasn't spoken about having any siblings, and so is believed to be an only child.
Sunrise attended a local high school at which she was mostly interested in getting good grades, hoping to be offered a scholarship upon matriculating.
She was physically quite active as she played soccer for the school's team, while she also practiced acting, and appeared in various plays performed at the school. She hasn't spoken about her further education but it's believed that she enrolled at a college upon obtaining her high school diploma, and that she graduated with a Bachelor of Arts degree in 1994.
Career as an actress
She worked various jobs for the following six years and it was only after marrying Mark Ruffalo that she became interested in acting. She's today credited with appearing in two TV series and two movies.
In 2001, Sunrise played Monica Robinson in the episode "Domestic Abuses" of the crime drama series "100 Centre Street", which starred Joseph Lyle Taylor, Manny Perez and Phyllis Newman, and follows the lives of the people working at a New York City courthouse.
The series aired 31 episodes, and was nominated for a Primetime Emmy Award for Outstanding Cinematography for a Multi-Camera Series. The same year saw her play Michelle in the crime horror movie "Campfire Stories", written and directed by Bob Cea, but which received poor reviews. The year 2003 saw her play Frannie's Young Mother in the mystery thriller film "In the Cut", written and directed by Jane Campion, and which starred Meg Ryan, her husband Mark and Jennifer Jason Leigh. The movie follows the writing professor Frannie Avery, who's cheating on her husband with a detective who's investigating the death of a beautiful girl in New York City. It won one of the three awards for which it was nominated.
Sunrise's only other role has been her portrayal of Brenda in the episodes "Born to Run" and "Pilot" of the crime series "Line of Fire", which follows a young FBI agent and a mobster, and was nominated for four awards including a Primetime Emmy.
Other credits
In 2001, Sunrise was featured in the TV special "The 2001 IFP/West Independent Spirit Awards", and in 2016, she could've been seen in the documentary TV special "2016 Golden Globe Arrivals Special". She was also featured in the TV special "2021 Golden Globe Awards".
Husband Mark Ruffalo and children
Both Sunrise and Mark prefer to keep the details of their love life to themselves, and neither of the two has spoken about how and when they met, but it's widely believed that it was in the mid-'90s in the middle of a street.
The two exchanged vows in 2000 in a private ceremony attended by only their closest family members and a couple of friends, and in the following year, Sunrise gave birth to their son Keen. In 2005, their daughter Bella Noche followed, and in 2007, Sunrise gave birth to their second daughter Odette. The family of five seems to be leading a happy life together as of April 2021.
Neither Sunrise nor Mark have spoken of any other people they have perhaps been with, although there are rumors circulating the internet that Mark had dated several famous actresses, but this hasn't been confirmed.
Hobbies and other interests
Sunrise is a fashionista who's trying to keep up with all the latest fashion trends, so is inevitably a shopaholic, as she goes shopping for clothes twice or thrice a week.
She's not a fan of social media networks and doesn't have an Instagram account, possibly, as some of her fans believe, that Mark's against it.
She's keen on travelling, and has kept Mark company during many of his red carpet events. The two have vacationed in various US states, as well as in a couple of European countries including Greece and Croatia.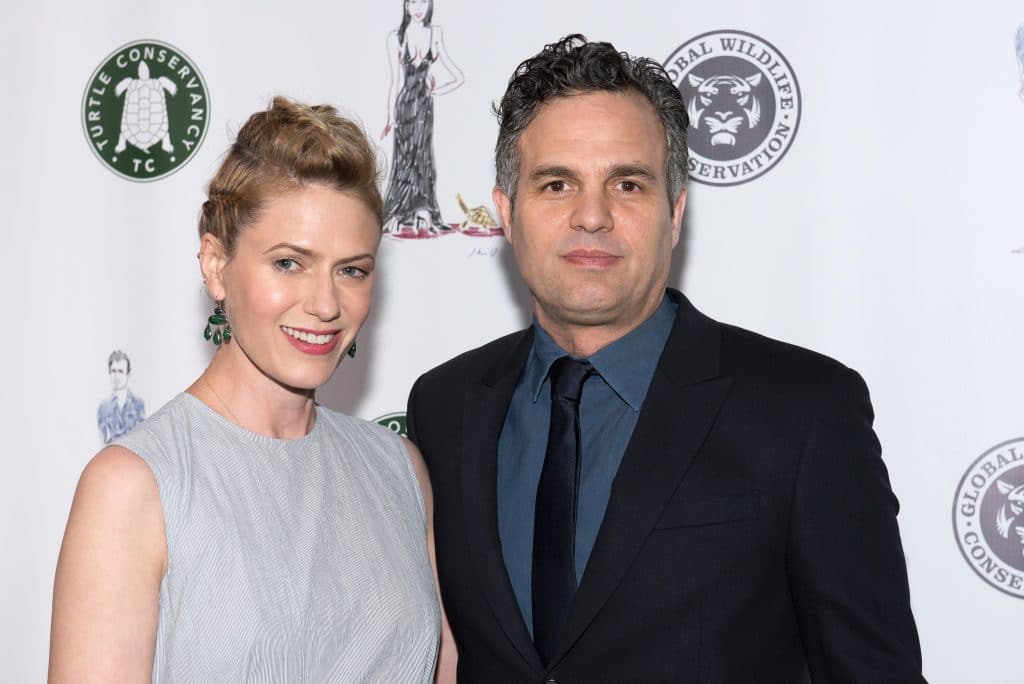 Sunrise's physically active as she has a couple of training sessions at the gym each week.
In her spare time, she's keen on watching movies starring her favorite actor and actress Eddie Redmayne and Amanda Seyfried, such as "Les Miserables", "Fantastic Beasts and Where to Find Them", and "Letters to Juliette".
Age, height and net worth
Sunrise's age is 48. She has long brown hair which she usually dyes blonde, and blue eyes; her height is 5ft 7ins (1.7m) and she weighs around 128lbs (58kgs). As of April 2021, her husband's net worth has been estimated at over $35 million, while her's is unknown, independently.
Who is Mark Ruffalo?
Mark Alan Ruffalo was born in Kenosha, Wisconsin USA, on 22 November 1967 – his zodiac sign is Sagittarius and he holds American nationality.
He's an actor and a movie producer, who's probably still known best for his supporting role in the mystery thriller movie "Shutter Island", written by Laeta Kalogridis based on the novel by Dennis Lehane, and directed by Martin Scorsese. It starred Leonardo DiCaprio and Emily Mortimer, and follows a US Marshal who's investigating the disappearance of a killer who's escaped a mental hospital in 1954. The movie won 11 of the 77 awards for which it was nominated, and is rated amongst the top 200 movies of all time.
Mark was raised in Kenosha alongside his sisters Tania and Nicole, and his brother Scott who was murdered in 2008 while his killer hasn't been caught to this day. Their father Frank Lawrence Ruffalo Jr. is a retired construction painter, while their mother Marie Rose (nee Hebert) is a stylist and a hairdresser.
Mark struggled with ADHD and dyslexia during his youth. He studied at First Colonial High School, was a wrestler, and was around 15 years old when he began acting in theatre plays. Upon matriculating in 1985, he moved to Los Angeles, California and practiced acting at the Stella Adler Conservatory.
His acting career was launched in 1989, with his appearance in an episode of the anthology series "CBS Summer Playhouse". He gained recognition 10 years later when he starred alongside Laura Linney in the 2000 drama movie "You Can Count On Me". A couple of his following notable performances were in the Canadian drama movie "My Life Without Me" and the psychological thriller movie "In the Cut" both in 2003, and the critically acclaimed comedy film "Eternal Sunshine of the Spotless Mind", which starred Jim Carrey and Kate Winslet.
He was then invited to star in several romantic movies, then in 2012, Mark was cast to play Dr. Bruce Banner (Hulk) in the superhero movie "The Avengers", which further established him as a successful American actor; he reprised these roles in the following Marvel movies, including "Thor Ragnarok" in 2017, "Avengers: Infinity War" in 2018, and "Avengers: Endgame" in 2019.
Mark today has 72 acting credits, nine producing credits, and has won 34 awards of the 161 for which he has been nominated, including three Oscar nominations.
He's a supporter of the LGBT community. Mark supported Bernie Sanders during the 2016 presidential election, and has been credited as 'anti-fracking's first famous face'.
In 2001, Mark was diagnosed with a benign brain tumor and after undergoing a surgery to remove it, he was left with part facial paralyses. The paralyses was gone after a year, but Mark is still deaf in his left ear.