• Tate Donovan is an American actor and director
• He has appeared in films such as "Argo" and "Rocketman" and TV shows such as "The O.C." and "Friends"
• He has had a turbulent love life, having been engaged to Sandra Bullock and Jennifer Aniston
• He has a net worth of $5 million
• He is active on Instagram and has two dogs
Tate Donovan is an American actor and director who has been present in the entertainment industry for more than 30 years, and is perhaps best recognized for his roles in "The O.C.", "Damages", and "Argo". Tate was born under the Zodiac sign Libra on 25 September 1962, in Tenafly, New Jersey, USA, of Irish ethnicity. Tate holds American nationality, and as of 2021, is 59 years old.
Early life and Family
Tate was born into a large family with six siblings, to John Donavan who was a surgeon, and Eileen Frances who was a homemaker. He attended Dwight-Englewood School in Englewood, New Jersey, then later the actor-in-the-making transferred to Tenafly High School. Upon matriculating, Tate enrolled at the University of Southern California, where he met and became friends with familiar names such as Grant Heslov and George Clooney.
Career
Having developed an interest in the theater and film industry, Tate began his career during his teenage days. One of his first appearances was in the TV show "Family Ties", and the TV movie "Not my Kid". In 1984 the actor made his movie debut in the American comedy "No Small Affair". Given that he's graced the screen for decades, he now has more than 50 credits under his belt, having during his career bounced from movies to TV roles. He;s starred in a variety of movies, including "A Case of Deadly Force", "SpaceCamp" and "Clean and Sober".
After appearing in "Magnum P.I", Tate appeared in the miniseries "Nutcracker: Money, Madness & Murder", and the war drama movie "Memphis Belle". In 1992 he starred in the "Little Noises", and additionally landed his first lead role in the romantic film "Love Potion No.9", opposite Sandra Bullock.
The same year, he starred in the independent movie "Inside Monkey Zetterland", which garnered Tate his first nomination for Independent Spirit Award for Best Supporting Male.
In 1994, he joined the cast of the horror series "Tales From the" Crypt" for a one-episode performance, and "Holy Matrimony". The following year, he landed the recurring role as Owen in the American sitcom "Partners". Other notable movie credits include "Murder at 1600" and "The Only Thrill". In 1997, Tate voiced Hercules in the animated fantasy movie with the same title, an also appeared in three episodes of the iconic "Ally McBeal", followed by his roles in "Friends" and "Trinity. Later, he again voiced the character of Hercules, for the TV series "Hercules: The Animated Series".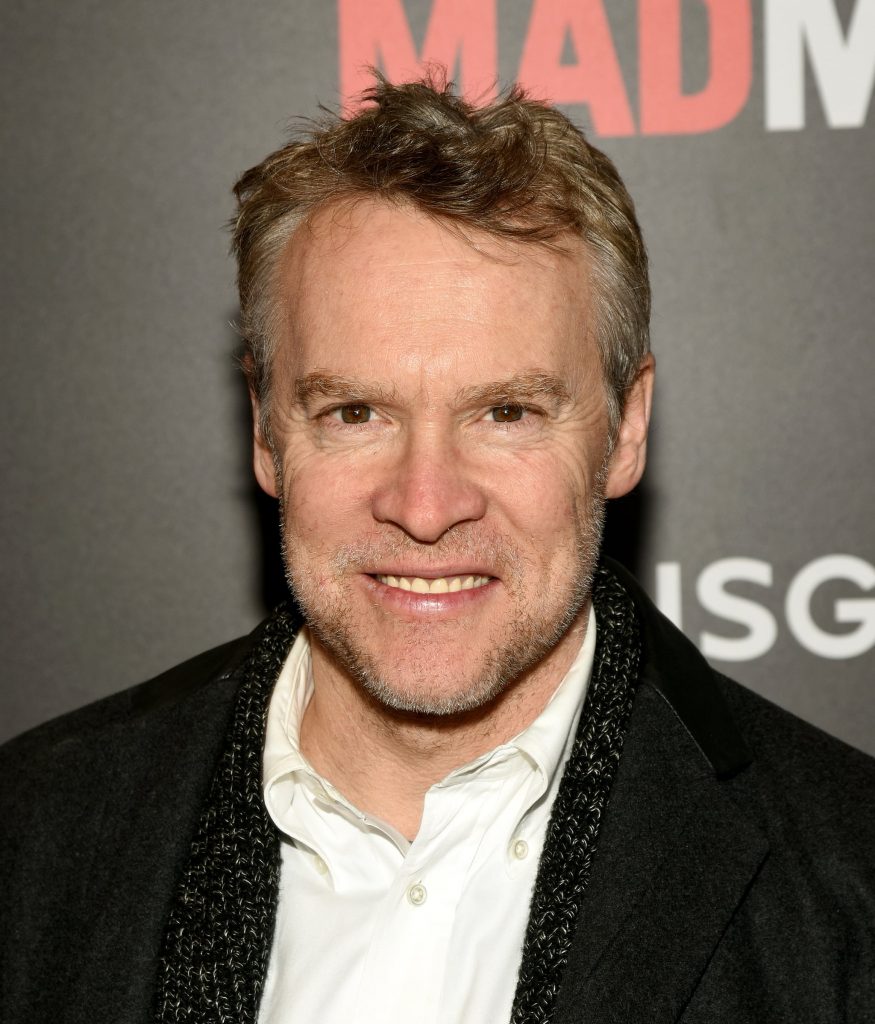 In 2000 he portrayed Mike Mattress in the comedy movie "6-Men from Hell", and appeared in the TV series "The Outer Limits". After starring in the independent comedy "Exposed", he landed one of his most recognized roles as Jimmy Cooper in hit series "The O.C." After scoring high ratings, the show rose to the level of a cultural phenomenon, becoming the most talked about subject between teenagers at the time.  Even though most of the '90s kids will always remember this show for its large-scale success, as the show continued, the ratings declined. In 2007 the show was canceled, despite an online petition which gathered over 700,000 signatures.
Meantime Tate appeared in the 2005 historical drama movie "Good Night, Good Luck", starring George Clooney and Robert Downey Jr. This politically-charged take on social issues garnered six nominations for Academy Awards and four for Golden Globe Awards.
Tate also earned a joint nomination for a Screen Actors Guild Award for Outstanding Performance by a Cast in a Motion Picture. In 2007 he appeared in the action movie "Shooter" and landed the recurring role as Tom Shayes in the thriller series "Damages". In 2009 he was cast as the lead role in the family drama "Wild About Harry".
In 2012 he joined the cast of "Argo", the Oscar-winning thriller drama starring Ben Affleck and Bryan Cranston. Besides scoring at the box office, it additionally received praise for the cast, and numerous awards and nominations. Tate's portrayal of Robert Andres garnered three awards and another joint nomination for  Screen Actors Guild Award for Outstanding Performance by a Cast in a Motion Picture. Later he appeared in a variety of successful movies and TV shows, including "Sun Belt Express", "Manchester by the Sea", and Hostages".
He additionally landed the recurring role in "Deception" and "24: Live Another Day", followed by roles in "Blame" and "The Upside". In 2018, he appeared as James McGyver in the crime action series "McGyver", and in the following year portrayed the main character in "Nomads", and later appeared as Doug Weston in "Rocketman".
As a versatile individual, Tate has also dipped his toes into the directing business; he's credited for directing a variety of popular TV series, including "Gossip Girl", "The O.C.", and "Damages". Additionally, he won a Primetime Emmy Award for Outstanding Short Form Nonfiction or Reality Series for producing "30 for 30".
His latest roles include "Worth" and "Hawaii Five-0", and he's set to appear in the biographical drama about the life of Aretha Franklin entitled "Respect", and starring Jennifer Hudson.
Personal Life
Tate's certainly had a busy and turbulent love life.
In 1990 after the filming of "Love Potion No.9", he began dating his co-star Sandra Bullock, and after two years they became engaged, but didn't go through with it, and broke up in 1995. Tate moved on quickly; he met Jennifer Anniston in the same year through mutual friends, at the time Jennifer was gaining popularity as Rachel in the iconic "Friends", and Tate was wondering if dating a Hollywood starlet was his thing. He said:" Literally, our second date, there were video cameras everywhere, and I was like, 'I'm out of here.'". However he changed his mind and later they reportedly became engaged. Even though it seemed that this might be it, after three years of being together they called it quits. Interestingly, Tate later appeared in "Friends", and played the love interest of Rachel in the show, saying "I was just happy to be on the team. The only bummer was Jennifer and I were breaking up at the time. It was just six episodes. I mean, only because we were breaking up.
We were like, 'Hey, can we not keep doing this? 'Cause this is really painful and tough." Despite the awkward filming experience, Tate had nothing but praise for the other actors and the production.
After the turbulent romance with Aniston, in 2000, Tate began his relationship with British journalist Plum Sykes, but a year later they broke up, and Tate moved on to the actress and producer Whitney Allen; it seems that Tate has a thing for fellow actresses, as he briefly dated Lauren Graham. When in 2003 he met the producer and creator Corinne Kingsbury, many thought it was the real deal. Having dated for years, they tied the knot in 2005. However, it seemed that marriage was not meant for them, and in 2008 they divorced. Since then, Tate has managed to keep his love life under the radar.
How much is Tate Donovan worth?
Given his prolific and active career, it does come as a surprise that Tate's net worth is estimated at just $5 million. During his lengthy career, he has stared in numerous high-grossing movies, including "Argo" which grossed $250 million, and "Rocketman" which grossed nearly 200 million at the box office.
Physical stats and hobbies
Tate is 6ft tall (182cm) and weighs around 167lbs (76kgs). His hair is light brown, and his eyes are brown.
Regarding his hobbies, he likes to travel; one of his favorite locations is the United Kingdom.
As a great fan of animals, Tate has two dogs, Leo and Biggie. In 2020, Tate adopted an old dog from Austin Pets Alive, and so enriched his dog pack with a new member. Additionally, he is a fan of sports and outdoor activities.
While making a guest appearance on "The New Tom Green Show", Tate displayed his versatility and played the fiddle. Interestingly, Tate can also sing and play the Irish drum called bodhran, and when he was younger, he performed with a band in Los Angeles.
Tate is active on Instagram, which counts over 8,000 followers. He posts from time to time, usually photos from his latest projectc, his dogs, and interesting places he's visited.