• Ted Nivison is a YouTube celebrity whose content has drawn over 15 million views worldwide
• He was born in Boston, Massachusetts and attended high school there
• His YouTube channel initially began as a gaming channel, but he converted it to a Comedy channel
• He has an estimated net worth of over $1 million
• He is active on YouTube, Instagram, TikTok, Twitter, and Facebook
Do You Know Ted Nivison?
Ted Nivison is a popular YouTube celebrity, whose pranks, comedic skits and cringe-worthy interviews on his YouTube channel have drawn over 15 million views worldwide!
Ted Nivison's Early Life and Background
Theodore K Nivison was born under the Capricorn sign on 16 Jan 1998, in Boston, Massachusetts, USA. He has managed to keep his background very private – the only time he allows a peek into his family is when he features his father in some of his YouTube shows. Aside from his Christian upbringing, there is no other information on his parents or whether he has siblings or not. A source states that he grew up around Boston, where he probably attended high school.
His interest in video production and the social media generally was ignited when he began watching "Freddie W" on YouTube while he was in his seventh grade. He followed this up by participating in a number of productions in his high school theatre, and also the choir, which further increased his original passion for production.
He is currently enrolled in Ithaca College, Ithaca, New York, where he's working on his thesis and studying Cinema and Photography, focused on Cinema Production.
His Career Life
He's now famous and popular for his self-named YouTube channel 'Ted Nivison'. Before becoming a social media personality, he did odd jobs at his high school, staples and also CSLA, which is a company that rents cameras.
In 2009 he launched "PivotTKN" which was his premier YouTube channel on which he uploaded animations which he had designed as stick-figures. He had earlier attended a camp in order to learn how to make video games, but instead ended up falling in love with animations and decided to try his hands on them. Sometime in 2011, Ted was unable to play Minecraft because he couldn't afford it, and was therefore forced to settle with Total Miner, which was the Xbox alternative. His passion for animation and production fuelled the creation of another YouTube channel – "Total Miner Builder" – which was intended to display his work of art. He was rewarded with 40,000 views which pushed him into more content creation, thereby increasing his followers and gaining new subscribers.
From the success of his YouTube channel, he was then able to play Minecraft and other video games.
His current YouTube channel was initially launched under the name "JehBerDeh", which was originally meant to be a gaming channel, but he eventually ended up converting it to a Comedy channel. He has a few personal projects to his credit, one of which is "Operation Shulko", and has collaborated with CallMeCarson and the Goop Squad.
Ted began to upload videos on his now re-named channel "Ted Nivison" which he officially launched on 17 January 2013, and has become hugely successful with almost 700,000 subscribers! The majority of his posts are comedic commentaries about other people's posts on almost all social media platforms, plus mock cooking shows and random interviews with strangers on the streets and in subways.
His first video was on 6 October 2016, entitled "Five Patty Challenge- Interview with Food Superstar Michael Mosesian" which was viewed by over 27,000 YouTube subscribers. He has since released more successful series and videos such as "The Accidental 400mg Edible" which amassed 2.3 million views in five months. His series include "The Milk Man Saga" which is his most popular till date, "Moses: Food Superstar and Chuckle Fuel", "Cooking With Ted", "Fiverr Filth Season 1 and 2".
The YouTube Giant has referred to himself as an "Overwhelmingly extroverted extrovert", and this is very evident in the way he does whatever he thinks is funny, and can say anything to strangers he has just met on the street.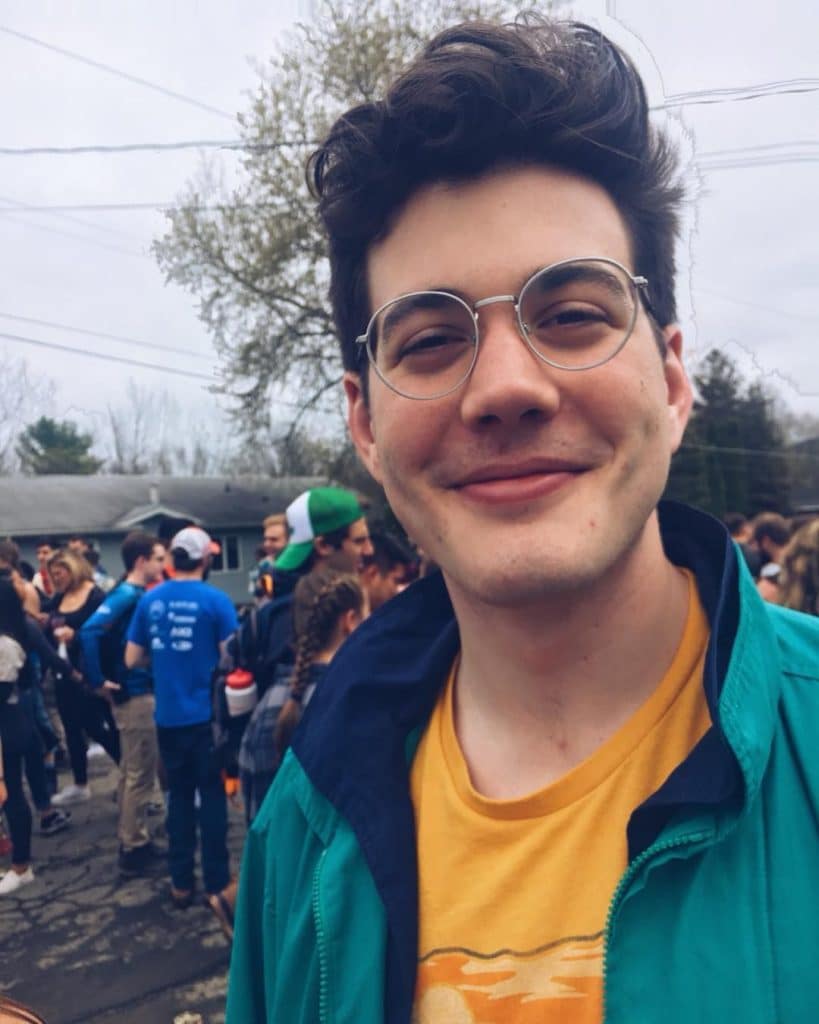 One of his online content which aided his popularity on YouTube was "Interrogating Gamers for Milk", in which he dresses up as "The Milkman" in his white outfit, and goes about asking YouTubers and friends at a convention, PAX East, in Boston, whether there's any milk with them. He also has another YouTube channel "Ted Nivison Live" with only one post on 27 November 2019 entitled "My Stream Kidnapped Me in This Game." Even with a single post on the channel, Ted already has over 90,000 subscribers.
He also collaborates with "Lunch Club" which was initially called "Goop" or "Fart Club" on which he plays games with Traves, Hugbox, CallMeCarson and other YouTubers, and has featured in their podcast channel as well.
His online presence isn't limited to YouTube, as he is quite prominent on TikTok with as many as 860,000 hearts/likes on his account.
Is Ted Nivison In A Relationship?
Though Ted has not revealed his relationship status publicly, however, it's rumoured that he is indeed in a relationship. His girlfriend whom he posts frequently on his Instagram page is a musician named Madi, and has also been featured in his YouTube channel as well as his collaboration with others. How he has managed to steer clear of controversies and altercations is quite impressive, given that most of his content on YouTube is centred on poking fun at other people.
He has never been married, and there is no information on when his relationship with his girlfriend, Madi, was kindled or if he has been if previous relationships. Not much is also known about Madi, asid from her appearances in his shows.
Ted Nivison's Hobbies and some random facts
His favourite food and colour are sushi and black & White, he also loves Arianna Grande and Model Kylie Jenner.
His channel was initially named after the wrong pronunciation of the name "Jebediah".
When he is not making videos or editing, he enjoys kicking back and watching his favourite movie "Avengers".
Some of his popular quotes are "Gonna go exfoliate with an old gravel road brb", "Stop taking advice from Toyota drivers", and "Why don't we have a state called Nashoba?" to name a few.
It has not been confirmed if he smokes cigarettes but he is known to vape and is also an alcoholic. He loves to eat banana bread and meatloaf, but doesn't enjoy banana milk.
His Physical Characteristics
The YouTube star appears to have handsome features which make his videos a pleasure to watch. He is said to be approximately 5ft 8in (1.7m) tall, weighs 145lbs (65kgs), with brown eyes, dark brown hair and a size 13 shoe.
Ted Nivison's Net worth
With an online presence of over 700,000 subscribers on YouTube, 55,000 on TikTok, 300,000 on Instagram, and 120,000 on Twitter, his net worth has been estimated to be over $1 million as of early 2021, with sources placing his annual income at close to $100,000. It's reported that he makes the majority of his earnings through his YouTube content, but also his videos across all his social media platforms..
Where to Find Ted Nivison
Ted is very active on many social media accounts, and you can subscribe to watch his hilarious videos on his YouTube channel "Ted Nivision", follow him on Instagram @tednivison, TikTok @tednivison, Twitter @TedNivison and his Facebook page of the same name.