• Lana Gómez is an artist from Naples, Florida USA.
• She studied art at the University of Tennessee and has collaborated with interior designer Kelly Wearstler.
• She is married to comedian Sebastian Maniscalco and they have two children.
• She has her own website for her art and is active on various social media platforms.
• Her net worth is over $1 million and combined with her husband's, is estimated to be around $17 million.
Who is Lana Gomez?
Any self-respecting comedy fan has heard the name Sebastian Maniscalco, but the general public still don't know much about his wife, Lana Gómez. This article contains facts you never knew about the successful Floridian artist!
Lana's Early Years & Studies
Lana was born on 25th April 1983, in Naples, Florida USA. She studied art at the University of Tennessee, then relocated to Los Angeles to dedicate all her time and effort to her craft and expand her market.
While studying, Lana experimented with several artistic media which include mixed media, acrylic, and watercolor. She would later go on to implement these media in her works.
Lana's Art Career
Lana's works caught the eye of well-known interior designer Kelly Wearstler, and the pair would go on to have many successful collaborations. Between 2008 and 2009, Lana was the resident painter at Wearstler's design studio, which definitely helped build up her name in the difficult art world. Between 2011 and 2012 she had her own showroom in West Hollywood.
One of Lana's most visible works is the ten-foot guitar sculpture she made for Gibson Guitar Town in 2011, which has since been on display at the Sunset Strip in West Hollywood. But that's not all, because some of her pieces are also on exhibition at the infamous Greystone Mansion in Beverly Hills.
Kelly's works have made the pages of top-tier magazines, including the Los Angeles Confidential, InStyle, Lonny, and House Beautiful. In 2014, she was the winner of California Home and Design Magazine's annual Tastemaker award.
Most recently, Lana has been featured in several publications, such as The Huffington Post and Naples Illustrated. Some of her pieces are also currently being displayed at the Maison De Luxe showhouse.
Apart from being talented, Kelly is also an altruistic soul who loves helping others: she held an auction of her works in 2020 and donated all proceeds to the Los Angeles Children's Hospital's COVID-19 relief fund.
Lana & Sebastian's Relationship
Lana and Sebastian first met at the gym thanks to their sharing the same personal trainer. At first, Sebastian tried to win the artist over with his sense of humor, so she initially rejected him when he asked to take her out on a date.
However, Sebastian persevered, and soon the couple got together, and tied the knot in August 2013. In May 2017, the apparently happy husband and wife were blessed with their first child, daughter Serafina Simone Maniscalco, named after the comedian's grandmother. In June 2019, the family was expanded with the arrival of their son Caruso Jack Maniscalco.
Lana is a loving and supporting wife who manages to juggle her career, children, and husband's challenging work schedule without breaking a sweat.
She goes on tour with him as often as possible, and was even one of the producers of the well-received 2014 documentary "Sebastian Maniscalco: Aren't You Embarrassed Yet?".
Of course, Sebastian often mentions his wife in his stand-up routines, and she has also appeared in some of the many documentaries of the acclaimed comedian's life.
Being the wife of a public figure, Lana's also used to keeping mum in the face of occasional backlash; in 2019, millennials swarmed to Twitter to criticize the comedian's MTV Music Video Awards opening speech. That year, Sebastian had been asked to host the prestigious event, but he was abhorred and even vilified by some vocal naysayers, due to his "tone-deaf" attitude, while milder critics said they just didn't know who he was.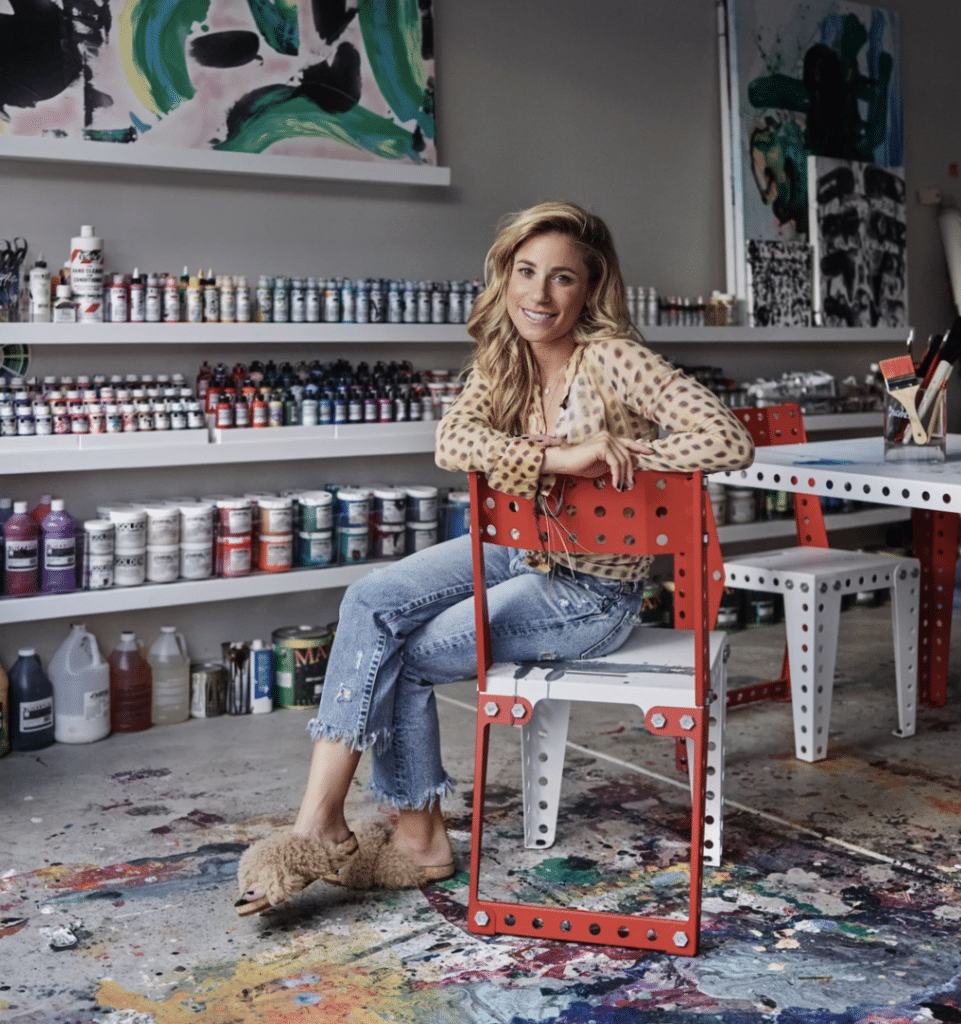 In his opening speech, the comedian mocked safe spaces, trigger warnings, and basically poked fun at millenials, who make up the majority of the award show's viewing figures. However, Lana and Sebastian didn't let the vitriol affect them, and remained as unified as ever.
Lana's Social Media
Lana enjoys using social media to communicate with her fans, and show them glimpses of her life. She loves to post about her art, children, husband, and even includes snippets of some of Sebastian's comedy routines.
Apart from being an avid Instagram user with almost 90,000 followers, Lana is also active on Facebook and Twitter. Lastly, she also has an official website for her art, which she uses to post updates about her upcoming exhibitions, sell her works, and explain her life philosophy.
On the website, Lana explains that "…My work reflects the lens through which I see the world – whether in color, shape or form". She claims to use her paintings to pay homage to various nostalgic moments in her life, meaning that each of her works are personal to her, and added that she hopes others "…will reflect on these types of moments in their lives while connecting to and feeling inspired by my own", when they see her art.
Lana's Net Worth
Reputable sources state Lana's net worth is over $1 million as of April 2021, which isn't bad when you consider the competitive and fickle nature of the art industry.
If you combine Lana's net worth with her husband's, reputedly $16 million, the figure would skyrocket up to $17 million.
This is because Sebastian, formerly included in the list of the world's top ten richest comedians, has built a whole empire out of his witty sense of humor: the stand-up artist has released and starred in several documentaries, sold out seven shows at New York's famous Beacon Theatre, appeared in movies, and even has his own podcast.
2018 and 2019 were especially busy years for Sebastian, who has been around in the comedy industry for over two decades. In 2018, his biography "Stay Hungry" was released, followed up by a Netflix special of the same name the year afterwards. He played the role of Johnny Venere in Oscar-winning movie "Green Book", and as mentioned before, hosted the MTV Music Video Awards in summer 2019 for which he was paid well.
There's no doubt that between them, the multi-talented couple have each excelled in their respective careers and will continue to do so for years to come, while also finding the perfect work-home balance.