• Carly Hallam Tosh is an American screenwriter and actress, married to popular comedian Daniel Tosh.
• She works for the TV series "Tosh.0" and "Brooklyn Nine-Nine".
• She married Daniel Tosh in 2016.
• She is known for her love of dark humor and sarcasm.
• Her estimated net worth is over $600,000.
Who is Carly Hallam Tosh?
Carly Hallam Tosh is an American screenwriter and actress, but perhaps best recognized as the wife of the popular comedian Daniel Tosh. She was born under the Zodiac sign Aquarius on 14 February 1985, in Florida, USA, holds American nationality, and as of 2021, she is 36 years old.  Currently she lives in Los Angeles, California.
Family and Education
There is a huge scarcity of information regarding her family and background, however, it's known that she has a brother with whom she shares a strong bond. Carly attended Florida State University and graduated with a Bachelor's degree in English language and literature.
Career
Carly started her writing career working as a part of the "Tosh. O" team in 2009, the TV series produced and hosted by Daniel Tosh. Carly is credited as the writer of 16 episodes, and she's also made a couple of appearances in the show. The series aired on Comedy Central, and features Daniel commenting on viral videos, celebrities, stereotypes, and is by many, considered to be a combination of dark comedy, satire and sarcasm. The show ran for 12 seasons and received highly positive reviews, reaching the number one in ratings for its timeslot, with millions of viewers.
Her second notable writing credit is for the hit comedy series "Brooklyn Nine-Nine".
She has been listed as the writer of four episodes, story editor of 23, and executive story editor of 12 episodes. The show has run for seven seasons, receiving highly positive commentary for its portrayal of LGBTQ people, and its hilarious sense of humor. On 4 February 2021, was announced that the show will be returning for the eighth season – the exact date is unknown.
The beautiful writer, as she was called by Legit, also dipped her toes into acting and fashion – in 2010 she appeared in the independent romantic comedy "New Low", and in 2017, wrote an article entitled "10 ways to wear that little black dress in your closet". Given her tendency to keep such matters private, there is no information about her latest or possible projects.
Put on your jam jams and watch something funny tonight at 9:30! pic.twitter.com/P3ESy8DnIa

— Carly Hallam (@carlyhallam) September 26, 2017
Her marriage to Daniel Tosh
Reportedly, the couple met during the filming of "Tosh.0" in 2010; both are very secretive and reluctant to share any additional information. They tied the knot on 15 April 2016 in a private ceremony in Malibu, California. What is very interesting is that they kept their marriage hidden away from the public eye for more than two years; many noticed that the screenwriter is ten years younger than Daniel, and in an interview, he disclosed that they didn't want to attract any attention, and also to avoid romantic messages from other celebrities. Given her quirky sense of humor, no wonder Daniel fell for her as they share the same love for comedy. So far, they don't have any offspring.
Briefly about Daniel Tosh
Daniel Tosh is a man of many professions; besides being a comedian, he's also a TV host, voice actor, and executive producer. He was born on 29 May 1975 in Boppard, Rhineland-Palatinate, West Germany, to American parents. Tosh was raised in Titusville, Florida – his father was a Presbyterian minister. After matriculating from Astronaut High School, he enrolled at the University of Central Florida, and in 1996 graduated with a degree in marketing. One of the first jobs he got was as a telemarketer at Central Florida Research Park, later saying "Hey, $15 an hour to annoy people! I really was not preparing myself for the future at all. I had interviews lined up. I sat through one real interview and I was like, 'I wouldn't hire me.' I left halfway through the orientation. That's the closest thing I ever got to a real job."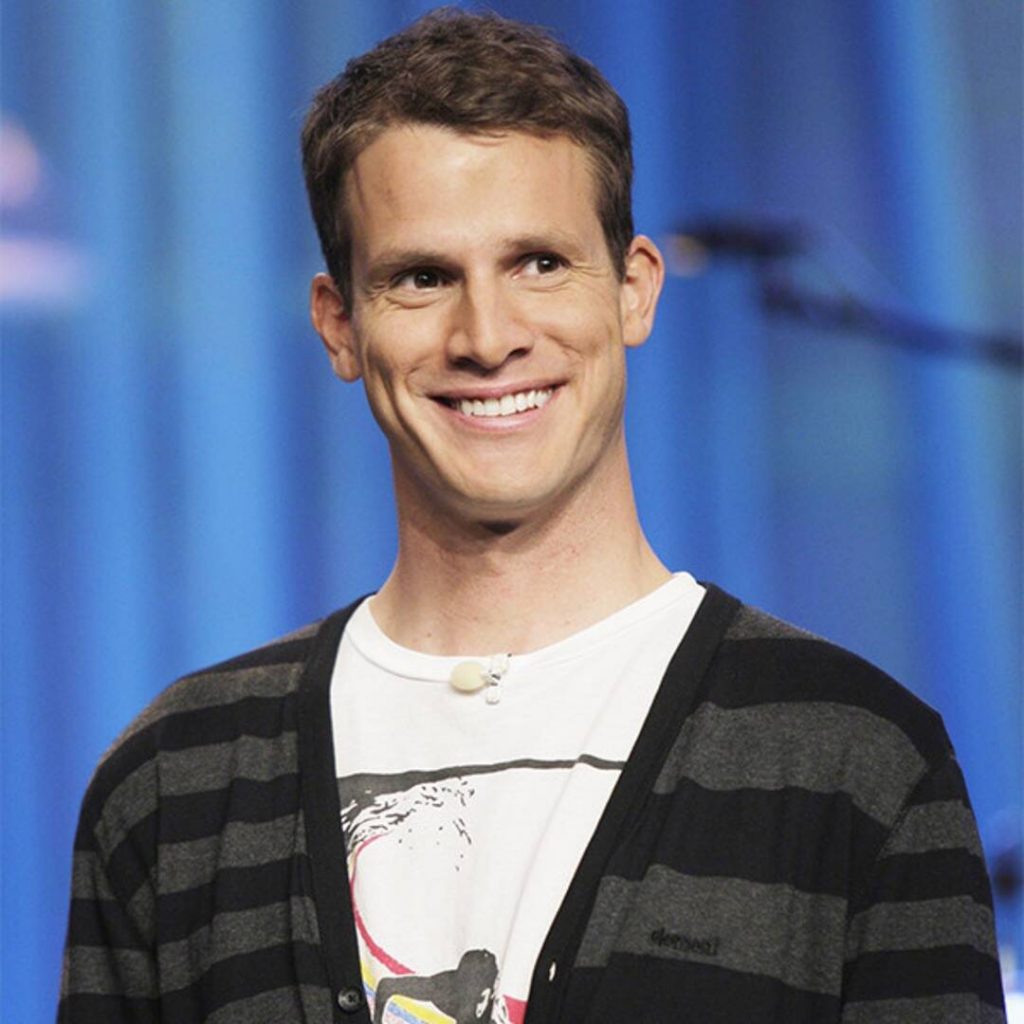 After trying out a couple of professions, he moved to Los Angeles to pursue his dream of becoming a comedian. He started modestly, touring the comedy club circuit. In 1998 he appeared in "Just for Laughs", a comedy festival in Montreal. Daniel finally got his break in 2001, appearing in "The Late Show with David Letterman", followed by many others, such as "The Tonight Show with Jay Leno", "Jimmy Kimmel Live!", and "Premium Blend". Tosh also made a couple of guest appearances on the radio shows "The Bob & Tom Show", "Loveline", and "Kevin and Bean".
In 2003 he landed his first special on Comedy Central Present. His second stand-up special came in 2007, called "Daniel Tosh: Completely Serious" again aired on Comedy Central.
During this period, he also hosted shows such as "Tens" and "Live at Gotham". In 2011, he launched his TV show "Tosh.0", which was met with largely positive comments, and was praised for its 'envelope-pushing' sense of humor.
Daniel appeared in an episode of "Punk'd", playing a criminal who broke into Mekhi Phifer's car. He also landed a couple of acting gigs in "Elevator" and "The Love Guru". Regarding his acting abilities, he tends to sell himself short, saying "I'm not a good actor. I can play myself, and a much gayer version of myself. That's about my range.". In 2011, his third special: "Happy Thoughts" premiered on Comedy Central. He then served as an executive producer of the animated sitcom "Brickleberry", which was canceled after three seasons, for unknown reasons.
Controversy about Daniel
For all those who watch stand-up comedy, it is quite familiar that some comedians tend to cross the line with their jokes. Many have been criticized for their offensive delivery or inappropriate jokes, and Daniel is no different. In 2012, the popular comedian faced huge criticism for his interaction with a female member during one of his shows. He told a couple of jokes about rape which some people in the audience did not deem funny. His response was that it would be funny if the audience member herself were raped by multiple men. His remarks were met with disapproval and resulted in a lengthy debate over the boundaries with jokes about rape. Pressed by the media, he later apologized for the joke. Regarding his tendency to lean toward homophobic, sexist, and racist punchlines, he said: "I'm not a misogynistic and racist person…But I do find those jokes funny, so I say them."
Physical Statistics and Hobbies
Carly is 5ft 8ins tall (173cm), weighs around 132lbs (60kgs), and her vital ststistics are 34-26-35; judging from her photos online, she is health-conscious and slim. She has black hair further adorned with brown eyes.
In her spare time, Carly likes to travel, read and cook – her favorite is Italian cuisine.
In an interview, she said that her favorite actors are Joey King and Tom Hanks.
Would you like to know her net worth?
As of early 2021, Carly has an estimated net worth of over $600,000, earned through her 10-year long career as a screenwriter and editor. On the other hand, according to Forbes, her husband's net worth is over $11 million, earned largely from stage ticket sales.
Not as sexy as an actual hamburger, but it works. @whoissamjarvis @yandy @rachelclind pic.twitter.com/bKudTEUb

— Carly Hallam (@carlyhallam) October 28, 2012
Despite having both Instagram and Twitter, Carly is very secretive about the content she puts out to the world. Her Instagram is private and has just 300 followers; her Twitter counts nearly 12,000 followers. She usually posts jokes and content related to "Brooklyn Nine-Nine".
Like her husband, she also shares the same love of dark humor and sarcasm, and tends to tweet about the jokes she deems funny. She once wrote, "The world is your oyster, so forcibly remove it from its home, pry it open with a knife, cover that shit in Tabasco, and swallow it whole." In another tweet she wrote: "Would you like a printed receipt or would you like us to email you 3-5 times a week for the rest of your life?"
No wonder they are such a match!