• Marc Blucas is an American actor born in 1972
• He is best known for his role of Riley Finn in "Buffy the Vampire Slayer" and his appearances in Hallmark TV movies
• He played basketball and received a full scholarship for Wake Forest University
• He has appeared in several TV series and movies such as "We Were Soldiers", "Knight and Day" and "Gilmore Girls"
• As of May 2021, his net worth has been estimated at over $3 million.
Who is Marc Blucas?
Marc Blucas was born in Butler, Pennsylvania USA, on 11 January 1972 – his zodiac sign is Capricorn and he holds American nationality. He's an actor who's probably known best for his role of Riley Finn in the TV series "Buffy the Vampire Slayer", as well as for his appearances in Hallmark TV movies.
Early life and education
Marc spent his childhood in Girard, Pennsylvania where he was raised by his parents Walter Joseph Blucas and Mary Catherine, alongside his older sister Kristen. He comes from a diverse family, with his father being of Polish and Slovak descent, and his mother having English, Scottish and Serbian ancestry. Both his parents graduated from Indiana University of Pennsylvania, which is also where they met.
Marc's father was also a successful American Football player, the quarterback for Big Indians in 1968 – in 1999 was inducted into the IUP Athletics Hall of Fame. After his football career, Walter Blucas became a teacher in a local high school, and later on the principal, and then the Superintendent of Schools for the District.
While in middle school, Marc picked up acting as a hobby, and regularly appeared in school plays. He matriculated from Girard High School in 1990, having shown high academic potential as well as an interest in sports. As a member of Girard High School basketball team, he started competing in championships, and upon winning the Pennsylvania Boys AA State Championship, he received a full scholarship for Wake Forest University (WFU) in Winston-Salem, North Carolina.
He continued his basketball career at the university, and played for WFU basketball team alongside future San Antonio Spurs' Tim Duncan. Upon graduation, Marc spent a year in England playing for the Manchester Giants in the British Basketball League.
Roles in movies
Marc made his film debut in 1995, when he appeared in the crime drama "Inflammable". The following year saw him make a cameo appearance in the basketball-the,med movie "Eddie", which starred Whoopi Goldberg, Donald Trump and Frank Langella. In 1997, he played The Basketball Hero in the fantasy drama "Pleasantville" written and directed by Gray Ross, and starring Tobey Maguire, Jeff Daniels and Joan Allen.
In 2002, Marc appeared in the critically acclaimed war drama "We Were Soldiers", alongside Mel Gibson, Madeleine Stowe and John Hamm, then starred in another historical drama, "The Alamo" from 2004, based on the 1836 conflict between a group of Texans and Tejano men.
Perhaps one of his most notable film roles was his portrayal of the supporting character Rodney in the 2010 action comedy "Knight and Day", written by Patrick O'Neill, directed by James Mangold and , Cameron Diaz and Tom Cruise – the plot follows a woman involved with a secret agent on the run from the CIA. Despite receiving mixed reviews from the critics and public, the film still managed to gross over $261 million worldwide.
In 2007, Marc began appearing in TV movies more often, starting with the drama "Judy's Got a Gun".
Later on, he gained recognition for playing the male lead in Hallmark Christmas movies such as "Operation Christmas" (2016), "Miss Christmas" (2017), "Holiday for Heroes" (2019), and 2020's "Good Morning Christmas".
Roles in TV series
Marc made his first appearance in a TV series in 1998, when he appeared in an episode of the sports comedy "Arli$$". In 1999, he appeared in an episode of "Clueless", which was made as a follow up to the 1995 hit film of the same name.
Perhaps the most memorable of Marc's TV series roles has been his portrayal of Riley Finn, one of the main character's romantic interests in the 1992 supernatural drama "Buffy the Vampire Slayer", created by Joss Whedon based on the eponymous movie, and starred Sarah Michelle Gellar, Nicholas Brendon and Alyson Hannigan.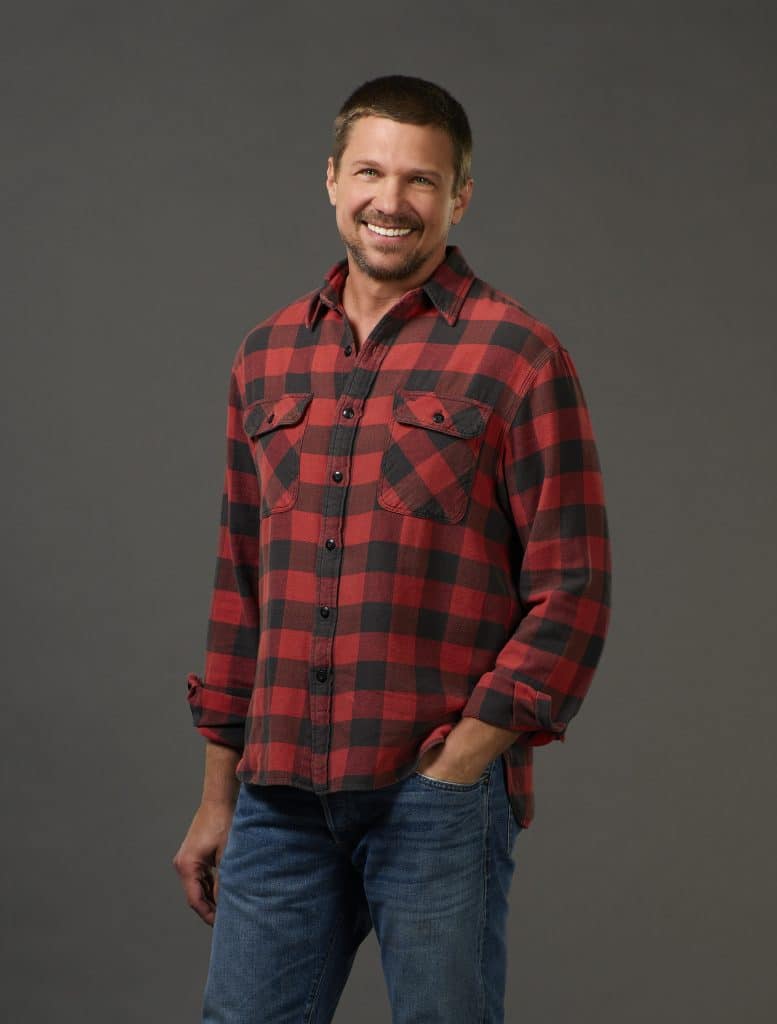 The series follows Buffy Summers who was chosen by fate to fight vampires, demons and other forces of evil. The show was warmly received by both critics and public, and won the 2003 Television Critics Association Award. Marc first appeared in the 4th season, and was a member of the cast for two seasons.
He's also appeared in an episode of several critically acclaimed series, such as "House", "Castle", "Law and Order: LA", "CSI: Crime Scene Investigation", and "Narcos: Mexico".
Other credits
Marc was credited as a co-executive producer for the 2011 action horror movie "The Day", and in 2020 he worked as a producer on the horror drama "Unearth", in which he also starred.
Love life and relationships
Marc is more or less open when it comes to talking about his relationships, and there are two women whom he dated before meeting and then marrying Ryan Haddon, an American journalist and news presenter.
From 2000 to 2005, he was in a relationship with Mary Parent, an American TV and film producer who was the executive producer at Universal Studios at that time. It's speculated that he left her to pursue Lauren Graham, an American actress best known for having starred in "Gilmore Girls"; the two dated for five months in 2005 but aside from several pictures they took together, they didn't make a lot of public appearances as a couple.
Marc started dating his future wife Ryan Haddon in 2007, and they married in a private ceremony on 25 July 2009. Marc and Ryan have two daughters together and he is the stepfather to Ryan's children from her past marriage with Christian Slater, a famous American actor. The two are currently living in a farmhouse in Pennsylvania, and are trying to keep their children away from the media's attention.
Hobbies and other interests
Marc's very passionate about taking care of his farmhouse, where he keeps chicken and bees.
He has also picked up woodworking, and occasionally uploads pictures of some of his DIY projects onto his Instagram account.
Marc's keen on travelling, and often goes on trips with his family; they've so far visited Mexico, Canada, South Africa and almost all US states.
In his spare time, he enjoys watching horror movies, with some of his favorites being "Midsommar", "Paranormal Activity" and "The Thing".
Age, height and net worth
Marc is 49 years old. He has short brown hair and green eyes, he's 6ft 2ins (1.88m) tall and weighs around 185lbs (84kgs).
As of May 2021, his net worth has been estimated at over $3 million.