• Anisa Jomha is a Canadian YouTuber, online streamer and social media influencer
• She has two siblings and was raised in accordance with Islamic doctrines
• She streams video games and vlogs on YouTube, and is an influencer on social media apps
• She announced the launch of her OnlyFans page in March 2020
• Her net worth is estimated at $1.5 million and her boyfriend's is $1.4 million
Anisa Jomha, Canadian YouTuber, online streamer  and social media influencer, first came into the spotlight a few years ago, at the peak of her streaming career. She hasn't been in the public eye for long, but in her short stint as a social media personality, she's managed to build a solid fanbase. Anisa had the American social media users talking when she indicated interest in launching an OnlyFans page. Her loyalty to boyfriend and Youtube personality Ian "iDubbbz" Carter was questioned.
Find out the untold truth about Anisa Jomha in this biography.
Early life, Family, Educational Background
Anisa was born in Edmonton, Alberta Canada on 25 June 1993 under the sign of Cancer to a Lebanese father and Northern Irish mother. She is multiracial, thus inheriting a rich cultural heritage from her parents.
Prior to their marriage, Maureen was a Catholic, while Mr. Jomha was muslim; when the couple married, Maureen Jomha converted to the Islamic religion, so Anisa's parents raised their children in accordance with Islamic doctrines. She has two siblings- a sister, Iman Jomha and a brother Muhammad Jomha. At 16, Anisa told her father that she didn't want to follow a specific faith anymore. He didn't take it well initially, but over time, the father and daughter have worked through their rift and now have an amazing relationship.
Anisa attended Harry Ainlay High School in Edmonton; she was very athletic as she played for the lacrosse team, and also engaged in ice hockey. When she matriculated from high school, she enrolled at the University of Alberta. While at college, Anisa took on some jobs to fend for herself, such as lacrosse instructor at Edmonton, sales person at a local store, and waitress in a bar.
These jobs helped ensure a steady flow of income to Anisa's bank accounts, 'til she graduated with a Bachelor of Education in Fine and Studio Arts in 2014.
Career
Online Streaming
Anisa launched her career in 2015 on Twitch, America's popular streaming platform. She went by the name 'Raihnbowkidz' when she started out as a streamer, and specialized in streaming video games, especially "League of the Legends" and "Player Unknown Battleground". Due to her provocative outfits during streaming sessions, she was tagged a 'boobie streamer', but garnered a lot of attention on the streaming platform, both positive and negative. The negative comments were so much that Anisa's mother, Maureen, had to step in to moderate the chats and comments on her Twitch channel.
Maureen once stated that she was amazed at how well Anisa handled trolls on her channels.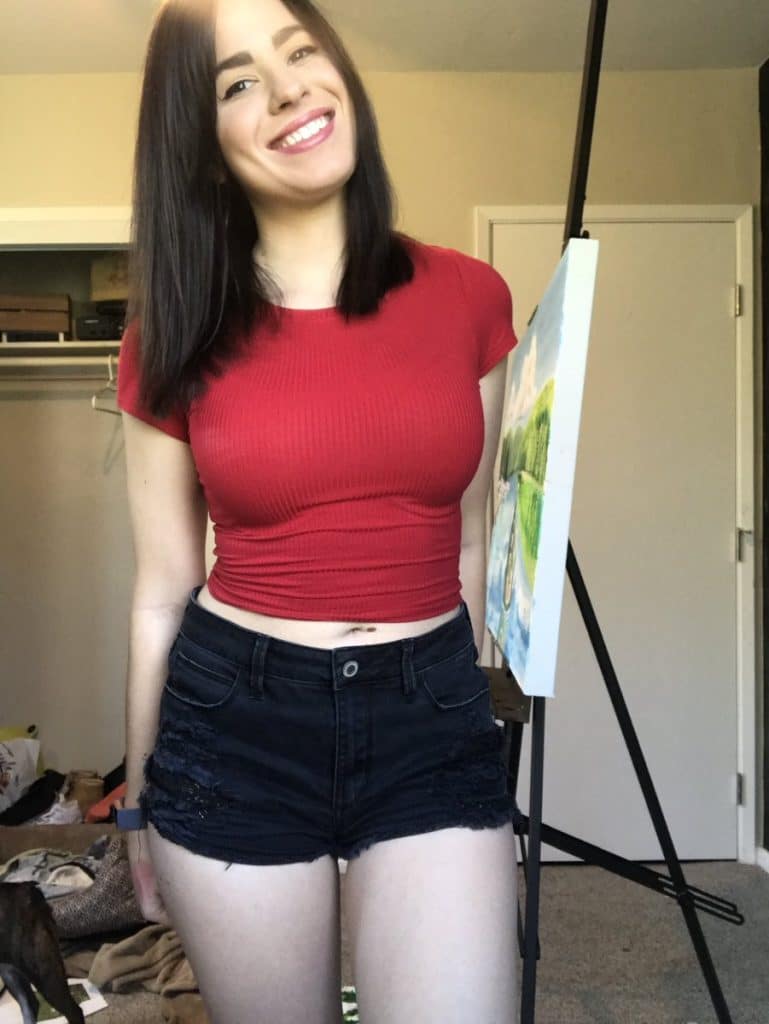 'The way Anisa handled trolling, won people over, including myself', she said. Anisa has built a loyal audience on Twitch over time, and has over 200,000 subscribers to her channel as of mid-2021.
YouTuber
In 2015, Anisa started vlogging on YouTube; her first video in which she performed a sexy dance went live on 18 March 2015. She wanted to promote varying content on each social platform – her Twitch channel would be for streaming gameplays exclusively, while her YouTube channel was created to promote real life content. Her channel "Anisa", named after the content creator herself, has over 100,000 subscribers.
Social Media Personality
Anisa Jomha's fame on Twitch gave her a place among the influencers on social media. As an influencer and social media personality, she shares image and video content with followers, does sponsored adverts, and models for some fashion brands.
Her instagram page has over 80,000 followers who keep up with recent happenings in her life. However, of all the social media apps Anisa uses, she loves Instagram and TikTok the most.
On 9 March 2020, Anisa announced the launch of her OnlyFans page; her fans and critics alike went wild on the internet after her announcement. Only Fans is a paid online platform, on which creators share exclusive content with their subscribers. Due to the negative publicity surrounding Onlyfans (as it's used to promote sexual content), her followers were concerned about iDubbbz's reaction to her new endeavor. To a particular fan she replied on Twitter, that her partner was 'very supportive'.
Personal Life
Anisa is popularly known for being iDubbbz's girlfriend. There's a lot of speculation as regards how the couple met, but here is a low-down of the entire story. Anisa herself has revealed that she got into her present relationship out of boredom. She was attending Twitch Con event in San Diego, and decided to stay an extra day after the event.
Walking the dog as a whole crew 🌭 pic.twitter.com/a05UYVECbb

— Anisa Jomha 🇱🇧🇮🇪 (@AnisaJomha) April 29, 2020
Alone in her hotel room, she was scrolling through Twitter when she stumbled upon iDubbbz's tweeting spree. She tweeted at him asking that he save her from boredom. Because iDubbbz was within driving distance, he drove down to her and they went for tacos together. During their time out, they bonded and went on to have long conversations. Their friendship blossomed even when she returned home to Canada. In October 2016, Anisa and Ian officially started dating, and soon afterwards she moved to California to be with her boyfriend.
Sometime in the late 2010s, Anisa's father was diagnosed with Alzheimer's disease, and in June of 2019, Mr. Jomha strayed from his home and went missing. Anisa took to Twitter, to seek help in finding her father. He was missing for about seven hours until a kind stranger who saw her tweet, brought him home.
Since her father's diagnosis, Anisa tries to spend more time with her family in Canada. She currently lives in California with her boyfriend and a puppy named Blitz.
Who is iDubbbz?
iDubbbz is an American YouTube comedian and social media personality. He is formally known as Ian Carter, and was born on 27 July 1990, in San Antonio, Texas USA. His parents were American, but they split a few years later. Thus, iDubbbz had a troubled childhood.
At some point, Ian Carter decided that he needed to be seen, and chose YouTube as his primary medium for sharing content, and has been at it since 2015. iDubbbz quickly became famous because of his funny YouTube content and style of delivery. He has three Youtube channels to his name; iDubbbzTV, iDubbbzTV2 and iDubbbzgames, and is the creator of popular comedy video series such as; "Content Cop", "Bad Unboxing" and "Kickstarter Crap".
He's also collaborated with other popular YouTubers, including HowToBasic, anything4views, TVFilthyFrank and Maxmoefoe to create viral content. Ian's YouTube channels now have over seven million subscribers and 890 million views across all three channels.
His relationship with streamer Anisa Jomha has been known to the public for a while, because they are both social media personalities. He received a lot of backlash for supporting Anisa's decision to launch an OnlyFans page, but iDubbbz, in usual character, will always stand by his woman.
Appearance, Clothing Style
Anisa sports shoulder-length brown hair, and eyes of the same color. She is 5ft 5ins (1.65m) tall, and weighs around 120lbs (55kgs). Ms. Jomha was not dubbed 'boobie streamer' for no reason. She loves to dress provocatively- whether for social media content or during a live stream. She balances her outfits out by going casual when the occasion demands.
Hobbies, Favorite Things, Interesting Facts
Her favorite actor is Ryan Gosling, and favorite singer is Taylor Swift.
She loves eating Italian cuisine.
Anisa's favorite season is summer.
Her preferred designer brands are Chanel, Gucci, Louis Vuitton, Tarte and Nars.
Net worth and Salary
Although Anisa's YouTube career is nowhere near as successful as her boyfriend's, she generates substantial income through other means, including streaming, google adsense, sponsored content and personal projects. Her net worth is currently estimated at $1.5 million.
Meanwhile, iDubbbz's net worth is reportedly around $1.4 million. Details of property owned by Anisa or Ian are undisclosed at this time.