• Shalana Jones-Hunter (a.k.a Tokyo Toni) was born in 1972 in Santo Domingo, Dominican Republic
• She is the mother of Blac Chyna, a model, rapper and entrepreneur
• Tokyo is the CEO of On My Grind Entertainment and Promotions and a daily vlogger
• Tokyo is known for her feuds with her daughter Blac Chyna, Rob Kardashian, and Wendy Williams
• Tokyo has an estimated net worth of $4 million in 2021
Early life, family, educational background
Shalana Jones-Hunter was born in 1972 in Santo Domingo, Dominican Republic. Not much is publicly known about her parents or childhood, but she is well-known as Tokyo Toni and for being the mother of Blac Chyna. Tokyo now has two grandchildren – King Cairo Stevenson from Blac Chyna and Tyga, and Dream Renée Kardashian from Blac Chyna and Rob Kardashian.
Who is Blac Chyna?
Blac Chyna was born Angela Renée White on 11 May 1988, in Washington, DC, USA. She is a model, rapper, and entrepreneur, also famously known for previously being a stripper, and for having dated Tyga from 2011 to 2014 and Rob Kardashian from 2016 to 2017.
She rose to popularity in 2010 when she was Nicki Minaj's stunt double in Kanye West's music video for "Monster."
She attracted even more attention when Drake name-dropped her later that year in his song, 'Miss Me.' Her new-found fame lead her to be in several publications such as "Black Men's Magazine," "Dimepiece," and "Straight Stuntin." In 2014, she launched her makeup brand, Lashed by Blac Chyna, and opened a beauty salon in Los Angeles.
In December 2011, she appeared in Tyga's music video for "Rack City," and the two began dating later that month. She gave birth to their son, King, in October 2012, but they broke up two years later, and he quickly moved on with Kylie Jenner, leading to Chyna and Kylie having an online feud that eventually ended in 2016, when Chyna began dating Kylie's half-brother, Rob Kardashian; Dream was born in November that year. Only a month after their daughter's birth, Rob made their split public on Instagram, but they got back together after a few days.
However, they broke up again in February 2017, and in the July of that year, Rob posted explicit sexual photos of Chyna to his social media, which violation lead to a temporary restraining order against him.
Most of their relationship played out in "Keeping Up With the Kardashians" and "Rob & Chyna", then in 2019, she starred in her own reality television show, "The Real Blac Chyna." In 2017, she was a team captain in episode one of MTV's game show "Wild 'N Out." She has also appeared as herself in one episode of "RuPaul's Drag Race" in 2017 and in two episodes of her mother's 2019 show, "Tokyo Toni's Finding Love Asap!"
Career
According to her Facebook page, Tokyo is the CEO of On My Grind Entertainment and Promotions. The company's policy is 'work hard, entertain our friends, and just plain have fun.' She is also a daily vlogger.
She has numerous videos on her social media pages, most of which consist of her gushing over Black Chyna's success. Before becoming a CEO, she worked as a US Army Soldier, for how long and as what is unclear. She was also signed with the Movie Extra A-List Talent agency, and work at broadcast station EOTM Radio and Media.
Tokyo also likes to get involved with charity work. On her social media pages, she has been encouraging her followers (over 85,000 of them) to donate money to the homeless and charities as it 'cures souls eternally.'
In her videos, she likes to give life advice to her followers, telling them to use her as an example – 'I complained, but I got it accomplished!! You can do the same!!' she encourages in one post. 'Keep focused, family!! Be thankful for all you have and don't have!!'
Personal life
In July 2013, her husband, Marcellus Hunter, asked Maryland's Prince George County District Court to grant an order of protection after Tokyo allegedly threatened to leave him in a landfill after cracking his head open. In his report, he shared that 'Shalana is violent when angry,' adding that she 'often tries to start a physical altercation.' To prove his claim, he said that he has hundreds of threatening texts from her, such as going to his job to get him fired, cracking his head open if he returns home, and leaving him in a landfill. 'I want the threats to stop. I want her out of my home… She has already cut up my clothes!' he told them. The order of protection was granted to both him and his daughter until August 2014. During that time, Tokyo and Marcellus worked out their problems. Tokyo has been open about the court order and even spoke about it on Instagram, telling her followers that he better not try to order another one.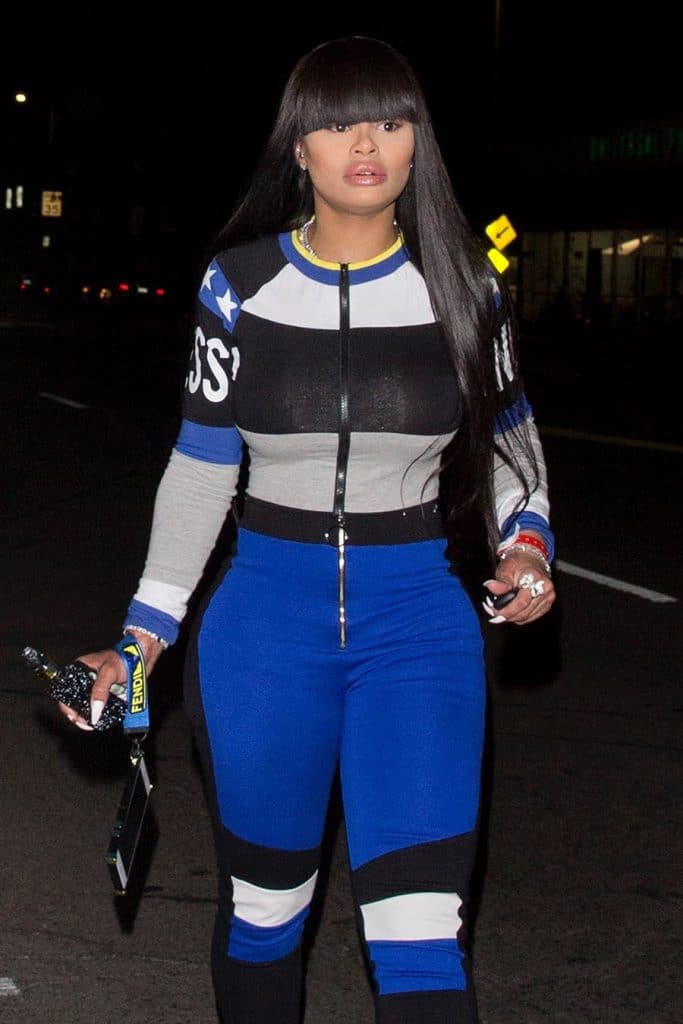 'He stayed out nine days in a row without calling home,' she explained, 'What did you think I was going to write him a fairytale story and kiss him goodnight, no bitch.'
Aside from being married to Tokyo, not much is known about Marcellus. They dated for three years before marrying in 2012, and divorcing in 2017; according to reports about the split, their marriage was far from peaceful and loving. However, they managed to once again sort through their issues, got back together and remarried on 14 February 2020. Blac Chyna was unable to be at the wedding in person, but she did join digitally – she even shared the ceremony in an Instagram live video, and clapped for the happy couple after they were pronounced husband and wife. Tokyo said she was delighted her daughter could be part of her special day.
However, don't let their online personas and posts fool you; after the first episode of her reality show "The Real Blac Chyna" aired, fans of both Tokyo and Blac Chyna were left confused. Tokyo was seen greatly mistreating Blac in various inappropriate ways. She was frustrated with Blac's decision to not allow her mom to see King and Dream for a while – Tokyo insulted her daughter, threatened her with physical violence, and called her ugly names, including 'bitch' and 'whore.' Blac did her best to remain calm, while her mother was in her face, yelling that her daughter has always been disgusting and disrespectful, even threateniong to 'stretch [Chyna's] ass across the motherfucking kitchen.' In her confessional, she said that she doesn't care if 'sold your pussy to an army, you still better respect your momma.' The most disturbing thing she told her daughter is that she should kill herself, and if she did, she wouldn't care about losing her.
Fans were understandably outraged by both clips. Someone commented, 'THAT'S the problem a lot of our parents have. I don't have to respect you if you neglect, demean or abuse me just because you're my parent.' Chyna explained that it was due to her mother's unspeakable behavior that she decided to distance her children from her. Viewers commented on the sad reality that although King and Dream are luckily not exposed to that environment, Blac had to grow up in an unhealthy home. '… you can tell her mom was a fucking psycho growing up.' People began to feel a lot more sympathetic towards her, and insisted she should receive more respect for what she has been through.
Due to the backlash, Tokyo didn't join the second season of the reality show – one of her reasons for leaving the show was because she lost business following the viral clips of her fighting with Blac.
She said that she wanted to do an 'advocacy with a check in my hand about suicide, but I will not be able to do that due to the clip that Zeus put out saying you can kill yourself I don't care.' Tokyo claimed in Washington, DC that it's just an expression to tell someone to kill themselves; it doesn't mean they actually want someone to commit suicide. She insisted that it was 'slang,' but suicide prevention groups still refused to allow her to join or work with them: 'I had all the intentions of using that money to benefit me in my life, now I have to start from scratch due to the efforts of others!!!' she said somewhat confusingly.
Talk show host Wendy Williams brought about the drama between Tokyo and Blac, as she spoke with them after the show aired; she is close friends with both of them.
Wendy told her audience that Chyna shared her relationship with her mom had always been strained, 'I said to Chyna, I think your mother is more concerned about the spotlight than she is about you.' She added that their relationship might be so troubled because of how Tokyo fell pregnant with her daughter. Although she didn't go into more detail, Tokyo indirectly confirmed this in 2018, when she posted a lengthy rant on social media, lashing out at Blac. 'Birthing you… that was a mistake, just happened to come into play. You was a statutory rape baby.' When Wendy's episode aired in July 2019, she concluded the drama by saying that the two were on better terms, despite everything Tokyo said about her daughter. Tokyo was not happy about the episode at all, and took to Instagram Live to tell her fans how angry she was with Wendy for airing her dirty laundry.
She ended her rant with a threatening message – 'Wendy is so gone, that when I see her, I'mma knock her face off. When I see you, I'm gonna get a charge."
Attempting to prove that her relationship with Blac was on the mend, Tokyo posted a screenshot of Blac requesting to follow her with the caption, 'I love you, Angela,' Blac replied with 'I love you' and heart emojis.
Zeus Network gave Tokyo her own show in November 2019, "Tokyo Toni's Find Love Asap!" which followed her journey to find love; the show featured 15 contestants along with guest-appearances from Blac and Lyrica Garrett, Toni's friend from "Love & Hip Hop: Hollywood." Theodore Mark Martinez or 'Big D,' won in the final episode, but there is no evidence that the two actually dated.
In addition to her feud with her daughter, Tokyo also fought with Rob Kardashian.
She was happy about her daughter's pregnancy, even taking to social media right after hearing the news. 'I just got off the phone with my daughter, Blac Chyna, and son-in-law-to-be Rob,' she exclaimed in a video, 'They told me, 'You're about to be a grandma.'' She added that she was 'super excited for them' and could not wait for the new addition. Tokyo also congratulated the Kardashians and Jenners, 'Congratulations guys – we're having a baby!'
The 'big happy family' scenario didn't last forever; Tokyo has a tendency to insert herself into as much drama as she can, and ended up picking a fight with Rob and the rest of the Kardashian-Jenner clan. In 2016 she posted a lengthy Instagram post, making fun of the Kardashians for being Armenian and saying they are either 'boxed or botched.' In 2017, she told the media that she was planning to release a 'tell all' about Chyna and Rob's relationship, along with details and information about the revenge porn case. Her statement appeared only to be an empty threat, as no tell-all was released.
She looks happy 🥰 #TokyoToni pic.twitter.com/5drFjcnkLI

— bajanbrownbeauty🇧🇧 (@darkcocoa_69) February 14, 2020
Ironically, she was arrested later that year for her own scandal of revenge porn – Tokyo was accused of releasing a video of her landlord's daughter having sex with her [the landlord's daughter's] boyfriend. In addition, she was also charged with two counts of stalking and harassment.
Hobbies, favorite things and interesting facts
Tokyo has been married six times (twice to Marcellus). She only had a full ceremony with her first husband, going to the courthouse with the others. In an interview with "Rolling Out," she shared that she isn't a serial dater, prefering the more traditional approach when it comes to relationships, 'I never believed in giving your body away to a man and not having anything to show for it.'
Appearance
Tokyo has black hair and dark brown eyes. Her height, weight and vital statistics are unknown.
Net worth and salary
As of mid-2021, Tokyo has an estimated net worth of $4 million when combined with Blac Chyna's – her daughter surprised her with a huge mansion, which added to Tokyo's net worth along with her online presence, TV appearances and job as a CEO.