• Laurence Bedard is a popular tattooed model, barber, and fashion ambassador.
• She began her love for tattoos at 16 years old, and has 33 tattoos.
• She has multiple streams of income, including sponsoring the energy drink brand Bang Energy, an OnlyFans account, and brand sponsorships.
• Her net worth is estimated to be close to $1 million as of early 202•
• She is currently not publicly dating anyone.
Who is Laurence Bedard?
Laurence Bedard is known for being a popular tattooed model, barber, and fashion ambassador. Keep reading to learn about her career, net worth, dating life, and more.
Laurence Bedard's Early Life
Laurence Bedard was born on 15th July 1993, in Quebec, Canada. Her height is 5ft 6ins (1.65m) and her weight is around 120lbs (55kgs). Not much is known about her family life, as she prefers to keep her parents out of the social media spotlight, but we do know that she has an older brother named Jean-Philippe. Bedard is fluent in both English and French, and studied a hairdressing course in 2018.
In a 2019 interview with "Tattoo Life", Bedard said that her love for ink began when she was 16 years old, and saw her older brother getting tattoos. In the interview, Bedard also mentioned her father, saying that he's her greatest inspiration. One of the model's 33 tattoos is the phrase 'Sink or Swim' on her arm, which she got because it reminded her of him, who she is obviously close to.
Laurence Bedard's Career
Laurence Bedard has shown herself to have an entrepreneurial side, with many different streams of income. Apart from being an alternative model, she also sponsors the popular energy drinks brand Bang Energy, which counts over two million Instagram followers. Bang Energy also sells apparel, supplements, and even their own jewelry.
An increasingly popular way of earning money amongst models and influencers is by making an OnlyFans account, and Bedard is just one of many social media sensations with a profile. Her monthly subscription costs $30, and with over 60 posts and 8,000 likes on the platform, we can assume that she earns good money from it.
The subscription-based social media site launched in 2016, but became especially popular after the COVID-19 pandemic, when everyone was looking for new ways to make money following months of lockdowns and restrictions. It currently has over 450,000 content creators and 30 million registered users.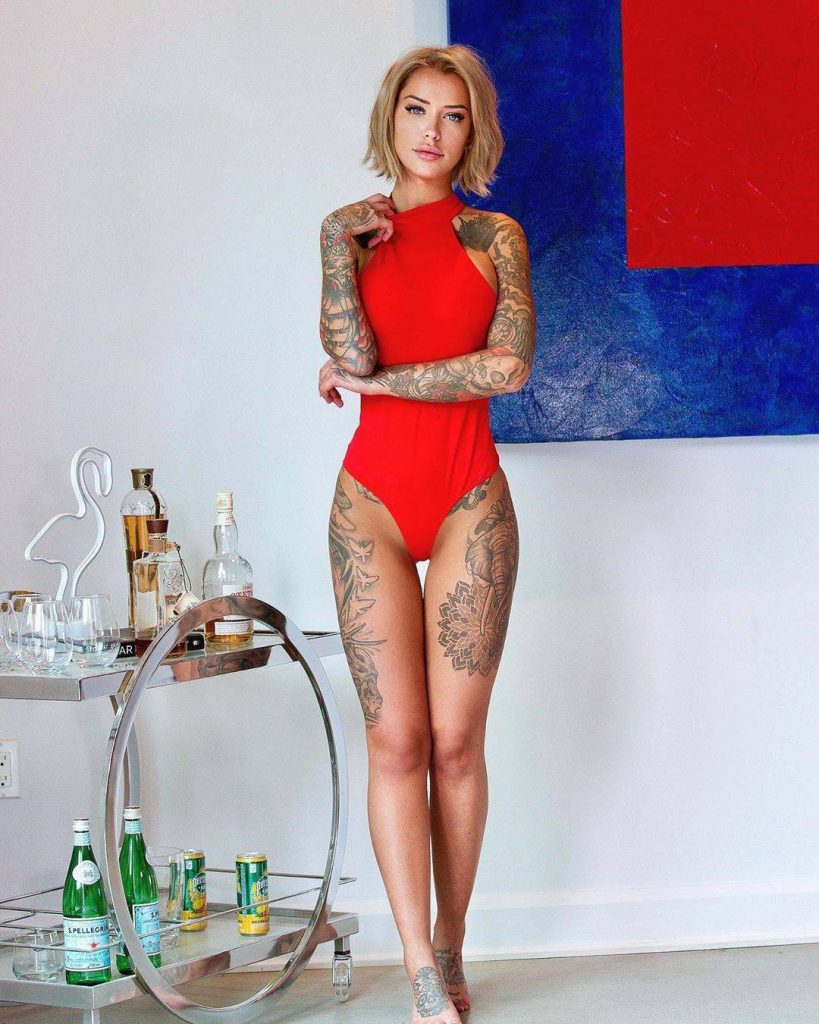 Although OnlyFans receives its fair share of negative press for being linked to adult content and the porn industry, there are a wide range of skilled content creators such as artists, chefs, and fitness trainers, who don't post anything 'not safe for work', NSFW.
The platform is also seen as a good way to increase brand affinity and audience engagement, thanks to its unique features that allow content creators to communicate directly with their fans, so it was a savvy decision on Bedard's part to join the site.
Laurence Bedard's Dating Life
Bedard began dating Joey Filiatrault around September 2017. They seemed to have many things in common including a love for tattoos and fitness, and shared several photos on social media which led to them being called 'couple goals' by "Inked Mag" and their fans.
Little is known about Filiatrault right now because he doesn't appear to be active on social media anymore, but the couple were dating for around a year until they went their separate ways. Filitrault has a LinkedIn account which shows that from 2005 to 2015 he was a Combat Engineer working for the Government of Canada. He studied Criminal Justice and Police Science between 2015 to 2017 at the College La Cite.
Right now, Bedard is focused on her career, and isn't publicly dating anyone.
Laurence Bedard's Social Media
Laurence has a total of almost three million Instagram followers. These days, a model's social media is her main money-maker, and Bedard is no different.
On Instagram, some of the well-known companies she models for include Pretty Little Thing and Fashion Nova.
She is also an avid traveller, and shares photos and videos of her holiday destinations with her fans.
Laurence Bedard's Net Worth
Laurence has been making waves in the tattoo scene since around 2017. Since then, she's accumulated an impressive number of social media followers, and some of her posts get as many as 150,000 likes, so it could be expected that the alternative model earns a lot of money. Sources estimate that she's accumulated a net worth of close to $500,000 as of early 2021, not necessarily easily earned.
A 2018 report claimed that influencers with over a million followers can make up to $250,000 per sponsored post. However, these figures are highly unrealistic, especially taking into account the oversaturated market these days. Fashion Nova was previously paying rapper Cardi B $20,000 a month to sponsor their brand, so a more accurate benchmark to measure how much influencers earn from companies is between $10-$100 for every 1,000 followers.
Account engagement is also an important factor; the more likes and comments an influencer gets, the more money they are paid. Despite Bedard's high follower count, she has a relatively low engagement per post rate of around 3 to 5%.
It's been revealed that Bang Energy brand ambassadors earn an average of $659 a week, based on estimates from former employees, and past job advertisements posted by the company. Surprisingly, despite the positive image the brand portrays, many former employees have given the company negative reviews for a myriad of reasons.
According to disgruntled former employees ranging from social media directors to senior web developers, Bang Energy has zero job security, a lack of management, and no advancement possibilities. Some anonymous people also slammed the CEO as a "hedonistic" and "unprofessional" person. However, that doesn't seem to be Bedard's experience with the brand, as she has been working with them for quite some time now.
As for Pretty Little Thing, it's uncertain how much they pay their influencers as the figure varies. Often, the clothing company will send influencers free clothes instead of paying them outright, or give them a small portion of sales for every successful post. With the constant flux of new aspiring influencers, it's safe to say that the Instagram modeling world has become a crowded place and it's getting harder and harder to make good money from the platform.
Various sources estimate Bedard's net worth as close to $1 million as of early 2021,  accumulated from her brand sponsorships, affiliate marketing for Bang Energy, barbershop job, and OnlyFans account.