• Gab Smolders is a Dutch YouTuber and social media star, born on 11 September 1988.
• She is known for her YouTube channel, which has close to 65,000 subscribers and 78 million views.
• Gab is currently dating Irish YouTuber Jacksepticeye, who has over 27 million subscribers on his channel.
• She runs a Twitch channel with close to 230,000 followers, and is active on Instagram, Twitter and TikTok.
• Gab is a fashionista, cat-lover, tattoo enthusiast, traveler and Helena Bonham Carter fan, and has a net worth of over $1.5 million.
Who is Gab Smolders?
Evelien 'Gab' Smolders was born in the Netherlands, on 11 September 1988 – her zodiac sign is Virgo and she holds Dutch nationality. She's a YouTuber and a social media star, who's probably known best for her YouTube channel which she launched on 24 September 2014, and which is today subscribed to by close to 65,000 people, and numbers over 78 million views of all her videos combined. These are most often related to video games, especially horror games, and her most popular video "FALL GUYS w/ my boyfriend!" has been watched close to 700,000 times since 19 August 2020.
Gab's also known for being the girlfriend of Jacksepticeye, a famous Irish YouTuber.
The weather's amazing today. Reading 📖 The Long Mars, just hanging out with my partner and lounging ☕️🌼❤️ Life is kind today 😌✨ pic.twitter.com/m17zIPkncJ

— Gab Smolders (@GabSmolders) May 31, 2021
Early life and education
Gab was raised in the Netherlands alongside her brother and two older sisters, by their parents who prefer to be left out of media, thus nothing about them is known. Gab also spent some time living in Japan, as she's a huge fan of their culture.
She grew up watching animes and playing videos games, and this eventually led her to start learning Japanese language on her own. Gab studied at a local high school, and spent most of her spare time with boys as she could talk to them about video games and animes; she was also sporting, as she played soccer for the school's girl's team. Upon matriculating in 2006, Gab enrolled at Leiden University from which she obtained her Bachelor's degree in Japanese in 2010.
Twitch channel
Gab launched her Twitch channel on 1 December 2014, and it's today followed by close to 230,000 people making her the owner of the #1,702nd most popular channel on Twitch. She has spent over 3,100 hours livestreaming (over 130 days), and has amassed more than 2.5 million total views, while her highest recorded number of concurrent viewers was 8,083 on 11 December 2020. Gab usually averages around 1,900 viewers per stream.
She likes to livestream while just chatting with her fans, and has spent around 160 hours doing so – close to seven days. Gab's two favorite games are "Stardew Valley" and "Animal Crossing", as she's spent 153 and 94 hours playing these, respectively, and some of the other games she has played while livestreaming include "Minecraft", "Days Gone" and "Ghost of Tsushima".
Gab enjoys being active on Instagram because of the attention she's receiving from her 280,000 followers. She's uploaded close to 500 pictures, most of which have been taken during her everyday life.
She launched her Twitter account in April 2014 and it's today followed by close to 130,000 people – she tends to tweet every day. Gab doesn't have a TikTok account but the videos that feature her have been uploaded by other TikTokers, and these have amassed over 2.4 million views.
Love life and relationships
Gab's more or less secretive when it comes to her love life, and it's widely known that she was once married to Pyke, the owner of the YouTube channel "Taiyou Inc", subscribed to by only 2,000 people.
The two haven't shared the exact date of when they met or when they exchanged vows, but it's believed that they married in the mid-2010s – Gab revealed in 2018 that she had divorced Pyke earlier that year.
On 15 March 2019, Gab and Jacksepticeye announced that they were dating. The two could've been seen featured in each's videos since, and they have apparently moved in together, while there are unconfirmed rumors circulating the internet that they're planning to marry. Before Gab, Jacksepticeye was in a relationship with Wiishu, another YouTuber whose channel's subscribed to by over 360,000 people; they were together from 2015 to 2018.
As of May 2021, Gab's dating Jacksepticeye, was once married and doesn't have children.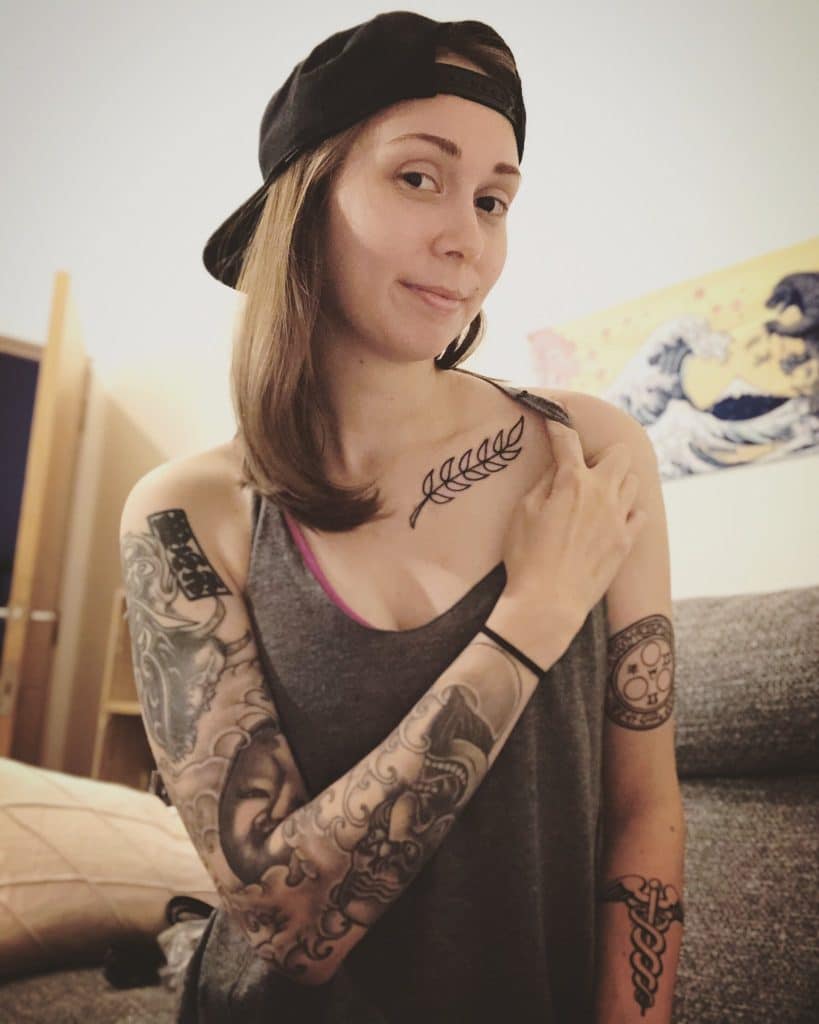 Hobbies and other interests
Gab's a fashionista as she's trying to keep up with the latest fashion trends, and she often goes shopping for clothes, making her a bit of a shopaholic.
She's a huge cat-lover, and her pet cat BB can be seen featured in many of her Instagram pictures, as well as in her YouTube videos.
Gab's a fan of tattoos, and both her arms are nearly entirely inked, and she's planning to have more of these inked onto other parts of her body.
She likes to travel, and has been to various European countries as well as to a couple of US states; her dream travel destination is Paris in France.
In her spare time which is mostly late at night, Gab enjoys watching movies starring her favorite actress Helena Bonham Carter, such as "Fight Club", "Alice in Wonderland" and "Sweeney Todd: The Demon Barber of Fleet Street".
Age, height and net worth
Gab's age is 32. She has long brown hair which she usually dyes blonde, and her eyes are brown. Her height is 5ft 11ins (1.8m) and she weighs around 150lbs (68kgs).
As of May 2021, her net worth has been estimated at over $1.5 million while her boyfriend Jacksepticeye's net worth is reputedly over $16 million.
Who is her boyfriend Jacksepticeye?
Sean William McLoughlin, better known online as Jacksepticeye, was born in Cloghan, County Offaly, Ireland, on 7 February 1990 – his zodiac sign is Aquarius and he holds Irish nationality. He's a famous YouTuber, who launched his channel on 24 February 2007, while it's today subscribed to by over 27 million people, and numbers more than 14 billion views of all his videos combined.
He uploads diverse content, including reviews, gameplays of popular video games, and pranks and challenges – Jacksepticeye's most popular video "ALL THE WAY – Jacksepticeye Songify Remix by Schmoyoho" has been watched over 96 million times since 22 July 2016.
He was raised in Cloghan alongside his four siblings, by their father John who passed away on 27 January 2021 aged 86, and their mother Florrie McLoughlin. He played football at elementary school, and after his eye was injured during a game, he was nicknamed 'Jack Septic Eye'. In his early teenage years, his family moved to Ballycumber in County Offaly, and they lived in a log cabin. Jacksepticeye was also interested in music, and was the drummer of the metalcore band Raised to the Ground; they released an extended play (EP) in 2009 entitled "Risen from the Ashes".
In 2013, the second most-subscribed YouTuber in the world – PewDiePie – mentioned Jacksepticeye in a video, thus helping him grow from 2,500 to 15,000 subscribers in only four days.
Jacksepticeye's a philanthropist too, who helped gather over $1.3 million to be donated to the Gates Foundation in December 2016, and the following year saw him help gather more than $260,000 for the foundation Save the Children. In January 2019, Jacksepticeye helped raise more than $100,000 for Make-A-Wish Foundation; some of the other charities and causes he has raised money for include COVID-19 relief, the Red Nose Day, and the bushfires in Australia.