• John Aniston is a Greek-American actor known for his role in Days of Our Lives, father of Jennifer Aniston, former US Navy officer, and fluent in multiple languages.
• He has been nominated for four awards, winning three Soap Opera Digest Awards for his performance in the series "Days of Our Lives".
• He was married to Nancy Maryanne Dow from 1965 to 1980 and has a daughter Jennifer Aniston from the marriage.
• He is married to his second wife Sherry Rooney Aniston and has two children, one from each marriage.
• He is an avid traveler and his net worth is estimated at over $10 million.
Who is John Aniston?
John Aniston was born as Yiannis Anastasakis in Chania on the island of Crete, Greece, on 24 July 1933 – his zodiac sign is Leo and he holds American nationality, as his family moved to the US when he was two years old. John's an actor, who's probably known best for his portrayal of Victor Kiriakis in around 4,000 episodes of the long-running romantic series "Days of Our Lives", which has been airing since 1965 and now numbering over 14,000 episodes. It was created by Allan Chase, Irna Phillips and Ted Corday, and today stars Deidre Hall, Frances Reid and John Clarke. The series follows the lives of the citizens of Salem, and has won 229 awards of the 731 it has been nominated for, including four Primetime Emmy nominations.
John's also known for being the father of the popular American actress Jennifer Aniston.
Early life and education
John was raised in Chester, Pennsylvania USA alongside his sisters Mary Aniston (died in 2017 aged 88) and Helen Aniston, and brother Gustau Aniston (died in 1937 aged 11) by their father Antonios Anastasakis who died in 1965 aged 76, and their mother Stella Joanne who died in 1992 aged 93. His parents owned a restaurant in Chester.
John became interested in acting while attending a local high school, but was urged by his parents to pursue a college degree, thus upon matriculating in 1951, he enrolled at Pennsylvania State University from which John obtained his Bachelor's degree in theatre arts in 1955. During his four years at the university, he was a member of the fraternity Alpha Chi Rho.
Following graduation, John joined the US Navy, was posted to Panama as an intelligence officer, and eventually attained the rank of lieutenant commander.
Roles in TV series
John made his debut TV series appearance with his portrayal of Officer #1 in the 1962 episode "New Man in the Precinct" of the crime drama "87th Precinct", and the following years saw him appear in an episode of various series, such as the action adventure comedy "I Spy", the western "The Virginian", and the romantic drama "Love of Life".
John gained recognition in 1980, when he was cast to play Martin Tourneur, one of the main characters in the long-running romantic drama "Search for Tomorrow", which aired from 1951 to 1986 counting 1,660 episodes – he appeared in 148 until 1984. The following years saw him make a guest appearance in an episode of various series, such as the science fiction adventure "Airwolf", the mystery crime drama "Diagnosis Murder", and the comedy "Worst Week".
In 2009, John was cast to play Herbert 'Wolf' James '09 in the episode "WASP" of the critically acclaimed mystery crime drama "Cold Case", created by Meredith Stiehm and which starred Kathryn Morris, John Finn and Danny Pino. It follows a female homicide detective specialized in solving old crimes which have now become 'cold cases'. The series won 12 of the 39 awards it was nominated for, including a Primetime Emmy nomination.
Two of John's most recent roles in TV series besides "Days of Our Lives" have been in the 2010 episode "Waldorf Stories" of the drama "Mad Men", and the 2011 episode "The Old Guy" of the comedy "The Paul Reiser Show".
Roles in movies
John made his debut film appearance (uncredited) with his portrayal of Birdman of Macy's in the 1963 romantic comedy drama "Love with the Proper Stranger", written by Arnold Schulman, directed by Robert Mulligan and which starred Natalie Wood, Steve McQueen and Edie Adams.
The movie follows a worker at Macy's department store who becomes pregnant after sleeping with a musician who doesn't remember her the day after. It was a hit as it was nominated for 12 awards, including five Oscars.
A couple of John's following roles were in the 1968 action adventure comedy "The Shakiest Gun in the West", the 1968 comedy "Now You See It, Now You Don't", and the 1993 drama "Night Sins". In 2007, he starred as The Wise Man in the short drama "Order Up", and the same year saw him play Nigel Barrington in the action fantasy adventure "Sands of Oblivion". In 2008, John played Mr. Gable in the romantic drama "The Awakening of Spring", as well as Detective Macomas in the drama "Fixing Rhonda".
Please help us wish #JohnAniston a happy anniversary! #DAYS #DaysofOurLiveshttps://t.co/Kw3p97AQIf

— Soap Opera News (@SoapOperaNewss) July 19, 2020
The year 2009 saw him portray Gerard Benedict in the family adventure comedy "The Gold & the Beautiful" written by Agnes-Nicole Winter who also starred in it alongside Sam Golzari and Tony Schiena. It follows a socialite from Beverly Hills who embarks on a treasure hunt with her dog.
John's only other movie appearance has been his portrayal of Ned in the 2014 drama "Return to Zero", which failed to attract any attention, and received mixed reviews.
Other credits
In 1997, John received special thanks for the romantic comedy movie "Picture Perfect", which starred his daughter Jennifer, and Kevin Bacon.
He has been featured in a number of TV specials and documentary movies, such as the 1995 "22nd Annual Daytime Emmy Awards", the 2003 "29th Annual People's Choice Awards", and the 2020 "Jennifer Aniston: More Than Friends".
John has made a guest appearance in various talk-shows, such as "Sally Jessy Raphael", "Entertainment Tonight", and "The Jeff Probst Show". He also competed in the game-show "Super Password" back in 1986.
Awards and nominations
John has been nominated for four awards, winning three Soap Opera Digest Awards for his performance in the series "Days of Our Lives": he won two in 1986 for Outstanding Villain on a Daytime Serial and Outstanding Actor in a Leading Role on a Daytime Serial, and one in 2001 for Outstanding Supporting Actor.
He has also been nominated for a 2017 Daytime Emmy Award for Outstanding Supporting Actor in a Drama Series for "Days of Our Lives".
Love life and relationships
In 1965, John exchanged vows with the late American actress Nancy Maryanne Dow, who's probably still remembered for her portrayal of Jan Wilson in the 1969 horror movie "The Ice House".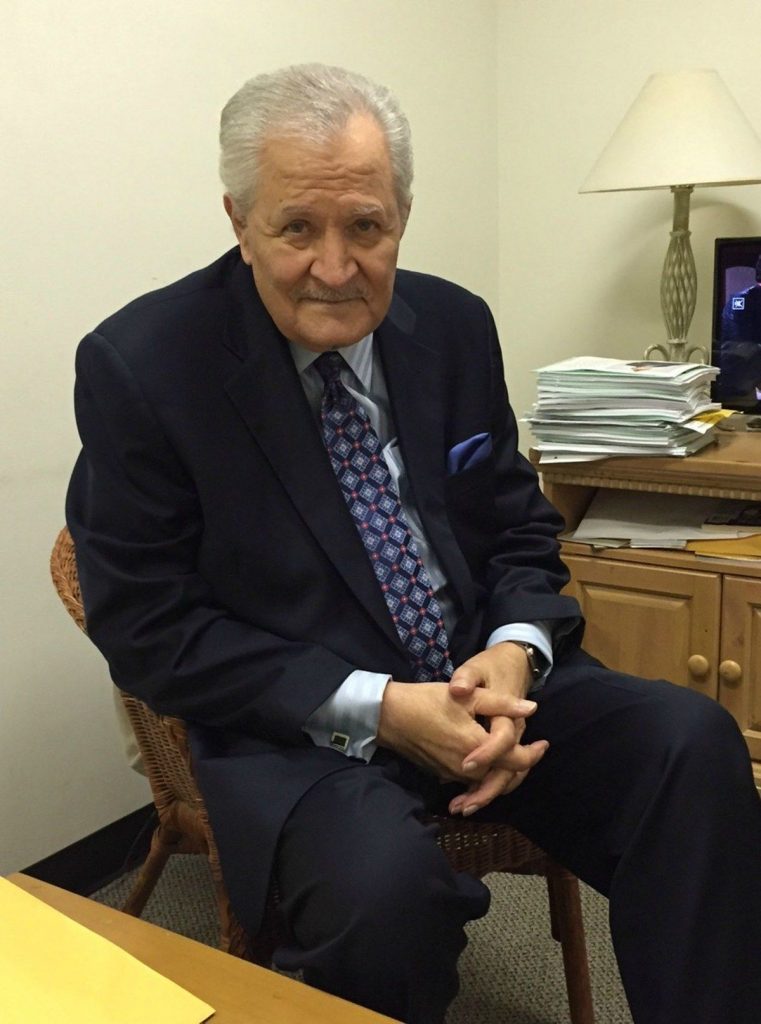 On 11 February 1969, she gave birth to her and John's daughter Jennifer Aniston, but in 1980, John and Nancy divorced for unknown reasons. In 1999, Nancy published her book "From Mother and Daughter to Friends: A Memoir" which led Nancy and her daughter Jennifer to become estranged, however, they reconciled in 2005 after Jennifer divorced the famous American actor Brad Pitt. On 25 May 2016 two days after having been taken to hospital, Nancy died aged 79.
Four years after his divorce, John married Sherry Rooney and she gave birth to their son Alexander who's said to be a businessman.
As of April 2021, John's married to his second wife Sherry Rooney Aniston, and has two children, one from each marriage.
Hobbies and other interests
John has been keen on learning languages since a very early age, and he's today fluent in English, Spanish and Greek. He's also able to understand people speaking Italian and French.
John's not very happy with show business, as he's described how you get 'chewed up and spat out'. He has also stated that it's only business, and that one has to be smart to succeed in it.
He's keen on travelling, and his career has taken him to many US states, while he's also travelled to Greece many times to visit his friends and cousins. John's taken tours around Europe too, visiting Spain, Germany and England, amongst other countries.
He has his own favorite actors and actresses, some of whom are Al Pacino, Leonardo DiCaprio and Natalie Portman, and his favorite movies include "Titanic", the trilogy "The Godfather" and "V for Vendetta".
Age, height and net worth
John's age is 87. He has short gray hair and brown eyes, his height is 6ft 2ins (1.88m) and he weighs around 180lbs (82kgs). As of April 2021, his net worth has been estimated at over $10 million, while his daughter Jennifer's net worth is reputedly over $300 million.
Who is Jennifer Aniston?
Jennifer Joanna Aniston was born in Los Angeles, California USA – her zodiac sign is Aquarius and she holds American nationality. She's an actress with around 60 acting credits to her name, and who has been nominated for 133 awards, winning 43 including a 2003 Golden Globe for Best Performance by an Actress in a Television Series – Comedy or Musical for the romantic comedy series "Friends". She's known best for her portrayal of Rachel Green in the same series, which aired from 1994 to 2004 numbering 235 episodes, created by David Crane and Marta Kauffman. It also starred Courteney Cox, Lisa Kudrow and Matt LeBlanc, and follows the lives of six friends living in Manhattan – the series won 77 awards of the 297 it was nominated for.
Jennifer studied at Waldorf School, and was 11 when she became interested in acting.
HAPPY (BELATED) BIRTHDAY TO JOHN ANISTON (ANASTASAKIS)! The Greek-American actor (born in Chania, Crete) turned 86 on July 24. See more on www.GreekGateway.com

Posted by Greek Gateway on Saturday, August 3, 2019
She went on to attend Fiorello H. LaGuardia High School of Music & Art and Performing Arts in Manhattan, and upon matriculating in 1987, she chose not to attend college but to focus on her career as an actress.
Her career was launched in 1988, when she made an appearance in the science fiction comedy film "Mac and Me", while she won her first lead role in 1990 in the drama movie "Camp Cucamonga". Jennifer became famous worldwide after the series "Friends" began airing. In 2003, she starred alongside Jim Carrie in the comedy movie "Bruce Almighty", which grossed close to $500 million worldwide. A couple of her following notable performances were in the 2006 romantic comedy movie "The Break-Up", the 2008 comedy film "Marley & Me", and the 2010 romantic action comedy movie "The Bounty Hunter" in which she starred alongside Gerard Butler.
One of Jennifer's most recent roles has been her portrayal of the lead character Alex Levy in the drama series "The Morning Show", which has been airing since 1 November 2019, and also stars Reese Witherspoon.
On 22 February 2012, Jennifer received her own star on the Hollywood Walk of Fame.
She's more focused on her mental health than physical and Jennifer's practicing Budokan karate and Hatha yoga.
In 1995, she began dating the American actor and film director Tate Buckley Donovan, but the two split three years later. In 1998, Jennifer met the famous actor Brad Pitt on a movie set, and on 29 July 2000 they married in a large ceremony attended by their wide circle of friends and family members. Jennifer and Brad separated on 7 January 2005, and their divorce was finalized on 2 October of the same year.
In 2008, she briefly dated the famous American singer-songwriter John Clayton Mayer, and in May 2011, Jennifer began seeing the famous American actor, film producer and director Justin Paul Theroux. The two became engaged on 10 August 2012, married on 5 August 2015 but split in the late 2017.
Jennifer's a philanthropist who has worked with various charity organizations, and has donated money to St. Jude's Children's Research Hospital on multiple occasions. She's a supporter of the LGBT community, and has received various awards and accolades for her charitable work, including a 2007 Gay & Lesbian Alliance Against Defamation (GLAAD) Vanguard Award, while she was in 2013 named the Entertainment Industry Foundation Ambassador. Jennifer has also donated $500,000 to both the Red Cross and Doctors Without Borders.