• Nancy Juvonen is an American film and TV producer, co-founder of production company Flower Films, and wife to TV show host Jimmy Fallon.
• Nancy Juvonen was born in Connecticut to parents William Harwood Juvonen and Pamela Robin Newell.
• Nancy and Jimmy Fallon first met on the set of "Saturday Night Live" in 2004 and had their first date in London.
• Nancy has worked odd jobs and had a successful career in Hollywood producing films such as "Charlie's Angels" and "How to be Single".
• She has an estimated net worth of $20 million and her husband Jimmy Fallon has a net worth of $60 million.
• Nancy is 5ft 4ins (1.63m) tall and weighs about 120lbs (55kgs), with blonde hair and blue eyes.
Nancy Juvonen is an American film and TV producer. She may not be a big name in the limelight, but has been behind numerous films we all fell in love with, such as "Charlie's Angels", "Never Been Kissed", and "He's Just Not That In to You." Nancy is the co-founder of the production company Flower Films, a notable entity within the industry. Besides being a prominent producer, Nancy is also the wife to the popular TV show host Jimmy Fallon.
Who is Jimmy Fallon?
James Thomas Fallon is an American actor, comedian, singer, television host, producer and writer. Fallon was born to reserved parents in Brooklyn, New York City on 19 September 1974. For a hot minute Fallon considered becoming a priest based on his experience as an altar boy, however, he discovered his passion for entertainment, and spent numerous nights listening to "The Dr Demento Show" which exposed him to comedy and music.
As he grew into a teenager, he began identifying with "Saturday Night Live" (SNL) and watched it religiously. Having strict parents, he was only allowed to watch what they deemed to be the 'clean parts' of the show that they taped for him. James would re-enact sketches he had seen on the show, and fascinated his parents with his ability to impersonate any character he took on.
In 1995, Fallon dropped out of College of Saint Rose and moved to Los Angeles to pursue a career in stand-up comedy. Luck was on his side, because in 1998 he secured a position on NBC's "SNL", fulfilling a lifelong dream. Fallon had initially intended to stay on the show for a maximum of three years, but changed his mind when he was given a bump-up to co-host 'The Weekend Update' segment with writer Tina Fey, which turned him from that guy we see on TV into a household name.
After six years, Fallon was ready to try his hand in film, and quit his job with "SNL", and was cast in "Taxi" (2004) and "Fever Pitch" (2005). However, a comedian in a film wasn't necessarily what people wanted to see, and the ratings spoke for themselves. Fallon's career in film was quickly shelved.
Fallon returned to TV in 2009, as the host of "Late Night with Jimmy Fallon" on NBC, and then went on to become the sixth permanent host of the long-running TV series "The Tonight Show" in 2014. You can imagine not too many people were happy about the decision, however, he charmed his way back into fan's hearts.
During his career, Fallon has released two comedy albums and seven books, mainly focused towards children.
Early Life and Education
Nancy Juvonen was born on 18thMay 1967, in Connecticut, to parents William Harwood Juvonen and his first wife Pamela Robin Newell.  The two married on 13 July 1965 and divorced on 15 February 1973; they have two children, Nancy and her brother Jim Juvonen.
Nancy has the ability to withstand adversity, and it appears it runs in the family. Her father, a marine aviator, was once forced to eject from an F-8C crusader jet that experienced failure during a training session, and according to reports he did what most would deem impossible. Guess you could say the kick ass attitude is inborn. He father passed in 2018.
It is unclear where Nancy attended her earlier education, but she subsequently graduated from the University of Southern California with a degree in Sociology and Co-operative Education.
Relationship with Jimmy Fallon
Nancy and Jimmy Fallon first met on the set of "Saturday Night Live" in 2004, when Nancy snuck into the area where he and Drew Barrymore were rehearsing sketches for the show they were hosting together. On noticing her, Jimmy tried to make her feel welcome. Barrymore later said in an episode that Jimmy's friendliness and accommodative nature stuck with her.
The pair met again on the set of "Fever Pitch", a show produced by Flower Films starring Drew Barrymore and Jimmy Fallon. It was during their time filming the show that the couple really got to know each other, without the pressure of being on a first date. Nancy admitted that she developed a crush on Fallon, when she noticed how attentive and loving he was towards co-producer Bradley Thomas' kids.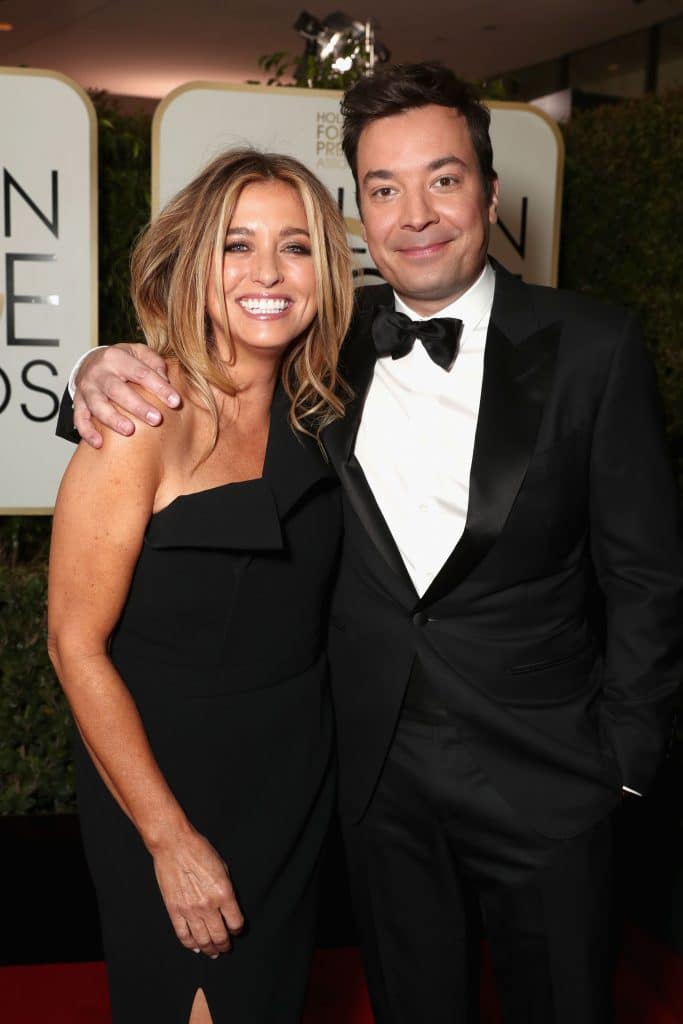 At this point you're thinking they must have immediately begun a beautiful relationship, right? Wrong!
It wasn't until the pair reunited at a business meeting in London that they had their first date. You know how we get to see the actual proposal and the cute pictures that are plastered all over social media? Turns out in Fallon's case, he might have needed a little more than just one attempt at a proposal.
In 2018, Fallon was feeling nostalgic, and shared how his attempts at a proposal went. He recalled wanting to propose in early 2007, as Juvonen surprised him with dinner plans when she was visiting New York. According to Fallon, he had to reschedule because he didn't want to propose to her at a restaurant, that would probably close down and be replaced by a laser tag.
He probably watched that chance blow away with a knot in his throat.
After a failed first attempt, one would think his second attempt would be like a scene out of a movie. Well, so did Fallon, but boy was he wrong! After a meticulously planned romantic getaway at Nancy's family home on Lake Winniepesaukee, New Hampshire, the moment of truth came and Fallon begun weeping. Nancy must be the master of retorts, because she asked him if he was having a stroke. It's no wonder that these two ended up together – their sense of humour is rare.
The two married soon after; they had intended to tie the knot the next summer, but quickly realized that wedding planning is everything they don't make it out to be in movies.
Once they learnt that their dream destination, Necker Island, had opened up, they made the jump to marry immediately, with only twelve people at the wedding.
The couple had a five-year-long battle with infertility but were finally blessed with two daughters; Winnie Rose in July 2013 and Frances Cole Fallon in December 2014. The pair is open about using a surrogate and are just glad they are able to experience the beautiful gift of parenthood.
Career
Nancy didn't just ease into a career in Hollywood, she actually had to break a sweat before anyone acknowledged her prowess. Before making it big, she did odd jobs and worked on a dude ranch in Wyoming.
She later landed a job as a private flight attendant, which she enjoyed as she had picked-up on travelling as a hobby during her time in college, for an artist focused on eradicating homelessness. She began to interact with the right people when she worked as an assistant to Clarence Clemons of 'E Street Band.'
In 1993, the sun begun to shine brightly on Nancy when she visited her older brother Jim, who was working on the set of "Mad Love" as a writer and producer, and met Drew Barrymore. The two instantly hit it off and soon they started a production company together. Nancy says that she had no clue on producing, but she built a successful career nonetheless. The production company is behind a number of hit movies, and has starred Drew Barrymore severally.
Some of their works include "Charlie's Angels: Full Throttle" (2003) and "How to be Single" (2016). Some of their TV works are "Santa Clarita Diet" (2017-2019), and most recently " The Drew Barrymore Show" (2020-present).
In 2000, Nancy was nominated for a Primetime Emmy in the category Outstanding Animated Program (for Programming More than One Hour). Quite frankly, just looking at her portfolio you can be sure she's about to produce some more great films.
Net worth
Nancy is a hard working woman, who now has significant net worth to show for it. In the years she has been active within the industry, she has accumulated an estimated $20 million to her name. Her husband Jimmy Fallon has also amassed a considerable amount of $ 60 million.
Physical characteristics
Nancy may have chosen a career behind the scenes, but she could easily have done as well on the frontline. At 53, she still looks as youthful as ever; Nancy's 5ft 4ins (1.63m) tall and weighs about 120lbs (55kgs). She has blonde hair and blue eyes.