• Courtney Miller is an American comedian, actress and YouTube star.
• She grew up in California USA with 6 siblings and showcased her talents from an early age.
• She was a Vine star before joining the Smosh crew in 2015 and has since made over 200 appearances in their videos.
• She runs her own YouTube channel with over 340,000 subscribers and 8 million views.
• She is into make-up, anime, cartoons, mountain climbing and is a fan of "Rick & Morty".
Who is Courtney Miller?
Courtney Miller is an American comedian, actress and YouTube star, who gained recognition by being a member of the Smosh YouTube channel, which is comprised of such stars as Ian Hecox, Anthony Padilla and Shayne Topp, among others.
Courtney Miller Biography: Age, Childhood, and Education
Courtney Miller was born on 19 June 1995 under the Gemini zodiac sign, in California USA, to Kenn Miller and Corey Miller. She grew up in a small town next to Malibu, California USA with her six siblings, three brothers and three sisters.
From an early age, she started showcasing her talents, as she was just ten years old when she produced her first scripted video that she wrote. She left college and worked at a pharmacy store, but would quit her job for an opportunity as an internship in cinematography.
Career Beginnings
Before she became a huge YouTube hit, Courtney was a Vine star. She began uploading short comedy videos onto the popular video-sharing platform in 2013, and in a couple of years became a star.
Before Vine ceased to exist, Courtney had more than 200,000 followers, and had already collaborated with a number of other popular Viners, including Jake Moreno, Brandon Calvillo, Alex Ernst and others. This put her on the community map, and in 2015 she was invited by the Smosh crew to join their team.
Rise to Prominence
She joined Smosh instantly, and since then has made a number of appearances in their videos and steadily increased her popularity.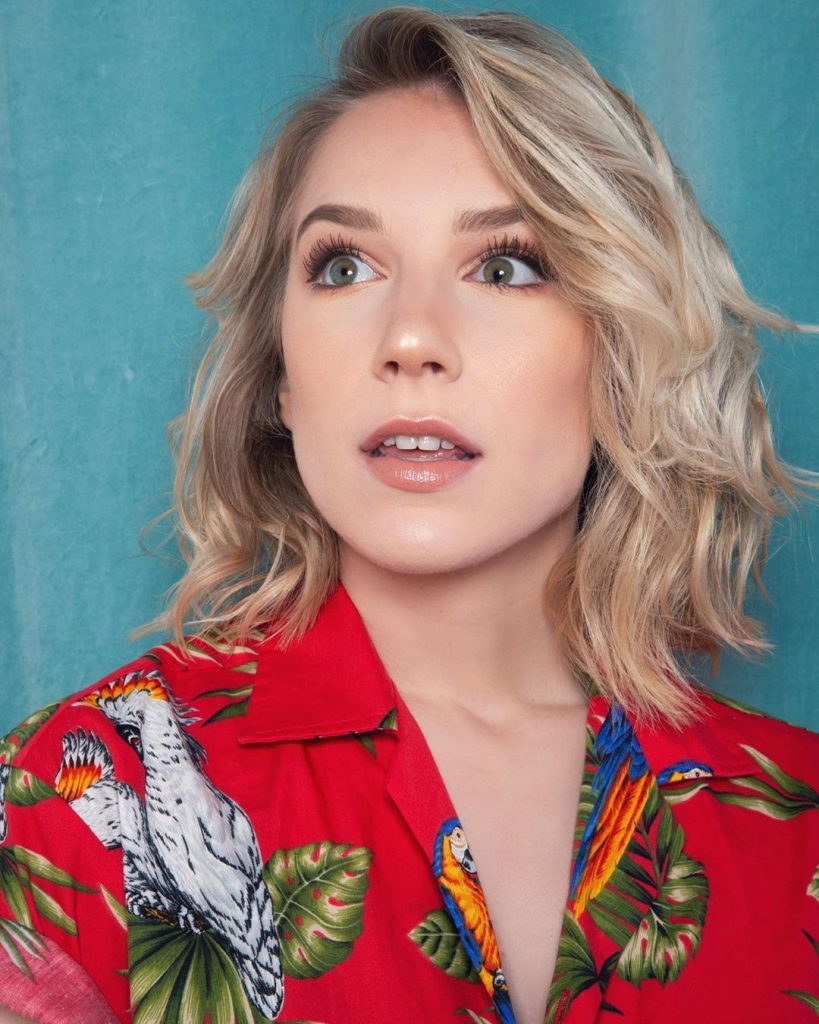 Some of the most popular videos in which she appears on the Smosh channel are "Every Halloween Ever", with more than 23 million views, and "How to Cheat Your Girlfriend", which has a total of 24 million views. Courtney is the lead actress in their comedy series "Smosh", making over 200 appearances so far. With the Smosh crew, she has created and hosted several web shows too, including "Absolutely Super Dumb Sleepover" (2015-2017), on which she worked with Olivia Sui.
Then she is the star of the comedy show "Every Blank Ever" (2015-2021), created by Anthony Padilla and Ian Hecox, with Shayne Topp and Olivia Sui. Other shows that she has worked with the Smosh crew include "The Big What If" (2016-2017), which was created by Joe Bereta and Ryan Todd, while she's also lent voice to several characters in the animated series "Smosh Babies" (2016-2017), which depicts Ian Hecox and Anthony Padilla as babies.
Solo Work
In addition to her extensive work with the Smosh crew, Courtney also runs her own YouTube channel, on which she has more than 340,000 subscribers.
The first video that she uploaded was her "Vine Compilation", followed by the second installment of her Vine videos. She began uploading daily vlogs on her channel, and a Q&A video in which she talked about her previous jobs, among other things from her life.
She continued making funny videos mixed with daily events from her life, such as the video entitled "Me harassing my relatives for 13 minutes straight", which made her more popular.
Her videos now have more than eight million views, and some of the most popular videos include "I Leaked my own nudes on accident", which has over 925,000 views, then "I vlog the Smosh fam during Smosh Summer Camp", which has been viewed more than 825,000 times, and "What am I doing with my life?", with more than 650,000 views, among numerous other videos that have contributed to her popularity and wealth.
Personal Life, Married, Single, Boyfriend
When it comes to her personal life, Courtney was in a relationship with YouTube star Wahlid Mohammad from May 2018 until 2019, when they broke up.
Since then, she hasn't talked about her love life, though it was rumored that she is in a relationship with Shayne Topp, her co-star from Smosh, however, the rumors were untrue.
Net Worth
As of mid- 2021, Courtney Miller's net worth has been estimated to be around $1 million, earned largely through her successful career as an online content creator and writer for Smosh.
Appearance and Vital Statistics
The prominent YouTuber has blue eyes and blonde hair; she stands at a height of 5ft 7ins (1.7m), weighs approximately 119lbs (54kgs), while her vital statistics are 33-25-33, bra size 38B.
Hobbies, Interests, and Trivia
During her high school years, Courtney was involved in several sports, mostly focused on track and field including pole vaulting, and has remained pretty active, working out quite often both indoor and outdoor. She has a rather adventurous spirit and has said that she enjoys mountain climbing.
Courtney is into make-up, and is a rather talented special effects make-up artist, which she's showcased in several of her videos.
She is into anime and cartoons on the whole, and is a huge fan of the popular animated series "Rick & Morty".