• Jimmy Urine is a well-known singer/songwriter and musician, and one of the founding members of electropunk band Mindless Self Indulgence.
• He has embarked on various side projects, such as composing music for a videogame and collaborating with Serj Tankian on the album "Funktronic".
• Jimmy has also acted in a few movies and music videos and voiced one of the videogame's characters.
• He is married to singer-songwriter Chantal Claret and they have twin daughters.
• As of mid-2021, Jimmy's net worth is estimated to be $2 million.
Who is Jimmy Urine?
James Euringer, also known as Jimmy Urine, was born on 7th September 1969, in New York City, USA, and is a well-known singer/songwriter and musician, and one of the founding members of electropunk band Mindless Self Indulgence. His associated labels include Uppity Cracker, The End Records, and Metropolis Records.
Jimmy's Music Career
Some time after matriculating from a Catholic high school, and dropping out of art school, Jimmy joined forces with his brother Markus Euringer, to release their debut album "Mindless Self Indulgence".
That led to the brothers founding the band of the same name, and finding two more members: drummer Jennifer Dunn, artistically known as Kitty, and guitarist Steve Montano, known as Steve, Righ?
Markus left the group after the brothers released their second album, "Crappy Little Demo", and was replaced by bassist Vanessa Y.T, who was replaced later on by Lindsey Way, known as Lyn-Z. When asked in an interview why Markus and Vanessa left, Jimmy, quipped: "I would totally leave this band if I could, wouldn't you?".
Jimmy and Steve, Righ? soon embarked on a side project together, branding themselves The Left Rights and releasing a 39-track album. Their second collaborative album was entitled "Bad Choices Made Easy".
Other side projects of Jimmy's include composing music for 2012 videogame Lollipop Chainsaw, voicing one of the videogame's characters, Zed, and collaborating with Serj Tankian on album "Funktronic", which was released in May 2020.
In October 2018, Jimmy released the self-titled album "Euringer", with contributions from artists such as Grimes and Gerard Way. In an interview, Jimmy praised Grimes for being "the most DIY artist. For how big she is and how much she's in the press, she is so DIY and does every single thing. I really admire that, and I like the fact that she's very proud about that."
Speaking on "Euringer", Jimmy explained: "The running theme is that it's mainly like as if I was starring in a one-man show on Broadway, and the only person in the audience is me."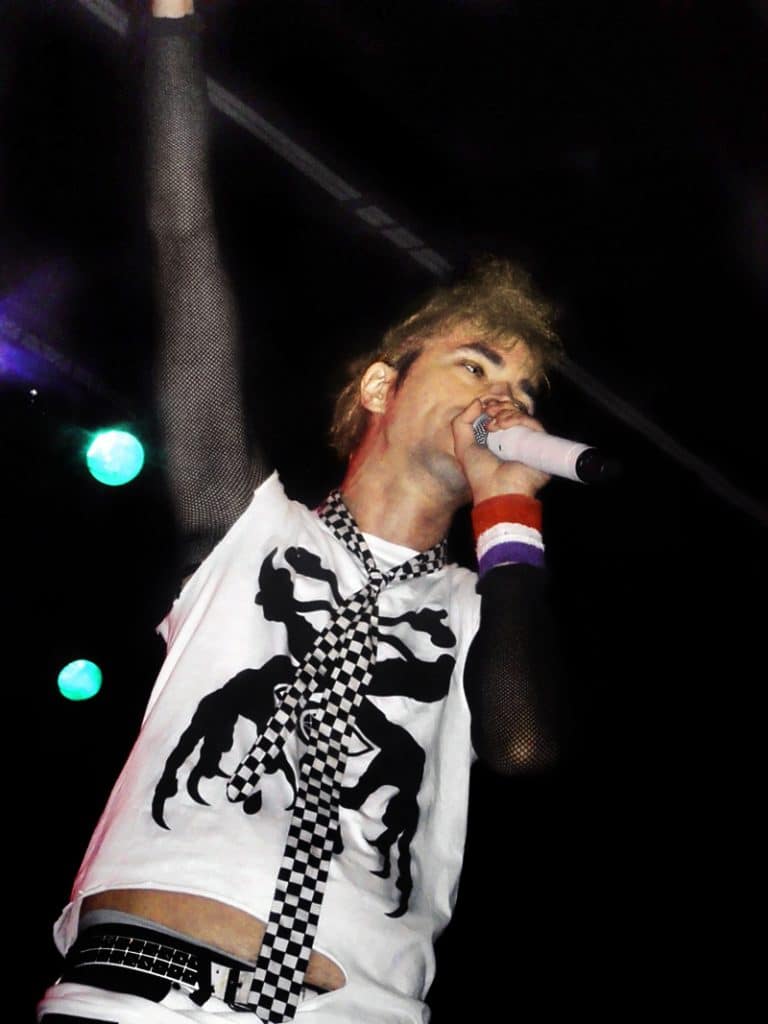 He also compared the album to an acid dream, and branded it "counter-culture".
Jimmy and Film
Being multi-talented, Jimmy has also dabbled in the film industry, composing songs for movies such as "Guardians of the Galaxy Vol. 2". But what some fans don't know is that Jimmy has acting credits going all the way back to 2010, when he appeared in a My Chemical Romance music video.
In 2016, Jimmy appeared in "Alleluia! The Devil's Carnival" as Translator Bentz, and also performed "Good Little Dictation Machines" in the movie. The next year, he was in "Guardians of the Galaxy Vol. 2" as Halfnut, and had a cameo in the series "Hidden America with Jonah Ray".
Jimmy's Personal Life
Jimmy tied the knot with his wife, singer-songwriter Chantal Claret, in January 2008. In an interview, Chantal stated: "…We're committed to each other forever and our lives, and I wanna grow old with him and have his babies. I just wanna see what they look like and then I'll throw them away. It's gonna be like some weird mutt."
Chantal was lead singer of rock band Morningwood until going solo in 2012. Her associated labels include Capitol Records MTV and Networks The End Records, and her solo songs have featured in commercials and series including VH1's Mob Wives.
Chantal also began a three-month Vegas residency in September 2012, and signed as a songwriter with label BMG six months later.
In January 2019 after eleven years of marriage, the couple announced via Instagram that they were expecting twin girls. In June that year, Claret wrote the article "How Pregnancy Has Zapped My Creative Drive" for The New York Times. In the same month, she gave birth to Georgie and Isadora Euringer.
As recently as June 2020, Jimmy uploaded a photo of the twins on Instagram for Mother's Day. The happy family currently lives in New Zealand, where they moved in 2018. Chantal regularly uploads photos of the four on her Instagram, and she also likes to promote charitable causes.
In June 2018, she protested immigration polices in New Zealand, and she is a staunch supporter of trans rights. With help from her fans, Chantal also collaborated with the Texas Diaper Bank, and donated a total of $800.
Jimmy's Scandals
Jimmy is no stranger to controversy. Some members of the public have questioned his repetitive use of the n-word in earlier songs, and photos of the singer in blackface are floating around on the internet to this day. He has also been called out for using hateful slurs, selling fans – some underage – kisses for a dollar after shows, and letting fans of all ages undress and grope him at concerts.
During one memorable performance, he even set his pubic hair on fire, and on another occasion was arrested for indecent exposure.
Jimmy's wife Chantal was also under scrutiny, after photos surfaced of her at a pedophilia-themed party with disgraced Disney director James Gunn. Chantal also posed in front of a Confederate flag, and has supported racist cops in the past. In another scandalous moment, she mocked underage fans with mental illness, referring to them as "skin wearers".
Lindsey Way, Mindless Self Indulgence's current bassist, has previously been accused of publishing ableist and transphobic tweets, and doxing a My Chemical Romance fan with Chantal.
She also branded people with bipolar disorder "parasites who need to seek help", and was blasted for calling hip-hop videos "disgusting".
As for Steve, Righ?, he was criticized for racist and anti-semitic lyrics and fat-shaming. Luckily for Jimmy and the rest, scandals come and go, and most fans chalk the singer's antics down to doing things for "shock value".
Jimmy's Net Worth
As of mid-2021, reliable sources confirm that Jimmy has a pretty decent net worth of $2 million, amassed from his career which spans over three decades since the late '80s. Jimmy continues touring, selling merchandise, and releasing music to this day, as well as dabbling in the film industry and doing voiceovers from time to time.