• LoveLeo is an American musician, singer, songwriter and internet sensation with over one million fans on TikTok
• He is the son of the famous actor John C. Reilly and his wife, film producer Alison Dickey
• He is in a relationship with model and artist Julia Marie and they often feature in his short TikTok videos
• LoveLeo has released several hit songs and his videos on YouTube have over 11 million views
• He is estimated to have a net worth of around $500,000
Who is LoveLeo?
LoveLeo is an American musician, singer, songwriter, and internet sensation with more than one million fans on the popular social media platform TikTok. He has released several songs, and the music video "Boyfren" has attracted more than 13 million views on YouTube.
Real Name, Age, Parents, and Education
Born Leo Reilly on 3 September 1998, in Los Angeles, California USA, he is the son of the famous actor John C. Reilly, and his wife, film producer Alison Dickey. He has a younger brother, Arlo. When it comes to his educational background, Leo hasn't shared which school he attended, but said that he was focused more on making friends, listening to music with them, and choosing which clothes to wear than education.
TikTok Star
Growing up in a family of artists, Leo was leaning towards a career in performance arts himself. He discovered Photoshop pretty early, and started editing photos and videos, then with the expansion of TikTok, Leo began uploading short videos on his official TikTok account. His funny, short videos combined with his extravagant look made him quite popular almost instantaneously; he continued to make videos almost daily, further increasing his popularity.
Rise to Stardom, Musicianship
As he was becoming more popular, Leo launched a music career too, and in November 2019 released his first music video "Boyfren", which soon became a hit.
More songs followed, including "ROSIE", "Lemons", "Head Over Heels", and most recently "Tung Tied", among several other hit songs. All of this helped him become what he is today, and his videos on the YouTube channel now have more than 11 million views. His editing skills have also made him the star that he is today, since all of his videos Leo has made himself. In addition to music videos, LoveLeo has also created challenge videos and daily vlogs.
Personal Life, Dating, Single, Gay?
Due to his out-of-the-ordinary looks, Leo faced comments about his sexuality as many thought that he might be gay. His clothing style spawned comments that he is the reincarnation of Freddie Mercury or even his son.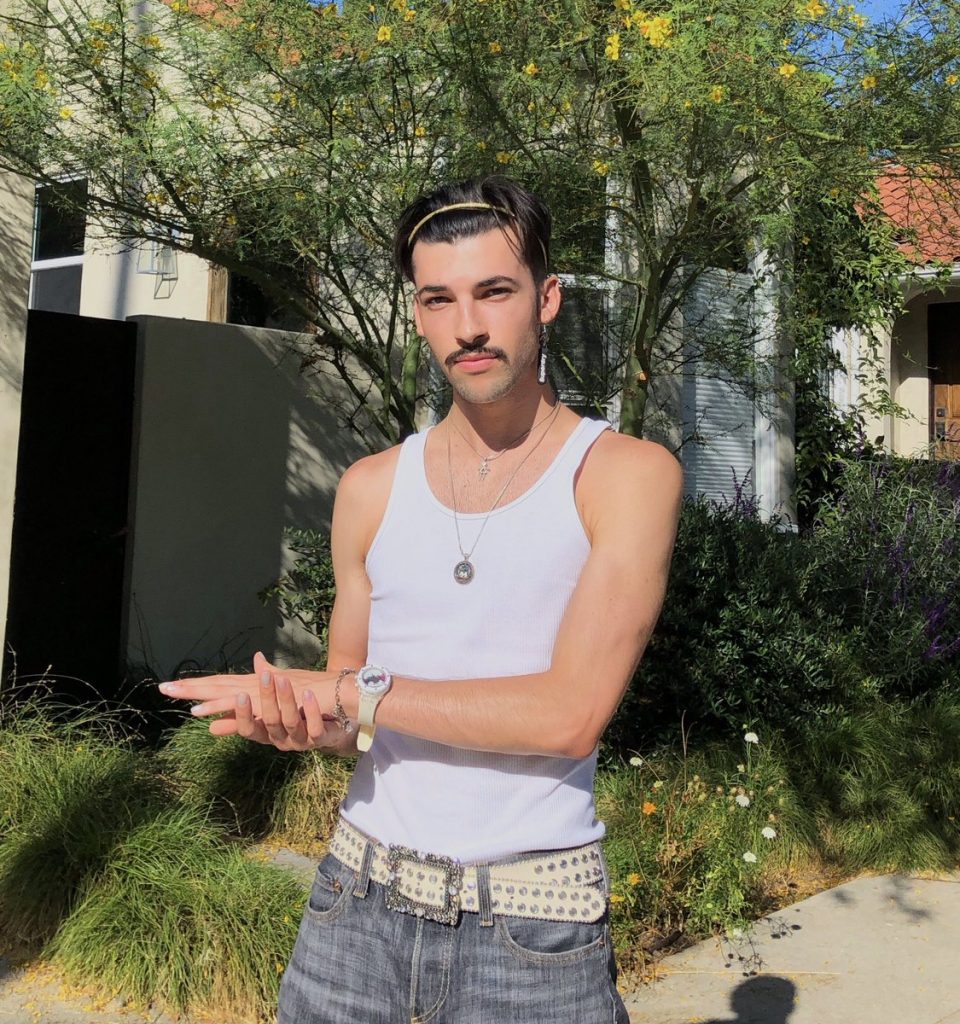 However, Leo isn't gay, just rather flamboyant – he's in a relationship with model and artist Julia Marie, and the two have been together since the start of Leo's career; she is often featured in his short TikTok videos.
Net Worth
As of mid- 2021, LoveLeo's net worth has been estimated to be close to $500,000, earned through his successful career as an online content creator and musician.
Appearance and Vital Statistics
This prominent musician and TikTok star has black hair and blue eyes, and is also known for his mustache. He stands at a height of 5ft 10ins (1.78m), while he weighs approximately 165lbs (75kgs;.his vital statistics are 42-32-38.
Hobbies and Interests
LoveLeo has several other interests, one of those hobbies is jewelry. In his free time, he makes and sells novelty jewelry, all of which are his own creation. He also enjoys dancing and traveling.
He has traveled across the US, and been seen at several red carpet events with his father.
LoveLeo's Father, John C. Reilly
John Christopher Reilly was born on 24 May 1965, in Chicago, Illinois USA, of Irish, Scottish and Lithuanian ancestry. He was mischievous while growing up, and talking about his dirty deeds from childhood, include stealing 500 boxes of Sugar Corn Pops from a freight train with his friends – John was just 12 at the time.
Raised as a Roman Catholic, John attended Brother Rice High School, and then enrolled at The Theatre School at DePaul University in Chicago.
Career
John is an Academy Award-nominated actor, and has showcased his acting skills both on screen and on stage. He has made more than 100 film and TV appearances – his debut was in the film "Casualties of War" in 1989. He continued with supporting roles throughout the '90s, in such films as "Days of Thunder" and "State of Grace" both in 1990, then "What's Eating Gilbert Grape" (1993), "The River Wild" (1994), "Hard Eight" (1996), and "Boogie Nights" (1997).
John was becoming more popular in the 2000s, starting with the part of Dale 'Murph' Murphy in the film "The Perfect Storm" (2000), then as Amos Hart in the critically acclaimed film "Chicago" in 2002, while in 2006 he starred in the film "Talladega Nights: The Ballad of Ricky Bobby", and in 2007 he was Dewey Cox in the film "Walk Hard: The Dewey Cox Story". The following year, he starred with Will Ferrell in the comedy film "Step Brothers", and in 2010 he was Gershon Gruen in the film "The Extra Man".
He continued quite successfully into the 2010s, first as the voice of Ralph in the animated film "Wreck-It Ralph", which grossed over $470 million, and in 2014 he had the role as Corpsman Dey in another blockbuster, "Guardians of the Galaxy", and in 2015 he was the Lisping Man in the film "The Lobster".
In 2017 he played Hank Marlow in the film "Kong: Skull Island", in 2018 portrayed Oliver Hardy in the film "Stan & Ollie", and in the same year played Dr. Watson in the film "Holmes & Watson".
In recent years, John has been focused on television roles. In 2020 he played Cap in the short-lived sci-fi comedy series "Moonbase 8" (2020), and will portray Jerry Buss in the TV series about the Los Angeles Lakers of the National Basketball Association (NBA), which is still without a title, and scheduled for release in 2022.
Net Worth and Personal Life
John C. Reilly's net worth has been estimated to be around $50 million, as of mid- 2021, earned through his successful career as an actor, producer, writer, and singer as well, since he also has a band, John Reilly and Friends, collaborating with a number of musicians including Jack White, among others.
John met his future wife Alison Dickey in Thailand when working on the "Casualties of War", when she was actor Sean Penn's assistant. The two married in 1992, and have since then welcomed two children.