• Iris Law is a model and social media star, daughter of actor Jude Law and actress/fashion designer Sadie Frost.
• Iris was hospitalized after mistakenly eating an ecstasy tablet in 200•
• She has been in a relationship with Jyrrel Roberts since 2018, and she was previously with Kelvin Bueno for about a year.
• She is passionate about traveling, and enjoys swimming, playing beach sports and sun tanning.
• Her father, Jude Law, is an acclaimed actor with an estimated net worth of over $45 million, and her mother, Sadie Frost, has an estimated net worth of over $4 million.
Who is Iris Law?
Iris Tallulah Elizabeth Law was born in London, England on 25 October 2000 – her zodiac sign is Scorpio and she holds British nationality. She's a model and a social media star, but who's probably known best for being the daughter of the famous British actor Jude Law and the British actress and fashion designer Sadie Frost.
Early life and education
Iris was raised in London alongside her siblings Rudy and Rafferty Law, and her maternal half-brother Finlay Kemp by their parents.
In 2002, Iris was hospitalized after having eaten an ecstasy tablet by mistake.
Her parents were criticized by their fans for this, but Sadie explained that they attended a child's birthday party at Soho House and that she found and ate the tablet on the floor there. In 2003, Jude and Sadie filed for divorce; Jude then dated the models Catherine Harding and Samantha Burke who gave birth to Iris' two half-sisters.
Iris attended a local high school at which she became interested in acting, appearing in various school plays, however, she soon learned that acting wasn't her call, and decided to switch to modelling. She was 15 when she launched her career as a model, and thus upon matriculating in 2018, Iris chose not to pursue a college degree, but to work on her career.
In December 2015, Iris was invited to attend a modelling audition, signed a contract with an agency, and appeared in the magazine "Illustrated People". In 2017, she was featured in the lookbook "Miu Miu's Resort", and in January, March and July of the same year, she appeared in three campaigns for the brand Burberry Beauty.
Iris is about to make her debut TV series appearance, as she has been cast to play Soo Catwoman in the upcoming biographical musical mini-series "Pistol".
She's highly active on Instagram, and is followed by more than 420,000 people, while she has uploaded over 350 pictures, most of which have been taken during her everyday life; Iris has a sheep for her profile picture.
She's also active on TikTok, on which she's followed by around 35,000 people, while she's gathered close to 250,000 likes of all her videos combined.
Love life and relationships
Iris is more or less secretive when it comes to her love life, but it's known that she has been in a relationship since 2018.
Sometime in the late 2017, Iris was introduced to Jyrrel Roberts by a mutual friend, and they began dating a couple of months later. He's a non-celebrity man who hasn't revealed any details concerning his private life, but judging by his Instagram account, Jyrrel's a skateboarder and a rapper. The two can be seen spending most of their spare time together, while it's been revealed that Iris' family has also accepted Jyrrel.
Before meeting Jyrrel, Iris was in a relationship with Kelvin Bueno who's also a model, and they were together for around a year. As of May 2021, she's in a relationship with Jyrrel Roberts, hasn't married and doesn't have children.
Hobbies and other interests
Iris is passionate about traveling, and her career has already taken her around Europe, posing for many brands and walking catwalks, and she's also been to a couple of US states, including New York and Florida.
She likes being close to the water, which is why summer's her favorite season. Iris enjoys swimming in the sea, playing beach sports and sun tanning.
She's a lover of animals, but doesn't have pets as she believes she doesn't have enough time to take care of them.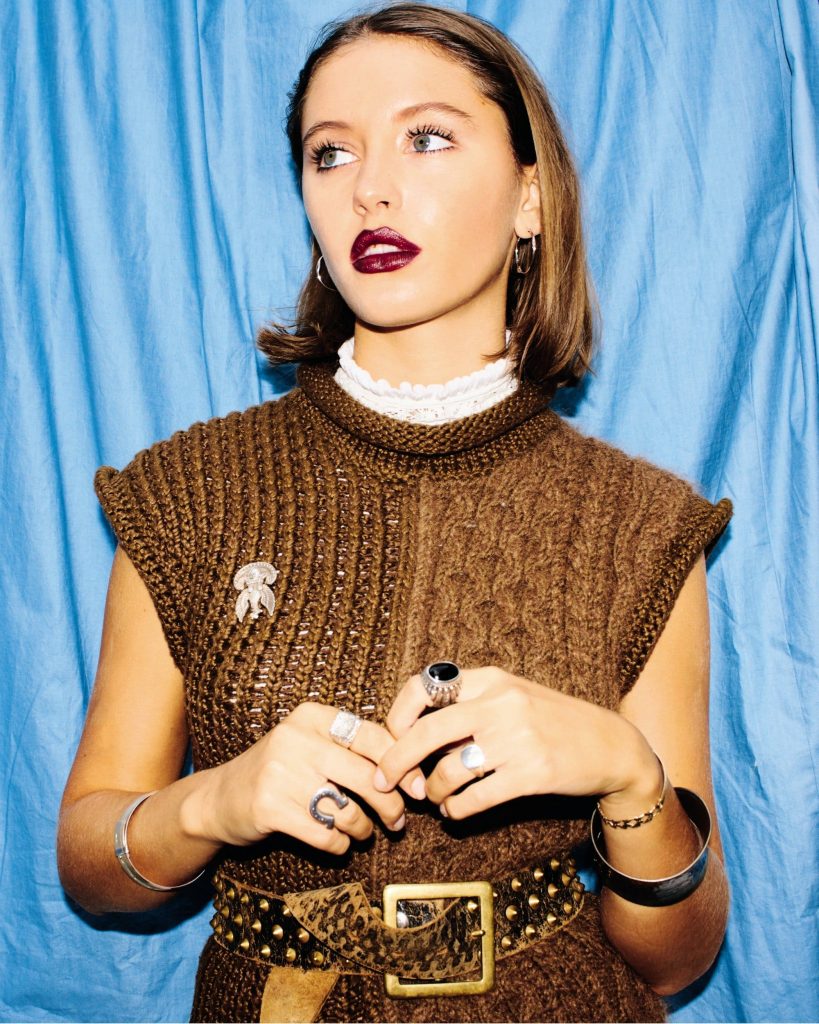 Iris has her own favorite actors and actresses, some of whom are Channing Tatum, Matt Damon and Emma Watson, and a couple of her favorite movies are "Dear John", "Good Will Hunting" and the franchise "Harry Potter".
Age, height and net worth
Iris' age is 20. She has long brown hair and blue eyes, her height is 5ft 4ins (1.62m) and she weighs around 115lbs (52kgs). As of May 2021, her net worth has been estimated at over $100,000, while her father's net worth is reputedly over $45 million, and her mother's has been estimated at over $4 million.
More about her father
David Jude Heyworth Law was born in Lewisham, London, England, on 29 December 1972 – his zodiac sign is Capricorn and he holds British nationality.
He's an actor who has been credited with appearing in around 80 movies and TV series, while he's won 19 awards of the 92 for which he has been nominated, including two Oscar nominations.
David was raised in Lewisham alongside his older sister Natasha, by their parents Peter Robert Law and Margaret Anne Heyworth, both of whom were comprehensive school teachers. He studied at John Ball Primary School before moving on to Kidbrooke School, and eventually Alleyn's School.
He launched his acting career in 1987 after joining the National Youth Music Theatre, at which he appeared in various plays, then in 1989 Jude appeared in his first movie – "The Tailor of Gloucester". He gained recognition in 1994, with his portrayal of his first lead character in the action crime movie "Shopping", then in 1997 he starred in the biographical movie "Wilde".
In 1999, Jude was cast to star in the 1999 critically acclaimed psychological thriller film "The Talented Mr. Ripley" which also starred Matt Damon, Cate Blanchett and Gwyneth Paltrow, and became a worldwide hit; for his performance, Jude won a BAFTA Award. A few of his notable performances in the 2000s were in the 2001 war movie "Enemy at the Gates" in which he starred as Vasily Zaytsev, the 2003 epic period war movie "Cold Mountain", and the 2006 romantic comedy movie "The Holiday". He has been acting to this day, and it's recently been revealed that Jude will be portraying Captain Hook in the upcoming Disney movie "Peter Pan".
Jude's a philanthropist, who has worked for and donated money to various charity organizations, including Young Vic, Macmillan Cancer Support and Make Poverty History.
On 1 May 2019, Jude exchanged vows with Phillipa Coan and she gave birth to their child in September 2020.
More about her mother
Sadie Liza Frost was born in Islington, London, England on 19 June 1965 – her zodiac sign is Gemini and she holds British nationality. She has been credited with appearing in over 55 movies and TV series, while she was nominated for a 1992 Fangoria Chainsaw Award for Best Supporting Actress, for her performance in the horror movie "Dracula".
Sadie was raised in Islington by her father David Vaughan, who was a psychedelic artist, and her mother Mary Davidson who was an actress, and was 16 years old when she gave birth to Sadie. She has ten half-siblings.
Sadie was only three years old when her parents arranged for her to appear in an advertisement for Jelly Tots, and in 1970 aged five, she performed alongside the British comic double act Morecambe and Wise. She studied at Hampstead School; she learned in her early teens that she had developed an eating disorder.
Upon matriculating in 1983, she left home and began appearing in theatre plays, while her debut film appearance was in the 1987 "Empire State". A couple of her following notable performances were in the 1990 crime drama movie "The Krays", the  fantasy movie "Magic Hunter", and the action crime film "Shopping" both in 1994.
In 1999, she launched the now-defunct fashion label Frost French, and then in the 2000s appeared in several movies and TV series, which failed to attract much attention. Since January 2010 when she appeared in the play "Fool For Love", Sadie hasn't been very active in the film industry.
Before meeting Jude, Sadie was married to the British singer-songwriter and actor Gary James Kemp from 7 May 1988 to 19 August 1995, and they have a son together named Finlay, born in 1990.
Sadie's a vegetarian.