• Crystal Reed is an American actress and model, best known for her roles in "Teen Wolf", "Gotham" and "Swamp Thing".
• She has an interesting ethnic background, being a mix of Polish and Native American.
• Crystal left "Teen Wolf" to explore other avenues of film and TV, due to age difference and creative differences.
• In 2020, Crystal sparked speculation about her sexuality after indicating on Instagram that she might have a girlfriend.
• Her estimated net worth is around $3 million.
Who is Crystal Reed?
Crystal Marie Reed is an American actress and model, perhaps best recognized for her roles in the hit series "Teen Wolf", "Gotham", and "Swamp Thing". She was born under the Zodiac sign Aquarius on 6 February 1985, in Roseville, Michigan, USA. As of 2021 she is 36 years old, and holds American nationality. Her ethnic background is very interesting and diverse, as she's a mix of Polish and Native American.
Early life and Family
The names of her parents remain unknow, however, it's known that she has an older brother, Corey. According to reports, Crystal spent her formative year in Detroit with her conservative Catholic parents. From an early age, she showed an interest in dance and music, and during her school days at Roseville High, served as a dance captain; she matriculated in 2003.
In addition to her musical endeavors, she was also an active participant in the local community theater, performing in various plays and projects, including "Annie", "Fiddler on the Roof", and "Grease". She subsequently enrolled at Wayne State University to study Fine Arts, however, after entering the program, she began questioning her decision. In an interview she elaborated:" They were very strict about the methods of acting, very particular about how we do things and I started questioning whether or not it was the right place for me, and whether or not [one] truly needed a degree to be an artist." Having planned to pursue her career more seriously, she moved to Chicago and performed in local productions, achieving minor success, and in 2008 she took a big leap, and set off to Hollywood.
Career
Not long after she arrived in Hollywood in 2010, she made her TV and movie debut, starring in the popular procedural crime series "CSI: Crime Scene Investigation", and the sci-fi movie "Skyline". During the same year she made several other appearances, including in "The Hard Time of RJ Berger", "Rizzoli & Isles", and "CSI: NY".
In 2011 she joined the cast of the movie entitled "Crazy, Stupid Love" opposite Ryan Gosling, Steve Carell, and Emma Stone; the romantic comedy film was a huge hit, achieving success, various awards and nominations, and scoring at the box office. Crystal also made a one-episode appearance in the legal-comedy drama series "Drop Dead Diva".
In the same year, she was cast as Alison Argent, the werewolf hunter, in the sci-fi series "Teen Wolf", alongside Dylan O'Brien and Tayler Posey.
The series ran for six seasons, receiving positive reviews and three Saturn Awards for Best Youth-Oriented Television Series. Crystal's portrayal of the capable and strong-willed werewolf hunter helped win the Young Hollywood Award for Best Ensemble, and garnered three other nominations from Teen Choice Awards.
After portraying Alison in three seasons, Crystal decided to exit the show; she also made the guest appearance as Alison's ancestor, Marie-Jeanne Valet, in the fifth season. After coming to a mutual agreement, Jeff Davis, the show's creator, and MTV decided to end the show in 2017 as they believe it had run its course.
The following years saw Crystal appear in several movies – in 2012 she portrayed Rebecca Ogin in the independent comedy film "Jewtopia", followed by her appearance in the direct-to-video thriller movie entitled "Crush".
In 2015, Crystal appeared as the main character Dorothy Mahler in the drama movie "Too Late" opposite John Hawkes.
In 2017, she returned to the screen as the DC comics' villain Sofia Falcone in the crime drama series "Gotham" appearing in the fourth season. The following year she starred as the main character Elizabeth Keller in the horror movie "Ghostland". Her last appearance was in the superhero horror series entitled "Swamp Thing", portraying the main character Abigail "Abby" Arcane. Not long after the show premiered, the DC announced that the show was canceled due to creative differences with Warner Bros, DC Universe's parent company.
Why did Crystal Reed leave "Teen Wolf"?
The departure of a main character, Alison Argent from the series was a tough blow for many fans, who followed her impressive journey over thirty episodes.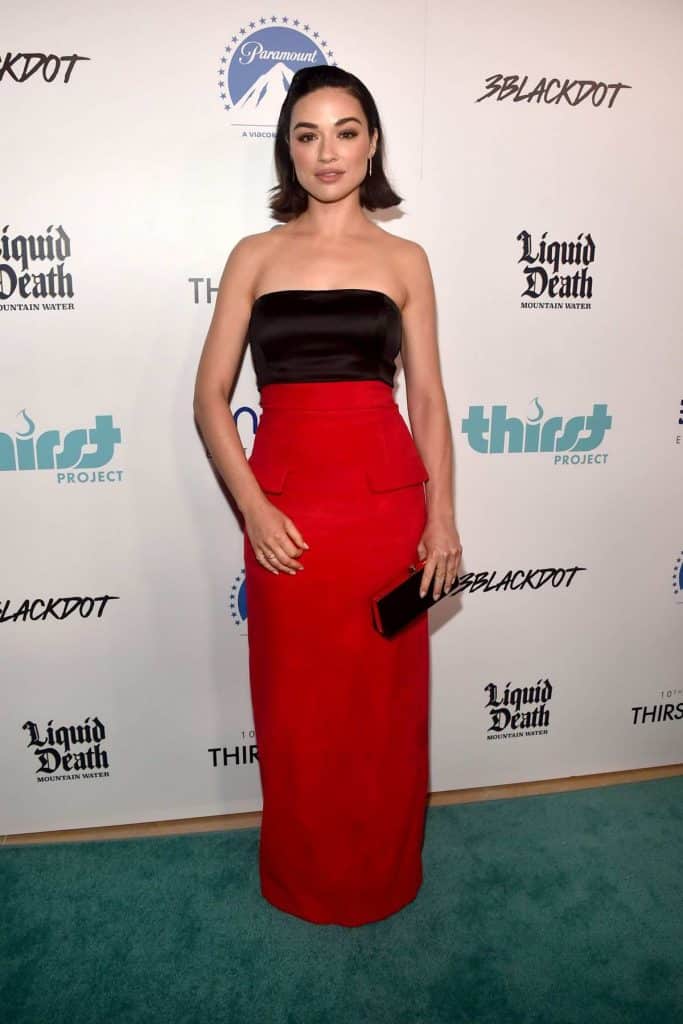 Additionally, the manner of her death packed another punch as Alison died of a stab wound in the abdomen while fighting Oni, the ghost spirit. Even though many speculated that Crystal Reed was fired from the series, it came as a shocker when she revealed that she willingly decided to exit the show. In the interview with EW, she said: "I love the art [of acting]. And I felt like, creatively, there were things I wanted to do differently, and I wanted to explore other avenues of film and TV. I wanted to jump into different characters." She also added that her age played a huge part in her leaving the show, given that she played a teenager, saying:" You know, I am 29. So I think the age difference was something I wanted to change as well because she is 17. I love the show so much. So I went to Jeff and talked about it, and he said, We'll write you a great ending."
Personal Life
Crystal Reed has had quite a turbulent love life. In 2008 she married Peter Notolli, a manager and businessman who rose to fame after marrying Crystal. According to the reports, Crystal filed for divorce in 2011, following their separation, and in the next year the divorce was finalized, while the reason behind it never came to light. Soon after, she started a romantic relationship with the actor Daniel Sharman who later joined the cast of "Teen Wolf"; however, the couple broke up after a year. In 2013 she began dating the Scottish-Australian radio presenter and music critic Darren McMullen. The happy couple often appeared together at various events, and after Crystal was seen wearing a diamond ring, many jumped the gun and assumed they were engaged.
🎈 2018! 🎈 GO GETTUM! 🎈 pic.twitter.com/GLkxA7RoPD

— Crystal Reed (@CrystalmReed) January 1, 2018
Later, reporters asked Darren about these rumors, and he answered that he would get married when Australia legalized same-sex marriage. While many saw this relationship crowned with marriage, the couple parted ways after a six-year-long relationship in 2019 due to unknown reasons.
During her relationship with Darren, some rumors circulated that Crystal had a brief affair with the actor, Joshua Jackson, in 2016. However, they were never confirmed.
Is she gay?
In 2020, Crystal created quite an online commotion after she indicated on Instagram that she might have a girlfriend.
Crystal shared a strong bond with her co-star from "Swamp Thing", Maria Sten, and after Maria went for a long trip across Europe, Crystal wrote under her Instagram photo: "Can't wait to have my girlfriend back", which prompted many fans to comment and spread rumors. Additionally, this idea was reinforced by their years-long public support for the LGBTQ community and occasional posts, which some saw as queer promotion or approval. In an interview, Crystal was asked about her co-star Maria, saying: "Sten is an amazing actress, loyal beyond belief, my sandbox partner, kind, generous, glorious and and and…" These rumors were never cleared; neither of them came forward with other information.
 Physical stats and Hobbies
The Michigan native is 5ft 8ins (173cm) tall and weighs around 126lbs (57kgs), with vital statistics of 34-23-35. Her natural hair is brown, further adorned with hazel eyes.
In an interview, she said that she enjoyed golf.
When she's not acting she is reading books and traveling.
Crystal is a true fashion enthusiast who likes to experiment with different combinations. She is also an animal lover. When it comes to her personality, she's apparently a very calm and loveable individual, who really doesn't tolerate closed-mindedness, in an interview saying" Nothing infuriates me more than small-minded people. Nothing. I hate it. I absolutely hate it. I have a lot of tolerance for a lot of things but that's something I don't tolerate."
Would you like to know her net worth?
Her estimated net worth is around $3 million, which she's earned working as an actress. During her career, she has appeared in several successful projects, such as "Crazy Stupid Love", which grossed over $150 million at the box office.
Her breakthrough role as Alison definitely brought Crystal a lot of attention and Instagram followers, currently over 3.5 million, while her Twitter counts 1.2 million followers. She usually uses her social platforms to post interesting photos from her travels and to share her opinion on ubiquitous social and political issues. As a huge bookworm, she sometimes reads her favorite excerpts on Instagram and gives book recommendations.