• Antonela Roccuzzo is a model and wife of the famous Argentinian soccer player Lionel Messi.
• She was raised in Santa Fe and studied at the National University of Rosario, graduating with a Bachelor's degree in social communication in 2010.
• Antonela and Lionel Messi have known each other since they were very young and began dating in 2007.
• They married in a large ceremony in Rosario on 30 June 2017, and have three sons.
• Antonela takes good care of her physique and is a dog-lover. She enjoys travelling, sun tanning, swimming and sailing.
Who is Antonela Roccuzzo?
Antonela Roccuzzo was born in Santa Fe, Rosario, Argentina, on 26 February 1988 – her zodiac sign is Pisces and she holds Argentinian nationality. She is a model, but who is perhaps known best for being the wife of Lionel Messi, a famous Argentinian soccer player.
Early life and education
Antonela was raised in Santa Fe alongside her two sisters Carla and Paula, by their mother and father Patricia and Jose, about whom nothing is known as they prefer to avoid media attention.
Antonela began dreaming about becoming a model while attending elementary school, and mostly because of that became physically active, playing various sports including tennis and volleyball.
She studied at a local high school, and was aged 16 when noticed by a modelling scout, and got to sign her first contract. Antonela still focused on her education, and upon matriculating in 2006, she enrolled at the National University of Rosario, from which she graduated with a Bachelor's degree in social communication in 2010.
Antonela's career
Antonela has been working as a model for around 15 years now but is also focused on other activities including running her own shoe store, which she launched in December 2016 with the help of the designer Ricky Sarkany and Sofia, the wife of the famous soccer player Luis Suarez.
She is also a social media star, as her Instagram account is followed by more than 13.2 million people, while she's uploaded around 600 pictures onto it, most of which have been taken during her everyday life, and feature her husband and their children.
Love life and marriage with Lionel Messi
Antonela and Lionel Messi have known each other since they were very young – as Messi has stated in one of his interviews, he was eight years old when he fell in love with Antonela, but didn't know how to express himself. They began dating in 2007, and announced it a year later when Messi appeared in an episode of the talk-show "Hat Trick Barca". They married in a large ceremony in Rosario on 30 June 2017, with many famous people attending, including the soccer players Luis Suarez, Sergio Aguero and Cesc Fabregas.
The two were parents long before exchanging vows – their son Thiago was born on 2 November 2012, followed by their second son Mateo on 11 September 2015, and their third son Ciro was born on 11 March 2018.
Neither of the two have talked about any other people they have perhaps dated, however, there are rumors circulating the internet that Messi once dated (or only slept with) the Argentinian models Macarena Lemos and Luciana Salazar.
Hobbies and other interests
Antonela takes good care of her physique, as she has several training sessions at the gym each week, and is following a strict diet, meaning that she eats little to no sweets, and avoids fast food.
The family lives in Barcelona, Spain, but Antonela still loves to travel, and has kept her husband company during many of his soccer games, however, she often cannot leave home because of their sons.
Antonela is a huge dog-lover, and the family has its sixth member: a pet dog which can be seen featured in many of Antonela's Instagram pictures.
Her favorite season is summer, as she enjoys sun tanning, swimming in the sea and sailing.
Antonela likes to watch movies late at night, and her favorite actor and actress are Leonardo DiCaprio and Amanda Seyfried – a couple of her favorite movies are "Titanic", "Catch Me If You Can" and "Dear John".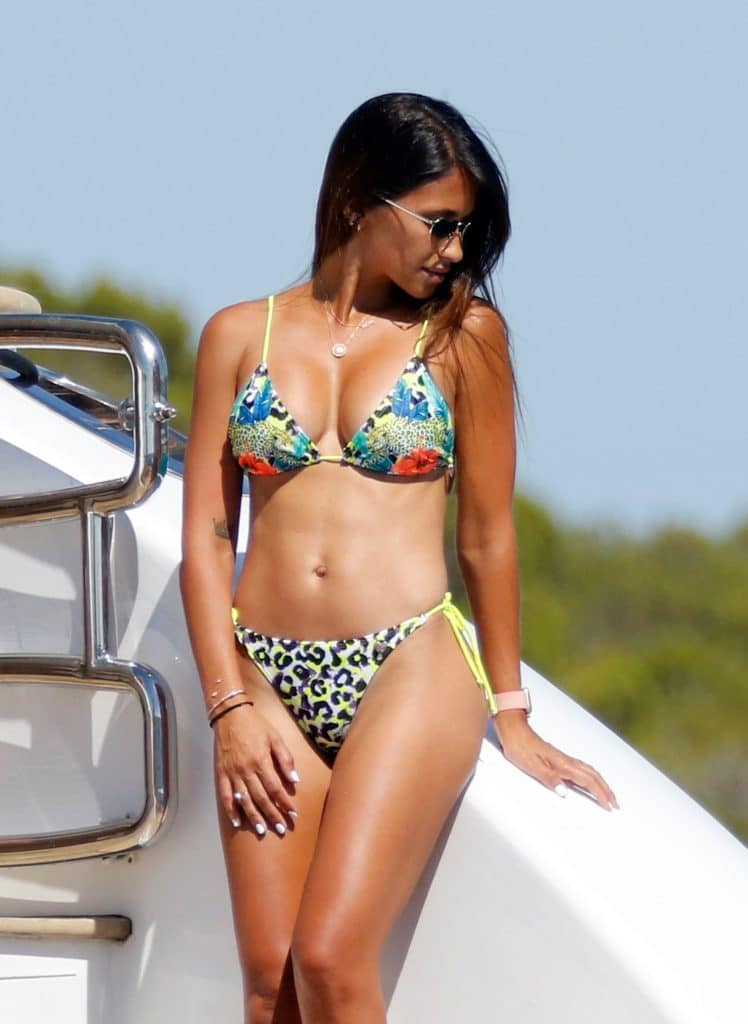 Age, height and net worth
Antonela's age is 32. She has long brown hair and brown eyes, her height is 5ft 2ins (1.57m) she weighs around 110lbs (50kgs), while her vital statistics are 35-25-36. As of February 2021, her husband's net worth has been estimated at over $400 million.
Who is Lionel Messi?
Lionel Andres Messi was born in Rosario, on 24 June 1987 – his zodiac sign is Cancer and he holds Argentinian nationality. He is a professional soccer player, who is rated to be one of the best players of the sport of all time. Messi is currently the captain of the Argentinian national team, as well as of the Spanish team Barcelona. He holds various records related to soccer, including for winning six of both European Golden Shoe and Ballon d'Or.
He was raised in Rosario alongside his three siblings, by their mother Celia Cuccittini who worked at a magnet manufacturing factory, and their father Jorge Messi who managed a steel factory. Messi began playing soccer with his brothers at an early age, while his two cousins Emanuel and Maximiliano Biancucchi with whom he also played have both become professional soccer players as well. Messi was only six when he joined Newell's Old Boys soccer club, and stayed with them for six years scoring close to 500 goals. He was diagnosed with a growth hormone deficiency when he was ten, and his father was only able to pay for his treatment for two years.
On 14 December 2000, Messi signed a contract with Barcelona written on a napkin, and after two months the entire family moved to Barcelona close to Camp Nou, the club's stadium.
Because he was a foreigner, Messi was only allowed to play friendly games until February 2002, when he officially joined the Royal Spanish Football Federation (RFEF). Messi was then invited to play for English club Arsenal but decided to stick with Barcelona. He went on to play for Barcelona C before joining Barcelona B, and aged 17 and three months, Messi became the youngest player to play for Barcelona's main team.
He has been playing for the team to this day, and has now scored 459 goals in La Liga, 14 goals in Supercopa de Espana, and three goals in the Union of European Football Associations (UEFA) Super Cup. Messi has 304 assists which is the highest of any soccer player.
Just recently in 2020, Messi expressed his desire to leave Barcelona.
He is a philanthropist and the founder of his own charity Leo Messi Foundation which is being managed by his brother Matias and their mother. Messi has recently donated $1 million to help prevent the spread of the coronavirus.
In 2013, he was being investigated for alleged tax evasion, and on 6 July 2016, he and his father were sentenced to pay around $2 million each in fines, and to spend 21 months in prison. Messi defended himself by stating that he only plays soccer, and lets his father and their lawyers handle his finances; anyway, he hasn't spent time in jail.