• Rocco Ritchie is the eldest son of Madonna and Guy Ritchie.
• He has occasionally made appearances in his parents' work as a child.
• He has recently been making a name for himself as a visual artist under the pseudonym 'Maison Rhed'.
• Madonna is a highly successful and influential American singer, songwriter, actress, and businesswoman.
• Guy Ritchie is a British film director, producer and screenwriter known for his crime and gangster films.
Who is Rocco Ritchie?
Born on 11 August 2000, in Los Angeles, California, USA, Rocco Ritchie is an American painter, model, actor, and social media star, but probably best known for being the eldest son of Madonna and the British film director Guy Ritchie. Due to his parents' fame, Rocco has been in the public eye since his early childhood. He occasionally made appearances in his parents' work as a child, while he's lately been making a name for himself through artwork.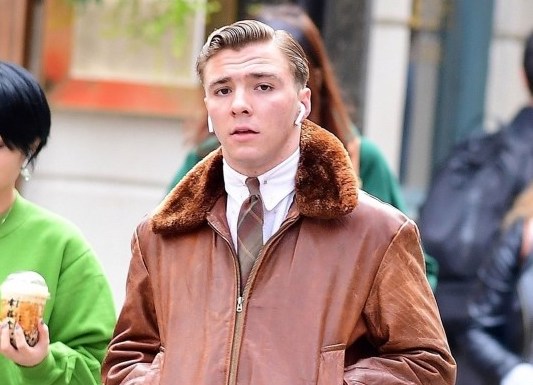 Early life, family, and education
Following his parents' careers, Rocco was raised in both London and New York. He's the eldest of Madonna and Guy Ritchie's children and has six siblings: David, Lourdes, Rafael, Mercy, Rivka and Levi – his younger brother, David, was adopted from Malawi, and he also has two more half-siblings, Mercy James and Estere, who were adopted from Malawi as well.
Rocco Ritchie's parents married in December 2000, while Rocco was born four months before the wedding. They had a highly publicized and high-profile marriage, with both Madonna and Ritchie being successful figures in their respective fields.
However, the marriage was not without its difficulties, and in 2008, the couple announced that they were divorcing, the proceedings finalized on 21 November 2008. According to media reports, the couple didn't separate on amicable – their custody battle was very public. After they settled the matter privately, Rocco stayed with his father in London.
Career and personal life
Rocco has made appearances in some of his father's movies. In 2008, he made a brief appearance in Richie's action film "RocknRolla", and the following year had an uncredited role in his father's film "Sherlock Holmes: A Game of Shadows".
He was also been seen in Madonna and Nicki Minaj's music video "B***h I'm Madonna" in 2015. However, it's worth noting that Rocco hasn't pursued acting as a career and his appearances in movies and other media have been small and non-recurring.
More recently, in 2022, the media reported that Rocco has actually been building a career as a visual artist under the pseudonym 'Maison Rhed'. His works have been displayed in several galleries across the world, including numerous exhibitions at the prestigious Tanya Baxter Contemporary Gallery in London, while his paintings have been selling for more than five figures, even before his real identity was publicly unveiled.
Rocco describes his art as expressionist, while crediting graffiti artists such as Banksy as inspirations for his work. He has also recently given credit to his parents for raising him in an artistic household ,and allowing him to follow his true passion, which led to his current career.
Meanwhile, there isn't a lot of information available about Rocco's personal life as he mostly likes to keep a low profile. His rare recent media appearances have mostly been linked to his mother, Madonna. Since Rocco was primarily raised by his dad, the media has been speculating for a long time that he may have a strained relationship with his mother. Apparently, that's not the case, as in recent years the two have been seen celebrating each other's birthdays, and holidays together.
Madonna Wiki Bio
Madonna Louise Ciccone – aka Madonna – was born on 16 August 1958 in Bay City, Michigan, USA. She is a highly successful and influential American singer, songwriter, actress, and businesswoman. Often referred to as the 'Queen of Pop', Madonna is one of the best-selling music artists of all time, having sold over 300 million albums worldwide. During her career, she's released 14 studio albums and over 70 singles, many of which have become huge commercial successes, and have topped charts around the world.
Madonna began her career as a dancer before moving to New York City to pursue a career as a singer. She released her debut self-titled album in 1983, and it quickly established her as a pop icon – the album featured the hit single "Holiday", which became a top-ten hit in several countries. Her follow-up album, "Like a Virgin", was released in 1984 and was an even bigger commercial success, featuring the hit singles "Like a Virgin" and "Material Girl", and spending six weeks in the #1 spot on the Billboard 200 chart, eventually selling over 21 million copies.
Madonna continued to release commercially successful albums and singles throughout the 1980s, including "True Blue" (1986) and "Like a Prayer" (1989). She also began to explore different musical styles, incorporating elements of dance, electronic, and R&B into her music. In the 1990s, Madonna released a number of critically acclaimed albums, including "Erotica" (1992), "Bedtime Stories" (1994), and "Ray of Light" (1998) which won her several awards and accolades, including a Grammy Award for Best Dance Recording.
madonna released her sixth album 'bedtime stories' 27 years ago today. pic.twitter.com/TN3axhgBpt

— Madonna Archive (@Madonnarchive) October 25, 2021
Madonna continued to release new music in the 2000s and 2010s, and also embarked on several world tours. Her most recent album, "Madame X", was released in 2019 and received primarily positive reviews from the critics.
Madonna won numerous awards and accolades, including multiple Grammy Awards, MTV Video Music Awards, and an induction into the Rock 'n' Roll Hall of Fame.
Madonna's influence on popular culture and music has been significant – her impact on fashion, music videos, and live performances are particularly noteworthy. Furthermore, she's credited with pushing the boundaries of what is considered acceptable in music and has been a controversial figure throughout most of her career.
In addition, Madonna has appeared in 27 movies, and several stage productions, with perhaps her most notable role being her portrayal of the former Argentinian first lady, Eva Peron, in the 1996 historical drama film "Evita".
She has also been involved in various business ventures, and has been recognized for her philanthropy. One of Madonna's many philanthropic ventures was Raising Malawi, an organization she co-founded in 2006 that aims to provide assistance to the children of the impoverished African country.
Since her divorce from Guy Ritchie, Madonna has been in several relationships, but hasn't remarried. In 2015, the media reported that Madonna was in a relationship with Timor Steffens, a Dutch choreographer and dancer; the couple was apparently together for two years, ending their relationship in 2017. In 2018, Madonna was romantically linked to model Kevin Sampaio, but it's not clear whether they are still together.
Guy Ritchie Wiki Bio
Guy Stuart Ritchie was born on 10 September 1968, in Hatfield, Hertfordshire, England. He's a British film director, producer and screenwriter, known best for his crime and gangster films, such as "Lock, Stock and Two Smoking Barrels" (1998), "Snatch" (2000), and "RocknRolla" (2008).
He's the younger of two children of John and Amber Ritchie, and is of English and Scottish descent. Ritchie attended Windlesham House School in West Sussex, and later Stanbridge Earls School in Hampshire. At the age of 15, he was expelled from school and started working entry-level jobs in the movie industry, which led him to direct his first TV commercials, before moving on to making feature films.
Pre-order Guy Ritchie's awe-inspiring directorial masterpiece, SNATCH – available on 4K Ultra HD for the first time on June 1! bit.ly/Snatch-

Posted by Snatch on Thursday, March 18, 2021
His debut movie, "Lock, Stock and Two Smoking Barrels", was released in 1998, and was both a critical and commercial success. The film established Ritchie as a rising talent in British cinema, and which he followed up with "Snatch" (2000), also critically acclaimed.
In addition to his crime and gangster films, Ritchie has also directed other types of movies such as the romantic comedy "Swept Away" (2002), starring Madonna and Adriano Gianni, and the thriller "Revolver" (2005) with Jason Statham in the lead role. He also directed "Sherlock Holmes" (2009) and its sequel "Sherlock Holmes: A Game of Shadows" (2011), which both starred Robert Downey Jr. as the titular character. Ritchie has also collaborated with his now ex-wife on a few of his projects, directing her music video "What It Feels Like for a Girl" in 2001.
Ritchie has been credited with helping to revitalize the British film industry in the late 1990s and early 2000s, with his unique style and approach to filmmaking. Ritchie has received a number of awards and nominations throughout his career, including a BAFTA nomination for Best Original Screenplay for "Lock, Stock and Two Smoking Barrels".
He continues to be one of the most respected and accomplished film directors, producers, and screenwriters in the industry, still working as a film director and producer, with several projects in development.
Ritchie is also known for his philanthropic work; most notably he's one of the co-founders of The Film and Television Charity, which provides support to people in the industry who are facing financial, legal, and other issues.
In his personal life, Ritchie is a fan of soccer, known to be a passionate Arsenal supporter, and has been spotted attending several matches.
After his divorce from Madonna, Guy has remarried to Jacqui Ainsley on 30th July 2015. They had been dating since 2010, and now have three children together. Before marrying Jacqui, Ritchie had a relationship with model and actress, Kelly Brook.