• Erinn Bartlett is an actress and model born on 26 February 1973 in Longmeadow, Massachusetts, USA.
• She graduated from Ithaca College in 1995 with a Bachelor's degree in Communication.
• Erinn competed in the 1989 Miss Teen USA beauty pageant, and placed 10th overall.
• She has starred in films such as "Deep Blue Sea", "Shallow Hal", and "Rumor Has It...".
• Erinn has been married to actor Oliver Hudson since 2006, and they have three children.
Erinn Bartlett Wiki Bio
Erinn Bartlett was born in Longmeadow, Massachusetts USA, on 26 February 1973 – her zodiac sign is Pisces, and she holds American nationality. She's an actress and a model, but perhaps still known best for having competed in the 1989 Miss Teen USA beauty pageant.
Although she hasn't been active in the film industry since 2013, Erinn hasn't officially retired from acting.
Early life and education
Erinn grew up in a working class family in rural Massachusetts. As a teenager, she expressed interest in becoming a model, which inspired her mom to take her to compete in beauty pageants, which would open the door for her in the modeling industry.
Erinn didn't let modeling distract her from her education, and after matriculating from a local high school, she enrolled at Ithaca College in New York, from which she graduated in 1995 with a Bachelor's degree in communication.
Roles in TV series
Erinn made her debut TV series appearance in 1999, in an episode entitled "The Naked Truth" of the action crime drama "Pacific Blue". Two years later, we saw her star in an episode of the popular crime drama "CSI: Crime Scene Investigation", created by Anthony E. Zuiker, and which starred Laurence Fishburne, George Eads and Marg Helgenberger. In 2002, Erinn played the role of Anne Tenzer, in another crime drama – "A Nero Wolfe Mystery" – following a famous detective solving murder cases in 1950's New York.
In 2003, she appeared in an episode of the teenage fantasy drama "Charmed", created by Constance M. Burge, and which starred Holly Marie Combs, Alyssa Milano and Brian Krause. The series aired on WB for eight seasons, between October 1998, and May 2006, and centers on three witch sisters, known as 'The Charmed Ones', who use their combined powers to protect other people from magical evil beings.
In the following years, we saw Erinn guest star in a number of popular crime series, including "Monk", "10-8: Officers on Duty", "Out of Practice", and "CSI: Miami". In 2006, she appeared in an episode of the sitcom "How I Met Your Mother", created by Carter Bays and Craig Thomas.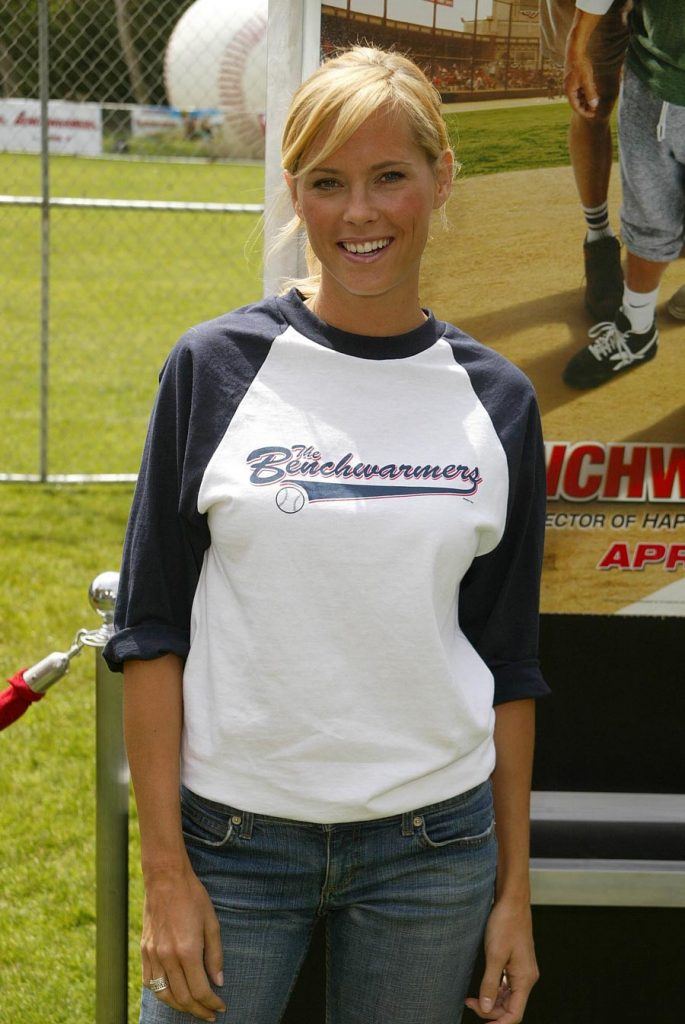 The most recent TV series role for Erinn was in 2013, in an episode of the romantic comedy "Rules of Engagement", created by Tom Hertz, and which starred Patrick Warbuton, Megyn Price and Oliver Hudson, Erinn's husband.
Roles in movies
Erinn made her film debut in 1999, when she appeared in the sci-fi action adventure "Deep Blue Sea", directed by Renny Harlin, and which starred Thomas Jane, Saffron Burrows and Samuel L. Jackson. She starred alongside Jack Black and Gwyneth Paltrow in the 2001 fantasy comedy "Shallow Hal", written and directed by Bobby and Peter Farrelly. The film follows the main protagonist who has been hypnotized into loving women for their inner beauty, which has led to him falling in love with an obese girl, whom he sees as a conventionally attractive model.
Despite receiving mixed reviews from the critics, "Shallow Hal" managed to gross over $140 million in box-office worldwide, and was nominated for three Teen Choice Awards.
In 2002, Erinn played one of the leads in the romantic comedy "Girl Fever", written and directed by Michael Davis, and which also starred Chad Donella and Jennifer Morrison. Two years later, she appeared alongside Kate Hudson, in another romantic comedy "Raising Hell", directed by Garry Marshall.
In 2005, Erinn starred in the romantic drama "Rumor Has It…", directed by Rob Reiner, written by Ted Griffin, and which also starred Jennifer Aniston, Mark Ruffalo and Kevin Costner. The film follow a woman who learns that her family may have been the inspiration for the book and film "The Graduate", inspiring her to further investigate the situation.
The last time Erinn appeared in a movie was in 2006, when she starred in the sports comedy "The Benchwarmers", directed by Dennis Dugan, written by Allen Covert and Nick Swardson, and which also starred David Spade, Jon Heder and Rob Schneider.
Miss Teen USA
In 1989, Erinn competed for the title of Miss Massachusetts Teen USA, and placed 2nd. Two years later, she competed again, and managed to won the Miss Massachusetts Teen USA crown, then represented her state in the Miss Teen USA 1991 pageant, held in Biloxi, Mississippi. Erinn placed 6th in interview, 12th in swimsuit and 10th in evening gown category, while her average score placed her 10th overall.
Miss Teen USA is a beauty pageant for girls aged 14-19, that has been running since 1983. It was originally organized by the Miss Universe organization, but in 2020 the rights to the competition were passed to Crystle Stewart.
Miss Teen USA reached peak popularity in 1988, when the live TV broadcast of the pageant attracted over 22 million viewers. As ratings declined in the late 2000s, in 2009 the pageant moved on to being broadcast exclusively over the Internet.
Aside from Erinn, some of the famous contestants of Miss Teen USA include Shelley Henning, who later became an actress, Allie LaForce, who was a sports reporter for CBS, and Cerine Vincent, who's a successful model.
Love life and husband
Erinn and her husband Oliver Hudson married on 9 June 2006, after having been engaged for more than two years; the ceremony was officiated by a Buddhist monk. In March 2007, the two announced that they were expecting a child, and five months later, Erinn gave birth to their son, Wilder Brooks.
On 19 March 2010, they welcomed their second child into the family, a boy named Bodhi Hawn, and Erinn gave birth to their daughter, Rio Laura, on 18 July 2013.
Hobbies and interesting facts
Erinn played varsity lacrosse competitively during her time in college.
She is best friends with Adam Sandler's wife, the model Jackie Sandler.
Erinn loves watching reality TV series in her spare time, and considers this to be her 'guilty pleasure'. Some of her favorite shows to binge-watch are "90 Day Fiancée", "RuPaul's Drag Race" and "The Bachelor".
Appearance, age and net worth
Erinn is 48 years old. She has long blonde hair and green eyes, is 5ft 7ins (1.7m) tall, and weighs around 132lbs (60kgs). As of July 2021, her net worth is estimated at more than $3 million.
Who is Erinn's husband Oliver Hudson?
Oliver Hudson was born in Los Angeles, California USA, on 7 September 1976 – his zodiac sign is Virgo, and he holds American nationality. He's an actor, perhaps known best for having starred in TV series such as "Nashville" and "The Christmas Chronicles".
It's no wonder Oliver became a professional actor, as he comes from an acting family. He is the son of Goldie and Bill Hudson, and the older brother of Kate Hudson. He has four step-siblings, Emily, Lalania and Zachary, from his father's side, and Wyatt through his mother.
Oliver was mainly raised by his mother GoldieHawn and her partner Kurt Russell, and in the Jewish faith.
In 2002, he launched his acting career with his breakthrough role in the romantic drama series "Dawson's Creek". In the following years he went on to star in numerous other series, most notably "The Mountain", "My Guide to Becoming a Rock Star", and "Rules of Engagement". He also made appearances in several feature-length films, such as "The Out-of-Towners", "Kill the Man" and "Grown Ups 2".
Oliver is 44 years old. He has short brown hair and hazel eyes, is 5ft 11ins (1.82m) tall, and weighs around 194lbs (88kgs).
As of July 2021, his net worth is estimated at more than $10 million.