• Jamal Murray and Harper Hempel met while attending the University of Kentucky.
• They stayed in a long-distance relationship and reunited after Harper graduated.
• A video of explicit content was leaked onto Jamal's Instagram account.
• Jamal is a professional basketball player for the Denver Nuggets and Harper is a former volleyball player and businesswoman.
• Both are 23 years old and have a combined net worth of over $22 million.
Have Jamal Murray and Harper Hempel broken up?
Jamal Murray and Harper Hempel met while they were both attending the University of Kentucky, but many believed that they would split after Jamal signed a basketball contract and had to move to Denver, however, the two stayed in a long-distance relationship. They reunited after Harper graduated, however, the coronavirus outbreak happened not long after that, and the two were once again separated. Jamal was also unable to be with Harper for her 24th birthday.
In March 2020, a video of explicit content was leaked onto Jamal's Instagram account featuring Harper and him. Jamal deleted the video as soon as he learned that it was posted, stating that his account was hacked. He and Harper also deleted their Instagram accounts, but opened new ones.
There have been some rumors on the internet claiming that Jamal and Harper have split amidst the controversy surrounding the sex video, however, this has been proven false as the two are still together.
Other relationships
Harper hasn't talked about any other men she might have been with besides Jamal, however, there are rumors circulating the internet that Jamal cheated on Harper with Brittany Renner, and that the two also dated for some time in 2018. Many websites have written about Jamal getting busted, however, it appears as these rumors are also untrue, and are aimed at ruining Jamal and Harper's relationship.
Who is Jamal Murray?
Jamal Murray was born in Kitchener, Ontario, Canada, on 23 February 1997 – his zodiac sign is Pisces and he holds Canadian nationality. He is a professional basketball player, probably known best for his career with the Denver Nuggets, competing in the National Basketball Association (NBA).
Jamal was raised in Kitchener alongside his younger brother Lamar, by their father Roger Murray who ran track and field and was also a basketball player, and their mother Sylvia who's from Syria, and who is a housewife. Jamal was three when he started playing basketball, and would stay on the court for hours.
He was six when he began competing in a league meant for children aged 10, and aged 12 began challenging the best high school and college basketball players, while his father continued coaching him, and taught Jamal kung fu and to meditate.
Jamal studied at Grand River Collegiate Institute, before moving to Orangeville Prep because his father was coaching there. He played in the 2013 Jordan Brand Classic International Game, and became Most Valuable Player (MVP), making him the second person from Canada to win the award. He went on to play in the 2015 BioSteel All-Canadian Basketball Game, and was again named MVP.
He also competed in the Amateur Athletic Union (AAU) with the CIA Bounce.
Jamal enrolled at the University of Kentucky in June 2015, but after a year decided to drop out and become eligible to play in the NBA. He signed a rookie contract with the Denver Nuggets on 9 August 2016, and was named Western Conference Rookie of the Month on 1 December, as well as the MVP for his performance in the basketball exhibition game the Rising Stars Challenge on 17 February 2017. Jamal continued playing well before spraining his left ankle on 6 February 2019, which made him miss six games.
After his rookie contract expired, the Nuggets offered him a $170 million five-year deal. On 15 January 2020, he sprained his ankle again and had to miss 10 games.
The Nuggets went on to compete in the 2020 NBA play-offs, reaching the Western Conference Finals for the first time in 11 years, however, they then lost to the Los Angeles Lakers, who became NBA Champions.
Jamal has also played national basketball for Canada. He first played in Uruguay at the 2013 FIBA Americas Under-16 Championship from which Canada took home bronze, and in 2015 at the Pan American Games, Jamal helped his team bring home silver.
Jamal has appeared in a couple of TV shows. In 2016, he was invited to make a guest appearance in an episode of the news sports talk-show "Mike & Mike", and the same year saw him appear in the sports mini-series "2016 NBA Draft – Fox Sports Australia". He has also appeared in 22 episodes of the sports series "NBA on ESPN", since 2019.
Jamal's age is 23. He has brown hair but a black beard, and brown eyes. His height is 6ft 3ins (1.91m) and he weighs around 215lbs (98kgs). As of January 2021, his net worth has been estimated at over $20 million.
Who is Harper Hempel?
Harper Hempel was born in the USA in 1997, but has kept her exact date and place of birth hidden from the media – her zodiac sign is said to be Sagittarius, and she holds American nationality. She is a former volleyball player, a photographer, businesswoman and a social media star, but is perhaps known best for being Jamal's girlfriend.
Harper is quite secretive when it comes to her family, and hasn't mentioned her parents or siblings she might have, however, it's known that her father Rich Hempel is a businessman and the co-founder and CEO of eCoachSports.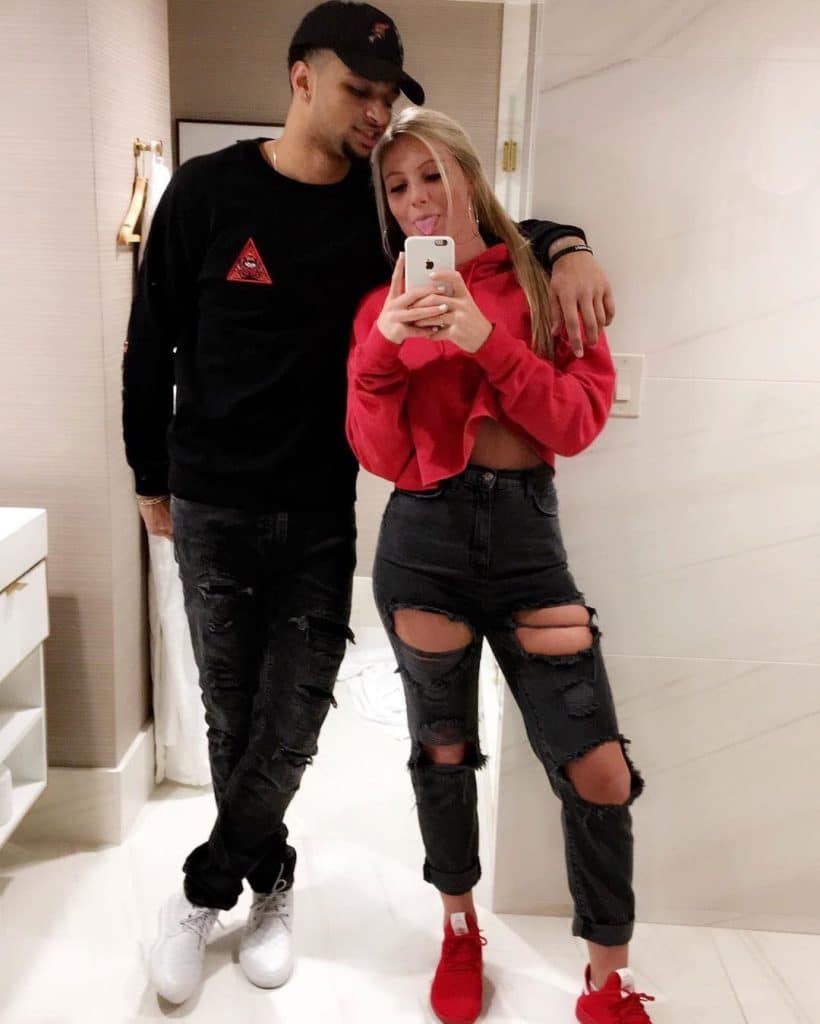 Harper became interested in sports while attending elementary school and played volleyball and soccer. She continued being physically active at Ryle High School, and upon matriculating in 2015 enrolled at the University of Kentucky's Gatton School of Business, from which she graduated with a Bachelor's degree in marketing with a minor in digital media.
Harper has worked various jobs; for four months starting in February 2014, she served as the instructional coach for the Northern Kentucky Volleyball Club, and then joined Entwine as their photographer and social media specialist. While there, Harper was mostly in charge of taking pictures of clothing, and promoting these on social media networks.
In June 2016, she joined Central Bank as an auditing and financial planning intern staying there for two months. In May 2017, she started an internship at Kentucky Innovation Network at Northern Kentucky, and in August 2019, she joined All Social Jessie as the social media marketing manager. After seven months there, Harper moved to Fact & Fiction as their social media marketing manager, and has been with them to this day.
Harper has also been working as a photographer for her own company – Harper Hempel Photography – since May 2014.
Harper's age is 23. She has long blonde hair and brown eyes, her height is 5ft 8ins (1.73m), she weighs around 125lbs (57kgs), and her vital statistics are 34-24-34. She wears bra size 32B and shoes size eight.