• Ashton Meem is a businesswoman and social media star, formerly married to American Football player Russell Wilson.
• She was born in Richmond, Virginia, and attended North Carolina State University for a Bachelor's degree in Communications.
• Ashton has held various jobs, including Account Executive at Morton Consulting LLC and Advertising Operations Assistant at American Family Insurance.
• She is a dog-lover and enjoys sun tanning, swimming and doing yoga.
• Ashton's net worth is estimated at $300,000 and Russell's is estimated at $135 million.
Who is Ashton Meem?
Ashton Meem was born in Richmond, Virginia USA, on 6 September 1987 – her zodiac sign is Virgo and she holds American nationality. She's a businesswoman and a social media star, but who's probably known best for being the former wife of Russell Wilson, a famous American Football player.
Early life and education
Ashton was raised in Richmond by her parents Molly and Lang Meem, who prefer to be left out of the media's attention. She hasn't spoken of having any siblings and is thus believed to be an only child.
Ashton dreamed about becoming a famous actress or a model while attending St. Catherine's High School, but was eventually talked into pursuing a college degree by her parents.
She was physically quite active at St. Catherine's, as she played soccer and also ran track. Upon matriculating in 2006, Ashton enrolled at North Carolina State University, from which she obtained her Bachelor's degree in communications in 2010.
Ashton's career
Ashton launched her career in June 2008, when she joined Lewis Media Partners as a secretary and media marketing intern, and spent around three months there. In June 2009, she joined McKinney as an art buying and print production intern, staying with them for about four months.
In June 2010, Ashton joined Morton Consulting LLC as their account executive, a job she has been holding to this day numbering 11 years at the company.
In August 2011, she joined American Family Insurance working as their advertising operations assistant, another job she has been working to this day.
Love life and marriage with Russell Wilson
Ashton met Russell Wilson while they were attending the same high school, and after close to 10 years of dating on and off, the two exchanged vows in front of their closest friends and family members in January 2012. It was announced in April 2014 that the two had divorced for unknown reasons, however, there are rumors circulating the internet claiming that Ashton was cheating on Russell with his former teammate Golden Tate.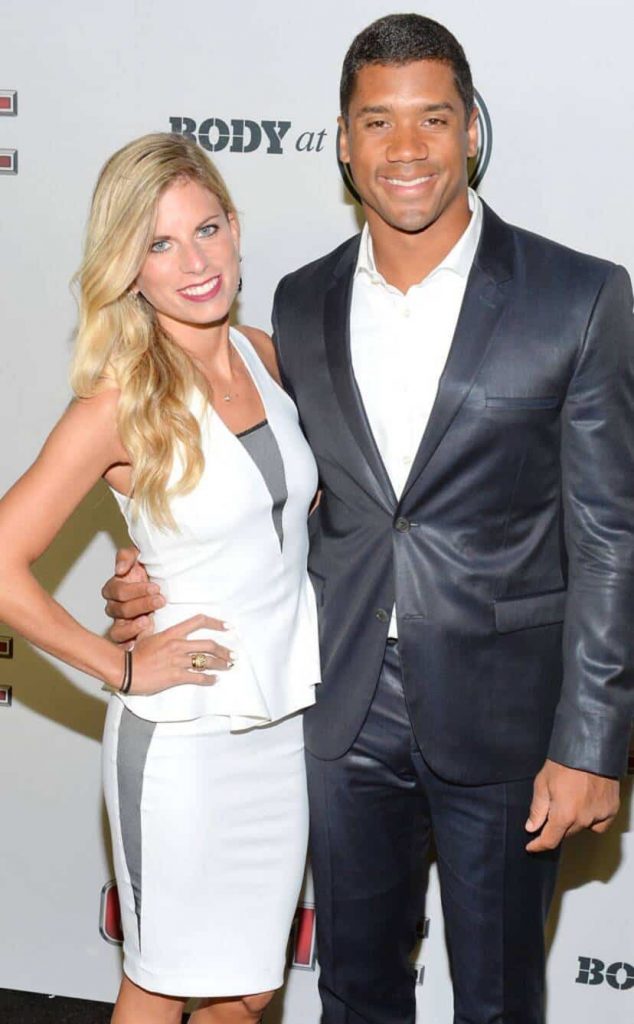 She hasn't spoken of any other men whom she has perhaps dated, while it's known that Russell began dating the famous American singer-songwriter and model Ciara Princess Wilson (nee Harris) in early 2015, and that they exchanged vows on 6 July 2016. On 28 April 2017, Ciara gave birth to their daughter, while their son followed on 23 July 2020.
As of April 2021, Ashton appears to be single, was once married and doesn't have children.
Hobbies and other interests
Ashton's a huge dog-lover, and her two pet dogs can be seen featured in many of her Instagram pictures.
Summer's her favorite season as she enjoys sun tanning at the beach, swimming in the ocean and showing off her body.
Ashton's physically active, and has a couple of training sessions at the gym each week while she's also taking good care of her mental health as she meditates and does yoga on a daily basis.
She likes to drink alcohol, with wine being her favorite.
Ashton's a bit of a shopaholic, as she goes shopping for clothes at least once a week.
In her spare time which is usually late at night, she enjoys watching movies starring her favorite actors Matt Damon and Leonardo DiCaprio, such as "Good Will Hunting", "Jason Bourne" and "Shutter Island".
Age, height and net worth
Ashton's age is 33. She has long blonde hair and blue eyes, her height is 5ft 10ins (1.78m) and she weighs around 150lbs (68kgs).
As of April 2021, her net worth has been estimated at over $300,000, while Russell's net worth is reputedly over $135 million.
Who is Russell Wilson?
Russell Carrington Wilson was born in Cincinnati, Ohio USA, on 29 November 1988 – his zodiac sign is Sagittarius and he holds American nationality. He's a professional football player in the National Football League (NFL) – he's been named to eight Pro Bowls starting two, and he won Super Bowl XLVIII with the Seattle Seahawks against the Denver Broncos.
Russell was raised in Richmond, Virginia alongside his sister Anna and brother Harrison IV, by their father Harrison Benjamin Wilson III who was a lawyer, and who died on 9 June 2010 aged 55, and their mother Tammy Wilson (nee Turner) who was a nurse director.
He was four years old when he began playing football, while he played his first 'serious' game aged 12 with his youth football team the Tuckahoe Tomahawks. Upon matriculating in 2006, Russell was offered football scholarships by several universities, choosing to enroll at North Carolina State University from which he graduated with a Bachelor of Arts degree in communication in May 2010.
He signed a contract with the Wisconsin Badgers on 27 June 2011, while he joined the NFL in 2012, when he signed a contract with the Seattle Seahawks. It was worth $2.99 million and lasted four years, while the Seahawks were criticized by their fans because of this pick.
In January 2014, he played in Super Bowl XLVIII when the Seahawks beat the Broncos thus making Russell the shortest quarterback and the second black starting quarterback to win a Super Bowl. On 1 February 2015, the Seahawks played against the New England Patriots in Super Bowl XLIX, but lost 28-24.
On 31 July 2015, Russell signed a new four-year contract with the Seahawks worth $87.6 million, and on 16 April 2019 signed another four-year contract worth $140 million.
Russell's also a professional baseball player. He was invited to play for the Baltimore Orioles competing in Major League Baseball (MLB) straight out of high school, however, Russell chose to attend college instead.
At the university, he played for the NC State Wolfpack, and on 8 June 2010 following graduation, he signed a contract with the Colorado Rockies, for whom he played until 12 December 2013. He was traded to the Texas Rangers, then to the New York Yankees on 7 February 2018.
He's also a businessman, and a co-owner of the European bread company Eat the Ball (since 2014). He launched his own clothing line – Good Man Brand – on 29 February 2016, and in January 2020, he became the Chairman of NFL FLAG.
Russell's a philanthropist, who has both donated money and spent a lot of his free time at the Seattle Children's Hospital. He's organized fundraisers to gather money for the Charles Ray III Diabetes Association, while he's also the organization's national ambassador. Russell has donated money to Food Lifeline and Boys & Girls Clubs of America as well.