• Mick Thomson is an American heavy metal guitarist, best known as a member of Slipknot
• He grew up listening to Death Metal and The Beatles
• He was stabbed in the back of his head by his brother in 2015
• He has won a Grammy Award and several other awards with Slipknot
• He has a lucky number seven tattooed on his left arm and supports the Las Vegas Raiders
Who is Mick Thomson?
Mick Thomson is an American heavy metal guitarist, who is best known to the world as the guitarist of the heavy metal band Slipknot. He is one of the original members, and is now the third longest-serving member of Slipknot.
Mick Thomson Biography: Age, Childhood, and Education
Born Mickael Gordon Thomson on 3 November 1973 under the Scorpio zodiac sign, in the small town of Clive, Iowa USA, he hasn't talked about his parents and education, but it's known that he has a brother named Andrew. Back in 2015 Mick and Andrew were involved in a knife altercation that resulted in Mick being hospitalized with serious but not life-threatening injuries.
According to reports, he was stabbed in the back of his head by his brother. Both were drunk at the time, and both were injured but recovered.
He was interested in music from his earliest years, and grew up listening to such bands as Morbid Angele, among others. Death metal was his preferable genre though he also lovedTthe Beatles.
Career Beginnings
Mick's career started in the early '90s when he played guitar in various local bands in the Des Moines area, which included Body Pit, formed by Paul Gray. However, the band broke up soon after, and after a few unsuccessful line-ups and band name changes, Slipknot was formed in 1995, with Shawn Crahan, Joey Jordison, Donnie Steele, Paul Gray, and Anders Colsefini.
However, Mick joined the band in 1996, and began contributing to the band's music, while the first release on which Mick's guitars could be heard was their self-titled debut album from 1999. The album became a complete success, selling two million copies in the US, by which it achieved double platinum status in both the US and Canada. It spawned such hits as "Wait and Bleed", "Eyeless", and "Spit It Out". He talked about the recording process, saying that it was a nightmarish experience due to the lack of financial support, poor quality of life at the time, but also substance abuse of other band members.
Known for their masks and violent appearance, Mick wore a hockey mask, which he bought at a store, and has continued to wear a similar mask with minor changes in design from album to album.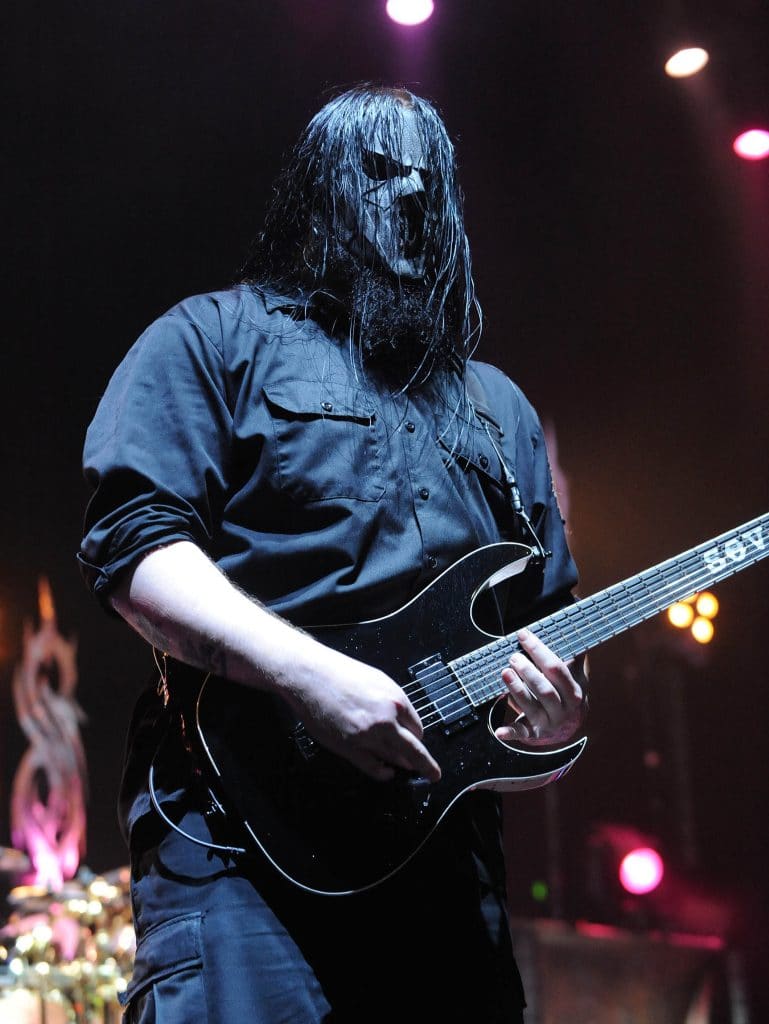 Rise to Prominence
The debut album was just a start to what would become one of the best heavy metal bands ever. The follow-up album was "Iowa" from 2001, which reached No. 3 on the US Billboard 200 chart, and achieved platinum status in the US, Australia, Britain, Canada, and other countries. The album comprises some of the band's most popular songs, including "People=Shit", "My Plague", "The Heretic Anthem", and "Left Behind", among others.
Mick and the rest of the band started working on their third album in 2003, and entitled "Vol. 3: (The Subliminal Verses)", it came out on 25th May 2004, and reached No. 2 on the US Billboard 200 chart. It became the band's most popular album to date, with such hits as "Duality", "Vermilion", "Before I Forget", and "The Nameless", among others.
After the success of the album and an extensive tour, Slipknot and Mick went on a long hiatus that lasted until 2008, then worked on their fourth album "All Hope Is Gone". This became the first to top the Billboard 200 chart, while it also topped the charts in several other countries, including Australia, Canada and Finland among others.
Paul Gray's Death, Line Up Changes, and Continued Success
The band then entered into another long hiatus, during which some unexpected things happened, which included Paul Gray's death from a painkiller overdose. The band members hesitated to make comments about the band's continuation, but eventually decided to make new music, and their fifth album – ".5: The Gray Chapter" – came out in October 2014 to critical success, spawning such hits as "Sarcastrophe", "AOV", "The Devil in I", "Killpop", and "The Negative One", among others.
Additional to Gray's death, the band lost another band member, Joey Jordison, who was fired from the band in 2013. Gray was replaced by Donnie Steele, but he left the band in 2014 and Alessandro Venturella replaced him, while Jay Weinberg became the band's new drummer, thus replacing Joey Jordison.
The band's sixth and most recent album came out in August 2019, entitled "We Are Not Your Kind", becoming the band's third consecutive album to top the US Billboard 200 chart. They lost another long-serving member in 2019, before the release of "We Are Not Your Kind", as Chris Fehn decided to leave the band, to be replaced by Michael Pfaff.
Other Projects and Awards
Additionally, Mick has worked on several other projects outside of Slipknot, including the guitars on the song "Deliver My Enemy", performed by Malevolent Creation, and can be found on the band's "Doomsday X" album, released in 2007. Furthermore, he also played lead guitar on the album "Deathtrip 69" by the American death metal band Necrophagia, released in 2011.
Together with the rest of the Slipknot, Mick has won numerous awards, including the Grammy Award in the category for Best Metal Performance for their song "Before I Forget", but also seven Kerrang! Awards, and three Metal Hammer Golden God awards, among many others.
Personal Life, Marriage, Wife
When it comes to his personal life, Slipknot's Mick Thomson is known for maintaining a low profile, and that he loves being alone on his days off. However, he's  been married man to Stacy Riley since 5th October 2012; they don't have children together.
Net Worth
As of mid- 2021, Mick Thomson's net worth has been estimated to be around $20 million, earned through his successful career as a guitar player.
Appearance and Vital Statistics
This award-winning musician has black hair and blue eyes. He stands at a height of 6ft 3ins (1.9m), while he weighs approximately 198lbs (90kgs), but his vital statistics are unknown, though he has an average figure.
Hobbies, Interests, Trivia
Every Slipknot member has a number to his name, and Mick has chose his lucky number seven, and in honor of his success with Slipknot, has it tattooed on his left arm. Furthermore, he has several other tattoos on his body, including the word 'hate in Japanese on his right arm.
He is a football fan, and supports the Las Vegas Raiders.
Mick is known under the nickname Log, which he got due to his build as a lumberjack.
He used B.C. Rich guitars, which were made customised for him, however, he wasn't quite satisfied with the quality, and eventually signed a deal with Ibanez guitars, and used their MTM guitars before he joined Jackson Guitars in July 2016. He now plays on custom-made Double Rhoads and Soloist models.