• Jennifer Flavin Stallone is a businesswoman, actress and former model, married to Sylvester Stallone.
• She was born in Los Angeles, California, and dreamed of a career in acting and modelling from a young age.
• She has three acting credits, is co-owner of Serious Skin Care, and has appeared in various TV shows.
• She and Sylvester met in 1988, and married in 1997. They have three daughters.
• Sylvester is an actor, director and producer, known for creating the character Rocky Balboa. He has appeared in over 86 movies and TV series, and has won 61 awards.
Who is Jennifer Flavin?
Jennifer Flavin Stallone was born in Los Angeles, California USA, on 14 August 1968 – her zodiac sign is Leo and she holds American nationality. She's a businesswoman, actress and a former model, but who's probably known best for being the wife of famous American actor, producer and director Sylvester Stallone.
Early life and education
Jennifer was raised in West Hills, Los Angeles, alongside her four brothers Mitch, Shannon, Tom and Pat, and two sisters Julie and Tricia (both actresses), by their father who died when Jennifer was 11, and their mother who's a housewife.
She grew up dreaming about becoming a famous model or actress, and thus practiced her acting skills while attending George Ellery Junior High School and El Camino Real Senior High School, where she played various sports to be fit and ready to launch her modelling career. Jennifer was planning to pursue a college degree upon matriculating in 1986, however, she was noticed by a modelling scout and signed a contract with the Elite Modeling Agency, thus putting aside her plans for college.
Jennifer's career
Jennifer has three acting credits: she made her debut film appearance in 1990 with her portrayal of The Escort Girl in the crime drama "Bar Girls", written by Terry Louise Fisher, directed by Eric Laneuville, and which starred Joanna Cassidy, Marcy Walker and Tom O'Brien; it follows the lives of two law partners.
In the same year, Jennifer appeared as The Delivery Girl in the critically acclaimed sports drama movie "Rocky V", written by Sylvester Stallone who also starred in it alongside Talia Shire and Burt Young. It follows Rocky who has retired from fighting, and is now running a gym at which he's training a young protégé. The film was nominated for nine awards.
It has recently been announced that Jennifer will be making an appearance in the upcoming action movie "The No Name Gang".
She's also a businesswoman, the co-owner of the beauty treatments and cosmetics store Serious Skin Care.
Appearances in TV shows
In 1988, she was featured in an episode of the talk-show "The Barbara Walters Summer Special", while a couple of her following appearances were in the TV special "The Grand Opening of Universal Studios New Theme Park Attraction Gala", the documentary mini-series "Hollywood Women", and the game-show "American Gladiators".
The year 2001 saw her make an uncredited appearance in the documentary special "AFI Life Achievement Award: A Tribute to Barbra Streisand", and in 2004, Jennifer co-hosted two episodes of the talk-show "Good Day Live". She made a guest appearance in the documentary talk-show "Biography" in 2005, and then appeared in four episodes of the show "The Contender", the episode "What I Won't Do for a Buck" of the talk-show "Kathy Griffin: My Life on the D-List", and an episode of the talk-show "The Late Show with David Letterman". In 2016, Jennifer could've been seen featured in TV's "Golden Globe Arrivals Special", and she then appeared in an episode of various talk-shows, such as "Access Hollywood", "The Talk" and "Entertainment Tonight".
Most recently, in 2021 she was featured in her husband's documentary movie "Stallone: Frank, That Is".
Love life and marriage with Sylvester Stallone
Jennifer and Sylvester Stallone met in 1988 at a Beverly Hills restaurant in California. The two began dating a couple of days later, but in 1994, Sylvester broke up with Jennifer, using FedEx. He had already been seeing famous American model Janice Doreen Dickinson, a businesswoman and actress for around a year, and she gave birth to their daughter in February 1994. However, a DNA test soon showed that Sylvester wasn't the girl's father, and he thus broke up with Janice.
In 1995 he began dating Jennifer again, and on 17 May 1997, they exchanged vows in front of their large circle of friends and family members at The Dorchester Hotel in London, England. In 1996, Jennifer had given birth to their daughter Sophia Rose, and their second daughter Sistine Rose followed in 1998. In 2002, they welcomed their third daughter Scarlet Rose.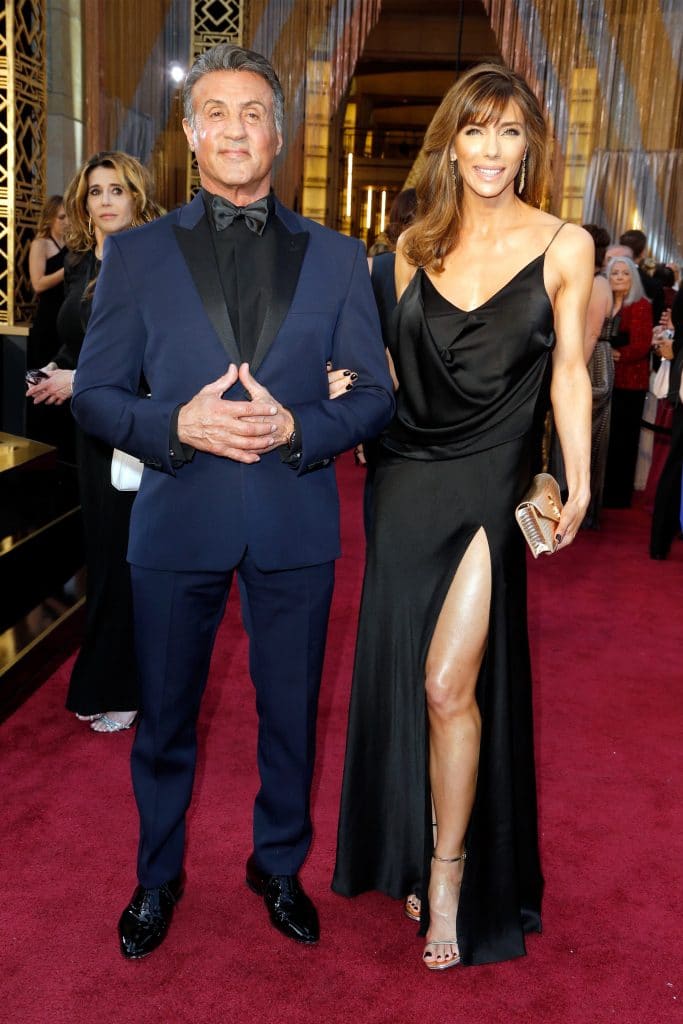 As of April 2021, the family of five seems to be leading a happy life together in Beverly Crest, Los Angeles.
Hobbies and other interests
Jennifer's passionate about travelling, and has been all around the US to keep Sylvester company during his red carpet events; the two have also been around Europe and Asia for pleasure.
Jennifer's a philanthropist, and she and Sylvester have worked with various charity organizations which aim to improve the lives of underprivileged children, and war veterans. Jennifer's also a big lover of animals, and has both donated money and volunteered at various animal shelters.
She was physically highly active during her 20s and 30s, as she had multiple training sessions at the gym each week, and also played various sports with her friends, including tennis and golf.
In her spare time which is usually late at night, Jennifer enjoys watching movies starring her favorite actor and actress Tom Hanks and Angelina Jolie, such as "Saving Private Ryan", "Sleepless in Seattle" and "Mr. and Mrs Smith".
Age, height and net worth
Jennifer's age is 52. She has long brown hair and green eyes, her height is 5ft 9ins (1.75m) and she weighs around 134lbs (61kgs). As of April 2021, her net worth has been estimated at over $200,000 while Sylvester's net worth is reputedly over $400 million.
Who is Sylvester Stallone?
Sylvester Enzio Stallone was born in New York City USA on 6 July 1946 – his zodiac sign is Cancer and he holds American nationality. He's an actor, film director and producer, who's probably known best for having created the character Rocky Balboa, the star of the movie series "Rocky".
He was raised in New York City alongside his younger brother Frank Stallone, a musician and an actor, by their mother Jacqueline 'Jackie' Stallone who was a dancer and an astrologer, and their father Francesco 'Frank' Stallone Sr., who was a beautician and a hairdresser. Sylvester was born with paralysis in several parts of his face because his mother's obstetricians misused forceps during his birth and damaged nerves. When he was around six years old, the family moved to Washington, D. C. where his mother opened a beauty school as well as the gym, Barbella's. Sylvester studied at Notre Dame Academy before switching to Lincoln High School, and later to Charlotte Hall Military Academy. Upon matriculating in 1964, he enrolled at Miami Dade College, and then moved to the American College of Switzerland before moving once again to the University of Miami, from which he obtained his Bachelor's degree.
He launched his acting career with an appearance in the 1970 pornographic movie "The Party at Kitty and Stud's", then in 1972, he auditioned for a role in the evergreen movie "The Godfather", but wasn't cast. The following years saw him make an appearance in various popular movies, such as "Klute", "The Prisoner of Second Avenue" and "The Lords of Flatbush". He became famous worldwide after he wrote and starred in the movie "Rocky". It took him 20 hours to write the script, which no studios then wanted, however, he eventually agreed to a low price from Robert Chartoff and Irwin Winkler, who also agreed that he could star in it. "Rocky" was nominated for ten Oscars, winning three for Best Film Editing, Best Directing and Best Picture.
May the 4th be with you! @TheSlyStallone #sylvesterstallone #slystallone #slystalloneshop #rocky #rockybalboa #rambo #johnrambo #starwars #returnofthejedi #starwarsday #hansolo #maythe4thbewithyou pic.twitter.com/Wc1uW2SqXl

— Sly Stallone Shop (@SlyStalloneShop) May 4, 2021
He went on to star in various other movies, such as the 1978 sports drama "Paradise Alley", the 1981 sports war drama "Escape to Victory", and the action drama "First Blood" in which he played John Rambo. He was very active in the film industry until 2000, after which his fame declined somewhat, however, he returned with the sixth movie in the "Rocky" series entitled "Rocky Balboa". The year 2010 saw him write, direct and star in the action movie "The Expendables" which also starred Jason Statham, Dolph Lundgren and Jet Li, and it grossed around $35 million in its opening weekend. One of his most recent roles has been in the 2019 action movie "Rambo: Last Blood" which took $50 million to make, while it grossed around $91 million worldwide.
To this day, Sylvester has appeared in around 86 movies and TV series, and has won 61 awards of the 113 for which he has been nominated, including three Oscar nominations.
He was married twice before meeting Jennifer. On 28 December 1974, Sylvester exchanged vows with Sasha Czack who gave birth to their son Sage Moonblood Stallone in 1976 (died in 2012) and Seargeoh in 1979, who was born with autism. Sylvester and Sasha divorced on 14 February 1985, and on 15 December of the same year, he married the famous Danish actress and model Brigitte Nielsen; the marriage lasted for two years.
In February 2001, Margie Carr, an exotic dancer, filed a lawsuit against Sylvester claiming that he raped her at a fitness center in Santa Monica on 26 February 2000. It was soon revealed that Margie had sold the story to a supermarket tabloid a month prior, and the case was thus closed. In 2016, it was reported that he was accused of sexually assaulting a 16 year-old girl together with his bodyguard, but his former wife Brigitte claimed that he was with her, and his fellow actor David Athen Mendenhall claimed that the rumors weren't true, and that it was him who introduced the two. He was accused of another sexual assault in November 2017, but wasn't charged because of a lack of witnesses.